We shot from behind cover, from inside a truck, and through and around a doorway. Several home and self-defense style stages provided for plenty of time allowing for some rapid fire. By stage two my crew and I were running this thing like a comp pistol. It was fast, easy to be accurate, and very controllable. Recoil is minimal at best with little muzzle rise. By the end of the day I was running it as fast and accurately as most larger pistols. Starting out a bit skeptical, in the end there was a lot to like about the XD-E.
At home it was fired for accuracy with some pretty solid results for a pistol this small. My best group overall came from Hornady 124-grain XTP at just under 1.75 inches. Fired from a bench using a bag as a rest it was one of my better days. Their Critical Duty 135-grain load was just a tad wider but still under two inches. I was able to keep most everything under two inches, not something normally accomplished with a compact. Moving to practical distances it ate up Remington UMC 115-grain FMJ, keeping everything inside a palm on the move, and a fist when stationary out to 10 yards. Using the Cross Breed IWB holster they provided with the pistol it worked well at contact distance during several Close Quarter drills. Working in and around my Toyota FJ Cruiser it was easy to access, and allowed for continual hits on steel set up at about 10 yards from the truck. Just like at the event it shot more like a full sized pistol than a compact.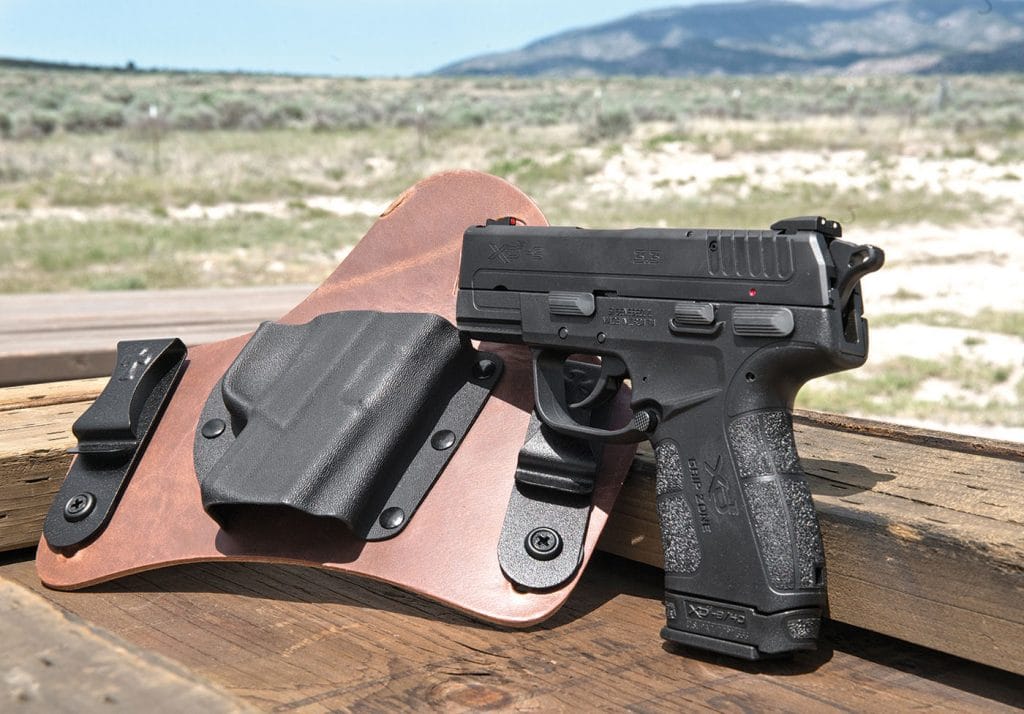 Other Considerations
Testing at home was completed mostly in the "cocked -and -locked" mode. The safety is ambidextrous and placed like that of a 1911. Operation was intuitive with a crisp snap. At no time was it inadvertently decocked during a firing cycle. Shooting from the DA/SA configuration the trigger was smooth enough not to disturb the sights. Still not sure if those with smaller hands will have the same luck, but for me this was fine, it sits pretty far forward. There is no staging this trigger, at least not that I could find: either pull straight through or carry it cocked and locked.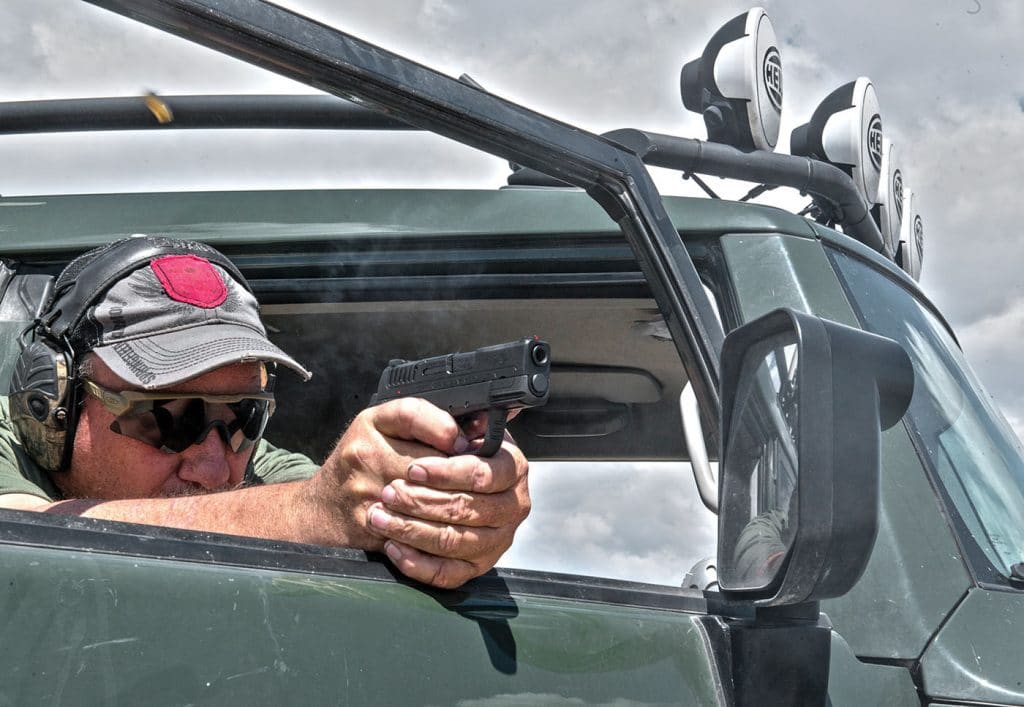 Handing it over to a friend of mine who due to some hand injuries has difficulty running a slide, he commented it was noticeably easier to manipulate, especially with the hammer back and safety on. Comparing it to two other full-sized 9mm pistols it was all but night and day. If you are looking for a compact that is easy to manipulate this is a good choice.
While the magazine with the lip fit okay, the extended magazine suited me best and offered no discernable difference in concealment. What it did provide was 10 rounds at the ready (9+1) in a nice size. Spare magazines fit nicely in my newer 1911 pouches, the older very well worn ones (15+ years) were a bit loose but worked. They are almost identical in size to the EMP9 magazines, so those pouches should be about perfect.