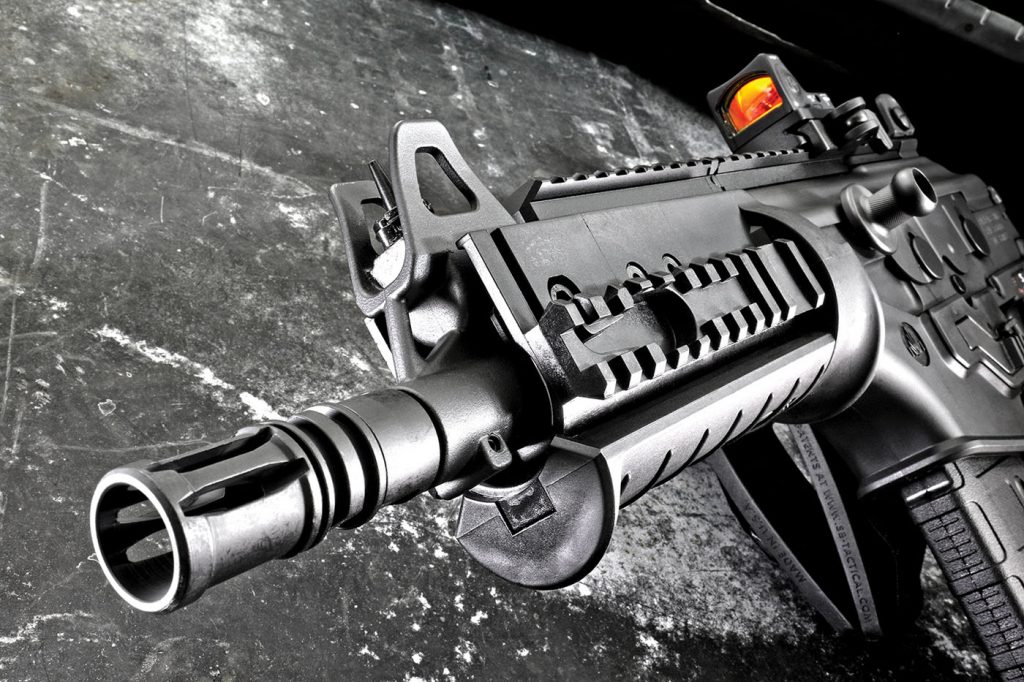 Extending the length of the receiver is a two piece Picatinny rail. It locks into a front rail section allowing you to remove the dust cover for cleaning. Protected front and rear sights sit on the rail and gas piston housing. Both have Tritium inserts; the rear is removable and adjustable for wind, the front for elevation. A handy little tool to accomplish all three is included. The handguard is polymer with removable covers that provide rails on both sides and the bottom. The barrel is a cold hammer forged, chrome lined at a 1:7 twist rate, made from CrMoV steel. The gas system is long-stroke piston, a sort of cross between the AK47 and Valmet RK-62. The gas tube is dovetailed to the receiver adds rigidity and increases accuracy. A standard A2-style flash hider caps the barrel.
Add Ons
Trijicon's RMR (www.trijicon.com) is one of the most time tested and rugged mini red dot sights you can get. Their RMR Type 2 using an adjustable LED was attached using an American Defense (americandefensemanufacturing.com) RMR mini-mount. Given the low sight offset it does not co-witness, but you can see and use the front sight if needed. Adjustable, with the ability to change batteries without removal, it is about perfect for close quarter weapons.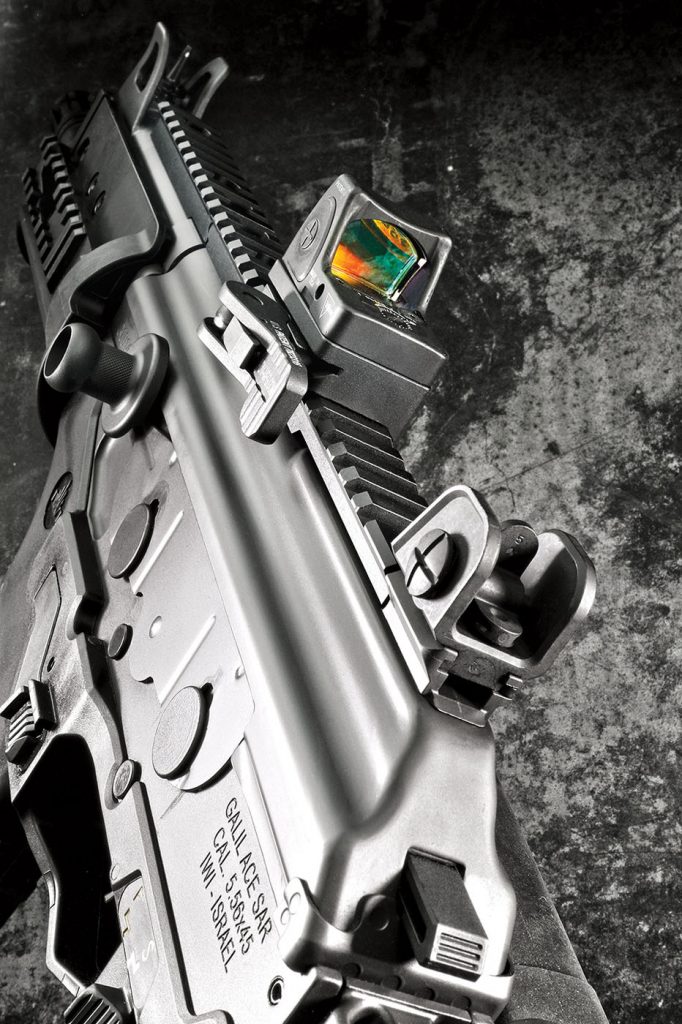 Surefire's (www.surfire.com) latest Warcomp flash hider/muzzle brake was swapped out to facilitate the use of an RC-2 5.56mm SOCOM suppressor. This new Warcomp has closed tines that eliminate any pinging while providing some control for muzzle rise. NG2's MAXFLO 3D suppressor was also used, and ended up an all but permanent attachment. One of my Blue Force Vickers slings was modified for use as a single/dual point sling using HK-style sling clips. Magpul's RSA (Rail Sling Attachment) was attached to the top rail when a dual point configuration was desired.
Range Testing
Since this pistol will go back to the manufacturer, it was left as a pistol and tested as much as possible without shouldering the stock. It was an interesting exercise seeing how it could be stabilized without shouldering it. Not that you cannot shoulder it if needed in a fight, but it was instructive to try different methods; resting it on the cheek, pressing against my forearm, lodging it in and against my bicep and using stationary objects to stabilize the pistol. All of the testing was done within close proximity of my vehicle, or in the shoot house since that is where it would most likely get used.