Beyond just being salivatingly pleasant to gaze upon, each of the 46 different Nighthawk Custom pistols are well-known for superior handling, accuracy, and Glock-like reliability. On the very rare occasion when one of their firearms breaks or has a problem, Nighthawk Custom will repair it for free. Not surprisingly, the price for handguns of this sort is substantial, ranging from just below $3,000 to just under $8,000 for the most expensive model. The price alone may cause average Earth-people to stop reading right here, or encourage others to continue on more out of curiosity as to what sorts of pistols rich oil magnates or Arab sheiks may buy along with their Ferraris and yachts. These are more than just expensive toys, "safe queen's" or showpieces, however. These guns are built to run hard and do work, so read on.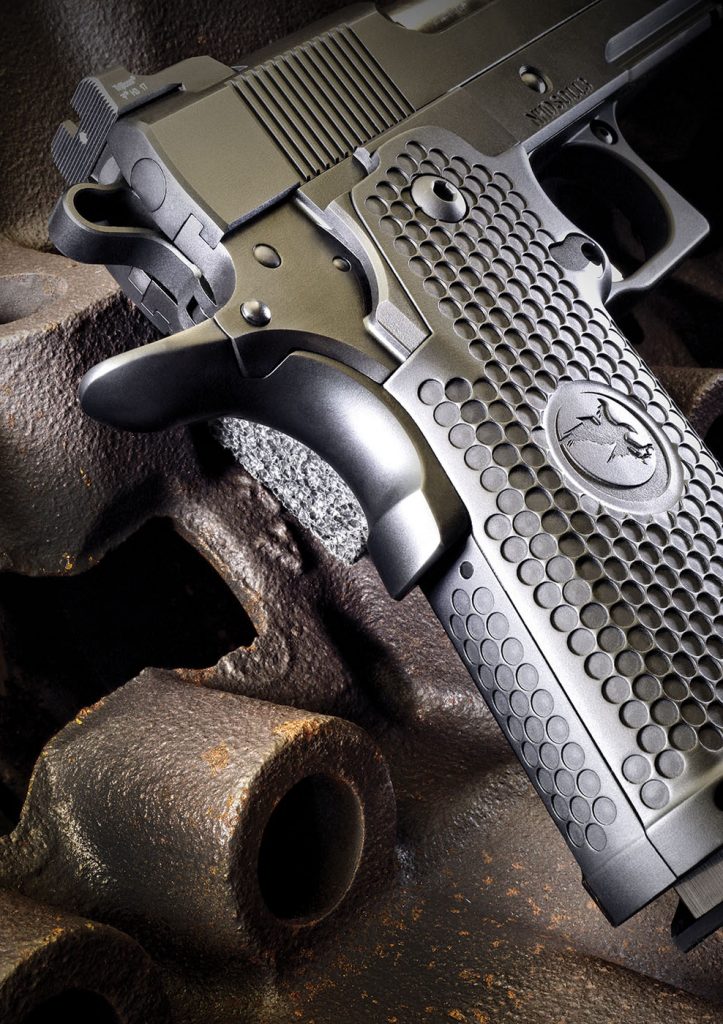 The Nighthawk Custom GRP frame is made from 7075 aluminum, with a distinctive high-cut, square trigger guard. On the forward end there is a Recon Rail for pistol lights or other accessories, while aft there is a one-piece wrap around grip that encompasses the sides and front. This grip is cut with MSH hexagonal dimples that are texture and profile matched along with a flat mainspring housing at the rear for a very positive, 360-degree gripping surface. Along with this grip feature, the mag well is widely flared while hardly increasing the dimensions of the base of the grip, reducing the potential of the pistol printing when carrying concealed. Combined with the high-cut trigger guard, the Nighthawk speed-bump-equipped beavertail safety was designed to push the grip of the firing hand as high up as humanly possible, aiding in recoil control and ease of manipulation of the thumb safety. A smooth-sided slide release and extended magazine release round out the controls—all of which functioned with the high level of precision and tension that meticulous hand-fitting lends.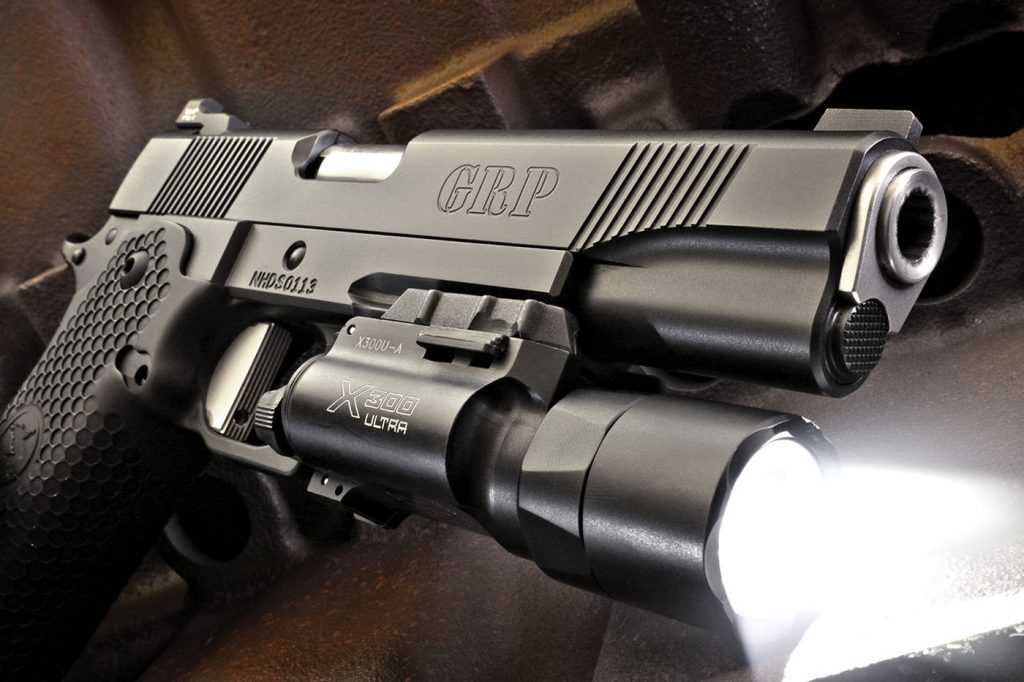 The pistol ships with two 17-round STI stainless-steel magazines that accept most aftermarket base pads (increased capacity, 21 and 26-round magazines are also available through STI.) The pistol is equipped with a perfectly tuned single thumb safety and expertly fitted, traditional bushing-equipped, match-grade Nighthawk 5-inch stainless-steel barrel. The slide is emblazoned with the letters "GRP" on the right side, and the Nighthawk Custom logo on the left. It is also equipped with Tritium Heinie Straight-8 ledge night sights, which are some of the best out there, both for gaining a quick, clear sight picture and for running the slide off a belt or other surface in extremis if necessary. Both slide and frame are treated to an attractive and durable black nitride coating. And speaking of slide and frame, there's absolutely zero perceptible play between the fit of the two. It's almost as if they're one piece. Even so, the slide racks easily as if riding on ball bearings—a true testament to the hand-fitting going on at Nighthawk.