Testing was completed using the Sig Sauer Electro-Optics Tango6 34mm 3-18x 44mm scope using their MRAD DEV-L reticle. This reticle includes numerous holds, including a "tree" at the bottom for windage at range. It allows for quick ranging and operation with any caliber. Sig Optics HDX lens treatment provides excellent light gathering and clarity. Level-Plex provides a digital level that can be activated at .5 or 1.0 degrees of cant. MOTAC (Motion Activated Elevation) powers up with movement, and turns off when still. Turrets include the Lockdown Zero system, a zero stop, adjustable zero, and lift-and-turn knobs that lock in any position. Each is graduated in .10 mils with 12 MRADS per turn for elevation. Rated IPX-7, it's waterproof for total immersion to 1 meter and fog proof. It includes a sunshade and lens covers. It was mounted in a Spuhr ISMS mount, one designed for these smaller objective scopes. Mounted low, it provides for a solid cheek weld without need for a riser. Sig Sauer's SRD762-QD suppressor was attached using their Taperlock flash hider attachment.  Constructed of 718 Inconel, it is super strong yet light at only 17 ounces. Rated to .300 Win. Mag., it is perfect for the 16-inch barrel, and the 7.62 NATO cartridge. Dueck Defense offset back-up iron sights were used for close in work, and a Modular Evolutions EVO bi-pod for support.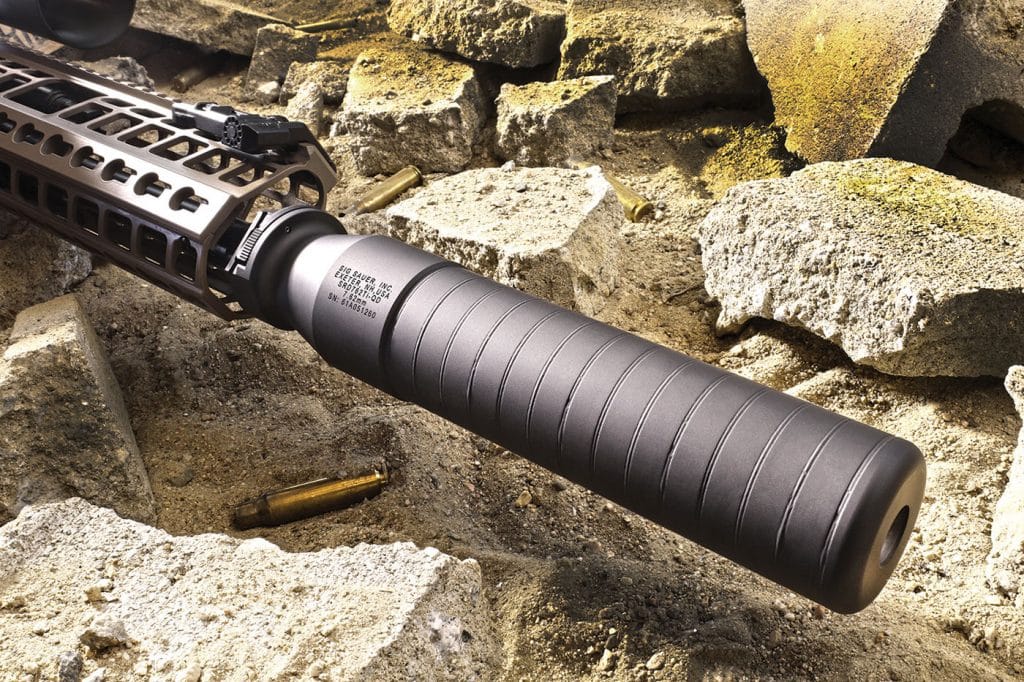 Range Time
Accuracy was as expected—excellent—especially when suppressed. Turning the gas down, it was very soft to shoot, improving my ability to be accurate. The best group was accomplished using Doubletap's 155-gr. TMK Colt Competition load. Ballistic testing with the Sierra TMK (Tipped Match King) has been impressive, making it a perfect police or self-defense load. It expands quickly, leaving a devastating wound channel, yet remains very accurate at range with limited pass through concerns. Velocity is impressive at 2,650 f.p.s. out of the 16-inch barrel. Black Hills' load using the Hornady 178-gr. ELDX was equally impressive. About as accurate at 100 yards, it shined at 730 and 1,200 yards where its high BC (Ballistic Coefficient) kicks in. Slow by comparison at 2,470 f.p.s., it still held the wind better and remained the most consistent at the longest ranges. Overall accuracy at 300 yards was well under 1 MOA.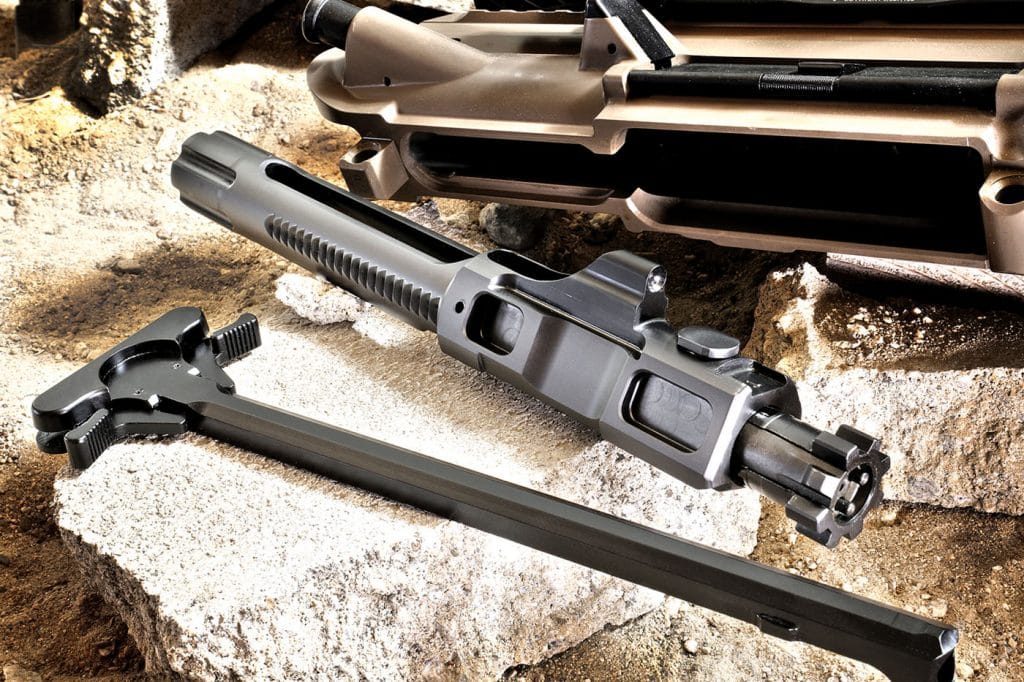 Reliability was excellent, with no malfunctions occurring throughout a broad range of ammunition ranging from 125 to 178 grains. Everything worked with the suppressor on either setting, it was just over-gassed on the open setting with brass ejection closer to one o'clock. Dial it back down and everything moved back to three o'clock or so, but it ran everything thrown at it. Recoil with the 155-gr. TMK and AMAX was noticeably less, the Doubletap 125-gr. self-defense load downright soft. Remove the suppressor, leaving the flash hider, and recoil increases as expected. Move to the Sig Sauer muzzle brake and it becomes much less recoil intensive, but as you would expect, loud, very loud!   Black Hills 178-gr. ELDX load would run on the suppressed setting, but the rest required you to dial the gas back up for reliable operation with the flash hider.
Six hundred meters and closer was the sweet spot for the Doubletap 155-gr. TMK. Beyond that, and even with the added velocity, the wind moved it around quite a bit. Tagging the 300-meter steel was pretty easy, from 500 and closer it was a breeze. Sig Sauer's MRAD DEV-L reticle is perfect for rapid target acquisition out to 500 yards. Ranging using the "twelve-inch rule" was quick and could be accomplished a couple different ways. Move to the longer ranges, (800 to 1000 meters) and the Black Hills 178-gr. ELDX really worked well. It shot into a tighter "cone" at those ranges, with misses just off the steel, even in some stout wind.