The illumination dial offers eleven intensity settings, with an off position between each, and is mounted on the left side turret outside of the parallax adjustment ring. The Nightforce SHV lineup may very well represent the best bang for the buck available today in rifle optics. Check them out at www.nightforceusa.com.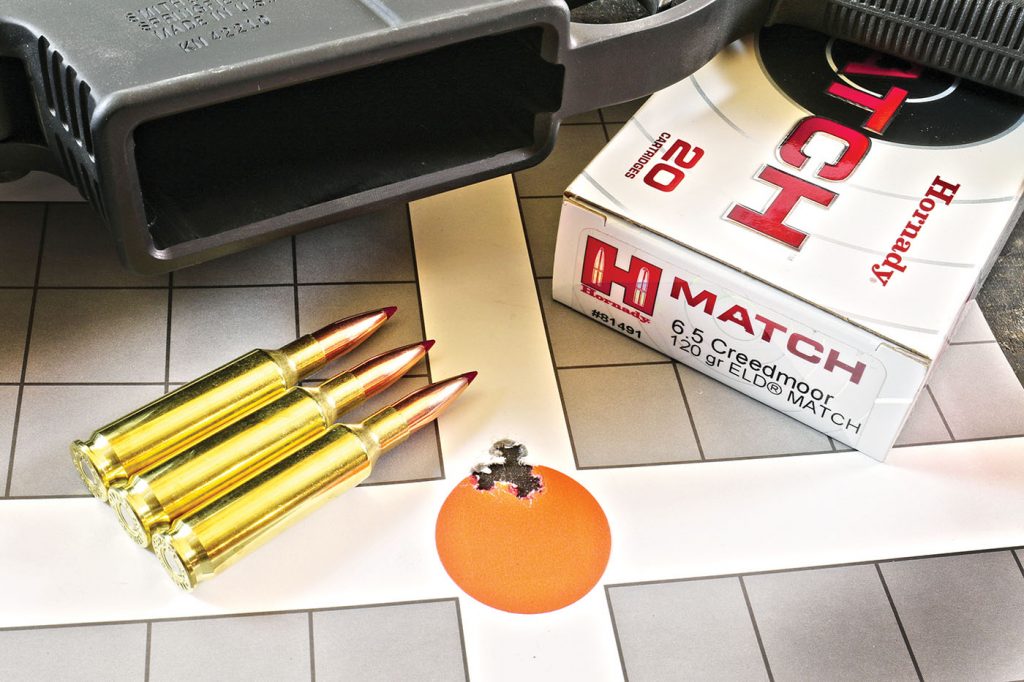 With a factory rifle designed and marketed as a "precision rifle", we generally consider sub-MOA groups to be "good-to-average" performance, in the half-MOA ballpark to be "excellent" performance, and anything under half-MOA to be "we're buying this rifle for ourselves" performance. Well, this one won't be going back to S&W. From the 100-yard bench, we tested our rifle with four different loads; Nosler's 120-gr. E-Tip lead-free load and three other loads from Hornady, including the 120 and 147-gr ELD Match and 120-gr. A-Max Match. All loads easily scored group sizes under 1-MOA (1-inch) for three shots, but the real star during testing proved to be the Hornady 120-gr ELD Match, drilling a damn-near-1/4-MOA, 0.28-inch group that you could cover with a dime. Several othe half-MOA-ish groups were also recorded, indicating that the Performance Center has their recipe pretty wel dialed in.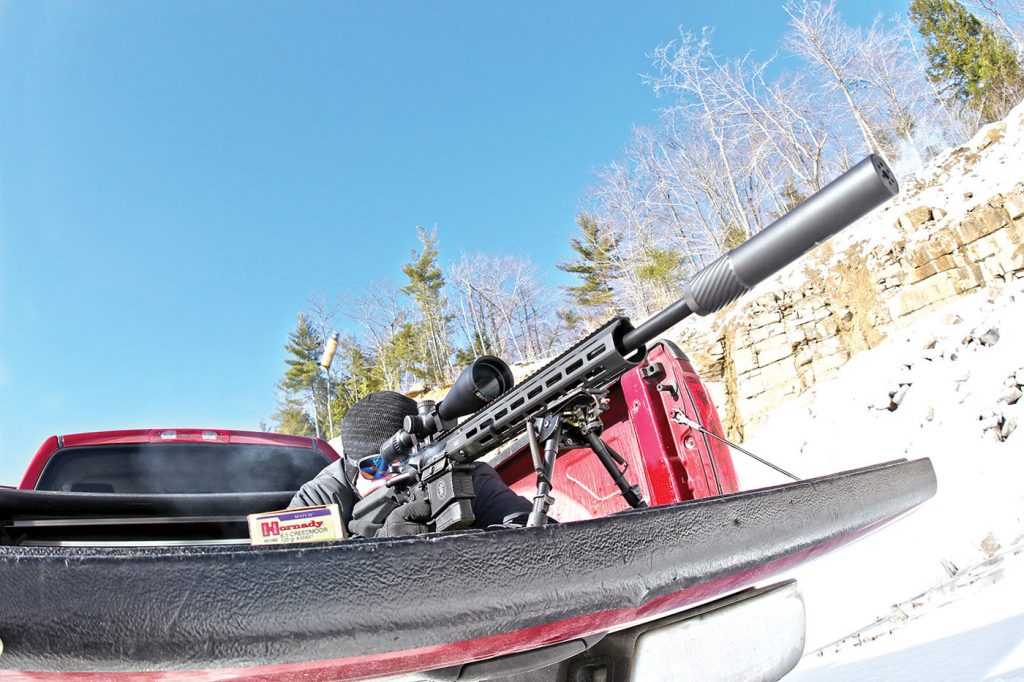 All bench testing was completed with the rifle suppressed. Brass ejection while shooting suppressed was in the 2 o'clock direction, indicating is was slightly over-gassed. Regardless, our test rifle never once failed to feed, extract or eject a single round of ammunition, giving 100-percent reliability.
See the new M&P10 Performance Center 6.5 Creedmoor at your local gun shop, or for more information contact Smith & Wesson; Tel.: (800) 331-0852; Web: www.smith-wesson.com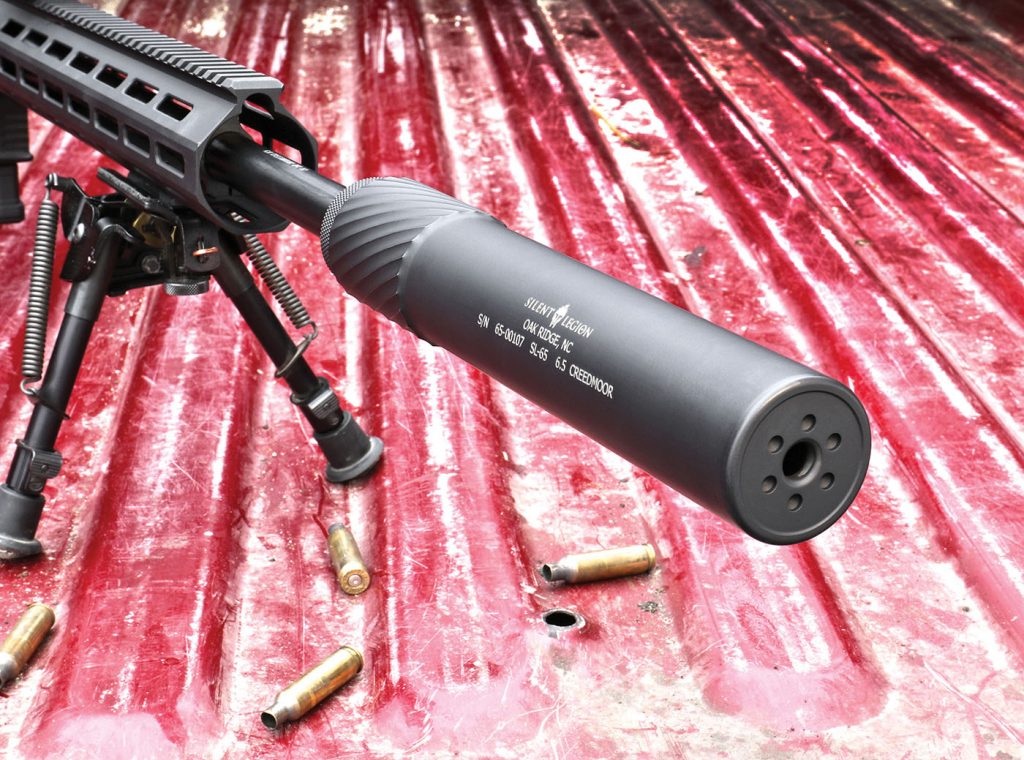 Silent Legion 6.5 Creedmoor Suppressor
Instead of simply offering a .30-caliber can to fulfill rifle-sound-suppression needs with anything larger than .223, in a step outside the norm, Silent Legion has introduced a new suppressor with a bore diameter and internal volume designed specifically for the 6.5 Creedmoor cartridge. Priced at $998, the world was ready for a suppressor optimized for the hugely popular 6.5 Creedmoor, both for target competitors and hunters in states where suppressors are legal for hunting. Made from Titanium, it's a great looking piece, with knurled collar, sculpted rear body and an outside diameter of 1.50 inches. It features 32 dB sound reduction, 5/8" x 24 TPI threads with Suppressor Retention System and a black Cerakote finish. Overall length is 8.375 inches, and it weighs only 17 oz. Outstanding sound suppression, enhanced accuracy, a noticeable recoil reduction are all performance attributes we realized while using this can to evaluate the Performance Center 6.5 rifle; this suppressor and that rifle played extraordinarily well together. To top it off, gas blowback into the shooter's face—what can be a real hindrance to shooting with some high-backpressure suppressors—was barely noticeable at all. Usually this comes at a cost on the decibel meter, but the seat o' the pants meter we've dialed in over the years indicated impressively-strong sound-signature reduction. A lifetime warranty comes standard. Silent Legion also manufactures quick-detach and screw-on suppressors specifically designed and optimized for a wide variety of rifles and pistol cartridges. Contact Silent Legion Suppressors; Tel.: (336) 202-9013; Web: www.silentlegion.com