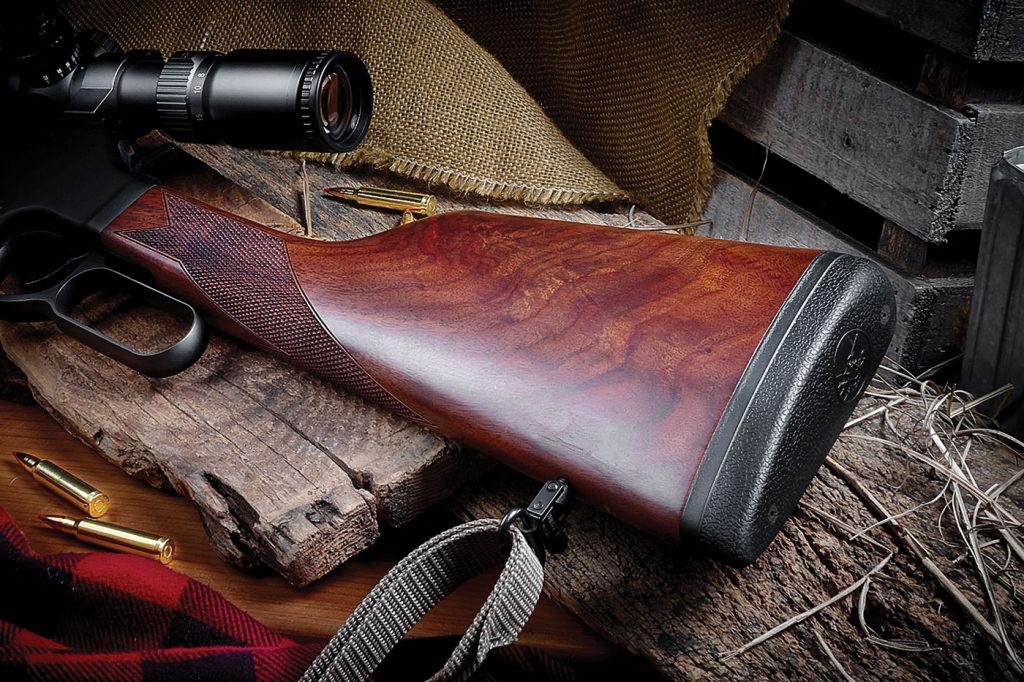 The action keeps in line with the traditional Henry lever, except now as the bolt slides into battery, it rotates, locking in 6-locking lugs. One might argue that it is very similar to an AR-15's bolt operation. One might also argue that Kalishnakov copied Garand, but all that means is that we wound up with two amazing firearms. Moving on, the entire operation is gear driven via a gear in the trigger housing that engages teeth in the bolt, making it exceptionally smooth. Lastly a transfer bar safety keeps the gun from being able to be fired should you not have a full and complete lock up. I found this detail to be very comforting as an out of battery detonation can result in not only a destroyed gun, but even a trip to the ER.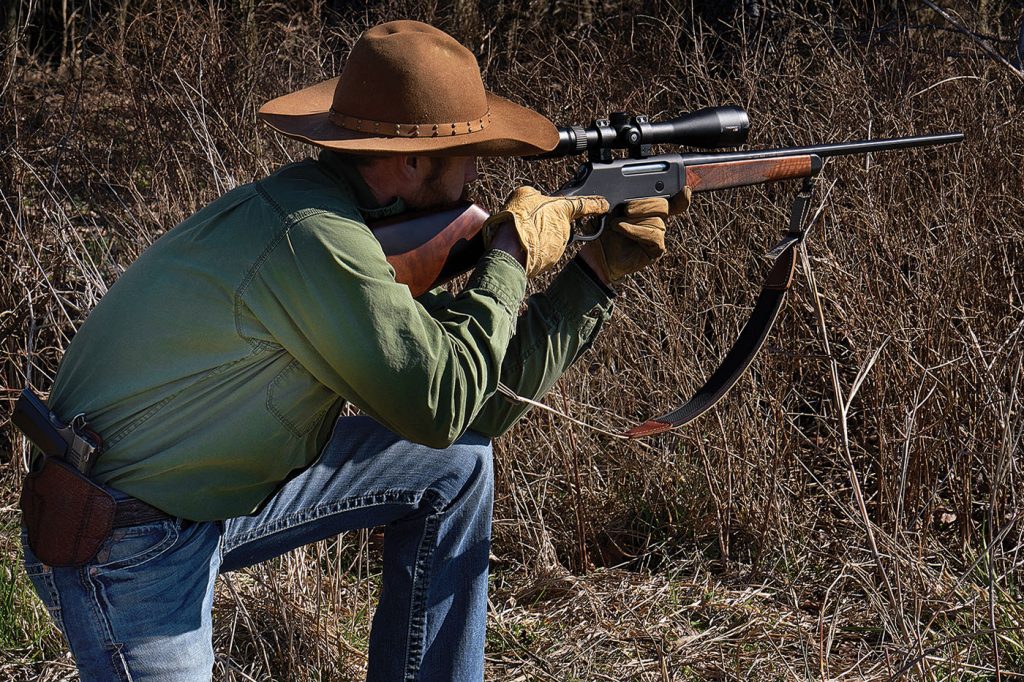 The action comes drilled and tapped for scope bases, however, there is a no-cost option for iron sights if you wish.  Again, we love the attention to detail and this throwback to a time when things were less complicated. Interested in finding the top end of the rifle's capabilities in the accuracy department, we topped our test rifle off with a versatile, close/distant range Bushnell Trophy Xtreme X30 2.5-15x50mm riflescope, which is well matched for just about anything one would task this Henry with. Once our scope was installed we hit the range with five different rounds, including the Black Hills 36-gr. Varmint Grenade, Black Hills 55-gr. Barnes TSX, Black Hills 69-gr. MatchKing HP, Hornady 55-gr. V-Max and Freedom Munitions' 64-gr. Boar Buster.
We selected this variety of bullets because the .223 Remington cartridge is great for little critters, medium sized game and even winning mid-range precision matches. The 36-gr. Varmint Grenade, 64-gr. Boar Buster and 69-gr. MatchKing (respectively) boast that they are up for the job, so we gave them the chance to prove it. Setting our rifle into a Caldwell Rock rest, we quickly zeroed and fired five groups with each type of ammo. Shooting it was a pleasure, as the lightweight .223 produced minimal recoil. The recoil pad was needed for little more than keeping the rifle from slipping off the shoulder. All rounds gave terrific accuracy, which was surprising with a 1 in 9" twist rate barrel. We saw our best accuracy with the light 36-gr. Black Hills round as well as the 55-gr. Hornady V-max. We also saw respectable accuracy with the 64-gr. Boar Busters. This was very interesting, as usually a 1 in 9" twist doesn't do well with the heavier bullets. This just further goes to prove that you simply cannot select ammo on popular theory; you have to get to the range and them several yourself in your rifle. This level of accuracy was undoubtedly the result of the free-floating barrel and a near perfect trigger. We measured the trigger break at a clean 4 pounds 10 oz. with a Lyman Digital trigger pull scale (lymanproducts.com; $74.99). The trigger had virtually zero over-travel and finger placement was effortless and instinctual.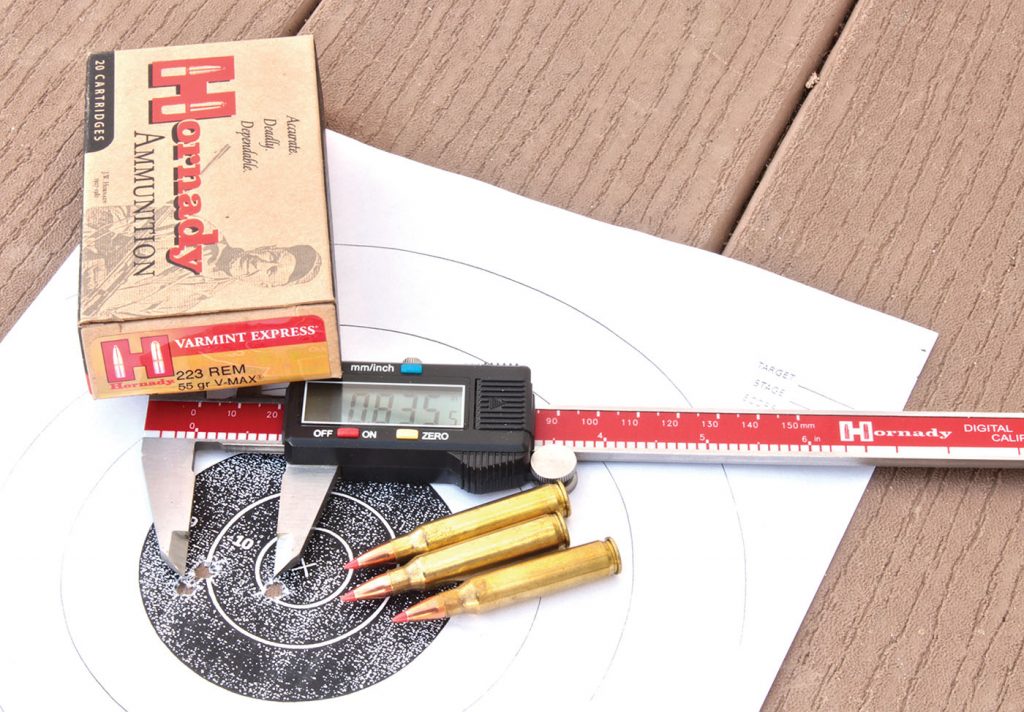 Loading, unloading and reloading were like nothing ever experienced with a lever gun. Dropping the magazine and clearing the chamber was a whole lot easier than having to cycle the action until empty. Although convenient at the range it is invaluable in the field should your ammunition needs change in the middle of the hunt. Quite often two or more types of game are in season together, and being able to switch to a heavier bullet on the fly could be the difference between eating and going home empty handed. The magazines in question allowed for a very generous cartridge overall length of 2.360, allowing the handloader to seat heavier bullets, use larger powder charges, or a combination of both.

Our overall shooting experience was very impressive. Accuracy was superb, balance was spot on as always, and we just found this rifle a whole lot of fun to shoot. For more info and where to pick one up for yourself, contact Henry Arms; Tel.: (201) 858-4400: Web: www.HenryUSA.com and push your hunt to new limits!