Testing
Silencerco's Osprey (www.silencerco.com) was used for suppressed shooting. One of the first and most popular affordable pistol suppressors, the Osprey is very light so your handgun does not become barrel heavy. Available in 9mm, 45, and a short version (45) K, it is capable of handling 9mm, 45ACP, 40 SW, and even 300 BLK subsonic using available pistons. It's one of the quietest on the market and its unique shape and operation often eliminate the need for higher sights. Using the proper pistol, it threads on; rotate the suppressor using the locking lever to align it properly and you are all set.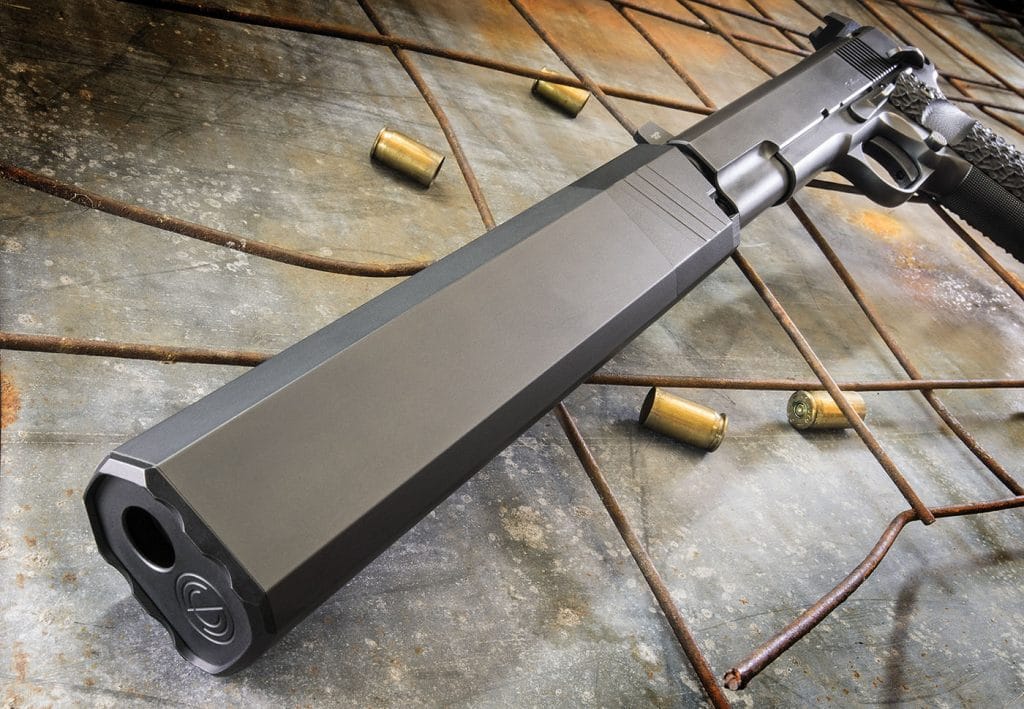 Most of my holsters are ill equipped for the extended barrel. Simply Rugged Holsters (www.simplyrugged.com) crafted a multiuse holster made from Cape Buffalo for my hunting 10mm 1911 that worked nicely. Their Sourdough Pancake holster can be used strong side, cross draw, or chest carry using the "chesty puller" harness. Testing weather was cold and stormy so it was used in chest carry. Given that much of this pistol's strengths will be as a hunting 45 ACP, it made for a perfect test sitting under my rain gear. It also made it easy running a couple rifles on my stress course wearing a back pack.
Range Time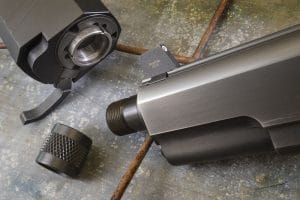 Built entirely from forged stainless steel, the Wraith is very strong, making Doubletap Ammunition's 450 SM (short magnum) a perfect match (www.doubletapammo.net). Designed to work in full-sized, all-steel 1911s, it is perfectly suited to hunting and self-defense. The Wraith's standard guide rod made installing a stiffer return spring easy. Having used this round with some consistency it is snappy. Recoil is manageable, about like a 10mm, but the ballistics are impressive. Using Doubletap's own 185-grain Bonded Defense bullet you get 1,300 FPS out of a 5" 1911. Move up to the 230-grain Defense round and it drops to 1,130 fps, still impressive. If you're looking for a dedicated hunting round with deep penetration, the 255-grain hard cast is devastating. I have seen this round drop 300-pound critters at 100 yards out of a standard 5" 1911. It's also an excellent choice for those looking to carry their .45 ACP for predator defense.
Accuracy with these loads was in the sub two-inch range at 25 yards, mostly due to some stiffer recoil. Using a 20-pound recoil spring tamed it a bit, but these are pretty snappy. My best group came from their 230-grain Match Ammunition loaded for Colt Defense. Normally the carry ammunition takes the day on accuracy but this stuff reminds me of the Gold Medal used for accuracy matches. It put four rounds into a cluster at 25 yards with one opening the group up to a bit over an inch. Soft shooting in this all steel 1911, it was a pleasure to shoot and very accurate. Everything else was in the 1.5- to 2-inch range using a bag as a rest on a pretty windy, rainy, and cold day. Sharp checkering kept things solid, even in the rain. It was like a vice with gloves on, a bit sharp bare handed, but solid as a rock.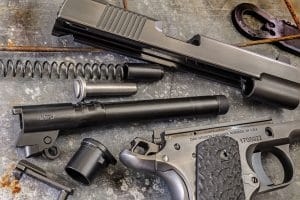 Reliability was excellent with a consistent and predictable ejection pattern. Most of the self-defense ammunition ran okay with the heavy spring but switching back to an 18-pound spring brought it back to more normal patterns. No stoppages or failures with any of the ammunition using either spring.
It worked well suppressed, as good as any with moderate powder at the shooter. Normal when suppressing pistols, back pressure tends to expel powder back at the shooter. It makes it critical to wear safety glasses. It should be anyway, but hunters will leave them off. Safety glasses should be mandatory when shooting suppressed pistols. It can be ammunition and powder dependent, but it is common. Accuracy was unaffected by the Osprey and it did little to change the handling of the Wraith other than adding length. Surefire's Masterfire holster is my go-to rig for suppressed pistols. Mounting to the light facilitates suppressed and RDS equipped pistols (or both). With no rail the Wraith was only tested on the range and from what could be called "vehicle' carry from the FJ. While suppressed pistols are becoming popular for tactical purposes holsters remain scarce, something demand will likely clear up. Using a longer pistol case works great in a vehicle or for defense in the home.