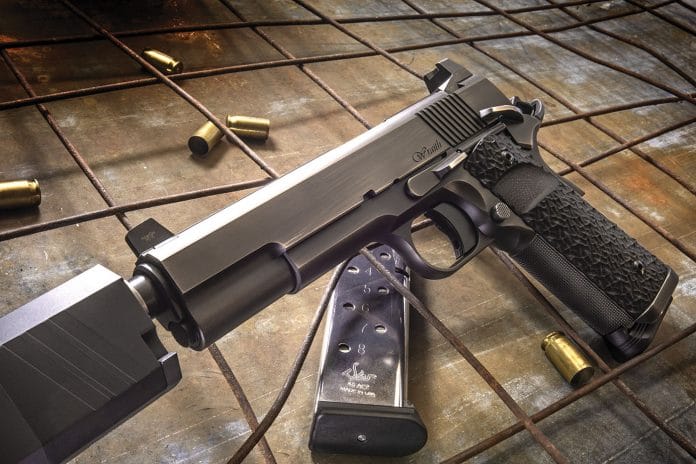 By Dave Bahde
Photos by Ben Battles and Dave Bahde
---
The latest in precision-production, threaded-barrel 1911's from Dan Wesson backs up its name with scary-good performance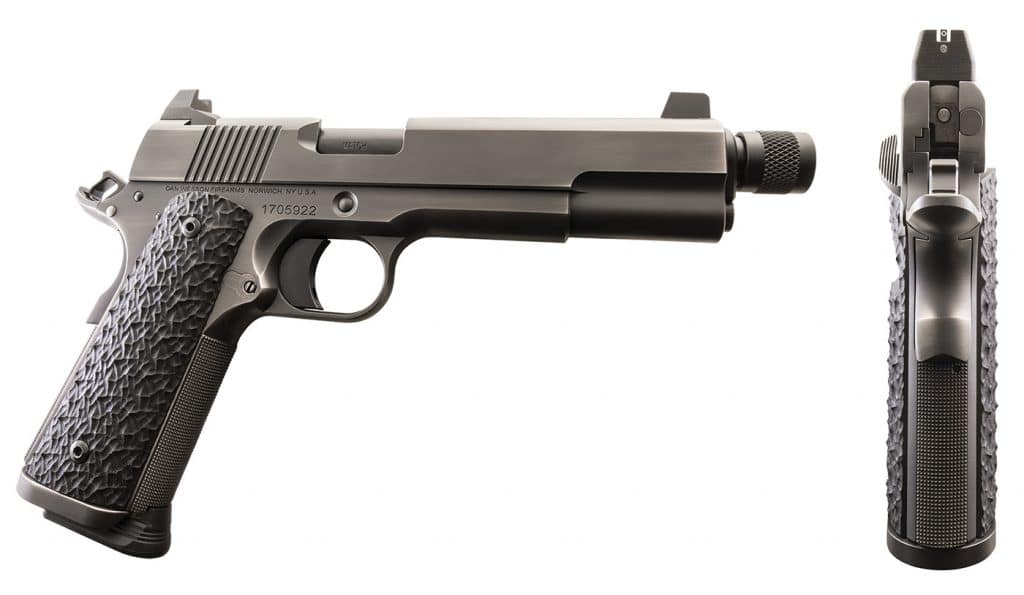 Dan Wesson firearms has been quietly building some of the best 1911 pistols you can buy for years now. Any doubt as to their quality or desirability is quickly dispelled when you find and try one. High demand can make them scarce, a good problem to have as a manufacturer. Those willing to wait are seldom disappointed. My first test of a Dan Wesson 1911 was the then-new Valor in 2009. Initially skeptical, the quality was almost stunning. Simple, rugged, built to custom pistol tolerances using tool steel parts it rivaled customs at three times its retail price of $1,500. My experience testing their CCO a few months later was the same, what amounts to a $3500. custom 1911 at just over $1500. Ended up buying both at the time, parted with them later on, wish they were still here. Trying to test a couple over the years they just took too long to get, making it tough to meet deadlines, so when the chance to test their new Wraith came up I jumped on it.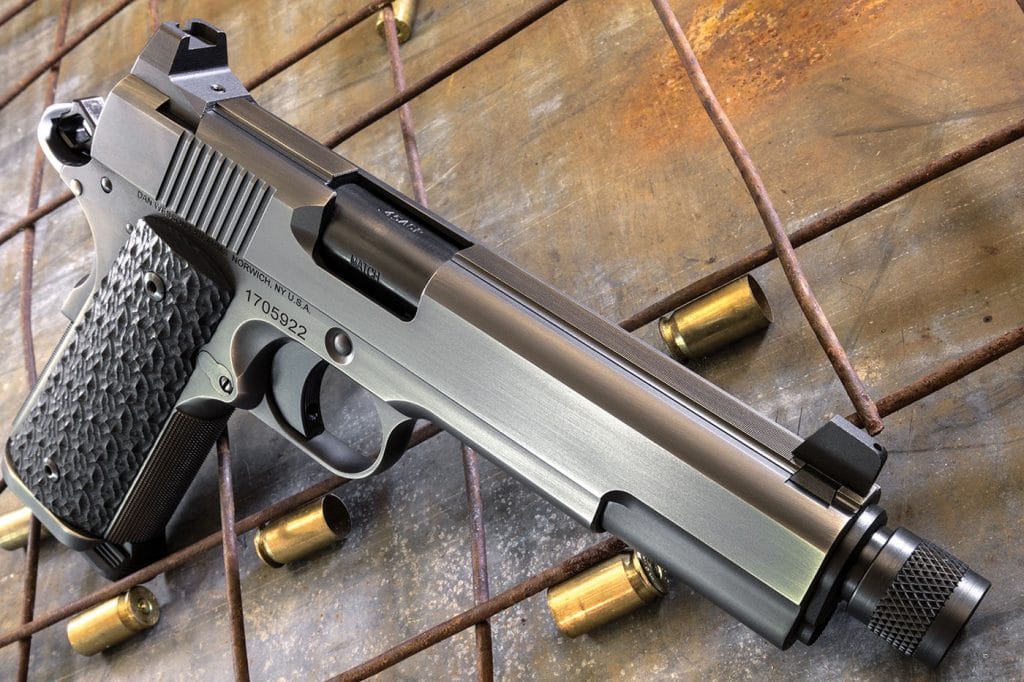 Suppressed pistols are gaining in popularity, mostly for entertainment, even some hunting applications, but threaded barrels and taller sights are becoming the norm. Shooting suppressed pistols is kind of fun and can be advantageous if you are handgun hunting hogs or other game. They can also be useful for dedicated home defense handguns. Pistols are certainly quieter than rifles but eliminating the flash and report can be useful. Law Enforcement has found a need in some specialty units as has the military, but mostly it's just a ton of fun. Another side benefit is a longer barrel in a typical platform adding some velocity and even some accuracy. One of the best platforms for suppressed shooting is the 1911 pistol and Dan Wesson Firearms has introduced a new 1911 this year to do just that, the Wraith.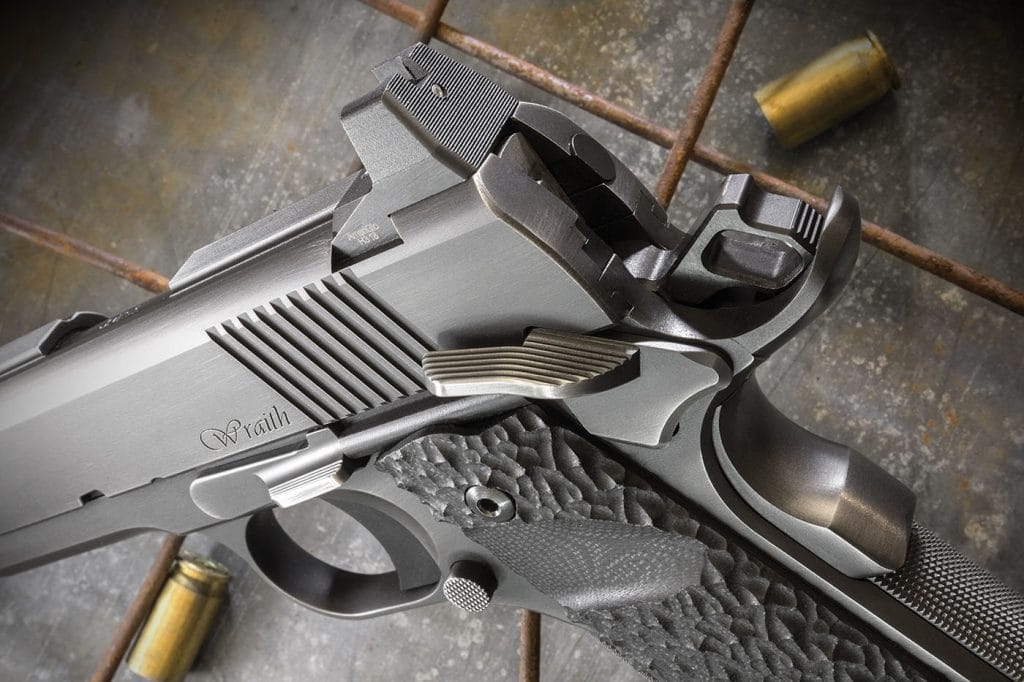 Dan Wesson Wraith 45 ACP
The Wraith is a Government model 1911 using a 5.75-inch threaded barrel. Match grade, it is capable of some serious accuracy. Built from forged stainless steel the slide is adorned with Clark-Style ribs along the top. Ball end mill cuts at the front provide a really nice look, as does a distressed version of their Duty finish. The slide has rear cocking serrations that also look and enhance the carry bevel.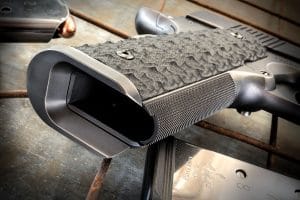 AmeriGlo tall sights using a tritium front and single dot rear facilitate suppressor use. A pronounced ledge on the rear sight makes unconventional reloads and stoppage drills possible. The frame includes sharp 25 LPI checkering on the front strap and mainspring housing. Extended grip and thumb safeties are easy to operate with gloved hands. Its beveled magwell is matched to the frame, and stippled G10 grips make for a firm grip in inclement weather. The slightly extended and checkered magazine release is accessed using a moderate "scoop" in the grip. The slide stop is recessed, checkered and slightly extended. The hammer and butt are squared for a nice edgy appearance. The Wraith's trigger is solid aluminum and mid length to fit most hands. Shipped in a hard case with two 8-magazines with plastic base pads, it retails for $2,077. chambered in 45 ACP. Also available in 9mm the price is the same, while the 10mm version costs an extra $300. All are otherwise identical.