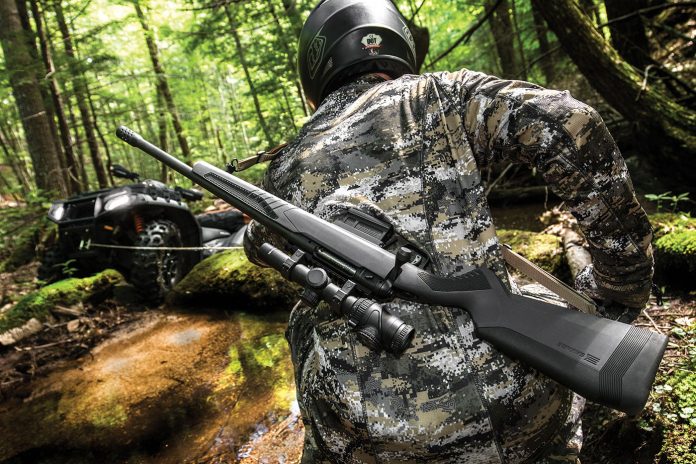 Photos by Ben Battles
---
Compact, quick handling, extremely rugged, extremely accurate and with the bulldozer .450 Bushmaster chambering, it handily checks all the important brush-gun boxes

I'm glad to see Savage chambering its new Model 110 Wolverine rifle in .450 Bushmaster, a cartridge for which I have a great deal of affection. I was one of the lucky six or seven writers invited by Steve Hornady on the first field test of the .450 Bushmaster. We were at a "high-fence" operation in South Carolina that raises its own European black boars, shooting a bevy of ARs with prototype followers in prototype single-stack magazines provided by Bushmaster. Trijicon provided the optics, and Hornady brought a truck load of .450 Bushmaster ammo loaded with their 250-grain, polymer-tipped muzzleloader bullet.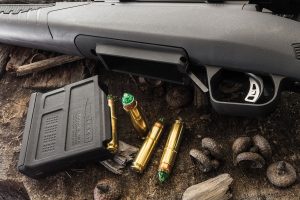 The first morning we were told that because the rifles, magazines and cartridges were all prototypes, we should avoid body shots on these particularly tough hogs, as no one knew what the result would be. We were to take only head shots—specifically, in the eye or in the ear—and we'd better not shoot one of the "damned dogs."
As luck would have it, I was the first-up shooter, and while I knew we were hunting with bay dogs, I did not expect to find a pit bull hanging from each of the hog's ears in the middle of a bay dog fur ball. At 35 yards offhand, I put the red Trijicon chevron on the hog's right eyeball and squeezed off a round. The hog went down as if struck by lightning, and all the dogs were still standing. That shot is a memory I'll take to my grave!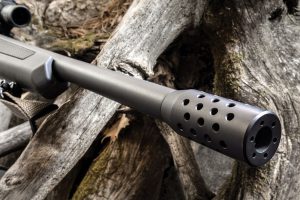 I got to do it twice more over the next couple of days and came away mightily impressed with the accuracy and stopping power of the then-new .450 Bushmaster cartridge. It's been my feeling over the intervening years that not nearly enough new rifles have been chambered for it, as it is an ideal deer, bear, moose and hog round at short to medium range.
The new bolt-action Savage 110 Wolverine ($899) has it all. Its tough one-piece dark gray synthetic stock is equipped with the Savage AccuFit system that lets you easily tailor length-of-pull and comb height for a perfect fit, regardless of your stature. The ventilated soft-rubber recoil pad can be used without any spacer, which yields a length of pull of 12.5 inches, or with one of the included 1-inch or a 1.5-inch spacers that increase length of pull to 13.5 or 14 inches.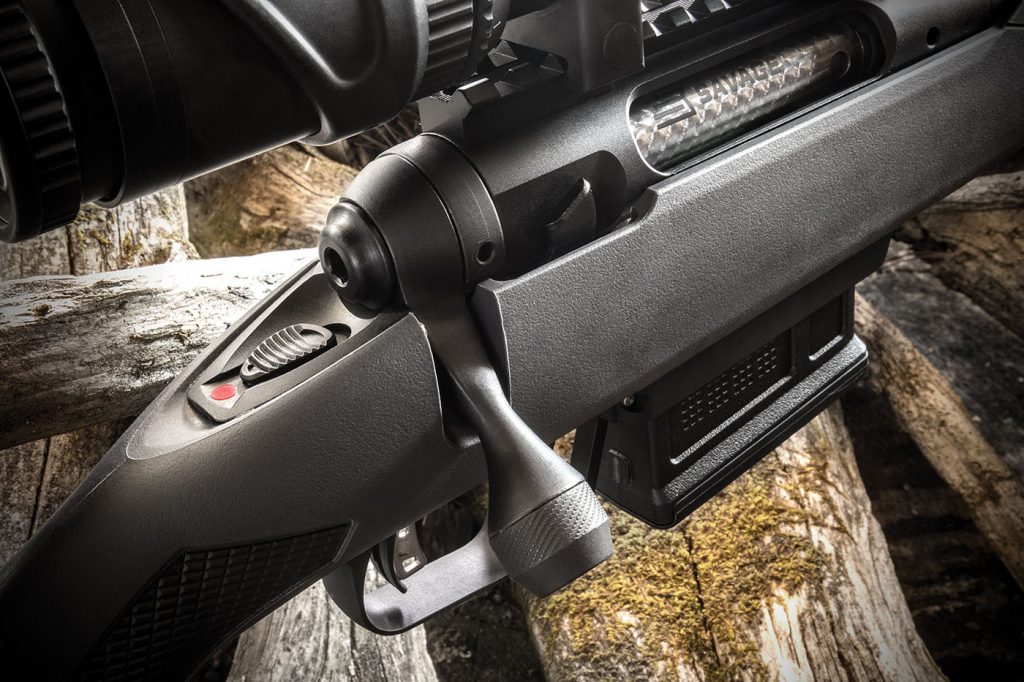 The adjustable comb comes with five snap-on comb risers for a wide range of height adjustment. The adjustable comb combines with a Picatinny 0-MOA, 16-slot top rail that runs the full length of the receiver, allowing for the mounting of virtually any type or height of optic you prefer and the extension of the effective range of the rifle. The stock is also fitted with the Savage AccuStock rail system that secures the action three-dimensionally along its entire length, even further enhancing the legendary precision of Savage rifles. Last but not least is the user adjustable Savage AccuTrigger which provides a clean crisp trigger break at minimum pull weights most hunters would consider too light. The greatest thing about the AccuTrigger is that it completely eliminates any tall tails about "I missed because of the damned heavy, creepy trigger."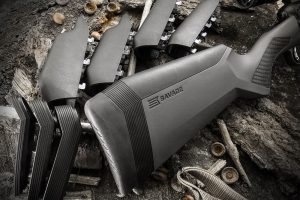 The Wolverine is fitted with an 18-inch, matte-black-finished, carbon steel, heavy-profile barrel, with a muzzle threaded at 11/16-24 TPI. The rate of twist in RH at 1:24". A very serious looking—and very effective—muzzle brake is standard equipment. The brake has 49 gas ports around its circumference, plus six forward facing gas ports, all of which do a creditable job of reducing muzzle rise and perceived recoil with the mighty .450 Bushmaster. The receiver is finished in the same matte black as the barrel.
Other notable features include a Magpul AICS 5-round detachable box magazine operated by a large, steel, push-forward magazine release mounted forward of the trigger guard (empty mags drop free with no assistance), soft-grip fore-end and pistol grip surfaces for enhanced grip traction in wet conditions, three-position sliding safety that permits removing a live round from the chamber on safe, jeweled bolt, enlarged, knurled bolt handle and sling-swivel studs fore and aft. Empty weight is 7.9 pounds and overall length is 37.0 to 38.5 inches depending upon stock spacers installed. For now, the Wolverine is available in right-hand action only.