For range day we took it out for a bit of group testing to see what rounds ran well through it, and then some defensive-style shooting where we utilized a champion 66% IPSC target ($109.99) as well as a Newbold Hang TUFF synthetic gong ($26.99). I like my steel for practicing past 10 yards with a standard caliber pistol, and I like the synthetic gongs for when I want to practice within realistic defensive distances, as they are safe to shoot up close. Raising my sights up on paper really allowed me to get a feel for the 3-dot TRUGLO Tritium PRO sights that my sample was equipped with. From a rested position I fired five 5-shot groups with a variety of ammunition from Federal, Aguila, Speer and Black Hills. All rounds cycled fine, including hollow points, and the unorthodox honey badger rounds from Black Hills. POI was about 3 to 4 inches low depending on ammo, but in a defensive pistol this isn't terribly important. We saw respectable accuracy with all, but noticed exceptional grouping with the 124-gr. Speer Gold Dots.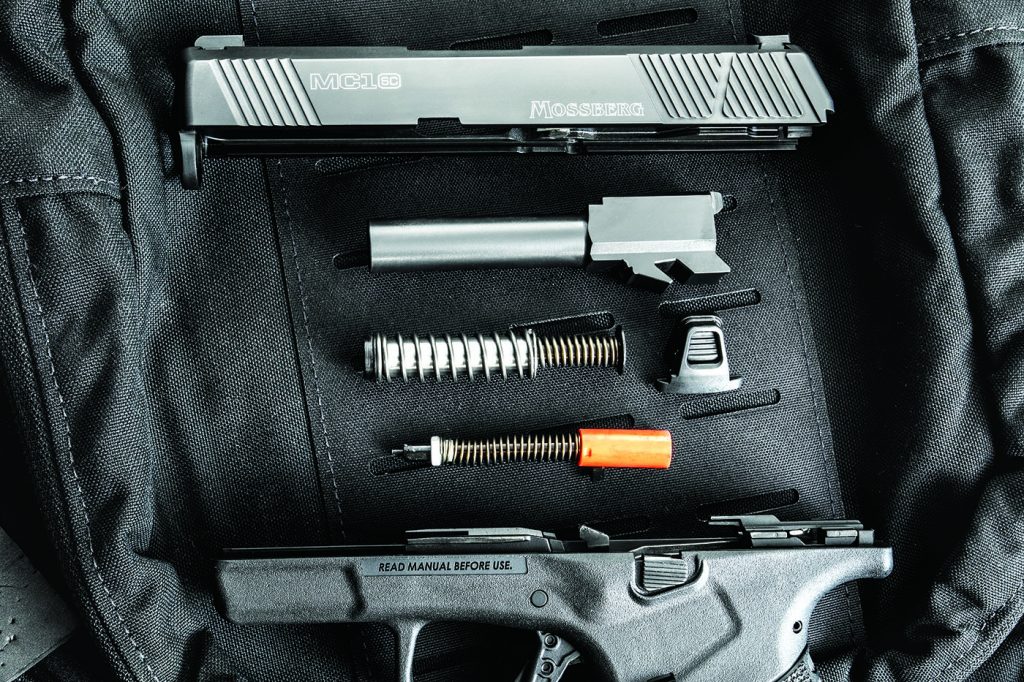 The straight profile trigger on the MC1sc is very different from most other firearms. Once the integral blade safety was depressed, it broke with just a touch of creep at 5 lb. 14 oz. as measured on our Lyman Digital Trigger Pull Gauge ($61.95). I noticed a little bit of over-travel, but it isn't a match pistol so most people would not complain about that for its intended purpose. Moving on to some practical shooting, I hung the Newbold Target at just 5 yards and practiced drawing from both a 3i OWB holster ($70.00) and a 3i IWB holster ($50.00). Both carry methods still lent me more than 80% accuracy with draw times of around 1.25 seconds. The rounded corners of Mossberg's new pistol didn't bug me too much against the skin, and I didn't experience any snags when stripping my carry garment. The size was a little large for inside the waistband carry for my taste, but it was a terrific outside the waistband option.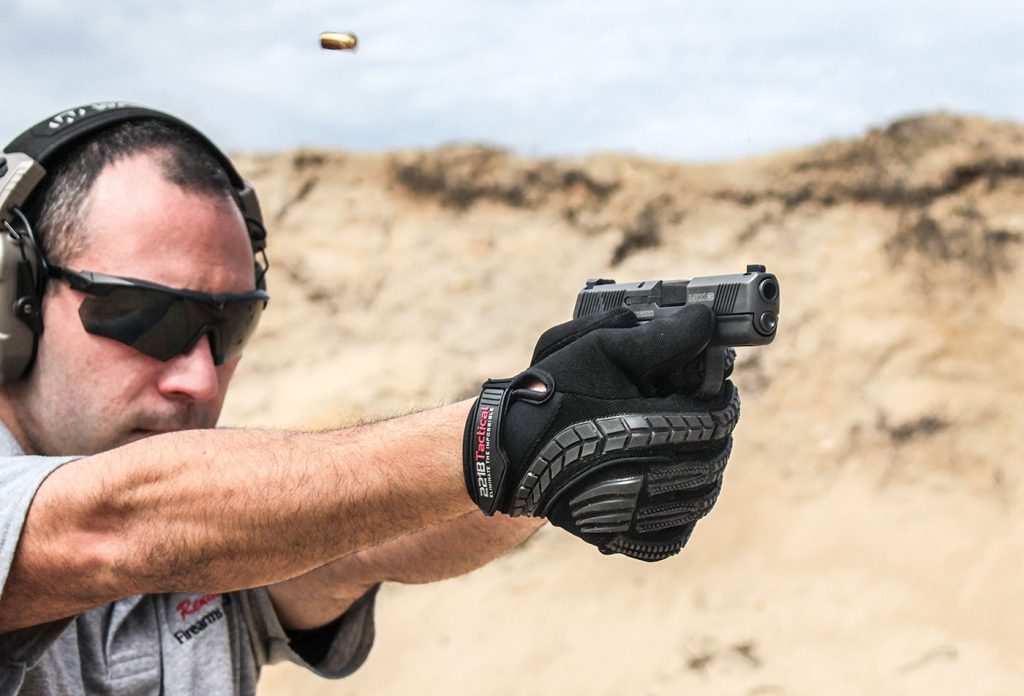 Disassembly was simple and safe, as it did not require squeezing the trigger. This is a very desirable aspect, especially when teaching a new shooter. It is refreshing to see more and more guns on the market adopting this system. Once you have ensured the firearm is unloaded by removing the magazine and checking the chamber you just lock the slide to the rear and then press the button on the back plate. This allows you to remove it and then in turn remove the striker assembly. With the striker assembly removed the slide slips off of the front of the frame and the guide rod/spring and barrel come right off without any tools. After our 300-round test we had to clean just a little bit of carbon out of the barrel and from around the muzzle. We scrubbed the guide rails even though they where relatively free of any debris or fouling. After a fast lubrication we slipped it back together in the reverse order without any trouble and were on our way.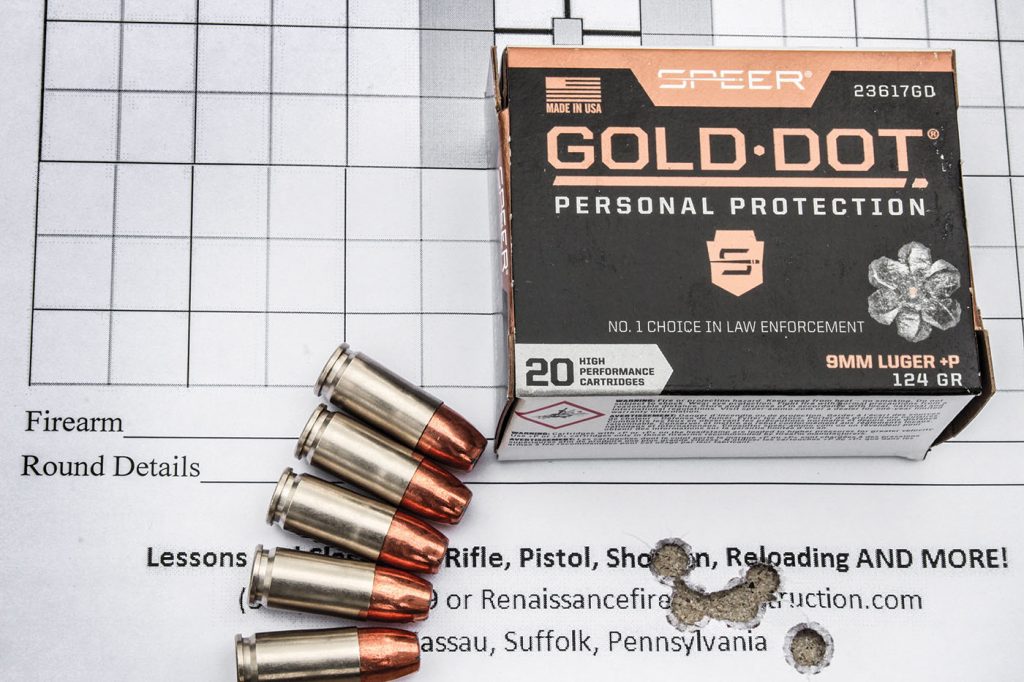 While constantly innovating rifles and shotguns it was refreshing to see Mossberg take a crack at a pistol again. The end result was very pleasurable, large enough to shoot but still small enough for everyday carry. Overall I found the ergonomics and the aesthetics very pleasing and the accuracy was certainly on par with other pistols in its class. See it at your gun shop, or contact O.F. Mossberg & Sons; Tel.: (203) 230-5300; Web: www.mossberg.com
Accuracy Results
Five 5-shot groups fired at 15 yards (in inches)
Round Best Worst Average
Aguila 117-gr. JHP 1.88 2.69 2.56
Aguila 124-gr. FMJ 2.64 3.37 2.87
Black Hills 100-gr. Honey Badger            1.94              2.93                2.31
Black Hills 115-gr. FMJ 3.37 3.62 3.43
Federal Syntech 147-gr. TSJ 2.12 2.61 2.25
Speer 125-gr. GDHP 1.06 1.81 1.37