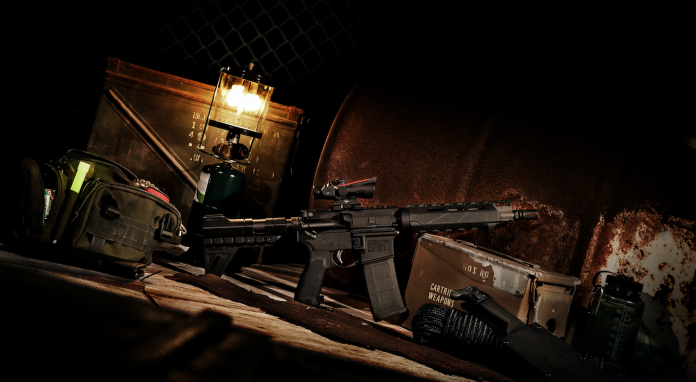 New Springfield Armory® SAINT Pistol—
Maximum Performance, Minimal Price
 GENESEO, ILL. (10/14/19) – In response to the immense popularity of the SAINT Victor and SAINT Edge pistols, Springfield Armory® is pleased to announce the new SAINT Pistol in 5.56mm for 2019.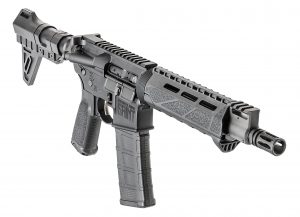 With an MSRP of just $849, the SAINT Pistol is designed to offer shooters the quality and performance they expect, but at an even more affordable introductory price point. The pistol has upgraded features throughout, ensuring it delivers exceptional value and making it an ideal firearm for home protection and personal defense.
The SAINT Pistol features a balanced 9.6″ chrome moly vanadium barrel that maximizes ballistic performance while still offering compact dimensions. The adjustable premium Trinity Force® Breach Brace provides enhanced stability and meets ATF requirements for pistol classification.

Hard-use durability and rock-solid reliability are hallmarks of the SAINT Pistol. The barrel is fully Melonite™ coated for both durability and corrosion resistance, and the forged 7075 T6 upper and lower receiver ensure never-fail strength for the lifetime of the gun. Additionally, its M16 bolt carrier group, machined from Carpenter 158 steel, is shot peened and magnetic particle inspected for long-term durability.
The upper receiver has an optics-ready, flat-top design ready to receive your optic of choice. In addition, the pistol features a pinned Picatinny rail-topped steel gas block that will stand up to a lifetime of use, and allows the SAINT Pistol to accept the iron sights of your choice. Springfield Armory's noteworthy Accu-Tite™ tension system ensures a tight lock-up between the upper and lower receiver.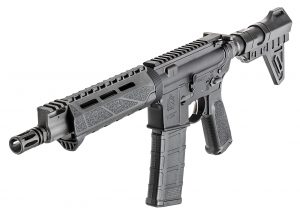 An exclusive BCMGunfighter™ PMCR two-piece handguard with M-LOK-compatible attachment points features aluminum heat shields and a built-in handstop for comfort and safety. This pairs up with a BCMGunfighter™ Mod. 3 pistol grip for exceptional handling. The SAINT Pistol weighs in at only 5½ pounds unloaded and measures 25.75-28.25 inches long.
For anyone looking for maximum value and performance, the new SAINT Pistol from Springfield Armory deserves your attention.
For more information about the SAINT Pistol, please visit: https://www.spr-ar.com/r/3585
About Springfield Armory®
In 1794, the original Springfield Armory began manufacturing muskets for the defense of our young, free Republic.  The Armory functioned as a firearms supplier for every major American conflict until 1968 when the government sadly closed its doors. In 1974, nearly two centuries after its inception, Springfield Armory Inc. in Geneseo, Ill. revived the iconic heritage of the Armory to carry on its legacy.
We strive to honor this responsibility as guardians of the original Springfield Armory legacy by manufacturing the highest quality firearms to enable responsible citizens to preserve their right to keep and bear arms in the defense of life, liberty and the pursuit of happiness.
With an unmatched emphasis on craftsmanship, performance and exceptional customer service, our mission is to forge superior firearms and provide the tools necessary to defend individual freedoms and equality for those who embrace the rights and principles secured by our Founding Fathers.  For more information, please visit us at: springfield-armory.com.