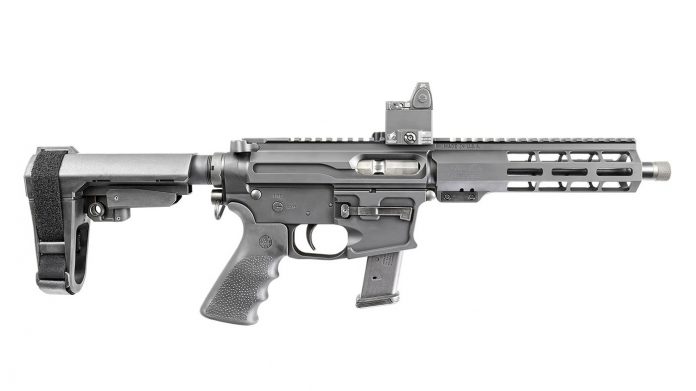 Windham Weaponry's compact, blow-back-operated 9mm GMC AR pistol is built with the same quality and to the same standards as their AR rifles. The upper (A4) and lower receivers are machined from billet 7075 T6 aircraft-grade aluminum with a hard-coat black anodized finish. The upper receiver is fitted with a 13-slot Picatinny top rail, T-handle charging lever and houses a blow-back "bolt carrier" machined from 8620 steel without the typical rotating bolt head.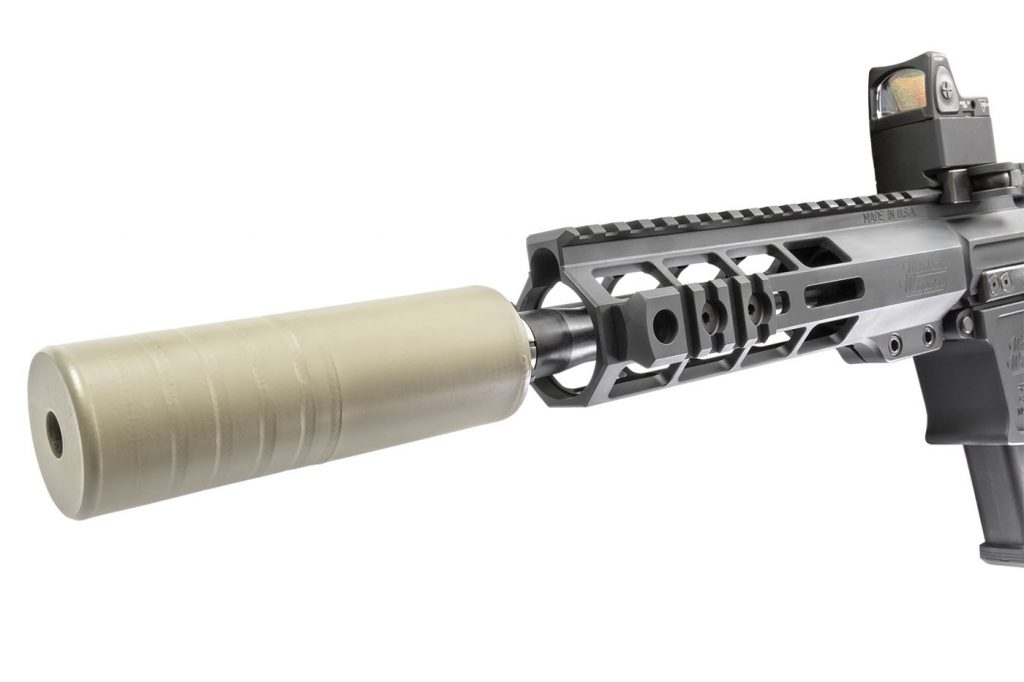 The lower receiver is equipped with a QD sling swivel receptacle in the receiver end-plate and included QD sling swivel, integrally machined trigger guard, Mil-Spec safety lever with fire/safe markings on both sides, a standard bolt release lever on the left side with a modified extension on the right side to accommodate the different locking slots of pistol-caliber magazines, over-molded rubber pistol grip and a Mil-Spec trigger that felt much better than we typically encounter.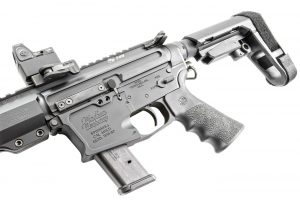 While there is some take-up and a bit of creep, it broke crisply at an average pull weight of just under seven pounds with no overtravel. Would we like to see a light, 2-stage trigger? Always, but for a Mil-Spec trigger this one ain't half bad.
Upper-to-lower receiver fit is tight with no wobble or slop. Take down is identical to any AR rifle. Housed in the magwell is a Magpul 17-round polymer magazine with bright orange follower (one included). It was easy to load to full capacity and fed consistently without any issues. The 9mm GMC will accept any Glock-compatible 9mm magazine, making it a handy companion piece to a 9mm Glock pistol.
The 9mm GMC is fitted with a 9-inch medium-light profile barrel made from 4150 Chrome Moly Vanadium 11595E steel rifled at a 1:10" right-hand twist rate with a Melonite QPQ (salt bath nitride) black finish. The muzzle is threaded at 1/2″ x 28 TPI. for installation of a suppressor or other muzzle device, and comes with an installed thread protector. Covering the barrel is a slim Windham Weaponry 7-inch, free-floated, machined aluminum hand guard with 17-slot Picatinny top rail and M-LOK slots at the 3, 6 and 9 o'clock positions. A 4-slot M-LOK Picatinny rail section is mounted far forward on the 9 o'clock row of M-LOK slots for attachment of a white-light illuminator, laser or other accessory item. It also includes a QD sling swivel receptacle. No open sights are provided.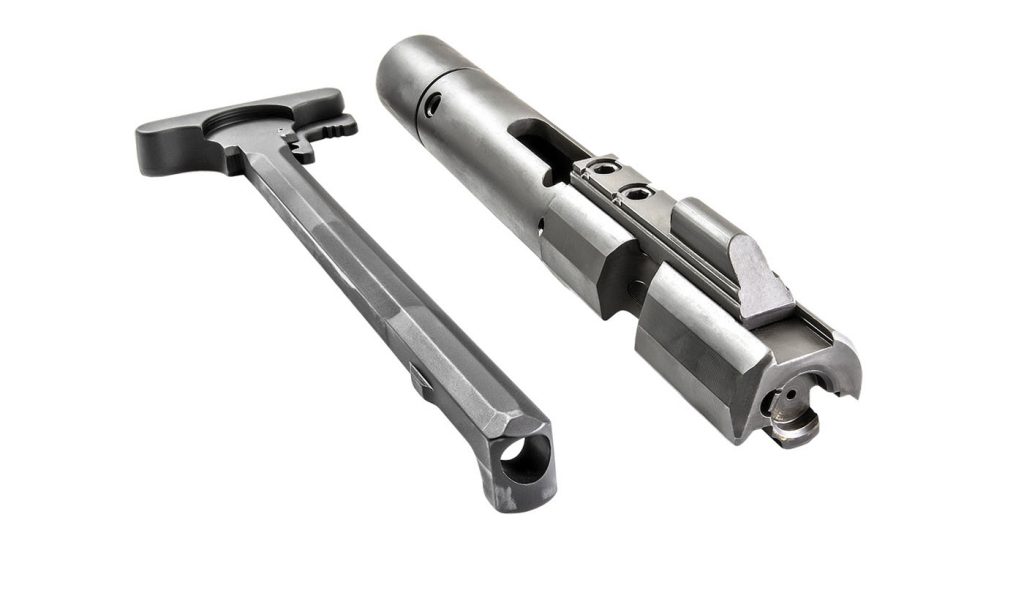 Out back is a 5-position adjustable SB Tactical arm brace (one of our favorite's for sure) with rubber arm surround and Velcro strap closure. It features pronounced check welds, QD sling swivel receptacles on both sides and a push-up lever to extend or collapse the the brace.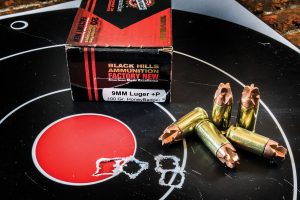 Due in part to the absence of a gas block, gas tube, gas key and bolt head, empty weight is a handy 5.8 pounds. Overall length is 23 inches collapsed and 26 inches fully extended. It comes with a hard-plastic case, black web sling and a transferrable lifetime warranty.
Function and reliability testing yielded 100% reliability with all ammunition—both suppressed and unsuppressed. And, despite its compact size and similar blowback operation as the rest of the guns in this section, the GMC was decisively one of the softest recoiling/most controllable of the bunch. From the bench, the GMC produced some great results, with its best 5-shot/25-yard group coming with Black Hills' 100-grain HoneyBadger ammo, measuring 1.20-inches. Keeping the other two loads tested— Federal's new coated 138-gr. Syntech Defense HP and Fiocchi's 115-gr. FMJ—under 1.5-inches was not difficult.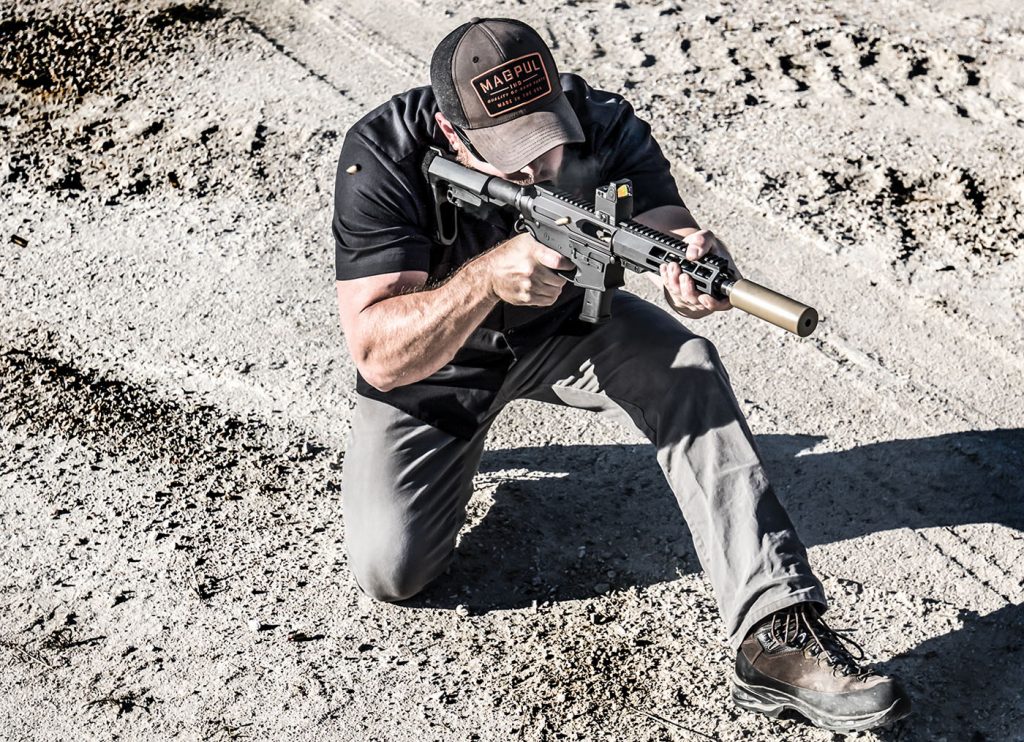 To wrap this review into one sentence: If you're looking for a compact, precise and extremely reliable 9mm AR that feeds from Glock magazines, there's no going wrong with the Windham Weaponry GMC Pistol. See it at your gun shop ($1,283), or contact Windham Weaponry; Tel.: (855) 808-1888; Web: www.windhamweaponry.com
Windham Weaponry GMC 9mm:
BARREL: 9" Melonite QPQ Finish
MUZZLE: Thread Protector, Threaded 1/2-28
HAND GUARD: Windham Weaponry Aluminum M-LOK
FURNITURE: A2 Pistol Grip, SBA3 Brace
RECEIVERS: Billet Aluminum Lower, Forged Upper
TRIGGER: Mil-Spec
MAGAZINE: Glock-Compatible Magpul 9mm 17 round
WEIGHT: 5.8-pounds
LENGTH: 26.75"
MSRP: $1,283.00