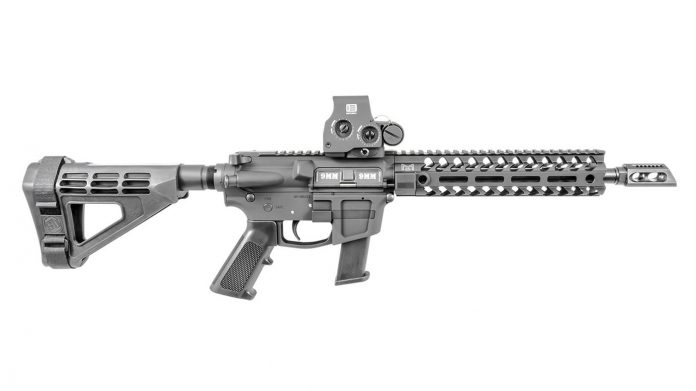 The new 9mm AR pistol from Yankee Hill Machine ($1,499) accepts all Glock 9mm magazines, and comes with one Glock 17 factory 17-round magazine. Yankee Hill Machine (YHM), located in East Hampton, Massachusetts, has over the last decade earned a well-deserved reputation for producing excellent-quality ARs and components and some of the most affordable sound suppressors available.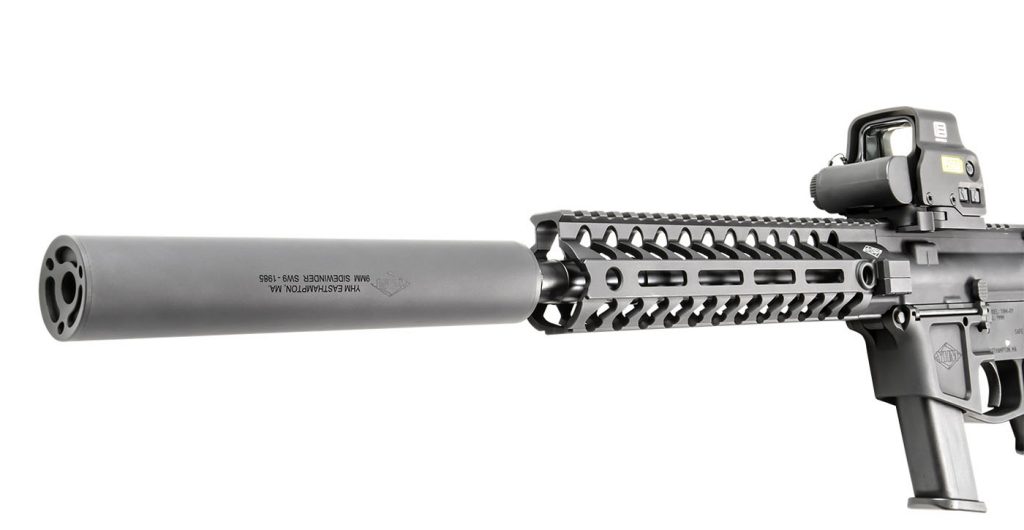 New for 2019, the 9mm AR pistol with brace features a 10.5-inch 4140 steel barrel (also available in a 5.5" barreled/non-brace version for $1,199), with Melonite QPQ finish. It's threaded 1/2″ x 36 t.p.i. and is tipped with YHM's highly effective 85-MB-A slant muzzle brake, which has two large ports on each side and two rows of seven vent holes on top. The side ports direct muzzle blast and gases away from the shooter, while the fourteen top vents reduce muzzle rise—an important feature in a blowback operated pistol.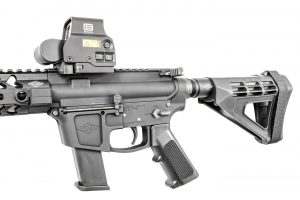 The barrel is surrounded by a highly ventilated YHM S.L.M. mid-length hand guard with rows of four M-LOK slots at the 3, 6 and 9 o'clock positions, and a full-length T-marked Picatinny top rail which mates seamlessly with the full-length, T-marked Picatinny rail atop the forged upper receiver, providing an uninterrupted 37-slot top rail back to front. QD sling-swivel receptacles are included at the rear of the hand guard on both sides. The upper receiver offers standard AR controls and external features found in their usual locations, but includes an extended and knurled unlocking lever on the T-handle bolt retractor.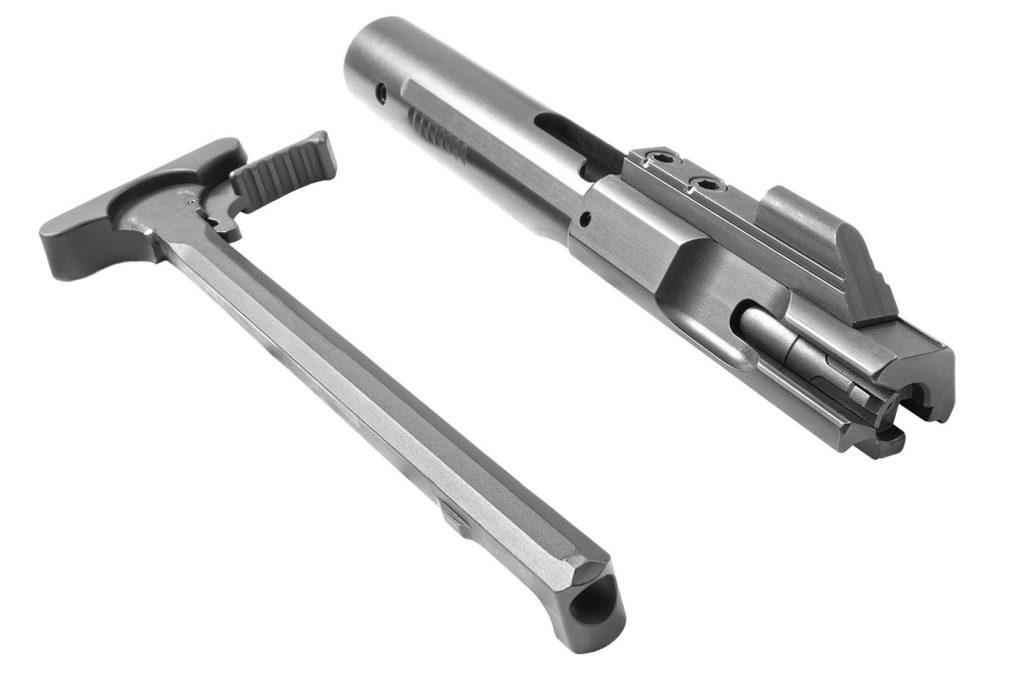 As noted, the operating system is of the blow-back type, meaning there is no gas block, gas tube or gas key. The gas system is not missed on a 9mm AR, as we felt almost no perceived recoil or bolt slam during testing, even with hot +P loads. The "bolt carrier" is the bolt, and there is no rotating bolt as found in traditional ARs. The extractor/ejector is an elongated external part which produced reliable and consistent 4 o'clock ejection.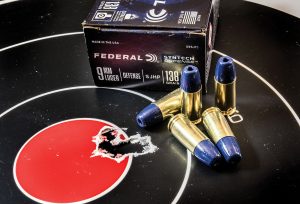 The lower receiver is a bit different due to its dedicated 9mm design. While outwardly similar to a 5.56 NATO AR lower, the safety selector is standard Mil-Spec fare, but the bolt release, magazine release and magazine well have been modified to accommodate 9mm magazines. The trigger is nothing to write home about, but it was a bit better than a standard Mil-Spec trigger. It exhibited a palpable amount of take-up, but no stacking, and broke cleanly at an average pull weight of 5.8 pounds. Considering that this is a pistol, the trigger was way better than that of the typical revolver fired in double-action mode.
The pistol grip is a Mil-Spec A2 affair, while the stabilizing brace is an all-rubber, SB Tactical SBM4, an evolutionary upgrade of their original SB15. Thinner, lighter and with enhanced cheek weld, the it provides increased stability and improved accuracy. It is not, however, adjustable for length of pull, which measured 12.5 inches. We could easily shoulder the pistol—unloaded, of course, so the BATFE wouldn't throw us in the lock-up! Empty weight is 6.1 pounds, and overall length is 27.25 inches.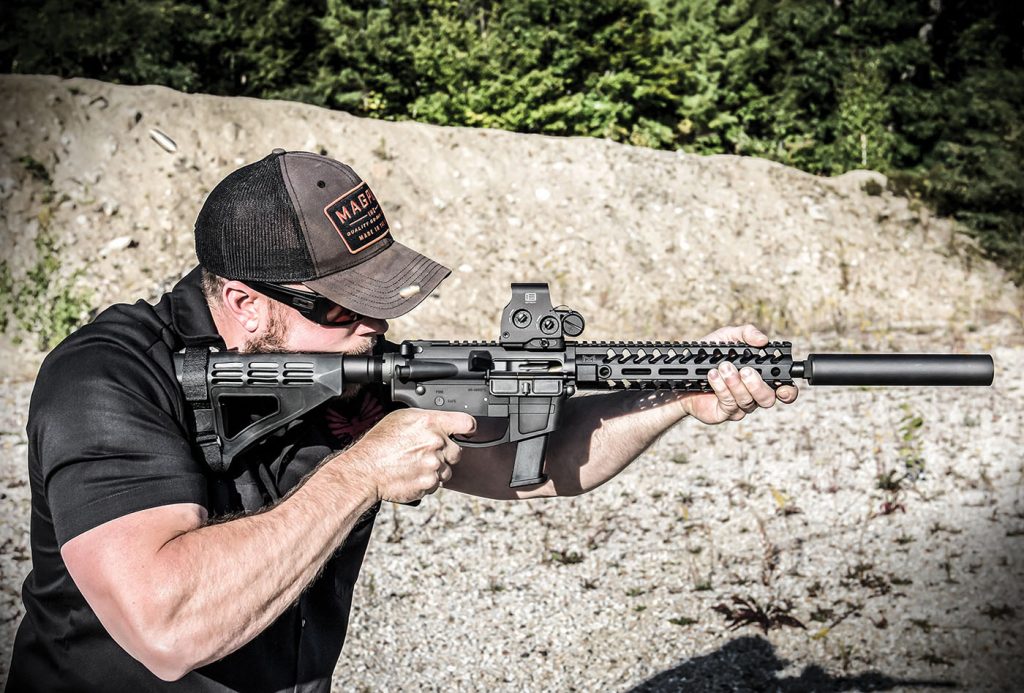 The YHM gun was the softest recoiling of the bunch, and from the bench, exhibited the highest level of downrange precision out of all of the guns in this section. With Federal's new coated 138-gr. Syntech Defense HP load, the YHM gun was able to drill a best-of-testing 0.65" 5-shot/25-yard group. The other two loads tested—Black Hills' 100-grain HoneyBadger and Fiocchi's 115-gr. FMJ —also produced easy sub-one-inch groups. Overall, outstanding performance, paired with 100-percent-reliable operation.
See it at your gun shop, or contact Yankee Hill Machine; Tel.: (877) 892-6533; Web: www.yhm.net
Yankee Hill Machine 9mm AR Pistol:
BARREL: 10.5" Melonite QPQ Finish
MUZZLE: Slant Muzzle Brake, Threaded 1/2-36
HAND GUARD: YHM S.L.M. M-LOK
FURNITURE: A2 Pistol Grip, SBM4 Brace
RECEIVERS: Billet Aluminum Lower, Forged Upper
TRIGGER: Mil-Spec
MAGAZINE: Glock-Compatible Magpul 9mm 17 round
WEIGHT: 6.1-pounds
LENGTH: 27.25"
MSRP: $1,499.00