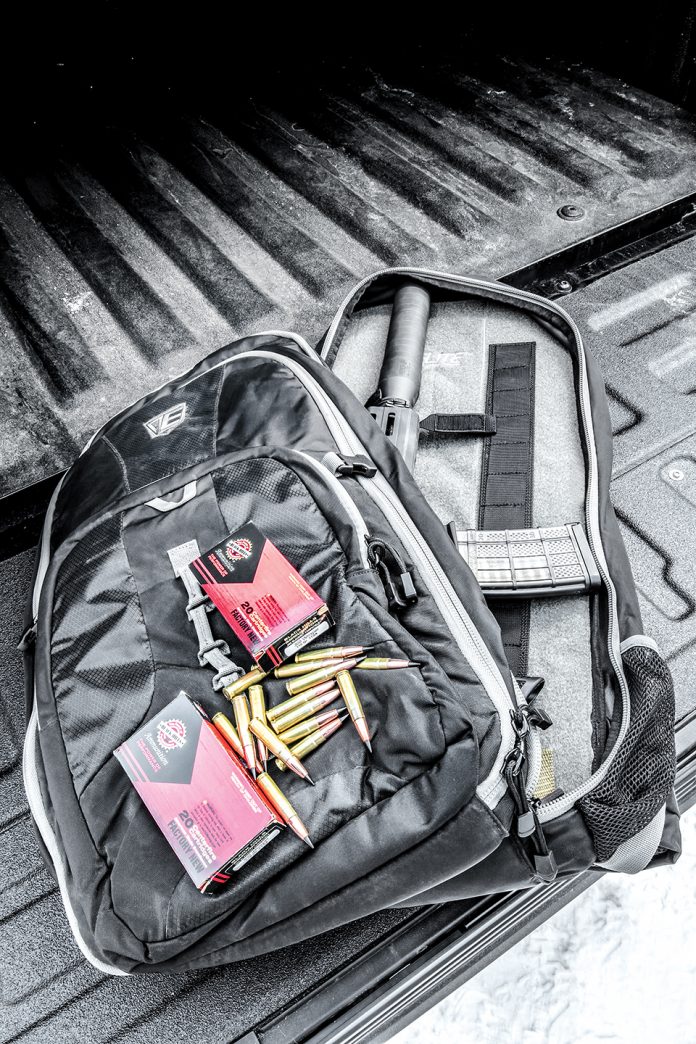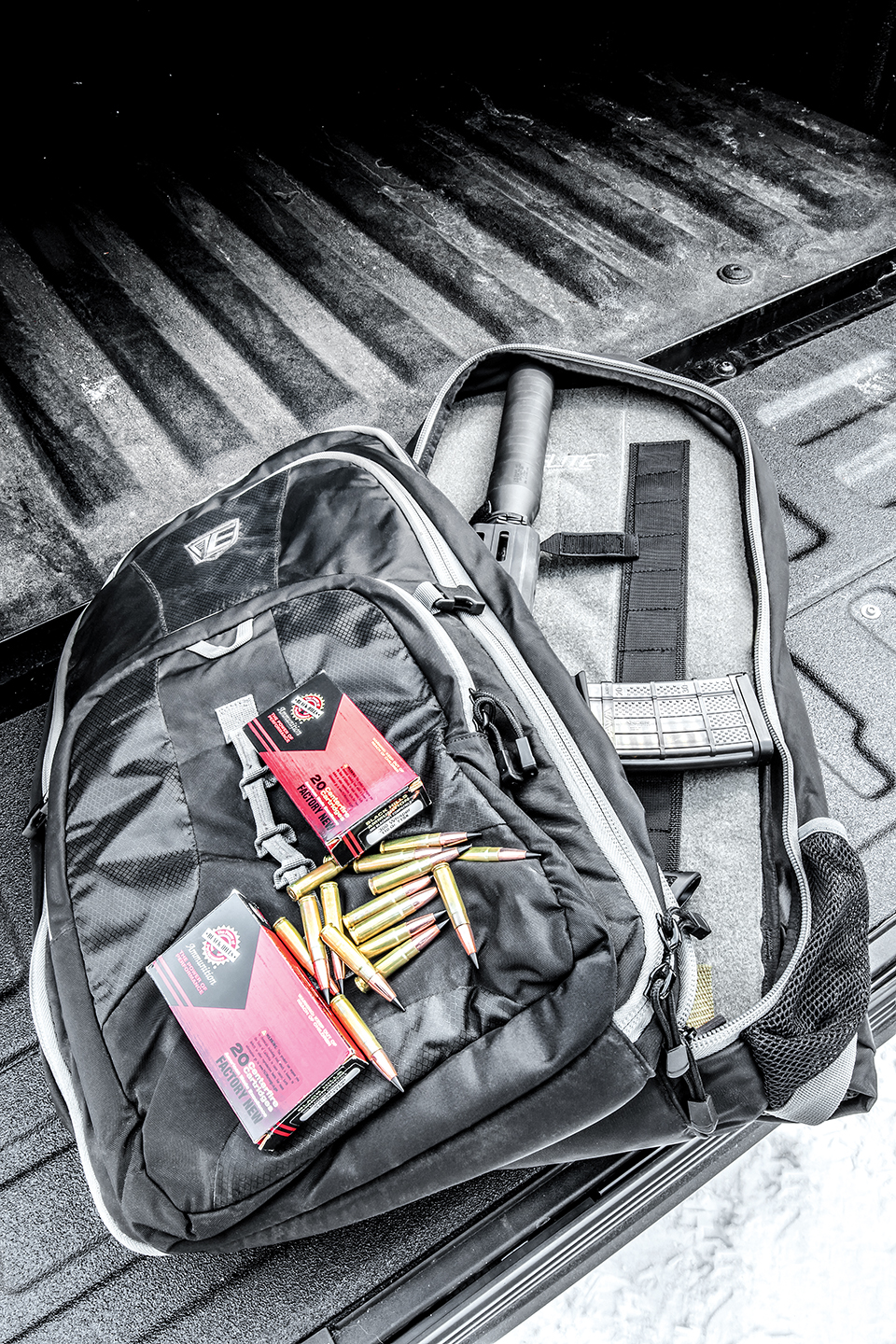 Elite Survival Systems Covert Operations Rifle Backpack
The Covert Operations Rifle Backpack ($229) represents just what its name implies. It is a normal looking backpack that is designed to carry a rifle or AR pistol, and support equipment. The backpack portion of this system is what separates it from other transport bags. It actually carries like a normal backpack, one that can be carried for long periods of time and with a surprising level of comfort. The removable waist strap features a pair of zippered pockets on each wing, just like many of today's mountaineering packs. These pockets will fit a small rangefinder, energy gel/bars, pocket scope or even a couple of spare pistol magazines.
The lockable main compartment is loop Velcro lined allowing the attachment of hook-backed pouches or other accessories for complete interior customization. The backpack comes with a pair of adjustable tie downs and a muzzle sleeve to secure a long gun. The compartment is designed to house either a disassembled carbine for secure storage or an assembled AR pistol for fast access. The sides and bottom are completely padded, ensuring your firearm remains protected. The middle compartment's rear panel is fully lined with MOLLE compatible PALS webbing, which also happens to be covered in loop Velcro, ready to accept hook-backed pouches or a combination of the two. The front compartment is an administrative-style pocket with a variety of slot pockets and compartments designed to organize keys, cellphones, business cards or other sundries. You'd be hard-pressed to find a more comfortable-to-carry discreet pack designed to accommodate such a wide variety of platforms. Contact Elite Survival Systems; Tel.: (866) 340-2778; web: www.elitesurvival.com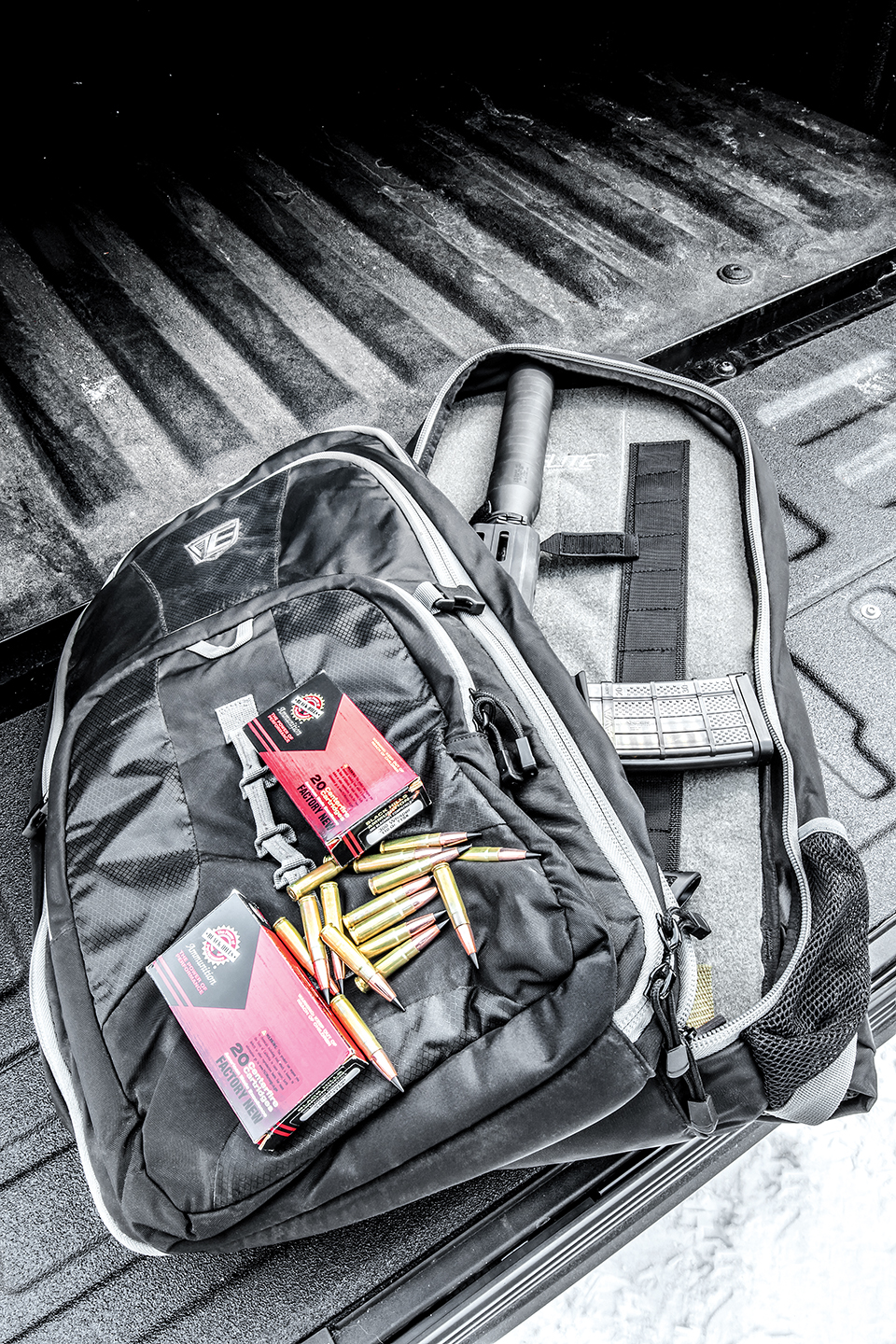 Black Hills 110-Grain TTSX .300 Blackout
In 2012, Barnes Ammunition developed the ultimate supersonic .300 Blackout load called the TTSX, or Tipped-Triple Shock. This black polymer tipped, 110-grain all-copper projectile has been dubbed the magic bullet by many, quickly becoming the standard by which all others are judged. What makes it so special? Without going too deep into projectile composition, Barnes' published data states the round will reliably expand in soft tissue down to 1,400 feet per second (fps). Many claim that number is actually closer to 1,300fps. So why does that matter? Performance-wise it is so far ahead of the .300BLK pack, that SOCOM-entrusted manufacturer – Black Hills Ammunition – loads the round.
We were able to get our hands on some of Black Hills commercially loaded rounds for testing, which averaged 1,925fps out of our 5.5-inch barreled Canebrake at about 500 feet above sea level. Looking further down our ballistic table, that nets us 1,472fps at 200 yards, 1,380fps at 250 yards and 1,297fps at 300 yards, which is simply astounding out of a barrel that short, and from a gun designed for use in tight quarters and short-range engagements.
The round immediately expands upon impact and retains nearly 100% of its weight, penetrating to desired depths of 18-plus inches. It performs well through tough barriers, such as car doors and windshields, making it very suitable for law enforcement use. This is, without question, the best available choice for short-range personal defense .300BLK loads.
Contact Black Hills Ammunition; Tel.: (605) 348-5150; Web: www.black-hills.com