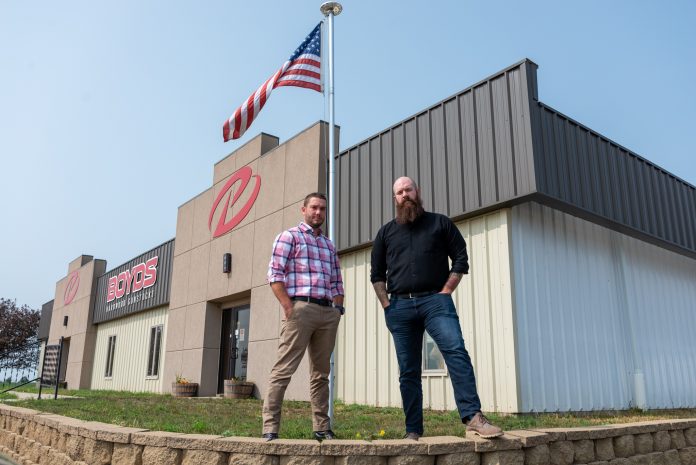 Boyds Gunstocks Celebrates 40 Years of Gunstock Innovation!
 MITCHELL, S.D. – Started in 1981 as a one-man operation, Boyds Gunstocks has grown into the largest aftermarket gunstock manufacturer in the world employing over 100 talented craftsmen and women.  Dustin Knutson and Rob Carstensen, long-time employees at Boyds Gunstocks have become the two new owners.  "40 years says a lot about how we do business and how satisfied our customers are; they continue to support us year after year," says Dustin Knutson.
Boyds offers aftermarket gunstocks in over 155 different gun brands and over 1,200 models within those brands.  "Nobody can offer the huge selection and variety of stocks that we offer," says Dustin.
With 40 years of innovation under their belt, Boyds continues to come out with new stock shapes to give the public what they are asking for: quality, comfortable, stable, accurate-shooting stocks for a very affordable price.  Boyds' most recent line of innovation focused on adjustability.  The At-One series offered customers an adjustable length of pull, an adjustable comb, modular grips, modular fore-ends, and modular buttstock toe.  "With the At-One you get perfect fit, no matter what shooting situation you find yourself in.  The stock adjusts in seconds to fit your body perfectly, giving you the comfort and accuracy you deserve," says Dustin.
Boyds offers over 24 stock shapes in over 15 different colors and several grades of solid Walnut.  Personalizing your own Boyds Gunstock is as easy as going to Boyds' website and plugging in your gun's Make, Model, and Action; doing so brings up a myriad of customizing options that allows a customer to make truly a one-of-a-kind, personalized gunstock that has its own unique style and fits them perfectly.  Option choices include such things as choice of butt pad, laser engraving, grip caps, fore-end tips, white line spacing, aluminum pillar bedding, and more.  "We give the customer what they want, the way they want it," says Dustin Knutson, "that's the secret to our success."
"Function is first," says Dustin.  "The stock has to fit the gun perfectly, and it has to fit the human body even more so.  Without a good-fitting stock, you will struggle to make consistently accurate shots."
Boyds continues to innovate.  After the At-One line of stocks, Boyds launched the Spike Camp, a very low-cost stock with the same Boyds high quality, just with fewer available options.  In 2021 Boyds will once again launch several new stock shapes, which are sure to capture the public's attention.  "Boyds has been dedicated these past 40 years to providing our customers with the innovation and technology they demand and deserve," says Dustin, "and we are continuing that dedication by coming out with something really cool later this year!  I think our customers will love it."
To order a Boyds Gunstock, go to www.boydsgunstocks.com or call 605-996-5011.