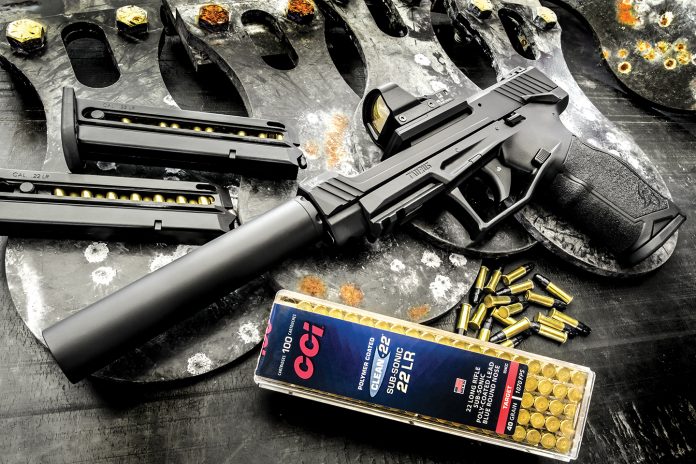 Taurus TX22 Competition
A Glimpse into The Future
by Chris Mudgett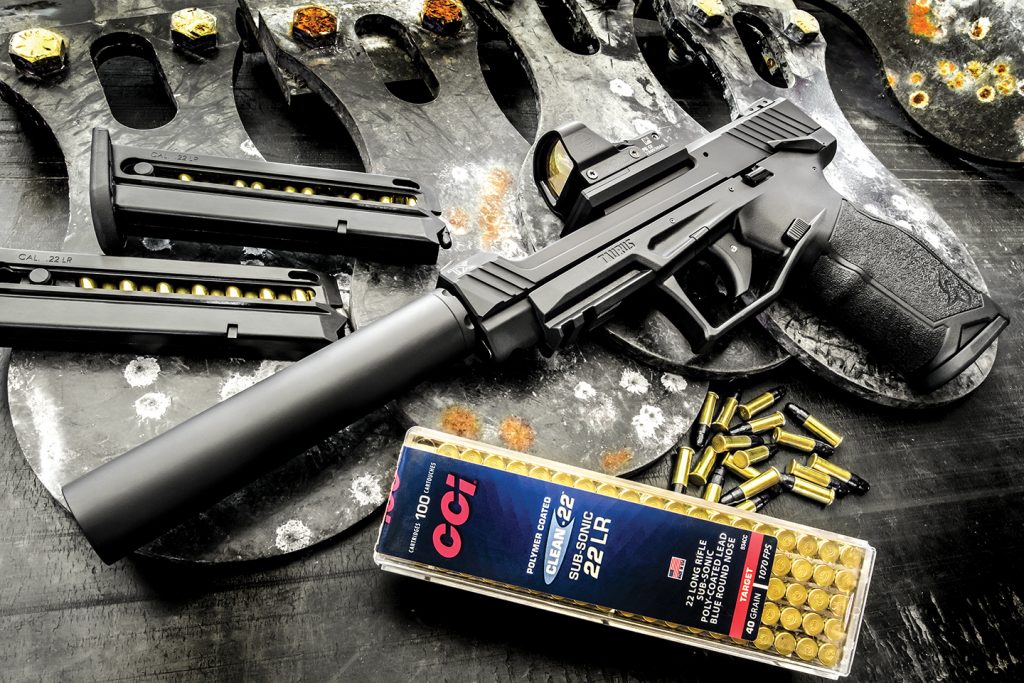 While not ashamed to say so, we see a lot of the same type of products make the journey across our desks each year with minimal differences among them. Handguns have gotten so good, you really have to ignore all warning signs to make a wrong turn. That said, every once in a while a new pistol will surprise us by how good it really is, and the Taurus TX22 is just such pistol.
The TX22 is a purpose built, semiautomatic .22LR, not a scaled down, corner-cut version of an existing centerfire variant. Because of this, the TX22 was an instant success as soon as it was released thanks to the attention it received for its increased capacity magazines (16-rounds), actual mid-size pistol ergonomics, awesome trigger, sewing machine-like function.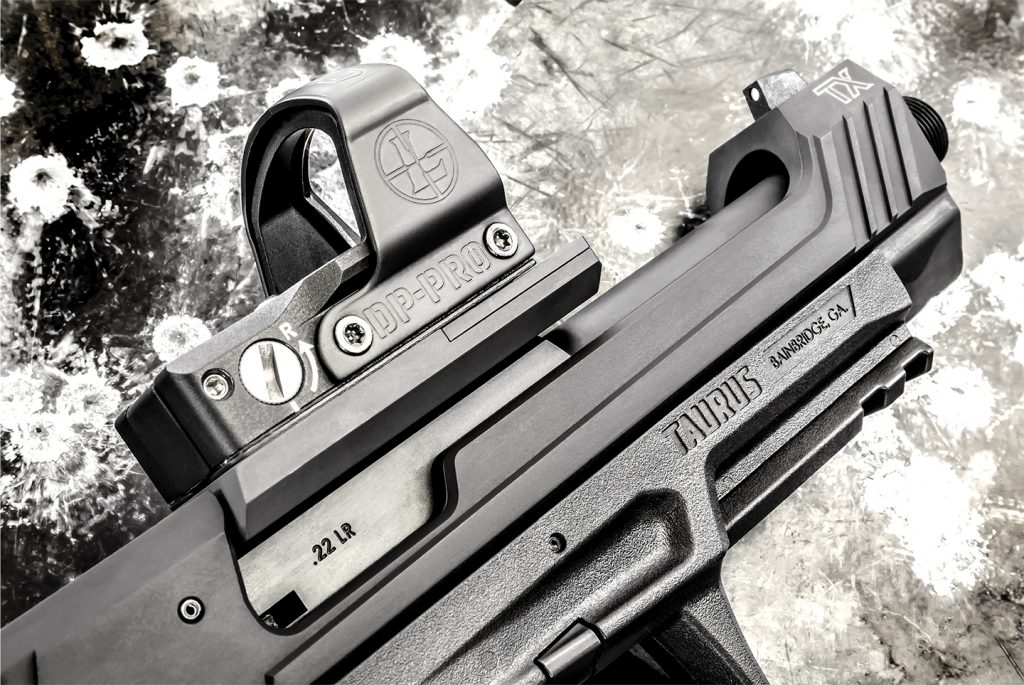 We loved the original, but had no idea the Competition version was around the corner. Now that it's here, all we can say is hot-damn! The TX22 Competition is competition-ready out of the box with a 5-inch threaded bull barrel and unique, adaptable optic mounting solution. It's a little futuristic looking at first glance, but look hard and remember what you see here, because it's what the future looks like. Specifically, how the optic is mounted to the pistol.
To accommodate Taurus's new integrated optics mounting system—which allows an optic to
be mounted to the barrel hood via a smart slide plate system—the original TX22's slide
needed to be modified to feature a more open-top design, reminiscent of Beretta's Model 92, or M9 in military-speak. The barrel hood has multiple holes drilled to accept several hole patterns, while the actual plate is what is compatible with red-dot sight bases for a more ruggedized fit. The unique system is compatible with most of the popular miniature red-dot sights, including the C-More STS2, Leupold DeltaPoint PRO (tested), Bushnell RXS-250, Trijicon RMR/SRO, Holosun 407, Vortex Venom, Doctor Noblex, Burris Fast Fire, and Sightmark Mini. But, that's not the whole story: the mounted optic doesn't reciprocate with the slide, allowing for much faster and easier dot tracking, as it remains stationary. This equates to lightning fast target-to-target transitions, and dot stability is insane. We hope this technology finds its way into future centerfire pistols. To reiterate, this mounting method is what the future looks like for pistol mounted optics, and Taurus is bringing its A-game.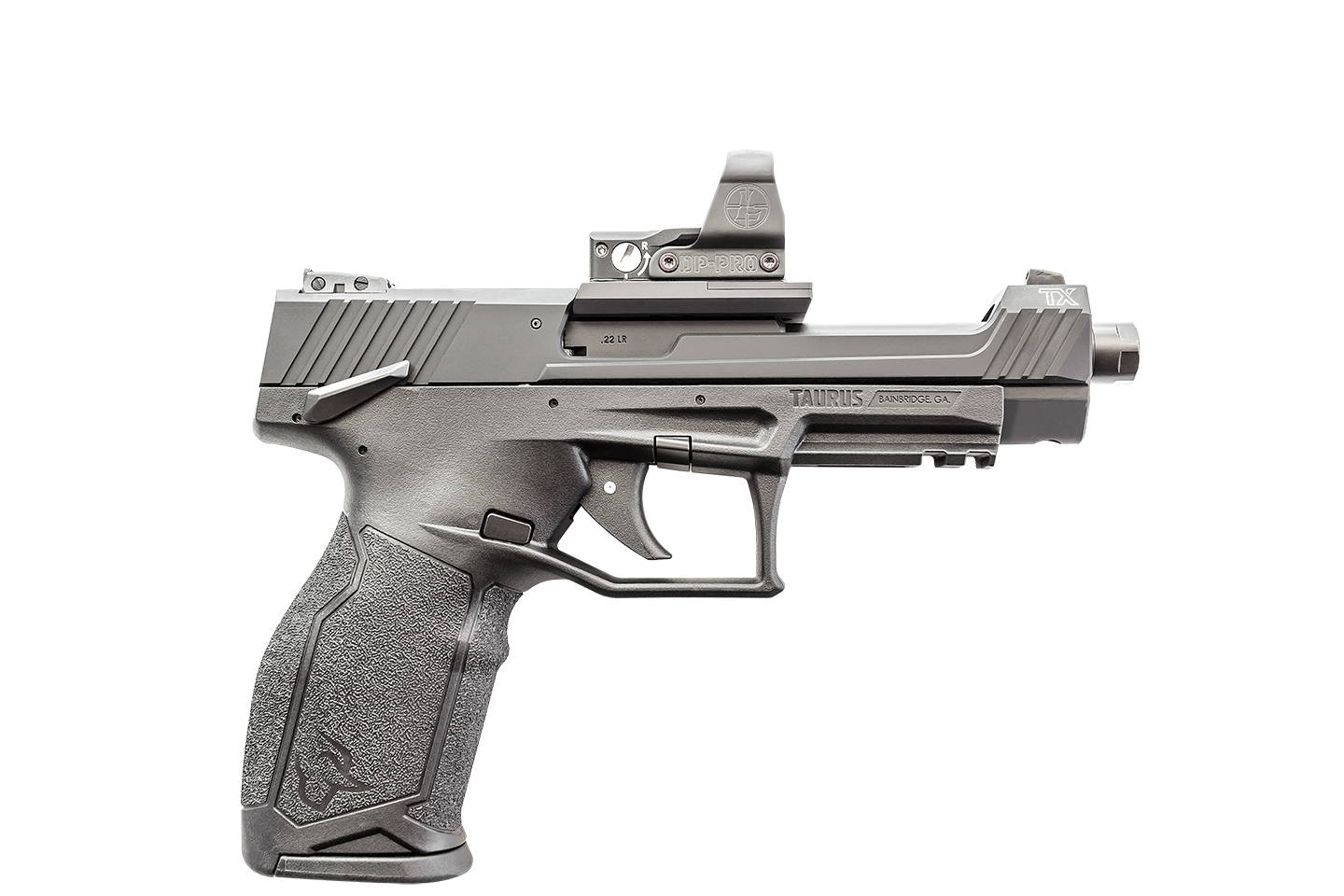 The TX22 features a short, smooth trigger pull with its precision-designed Taurus Pittman Trigger System (PTS). This is actually a single-action striker-fired design. The trigger shoe itself has a little bit of rotational play in it, allowing your trigger finger to properly position on the shoe, ensuring it moves directly rearward, reducing the chance of disrupting your group with an unintentional flier. It's subtle, but there if you look for it, and it makes a difference.
The frame is very nicely sculpted and comfortably filled our palms. Just the right amount of grip texture ensured it stayed firmly in place without becoming uncomfortable, even after a brick and a half of ammo was run through it. We did feel slightly irresponsible after our range session, given today's ammunition shortage, but only sort of—and just for a minute. The trigger guard is deeply undercut and helps position your firing hand at the optimal angle to not only control the pistol, but also naturally pick-up the sights.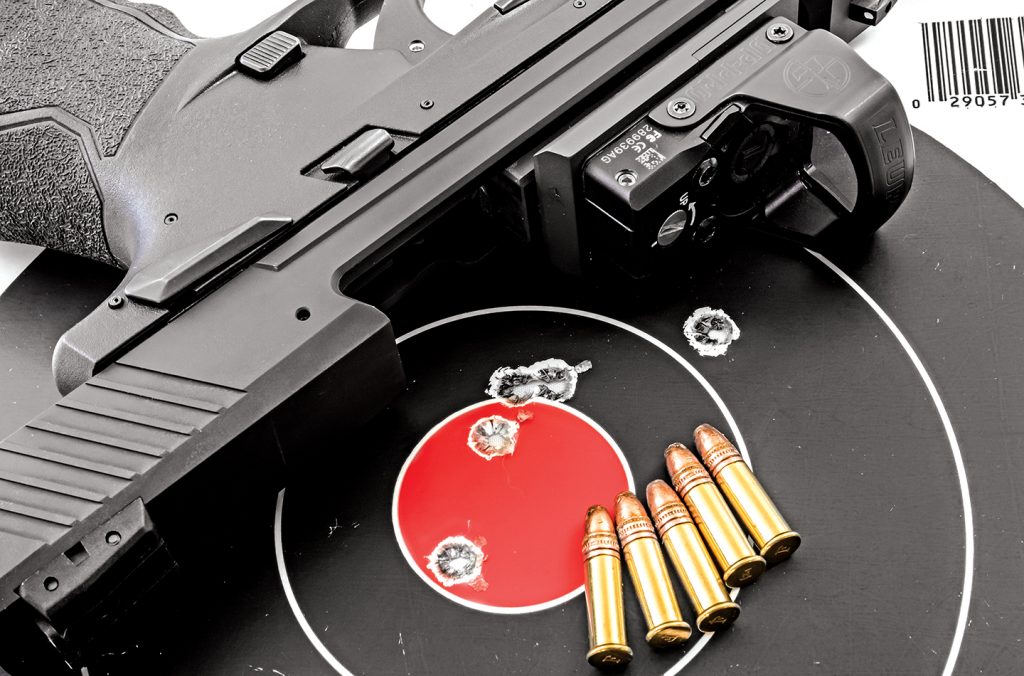 16-round magazines seemingly last forever, especially when our brains are conditioned to only expect 10-rounds—maximum—through every other .22 LR pistol. The TX-22 ships with three 16-round magazines for those of us in free states, or three 10-rounders if you're living behind the lines in a socialist utopia. If you need more, and you do, extra magazines are retail priced at only $22 a piece.
We typically forgo the disassembly/reassembly of firearms, mostly because it's so rarely necessary with modern centerfire firearms. Add some lubricant to wear points, reload your magazines and just keep shooting. Not so with rimfires, in our experience. Some rimfire ammunition can be just filthy. High-volume practice turns filthy into sludge pretty quickly, especially when a suppressor can be added so easily, as is the case with the TX22 Competition.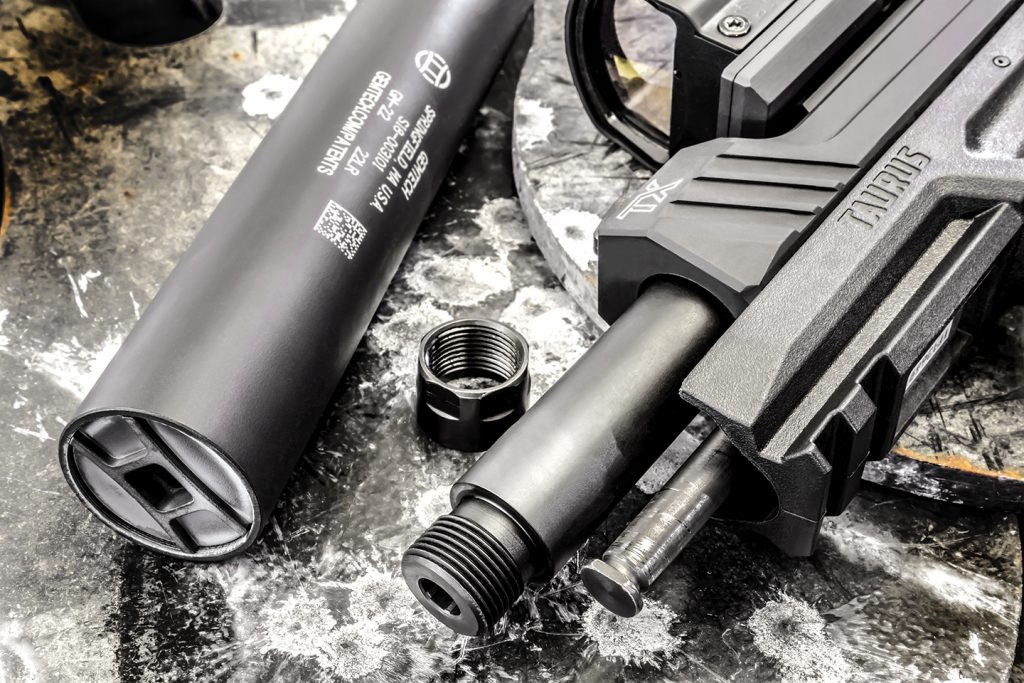 Without further ado, the process here is a pretty simple one. Make sure the gun is empty (we have to tell you this), and remove the magazine. Pull down on the takedown lever and squeeze the trigger reward. This will allow the slide to freely slide off the front of the frame, where the barrel and recoil spring can then be removed. While the TX22 does have a threaded barrel with a factory thread protector included, surprisingly the protector does not have to be unscrewed to remove the barrel from the slide. Nice touch Taurus. As you can see, the TX22 field strips just like most centerfire pistols, but very unlike most rimfire pistols, which can be an arduous process. A nylon bristled brush, carbon cleaner and lubricant will be your friends here, and will be the keys to ensuring trouble-free operation with any .22LR.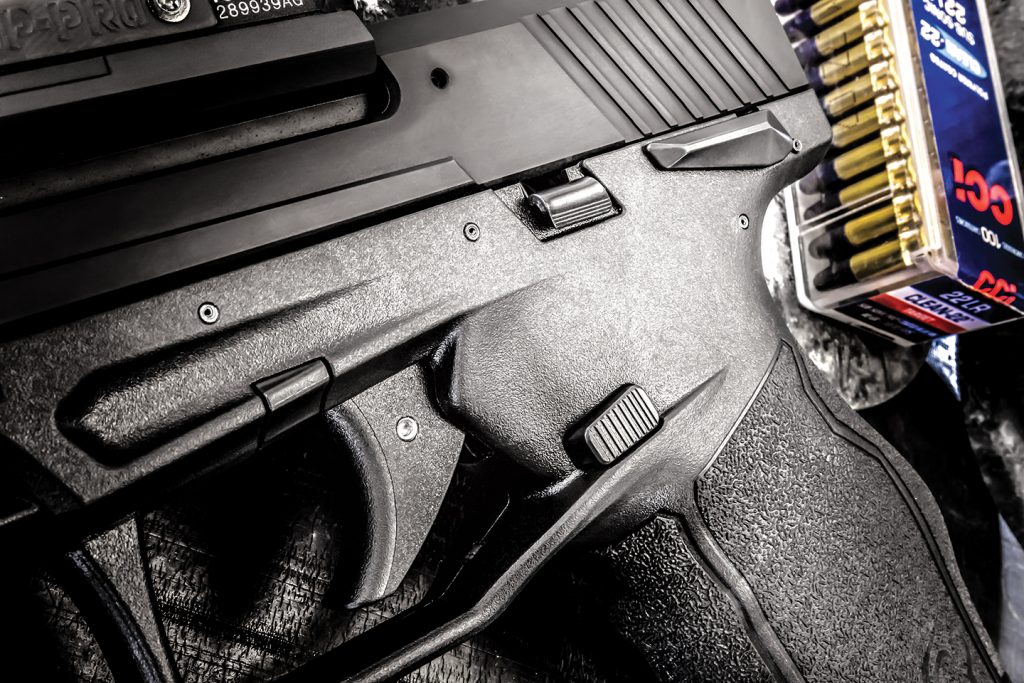 While the TX22 will serve as a fantastic platform for introducing the fun and practicality of pistol shooting to those unfamiliar, it also will set them up for an easy transition to a center-fire defensive pistol, should that be the next step. Where the TX22 Competition model will no doubt shine is steel challenge matches and various .22LR competitions held across the country. It's non-reciprocating optic mount placed our Leupold DeltaPoint PRO at an optimal position for heads-up shooting, which translated into wicked fast target-to-target transitions and a dot that hardly quivered within the sight window during rapid-fire strings. 16-round magazines keep the fun in motion, and all we can say after a spirited run through a local steel challenge match with the TX22 Competition is wow, this thing is a hoot to shoot. See it at your gun shop, or contact Taurus USA; Tel.: (800) 327-3776; www.taurususa.com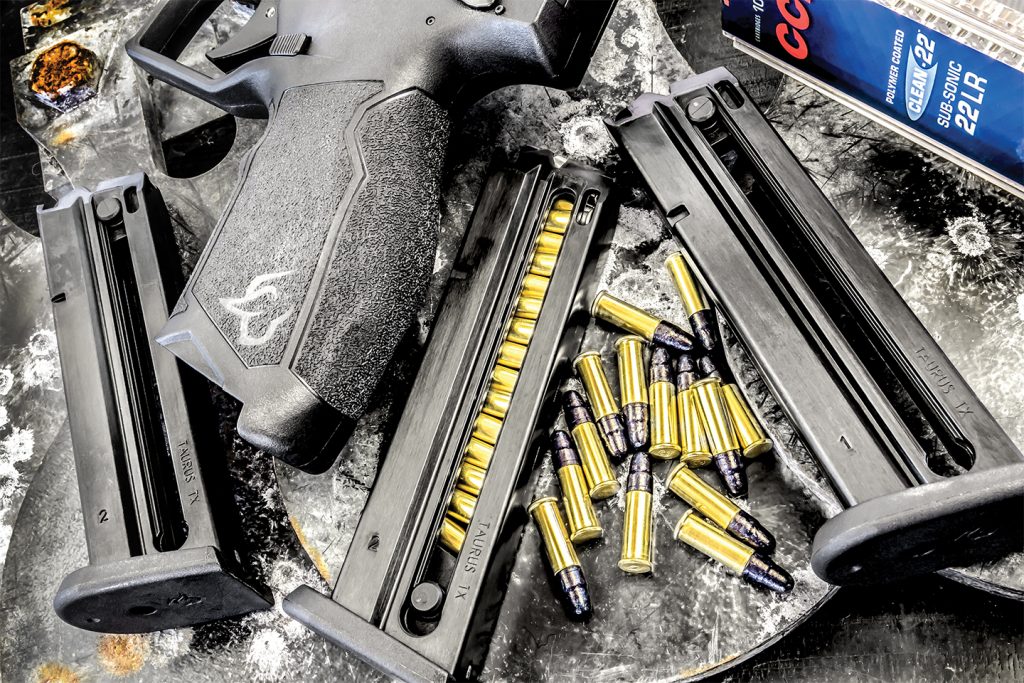 Specifications: Taurus TX22 Competition
Type: Striker fired, Semi-automatic
Caliber: .22LR
Capacity: 16+1
Barrel: 5 in. Match
Overall Length: 8.2 in.
Weight: 23 oz.
Finish: Hard Anodized
Frame: Polymer
Trigger: 4.5 pounds (tested)
Sights: Fixed front; adjustable rear
MSRP: $405