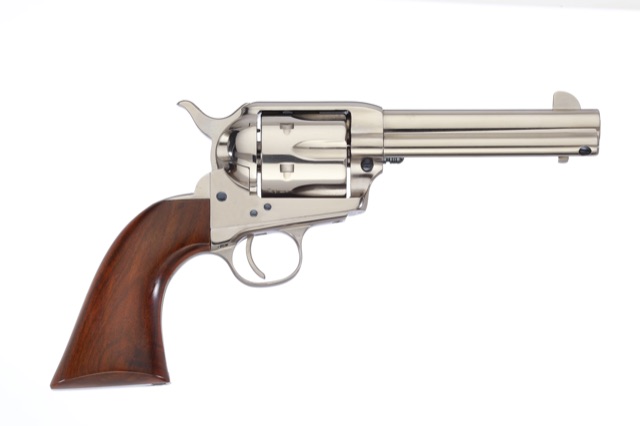 Taylor's & Company Introduces the Gunfighter Nickel Revolver
Winchester, VA – (August 30, 2021) Taylor's & Company, the world's leading marketers and importers of state-of-the-art historical firearms utilizing the latest innovative designs, is pleased to announce the addition of "The Gunfighter Nickel" revolver to their Lifestyle Series for 2021.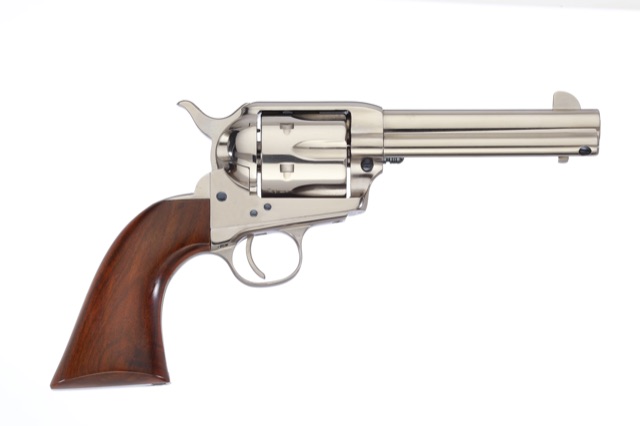 "We couldn't be more excited to bring this classic firearm to the modern gun enthusiast," said Rob Girard, Vice President of Sales and Marketing, Taylor's & Company.  "The Gunfighter Nickel is a cool addition to our very popular Gunfighter Series. The nickel-plated revolver has a flashy look with its charcoal blue screws and hand polished action not to mention its available with the unique Taylor Tuned action."
The Gunfighter model is the perfect solution for any shooter looking for more grip to hold on to. Taylor's installed the favorite 1860 Army grip onto the new model frame cattleman to accommodate the larger-handed shooters. The Army grip is longer and slightly wider than the smaller Navy grip that is usually found on 1873 single action models. It also features a case-hardened forged steel frame, blued steel parts, and a smooth walnut grip.
The Gunfighter Nickel comes ready to shoot right out of the box. Taylor's gunsmiths custom tune guns specifically for each order.
Models Available:
Caliber:          Length:
.357 MAG        4.75"
.45 LC              4.75"
.357 MAG        5.5"
.45 LC              5.5"
MSRP: $704.46
MSRP Taylor's Tuned models: $850.71
To learn more about the Gunfighter Nickel revolver and the complete product offerings from Taylor's & Company, please visit www.taylorsfirearms.com or follow us socially @taylorsfirearms.
About Taylor's & Company                                                                                            
Taylor's & Company markets historical reproductions as well as guns designed for modern-day shooter's needs in The New West. Working closely with manufacturers, Taylor's firearms are crafted to their specifications using high-quality machining and innovative designs; all part of Keeping the Legend Alive.