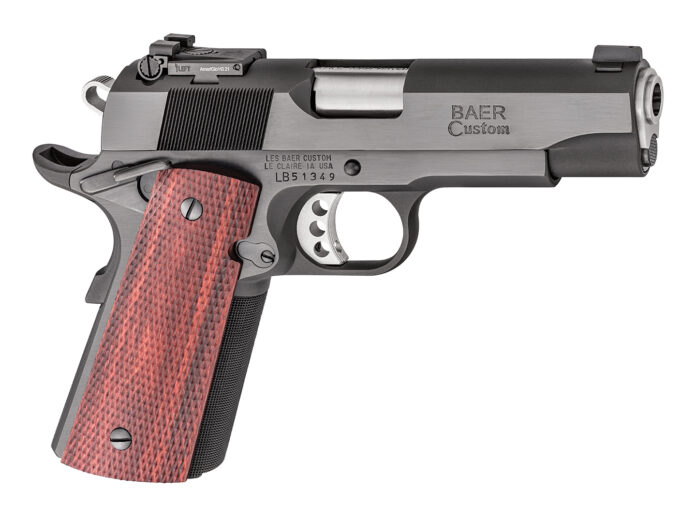 Les Baer Custom Carry Commanche 10mm ($3,390)
Now, we don't typically feature firearms in our "Gear & Accessories" section of each issue, but technically speaking, a 10mm pistol is a pretty outstanding backcountry protection accessory if you ask us. And, if your backcountry protection needs require the craftsmanship and precision that only comes from a hand-built 1911, this might be "the one" for you. It's no secret that Les Baer makes some of our favorite 1911s; our staff always gets excited and crowds around when a new model arrives. The potent 10mm Auto cartridge continues to enjoy a resurgence in popularity with many a salty woodsman who realizes a modern 10mm semiauto is far more effective than a lightweight big-bore revolver against any target that might not just stand still and let you shoot it. Even more so against one that is trying to eat you.
As the trend toward smaller, easier to carry and conceal pistols continues to grow, producing a 10mm with the shorter Commanche slide and 4.25-inch barrel makes a lot of sense. As is typical with any Les Baer, you're treated to a host of premium features; the slide is precision fitted to the frame, and you get Rolo night sights, a national match barrel with a supported chamber, a speed trigger with a four-pound pull that puts most competitor's triggers to shame, tactical ambidextrous safety levers, corners and edges that are rounded and anti-snag, and a pistol package that's tuned for total reliability. This list baerly scratches the surface but gives you an idea of the high points of this feature-rich backcountry blaster. For more information, contact Les Baer; Tel.: (563) 289-2126; Web: www.lesbaer.com.