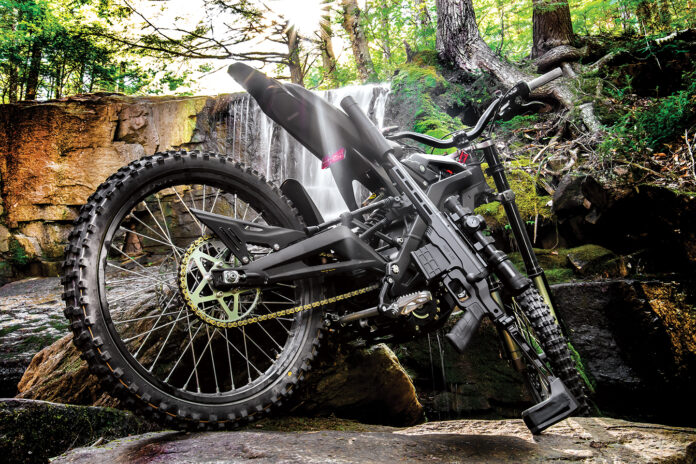 Stealth Hunter
By Guy Coursey
The new easily-packable, suppressor-ready Savage Mo. 110 PCS pistol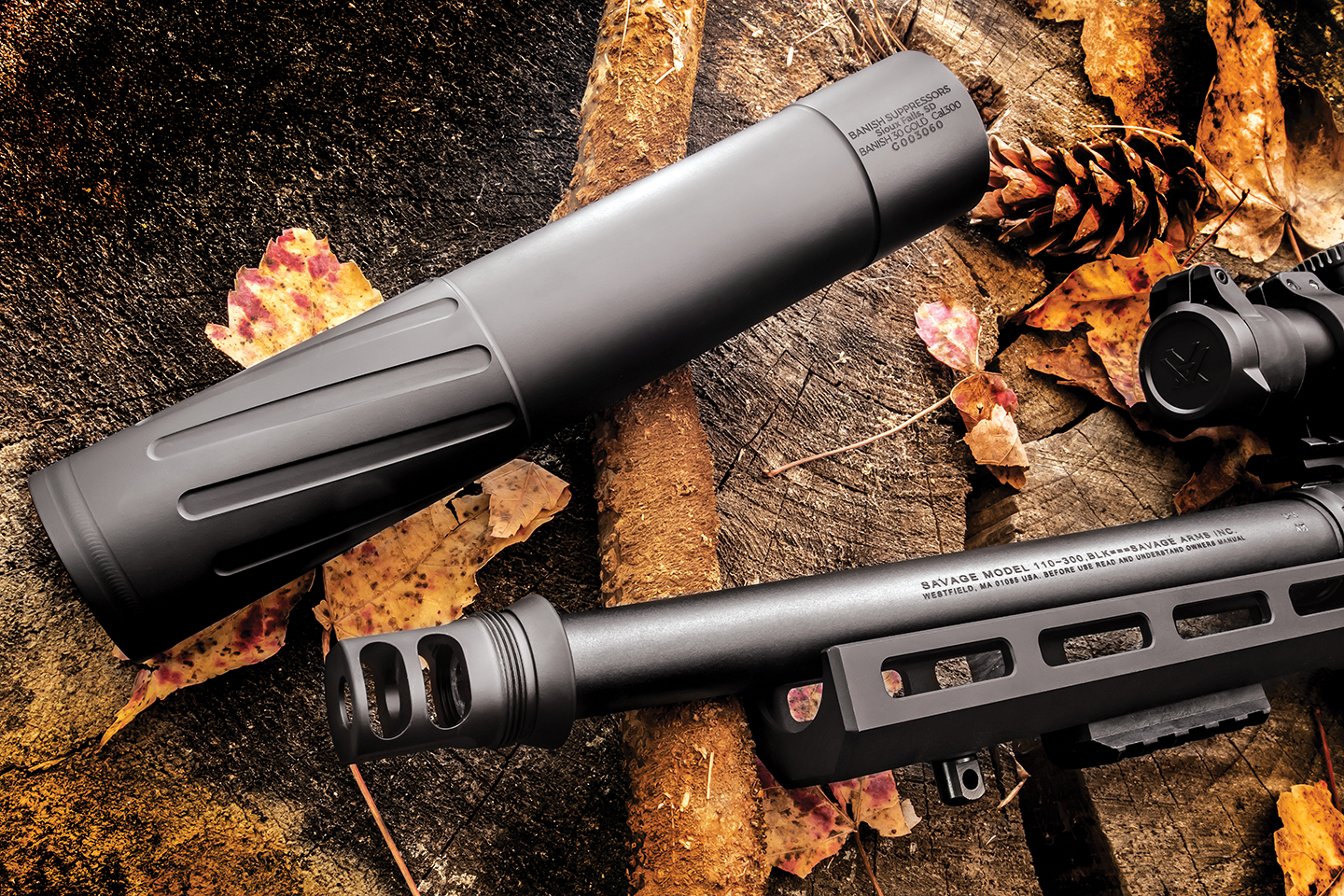 In the firearms community, the colloquial term "unicorn" is reserved for those guns that are unique, exceptionally rare, and/or extremely hard to find. The Savage company has been making different versions of the Savage 110 bolt-action repeating hunting rifle since 1963. Its many variations include right and left-handed actions, wood and synthetic stocks, and scout configurations — all now fitted with an adjustable trigger. All are high-quality,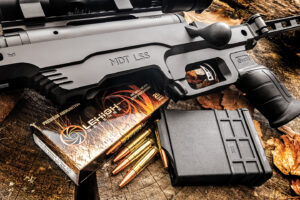 affordable rifles that are known to shoot exceptionally well with the right glass. Still, none can reasonably be called a unicorn, as bolt-action hunting rifles are nothing new. By contrast, while not exactly common, bolt-action pistols are nothing new, often filling a niche for certain hunters and competitive target shooters. Walk around most gun shows and you will likely see some examples. The Nosler M48 comes to mind, and Savage even produced the Model 516 for a while. But now, Savage has developed the Model 110 PCS (Precision Chassis System) bolt-action repeating pistol. The Savage 110 PCS is, if not a unicorn, something pretty close to it. Officially unveiled at Range Day during SHOT in January 2022, I was lucky enough to test drive one myself recently. You can read below how it went, but here is a clue: It almost didn't get sent back.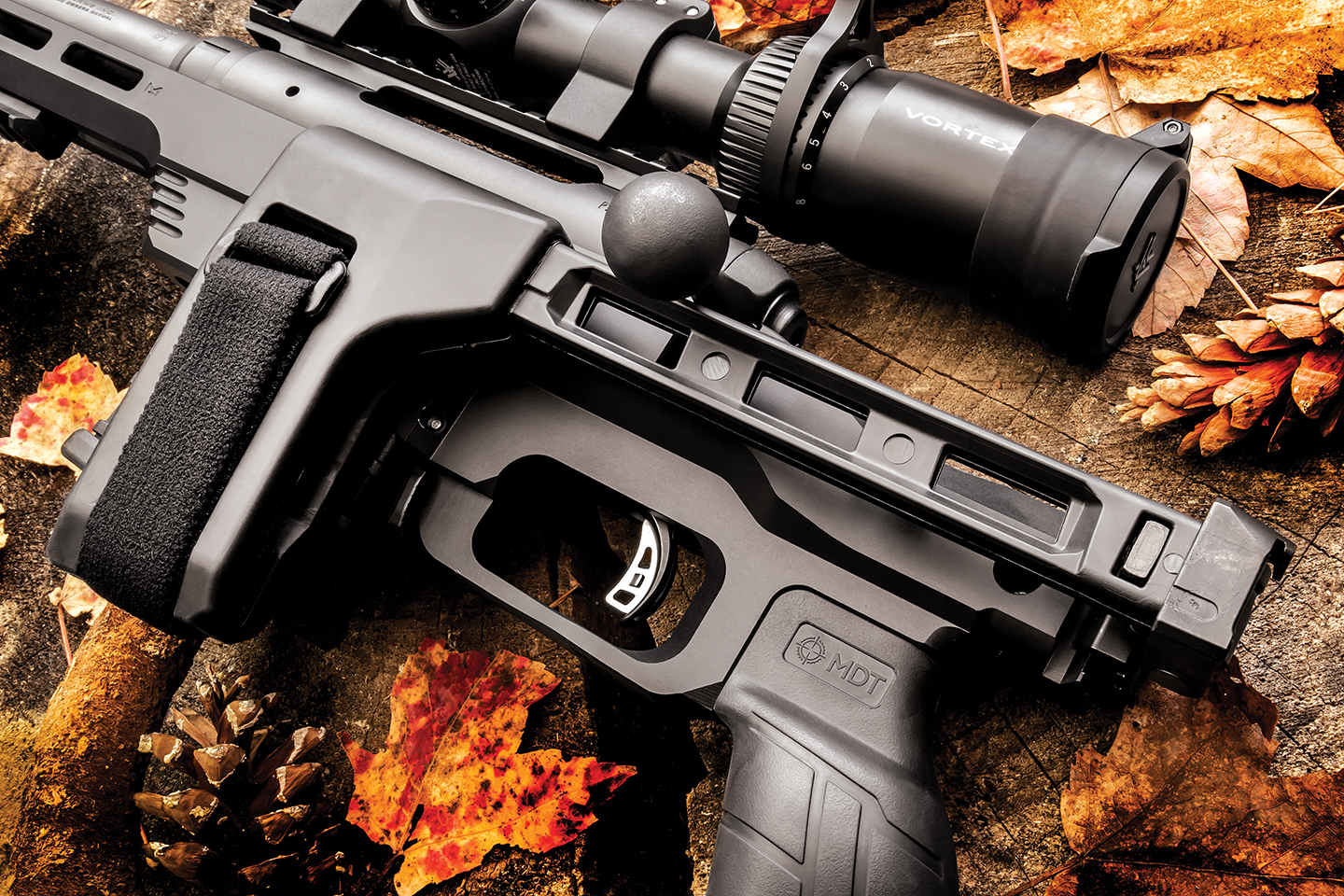 The Savage 110 PCS is built around the patented carbon steel Savage 110 action, which sits inside a one-piece Cerakoted aluminum chassis from Modular Driven Technologies (MDT). The MDT chassis is essentially a cut-down version of that found on the Savage 110 Precision Rifle, with four Magpul compatible M-LOK slots on either side of the 7-inch forend and three on the underside. The MDT pistol grip is interchangeable with almost any grip found on a standard AR-15. The barrel is 10.5 inches, free floated, given a 1:8 5R twist, with a capped 5/8 inch-24 muzzle for direct threading of a suppressor. The rear end of the chassis has a small machined-in Picatinny rail section meant for hosting a pistol brace or a fixed stock for those who may want to deal with the extra expense and red tape of
registering an SBR. We mounted SB Tactical's (sb-tactical.com) FS1913 foldable brace for testing. The bolt on the Savage 110 PCS is spiral fluted, with the bolt handle on the left but ejecting to the right. This is ostensibly so right-handers can maintain their grip and sight picture while running the bolt with the left hand. Wrong-handers are, as usual, forced to conform to a right-handed world. The bolt can be removed (after unloading…) by deactivating the safety, depressing a lever on the right rear of the action while simultaneously pressing the trigger as the bolt is pulled out to the rear. A 0-degree Picatinny scope rail sits atop the action for mounting of various optics. The Savage 110 PCS is fed from a sturdy synthetic box magazine that holds up to 10 rounds and is released by pushing forward on the ambidextrous-paddle system at the rear of the magwell. Last but certainly not least, the 110 PCS has Savage's highly regarded, adjustable AccuTrigger. This allows the user to set pull weight from 2.5 to 6 pounds, with a predictable take-up and very crisp break. Mine was already ready at about 2.6 pounds, which was just fine.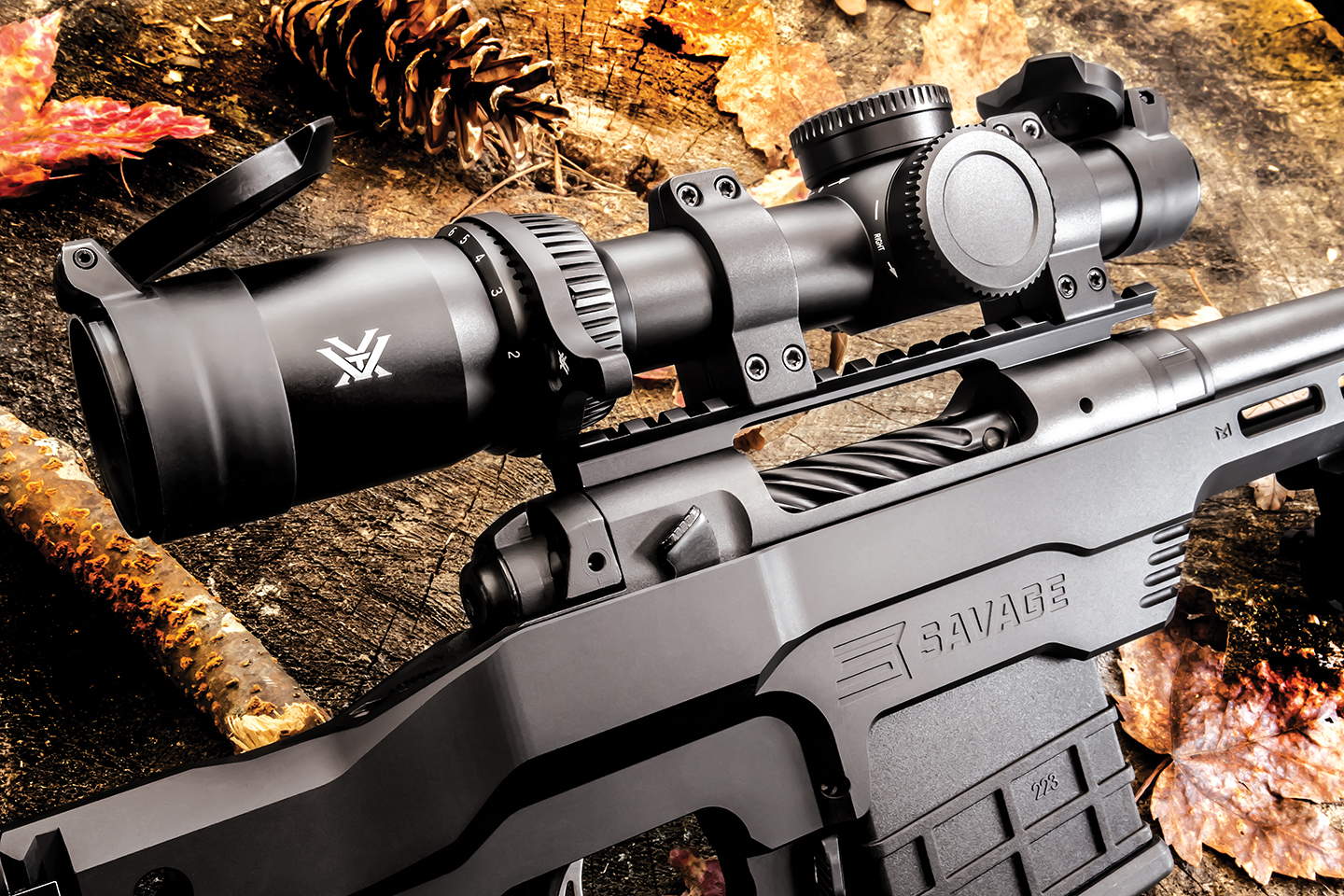 Unloaded and sans optics, the 110 PCS comes in at 5.6 pounds and is a very compact 21.5 inches long, easily fitting in a medium-sized backpack. Shooting the Savage 110 PCS was both interesting and fun. The version I was provided came in .300 AAC Blackout, which I think is an optimal caliber for a gun in this size and configuration. It also is available in .223 Remington, 6.5 Creedmoor, .308 Winchester, and .350 Legend. While I have shot all the above, I am partial to .300 Blackout, as the recoil is manageable for a bottleneck .30 caliber round, and it does well on pigs and whitetail deer with the right load. That said, several factors influenced my testing. First, my copy of the 110 PCS came topped with a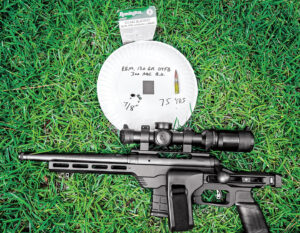 new-for-2022 Vortex Strike Eagle 1-8x power FFP scope with an AR-BDC3 reticle and throw lever in Talley rings. Space prevents elaboration on this optic's virtues, other than saying that for around $799.99, it's a great buy, and the reticle was both precise enough and very easy to use. Accuracy testing took place at 75 versus 100 yards. In heavier calibers, the Savage 110 PCS can regularly ring steel in excess of 500 yards, but I chose 75 yards as the rough ballistic median for .300 Blackout, which typically will be good out to about 150 yards although capable of going further. It was also a sweltering summer day in eastern North Carolina, where my range's 75-yard line had both overhead cover and a shooter's table, so it was more conducive for intrinsic accuracy. I shot off a Caldwell bag rest using four different supersonic flavors of .300 Blackout, including Magtech 123gr FMJ, Hornady 110gr GMX, Armscor 147gr FMJ, and Remington 120gr OTFB. In addition, I also had some S&B 200gr FMJ subsonic just to see the difference in recoil and POI on the target. After some initial dialing in with Magtech, 5-round groups from the supersonic rounds averaged in the one to two-inch range. Top honors went to the Remington load, with a best group of just 7/8ths of an inch, about an inch left and low of center. The S&B subsonic grouped into two inches, centered seven inches low and just left of the POA. Recoil was moderate with the .300 Blackout supersonic loads but predictably negligible with the subsonic. The spiral bolt was easy to run with my left hand, with positive feeding and extraction. No malfunctions of any kind were noted. That will do, pig, that will do.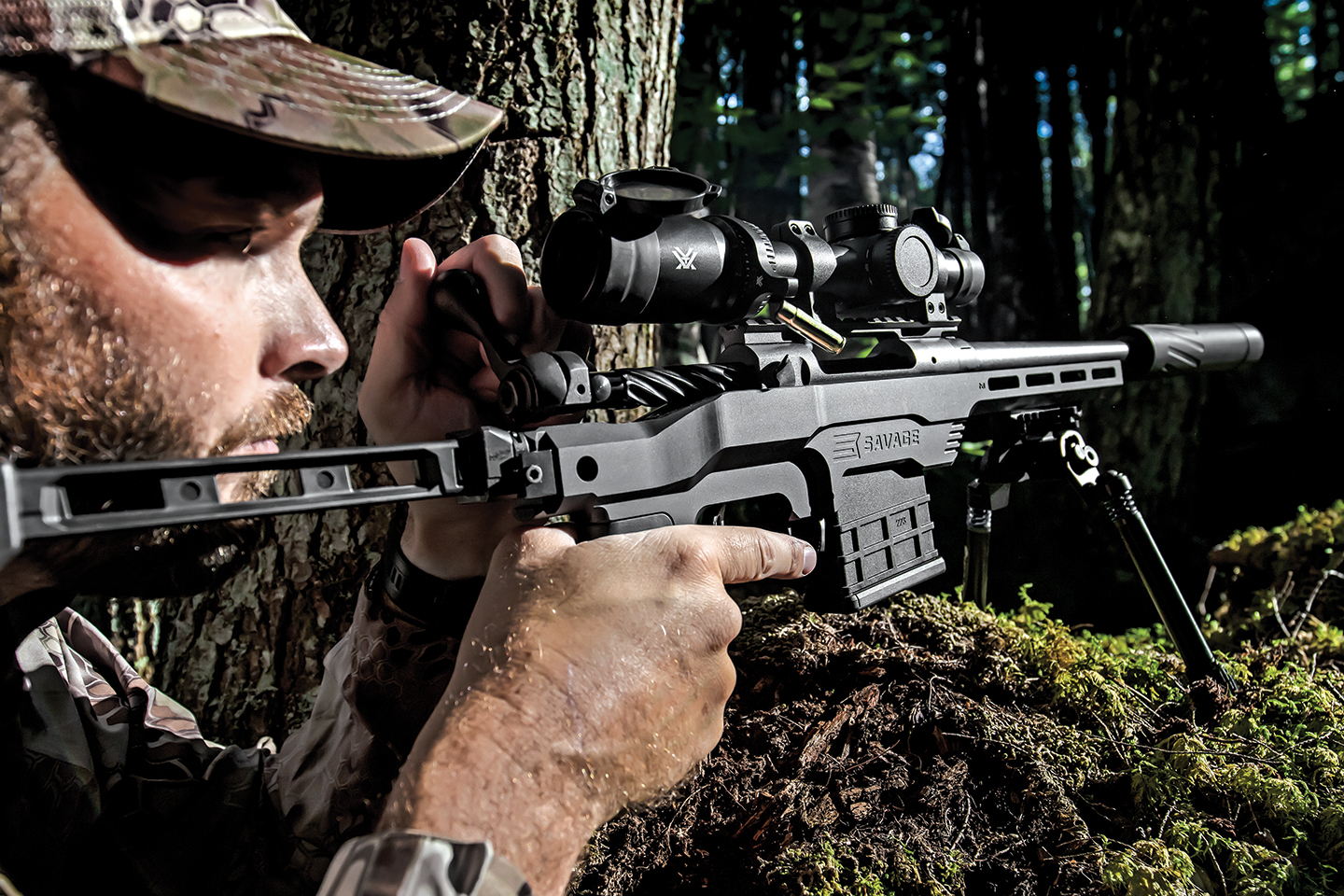 As indicated earlier, I came away from my testing of the Savage 110 PCS seriously impressed. I can't say that I needed it, but I did want to keep it. If not a unicorn, it is a highly unusual, attractive, and interesting firearm. It features power, light weight, and compactness all in one configurable package. For those hunters or recreational shooters who desire these qualities in their firearms, the Savage 110 PCS is worth a very hard look — especially at $999 MSRP. Check it out at your nearest dealer, or for more information, contact Savage Arms; Tel.: (800) 370-0708; Web: www.savagearms.com.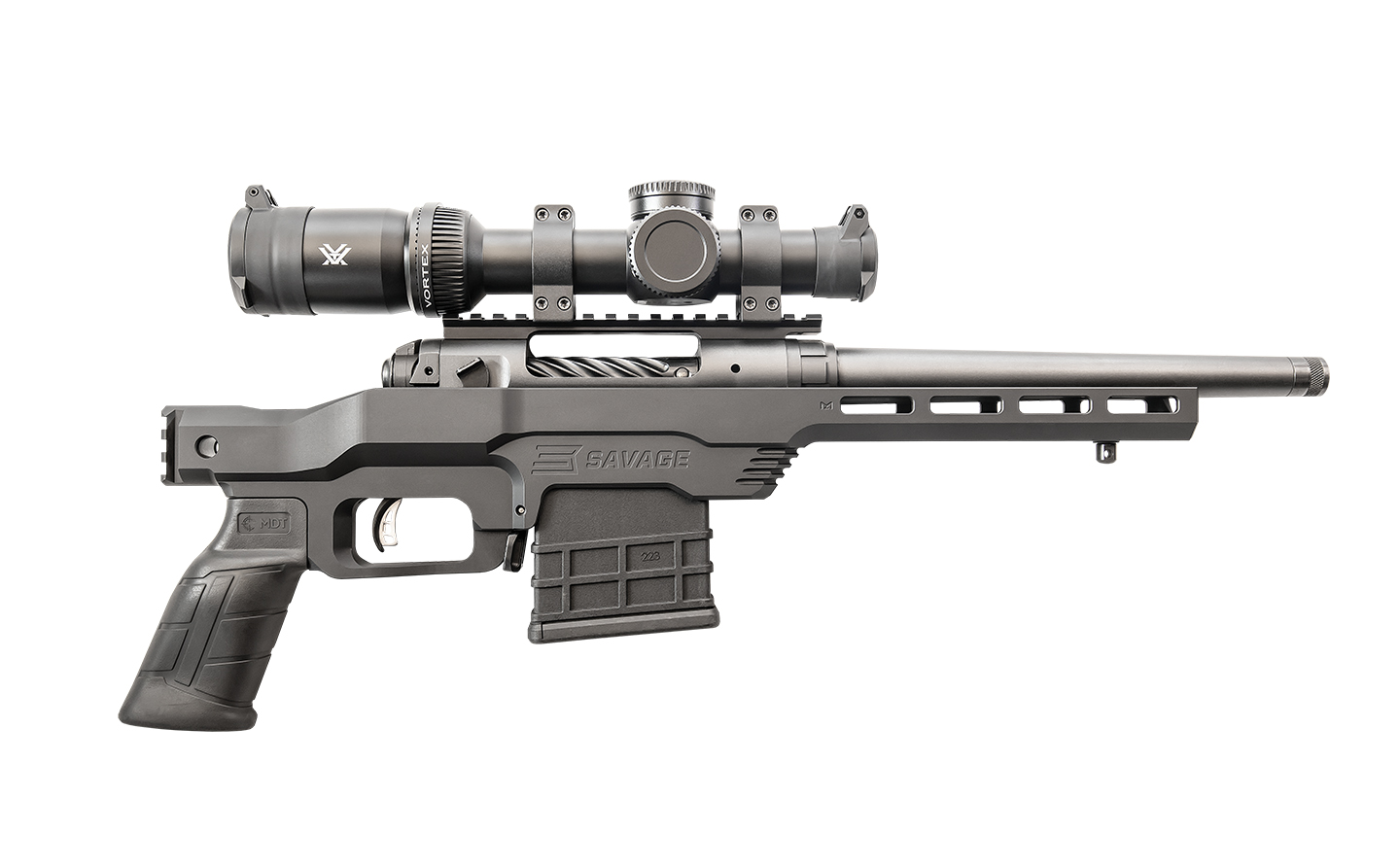 Specifications:
Caliber: 300 BLK, as tested
Action Type: Bolt action
Trigger: Adjustable
Rate of twist: 1-8, 5R
Barrel: 10.50-inch medium contour
Finish: Matte black
Stock: MDT aluminum chassis
Magazine/capacity: Detachable, 10+1
Sights: None; Picatinny rail installed
Overall Length: 21.50 inches
Weight: 5.625 pounds
MSRP: $999