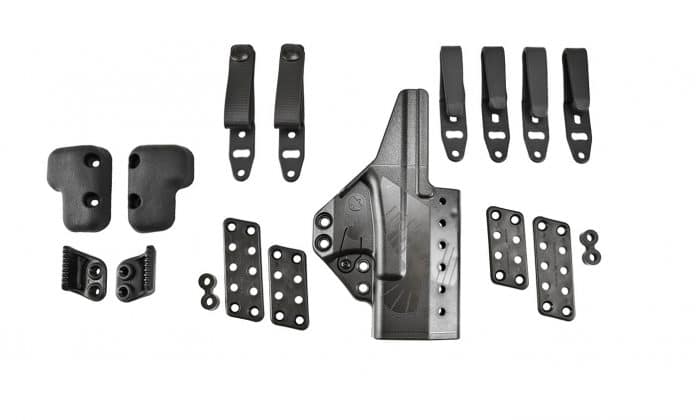 By Charles Anderson, photos by Jerry Sarkody
---
The Raven Concealment Eidolon holster system may be the most modular holster invented.
Some of us have swimmer's bodies, others of us look more like a muffin top. Not only do our bodies differ but our position of carry may change based on environment and clothing.
The Eidolon system fits so many different styles and body sizes because of its wide assortment of accessories. Just look at what's included.
One holster shell of your specification.
One pair of belt attachments of your choice.
One Tall Spacer for mounting the belt attachment below the trigger guard.
One 8-hole Extension Wing.
One 10-hole Extension Wing.
One Short Spacer for mounting the Extension Wing below the trigger guard, angled up toward the belt line.
One set of Belt Claws.
One Holster Wedge for right or left-hand configurations.
All necessary hardware and a full instruction manual.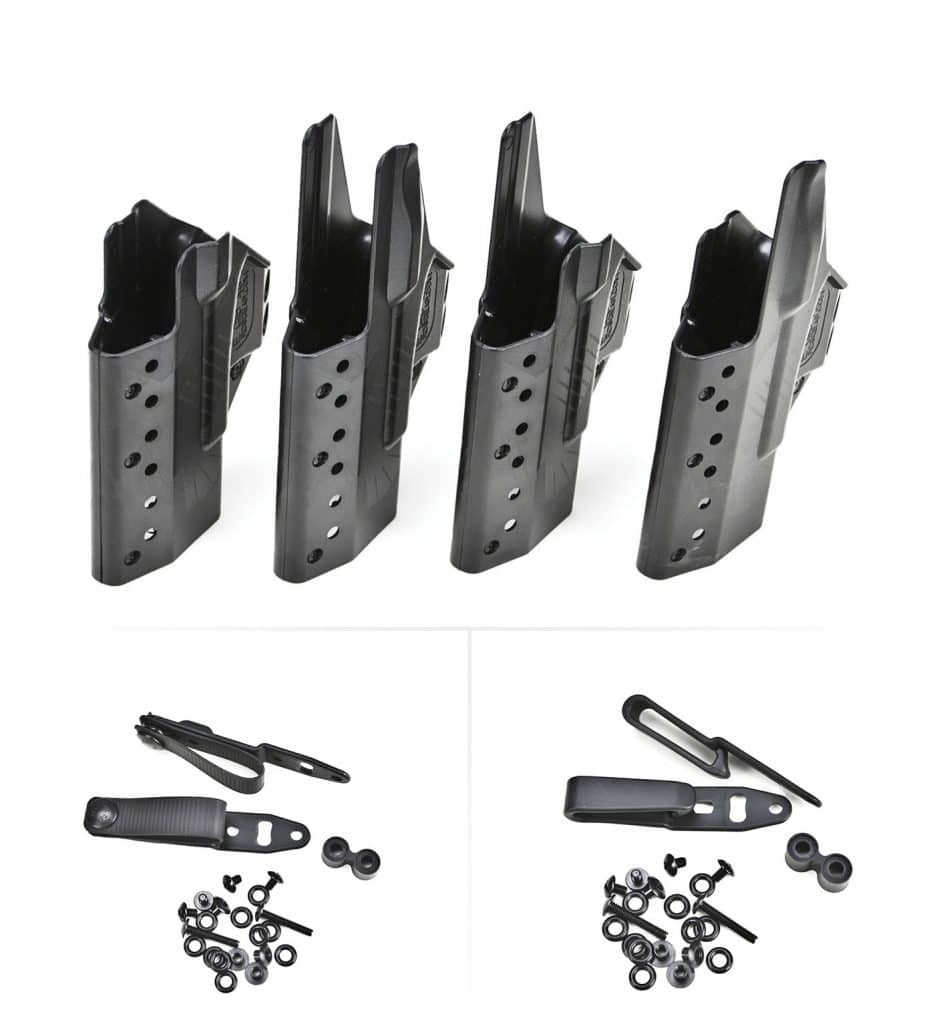 The Eidolon's core-shell is injection molded from polymer. It has no rough edges like Kydex can. It is designed to accommodate an Trijicon RMR and suppressor sights and includes a full-length sweat guard. It also accommodates extended controls, which is useful for running a LaserMax Guide Rod Laser. The open bottom allows for use with aftermarket extended or threaded barrels.
Retention differs from a Kydex system that creates pressure on the entire gun, since the Eidolon is tightened at the trigger guard. Once you break free of the trigger guard, the remaining draw stroke is smooth as silk.
The system we tested had the Soft Loop kit so that I can tuck in my shirts on those few occasions I need to dress, up but overhooks are also available.
You can achieve almost any angle or position when you start to mix and match the attachment accessories. Extension Wings allow for varied degrees of cant and the ability to move your choice of belt attachments as near to or far away from the holster as you like for optimum control.
The Belt Claw will line up with your belt line forming a cantilevered point, drawing the grip of the pistol closer to you and virtually eliminating printing of even large-framed guns.
The Holster Wedge is made from soft polymer that feels almost rubber-like. Ideal for use when appendix carrying the gun, it will fit into the cavity of the pelvic joint to leverage the weapon grip closer to the body. It sounds counter-intuitive that adding bulk to a holster would make it better to wear, but it does.

Raven makes the Eidolon black holster for the Glock 17, 19 and 26 that also fits their .40 caliber counterparts. The varied packages offered include:
Right Handed.
Left Handed.
Soft Loops.
Over Hooks.
Basic Kit: Holster and Hooks of choice.
Advanced Kit: Basic plus all possible configuration hardware.
Agency Kit: Advanced kit with ambidextrous setup.
I have been wearing the Eidolon since before it was released to the public. After months it is still my go-to holster. It's more comfortable for all day usage than my other holsters and is one of the few that does not rub or catch me at some pressure point around the frame.
Priced from $59.99 to $94.99 depending on configuration, you can find Raven Concealment Holsters at your local authorized retailer. For more information contact Raven Concealment Systems, Dept. OT via e-mail from their website (www.RCSGear.com).