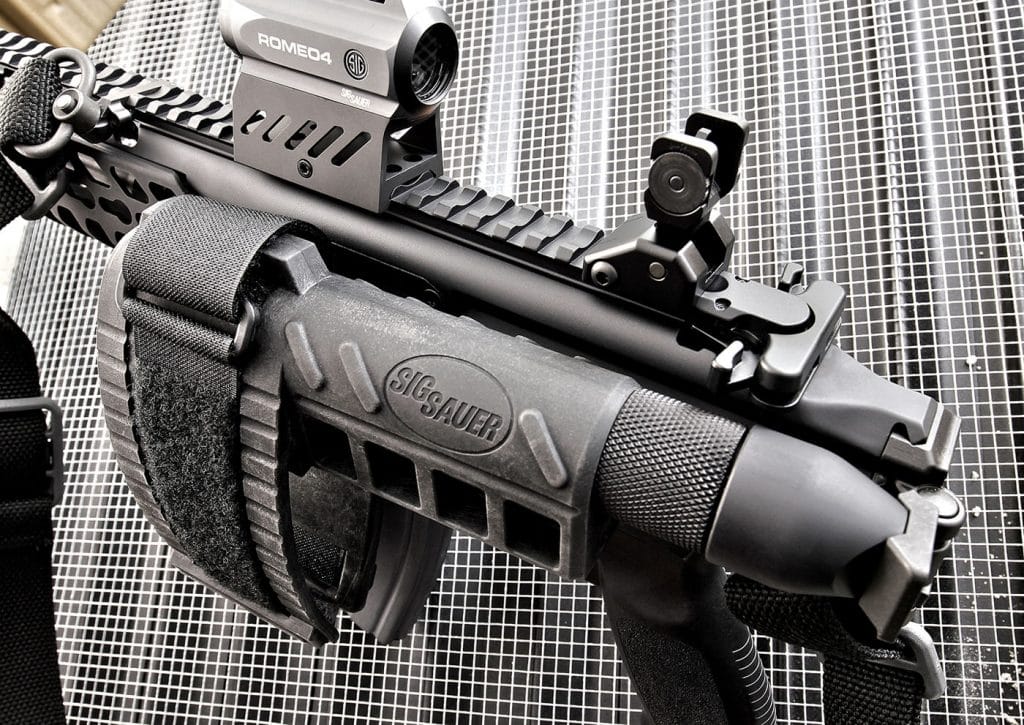 Controls consist of an ambidextrous safety, ambidextrous magazine release and left-side mounted bolt release, all found in their usual locations. A robust shell deflector and forward assist are positioned aft of the ejection port, right where they're supposed to be. The oversized charging handle has unlocking levers mounted on both sides for truly ambidextrous utility. The trigger is rather nice for a production gun, which is to say better than the typical Mil-Spec variety. It exhibits a barely palpable amount of take-up before breaking crisply at and average pull weight of 4.5 lbs., with zero creep, stack or overtravel.
QD sling swivel receptacles are machined into both sides of the lower receiver just forward of the stock hinge. Included with the pistol are two 5-slot Picatinny rail sections with KeyMod mounts, a Picatinny rail mounted QD sling socket that can be mounted to either side, elevation adjustable front and windage adjustable rear flip-up sights, an adjustable nylon web sling with QD buckle and QD sling swivels at both ends, and one 30-round aluminum magazine.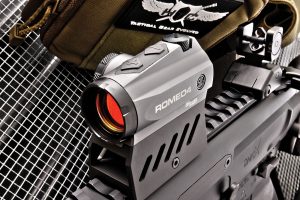 For testing we mounted Sig Sauer's excellent new Romeo4 sight, with MOTAC moton-sensing technology which will automatically turn the sight on when you pick the gun up. After a 50-yard sight in, two-hundred-plus rounds against our steel plate target rack produced not a single malfunction of any kind. The recoil impulse felt slightly different than a standard D.I. or piston AR, if not slightly softer.
Moving to the bench for accuracy testing we used a variety of brands and grain-weights to determine if the MCX was going to be an ammo-sensitive machine. It wasn't. Even though our MCX is chambered in a rifle cartridge, dialed our our bench-testing back from our typical rifle-distance of 100-yards to 50-yards to account for both zero-magnification and this platform's intended close-quarters use. Other than a slight (and expected) point-of-impact shift between the various grain-weights—and using both .223 Rem.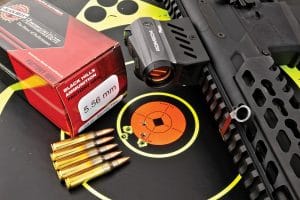 And 5.56×45 NATO ammo—the MCX might be a new On Target record holder for downrange consistency. Our best five-shot group came with Black Hills' outstanding 50-gr. Barnes TSX 5.56mm load, printing a tight 0.82-inch cluster. Hornady's 75-gr. BTHP Superformance Match 5.56mm load was close on its heels at 1.05-inches. Speaking to the MCX's consistency, our largest group only measured 1.63-inches. We're confident that with a magnifying optic straped to the top rail, our short-barreled MCX would be a solid 1-MOA performer.
I saw this pistol for the first time at the 2016 SHOT Show and have been lusting after one ever since. After the oportunity to ake one for a test drive, I'll be writing the check to Sig Sauer just as soon as I finish writing this. In my opinion, the MCX with SBX arm brace is an outstanding personal defense weapon you can keep locked at your bedside, within the confines of a vehicle, in your hiking pack or anywhere else a truncated version of an ultra-relaible, ultra-competent rifle-cartridge-firing pistol might prove vitally useful.

See it at your firearms retailer, or for more information contact SIG SAUER, Dept. OT; Tel.: (603) 610-3000: Web: www.sigsauer.com