Shooting Experience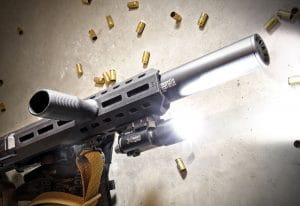 First impressions are always important, and the Scorpion did not disappoint. For a lightweight polymer gun weighing less than 7 lbs., it doesn't have the toy-like feel like of so many of its peers in the market. I give credit to CZ's well-proportioned design and overall balance for that win! If you are expecting to experience a relatively soft shooting AR-esque carbine, prepare to be happily underwhelmed. Recoil? It was there, but barely.
The low-profile, fully adjustable, ghost-ring rear sight features four different aperture sizes with an adjustable front sight.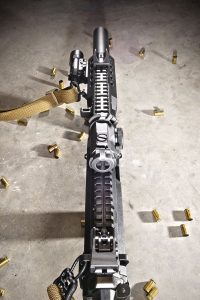 If you love ghost-ring irons you are going to love what you see when you bring this gun on target! Similar to the HK MP5, the Scorpion's charging handle does not reciprocate and is engaged by a straight pull back and an upward push to lock in place on the left side of the receiver.
Unlike the MP5, the Scorpion's bolt locks back on the last round. To load, simply insert magazine and give the charging handle a solid downward smack and you're good to go. This alone increases the fun-factor of shooting the Scorpion by a multiple of 10!
Regarding ergonomics, the selector switch digs into the hand a bit, but a slight adjustment of hand placement and grip pressure solves that issue. I am personally a fan of ambidextrous thumb safeties and was quite surprised to see that this aftermarket upgrade was already included on the Scorpion. Another feature falling into the ergonomics category is the Scorpion's adjustable grip, allowing the shooter to tweak the reach to the trigger to best fit his or her hand.

The only feature on the gun that I wasn't totally in love with out of the box was the rough, 9-lb. factory trigger. My initial impression was that it felt stiff, plastic and gritty. But let's face it; this is getting quite picky about a part that most change on factory carbines anyway.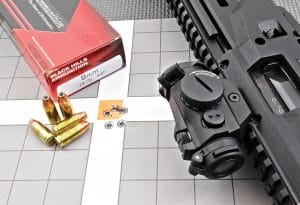 CZ does sell an enhanced trigger pack replacement if you feel the need to stay brand loyal. That being said, after a few magazines to get in sync with the gun I really complained less about it's factory trigger. Sometimes it takes an investment of time and ammo to properly familiarize yourself with the gun before passing judgment.
To test the Scorpion's downrange precision at 25 yards, an Aimpoint Micro H2 red-dot optic was mounted to the top rail. Working through a variety of hollowpoint and ball ammunition from Black Hills, Hornady, Federal and Winchester, the CZ carbine proved itself easily capable of 1.5-inch or less 5-shot groups. Its best group of the day came with the Black Hills' 124-gr. JHP load, printing an impressive 0.84-inch cluster. Tough to complain about that! Reliability was also 100-percent, with no malfunctions whatsoever.