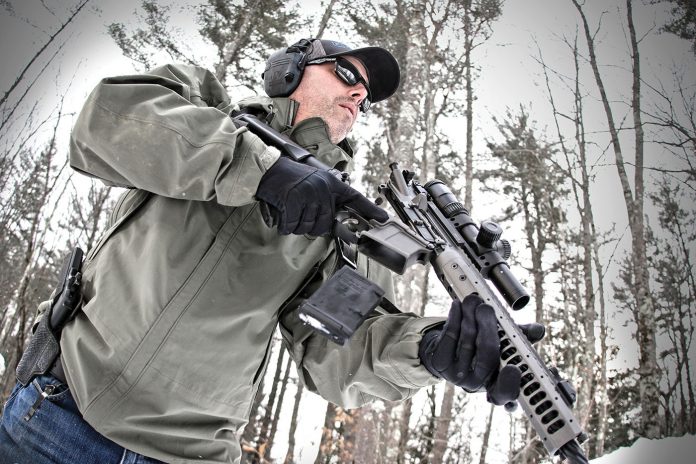 By Christian Hazel
---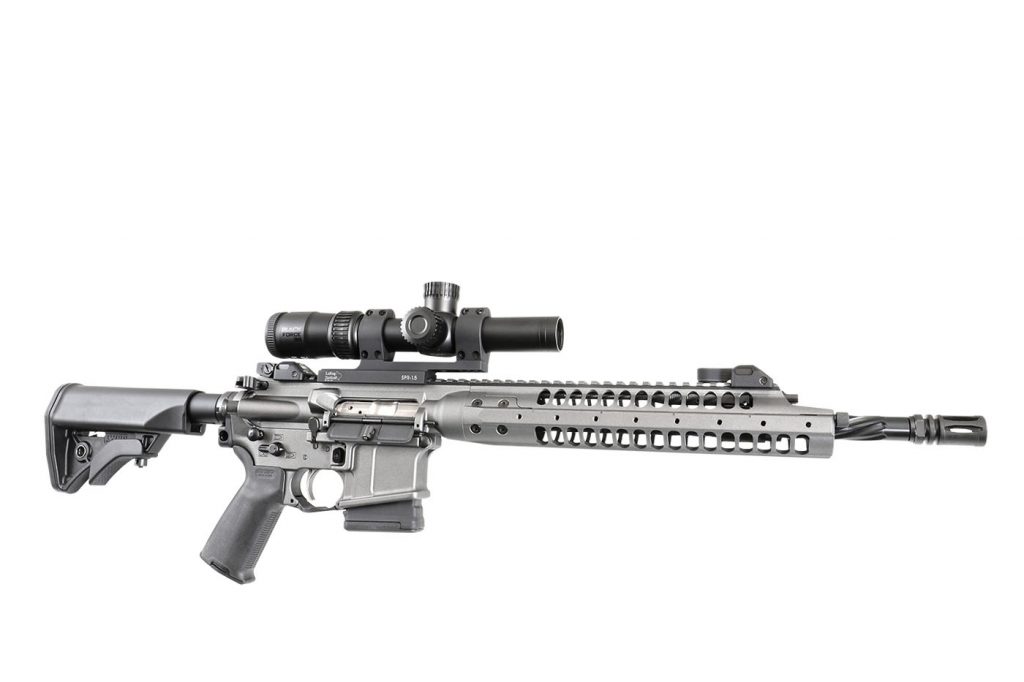 "Nope, you can't do that. Sorry, you can't have that." Issue such an edict and the reply from any red-blooded American will always be, "challenge accepted." So when California imposed a bunch of silly laws involving semi-auto rifles with removable magazines and pistol-grip stocks in an effort to restrict (and ultimately do away with) the ubiquitous AR15 and AR10, manufacturers immediately got to work on ways to legally keep these highly popular rifles in the hands of Golden State gun owners. One such California-compliant solution comes from LWRCI and is available across the company's line of high-quality offerings. By rendering the magazine release inoperable when assembled, the rifle is technically considered a fixed-magazine platform and is therefore allowed to retain all its "evil" features (including a collapsible buttstock, pistol grip and flash suppressor) without requiring registration with the California Department of Justice as an assault weapon.
And with similar nanny states quick to follow California's liberal lead, any CA-legal solution to California-created problems shines the light of hope elsewhere. How this is accomplished? When assembled, the upper receiver depresses a plunger which locks the magazine release. Only by pulling the rear takedown pin and breaking the rifle open (technically disassembling the weapon) is the magazine release unlocked and able to function. Game on!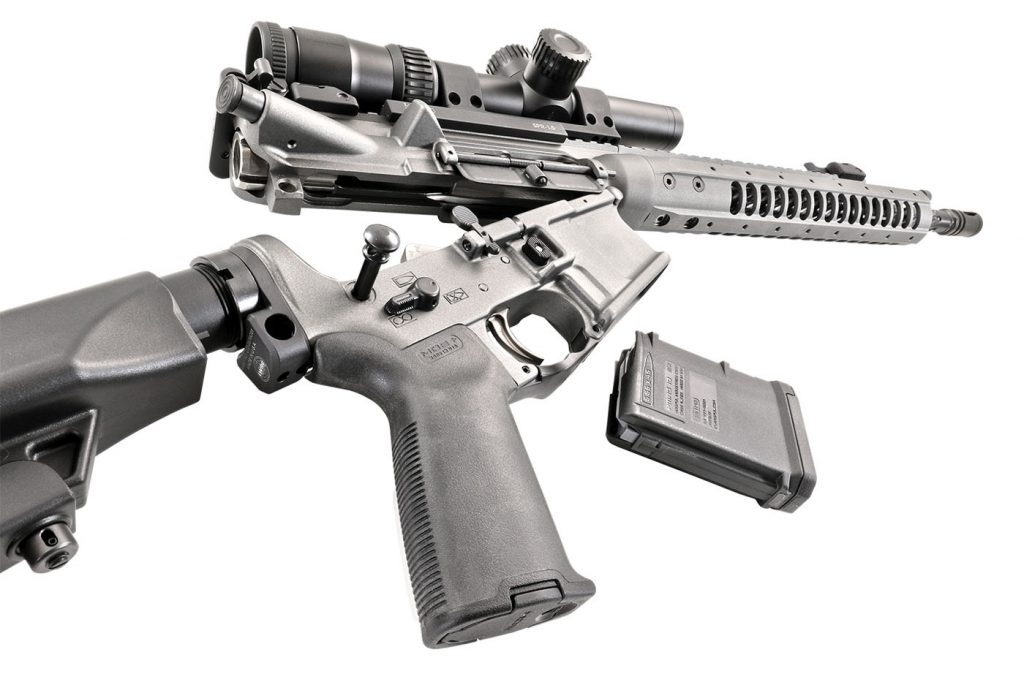 Our California-compliant LWRCI tester was the M6IC-A5 variant with a free-floating, cold-hammer-forged, 14.7-inch spiral-fluted barrel featuring the same 1:7 twist rate on the outside as the rifling inside its bore for stability and improved accuracy. An A2 flash hider is permanently affixed to the muzzle, bringing the overall barrel length to a legal 16.1-inches. Outside of a 10-round Magpul PMAG and the magazine lock system, it's the same short-stroke gas-piston individual carbine those in free states can enjoy. If you've never fondled a LWRCI rifle, the quality is something to behold. The company's new Tungsten Gray Cerakote looks fantastic and, along with the Nickel-Boron-coated bolt carrier, sheds moisture, dirt and powder residue slicker than greased ice. The controls are fully ambidextrous, with identical bolt release, safety selector, magazine catch, and extended charging handle latch left and right. The lower half of the handguard's modular rail system is integrated into the upper receiver and features pre-drilled slots for short sections of removable rails, allowing grips, lights, sling mounts, and other accessories to be mounted on the forend at the 3, 6, 9 and 12 o'clock positions. The removable upper handguard section runs from the receiver extension and stops short at the two-position adjustable gas regulator (for normal or suppressed fire.)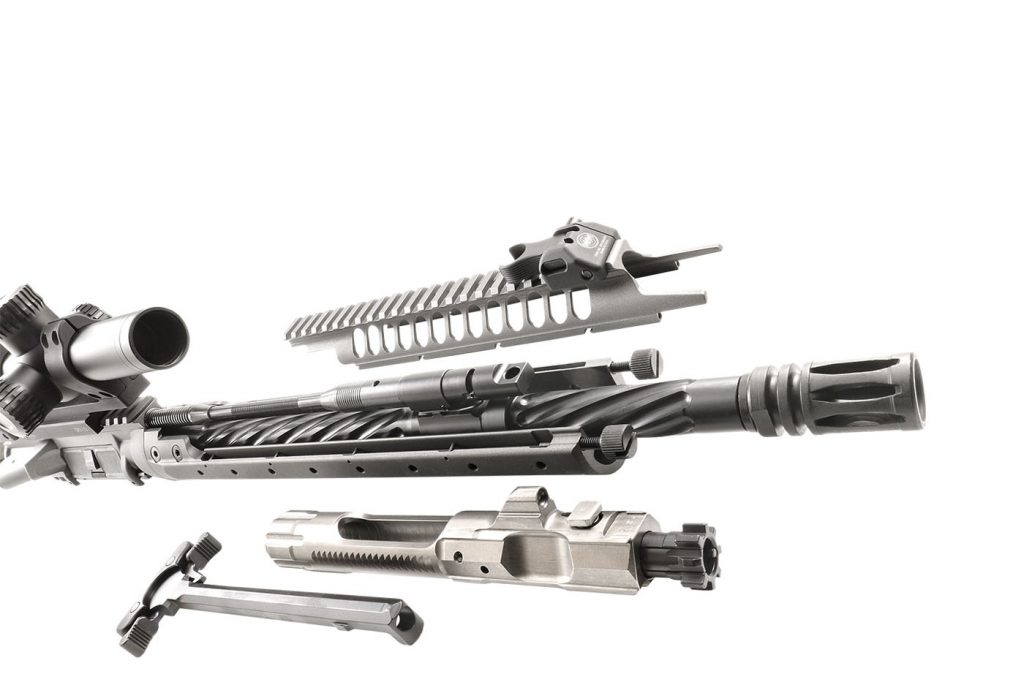 The M6IC-A5 also features LWRCI's absurdly excellent, low-profile, folding skirmish sights. With adjustable windage and elevation, a small or large peep that's easily switchable by rotating the rear sight block, and a forward blade that's easy to pick up, these sights offer quick target acquisition when in use and don't impede optics when not. The hard edges have been "melted", flat faces serrated to reduce glare, and overall, these have proven some of the most durable back-up iron sights money can buy. At the rear the LWRCI compact buttstock allows 3.25 inches of adjustment through six detent positions and a tacky-rubber Magpul MOE handgrip provides a slip-free grip no matter what nature throws your way.