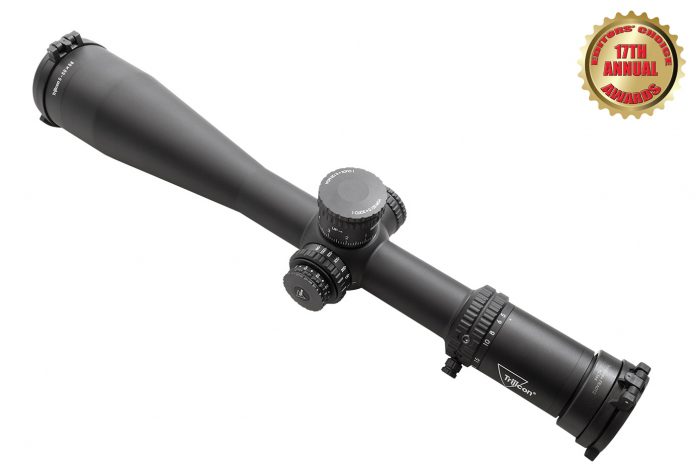 The shear size of the the all-new Trijicon AccuPower 5-50x56mm extreme long-range riflescope is a sight to behold. Measuring 19.25 inches in overall length with its detachable 3-inch sunshade installed, its 34mm main tube and 1.5-inch diameter windage and elevation turrets only add to effect. Its unprecedented 10x zoom gives long-range hunters, precision rifle shooters and benchrest shooters the flexibility to acquire, identify and engage targets at any range.
It features extra low dispersion glass lenses for true colors and exceptional target definition, a massive 56mm objective lens for outstanding light transmission even in low-light conditions, and fully multi-coated, broadband, anti-reflective optics that virtually eliminate glare and loss of light.
Crisp 0.125 MOA per click adjustments provide precise tracking, and its big capped turrets provide 100 MOA of elevation and 50 MOA of windage adjustment with a Return to Zero feature. The uncluttered MOA reticle we tested (also available in an MRAD version) offers maximizes field of view with alternating 0.5 MOA and 1.0 MOA stadia heights that provide quick target ranging. The stadia lines are only 1/32 MOA in width to enhance target visualization at high magnification. An upgraded illumination control permits the reticle to be illuminated in red or green, with five user-selectable brightness settings in each color and an off position between each setting. Reticle illumination is provided by a single CR2032 lithium battery. This precision machined and hold-over illuminated, second focal plane reticle is specifically designed for extreme long-range precision. Reticle-etched FOV magnification ratios help keep the shooter's eyes on target.
Magnification is adjusted via a repositionable magnification lever that accommodates multiple platforms and firing positions. Turning the lever to change magnification settings requires minimal effort, and the magnification ring turns smoothly and easily. The one-piece 34mm tube is machined from rugged, aircraft-grade aluminum alloy, hard-anodized for all-weather protection. It is shockproof, fog proof and waterproof to a depth of ten feet. Ample diopter adjustment is provided by the fast-focus eye-piece, and a parallax adjustment ring offers parallax adjustment from 10 yards to infinity. The AccuPower 5-50x56mm comes with the aforementioned sunshade, ocular and objective lens Flip Cap set, Trijicon Logo Sticker, LENSPEN, manual and Trijicon's Lifetime Warranty (electronic components are warranted for five years). Check out the On Target Editors' Choice Award winning AccuPower 5-50x56mm riflescope at your firearms retailer, or for more information contact Trijicon; Tel.: (800) 338-0563; Web: www.trijicon.com