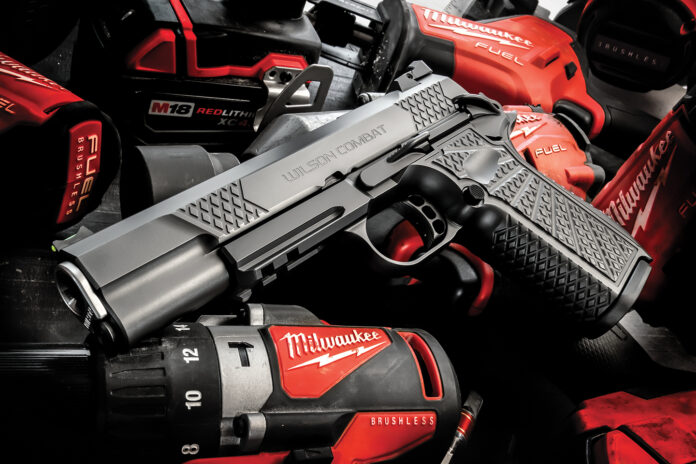 Wilson Combat SFX9 5-inch
By: Dave Bahde
When only the most capable power tools will do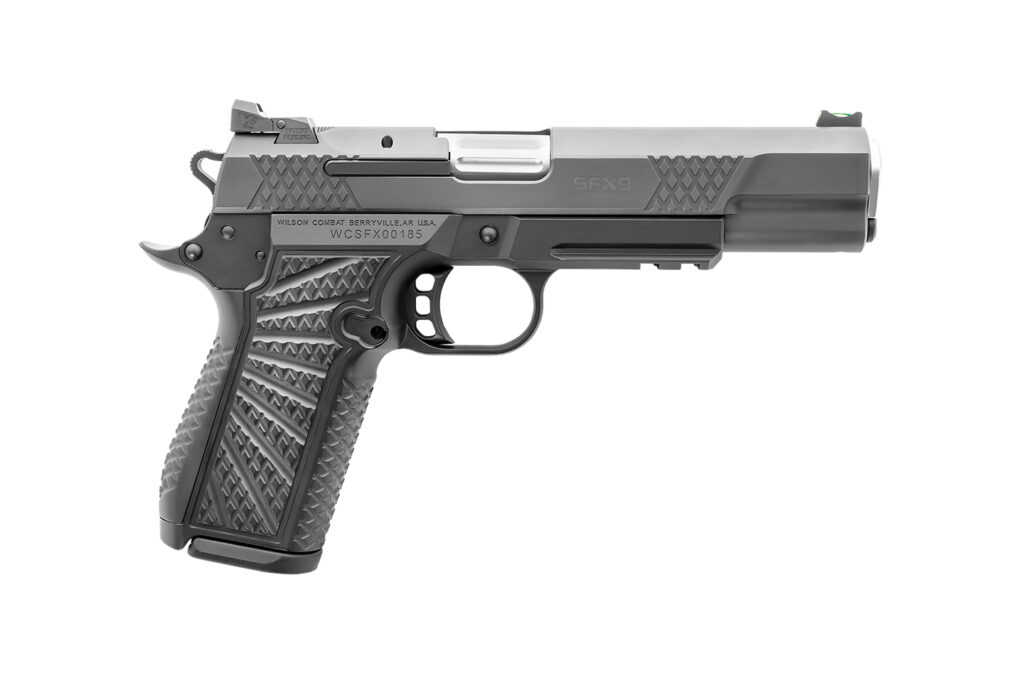 Last year, Wilson Combat introduced the SFX9 pistol with a subcompact frame using a shortened grip frame, followed by a version using an extended grip frame. Both used the 3.25" barrel for a high level of concealment, and both used double-stack EDC X9 magazines, 10 and 15 rounds, respectively. Essentially an EDC X9 using a machined solid aluminum frame, it was something customers asked for shortly after the introduction of the EDC X9. Without the added bulk of removable stocks, the integral gripping surface was less costly and complicated to manufacture and offered a somewhat narrower gripping surface. Much like the EDC X9, it was very well received, and it wasn't long before the Wilson Combat faithful wanted a true full-sized version of this all-aluminum platform. Enter the newest member of the SFX9 — the 5" model.
Having tested the full-sized 5" EDC X9L model, it proved insanely accurate, and one of the softest shooting 9mm's I've ever fired. Having a longer sight radius can be beneficial at extended ranges, and competitors and law enforcement appreciate the overall-better balance and the 18+1 capacity. Adding the long barrel to the SFX9 family was only a matter of time, and it proved to be equally as impressive.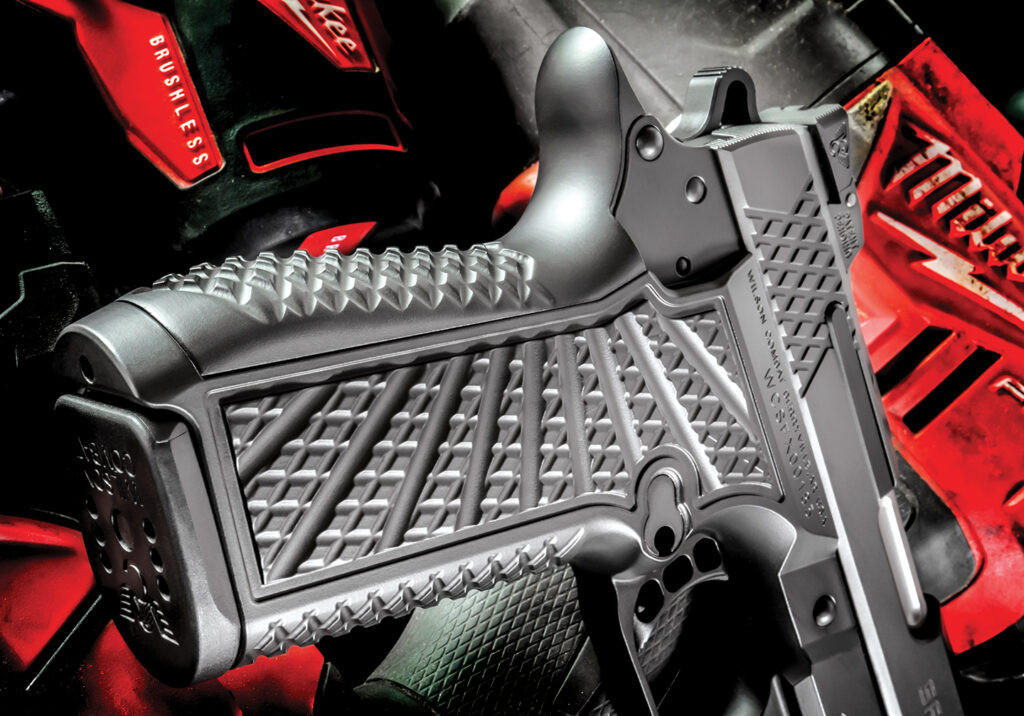 Wilson Combat SFX9 5"
The SFX9 uses the X-Tac checkering treatment around the circumference of the frame and for both front and rear cocking serrations. Internals remain the same as the EDC X9, with a Bullet Proof hammer, safety, and magazine release. The curved, skeletonized trigger exhibited the typical glassy-smooth Wilson Combat 3.5 to 4-pound pull. The flush-fit magazine holds 15-rounds, and my 18-round EDC X9 magazines fit perfectly with no over-insertion issues. Base pads are polymer and include dots for numbering your magazines. An accessory rail allows for lights and other accessories.
The slide maintains the tri-top design and wears an adjustable rear and fiber-optic front sight. The top of the slide is serrated 30 LPI, and the back of the slide and rear sight are cut to 40 LPI — all in an effort to reduce sight-picture glare. The barrel measures 5-inches long and uses a standard bushing and fluted chamber. The muzzle features a reverse crown that fits perfectly flush with the Wilson Combat Bullet Proof bushing. The return spring, guide, and plunger are standard-1911 fare and include a shock buffer. The extractor remains external. On Target's test gun was shipped with two 15-round magazines in a very nice nylon case.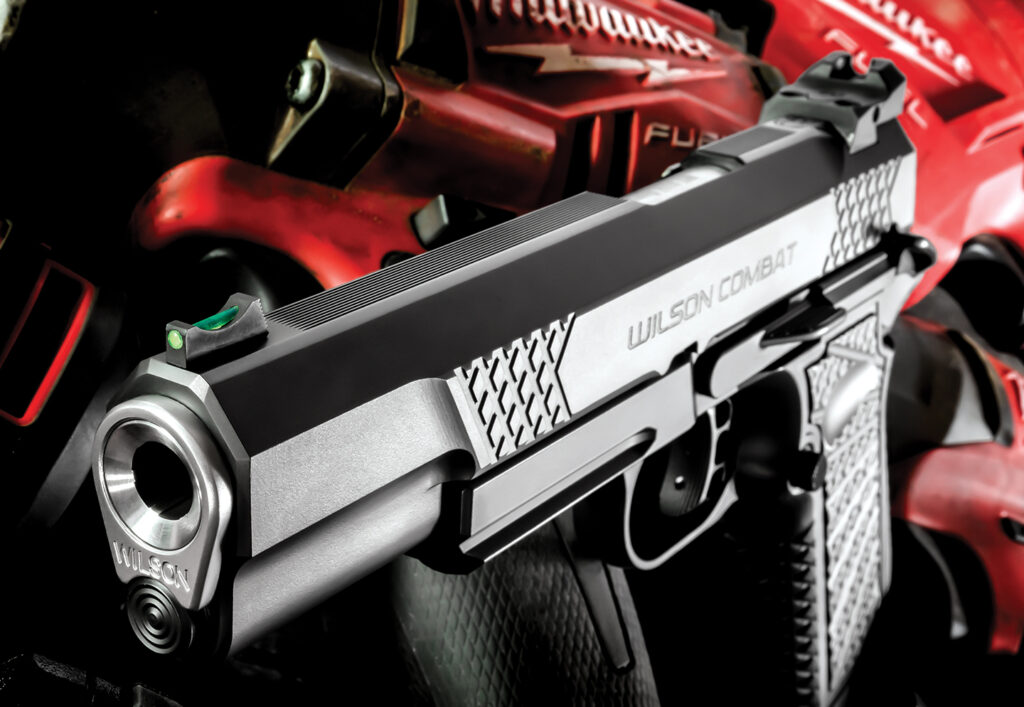 Range Time
As previously mentioned (I feel like this point is worthy of a second mention!), the EDC X9L full-size was one of the most accurate pistols I've ever tested, and the SFX9 easily matched its performance. The pistol boasts a 1.5-inch/5-shot guarantee at 25-yards, which is a promise it kept quite effortlessly. Every load we ran through the pistol produced around an inch and a half group sizes at 25 yards, and I managed an impressive 1.00-inch group using Wilson's 95-grain TAC-XP load. Standing/unsupported at 15 yards, it clustered rounds, and rapid-fire up close was impressive in both precision and shot-recovery time. Off the truck bed at 50 yards, it consistently produced 2.00-2.50" groups; it just does not get better than this when it comes to consistent accuracy. Reliability was flawless throughout testing — a hallmark of the EDC X9/SFX9 platform. My personal EDC X9 has yet to fail, with well over 2500 rounds through it to date. At this point, it's safe to say that Bill Wilson has perfected the double-stack 9mm 1911.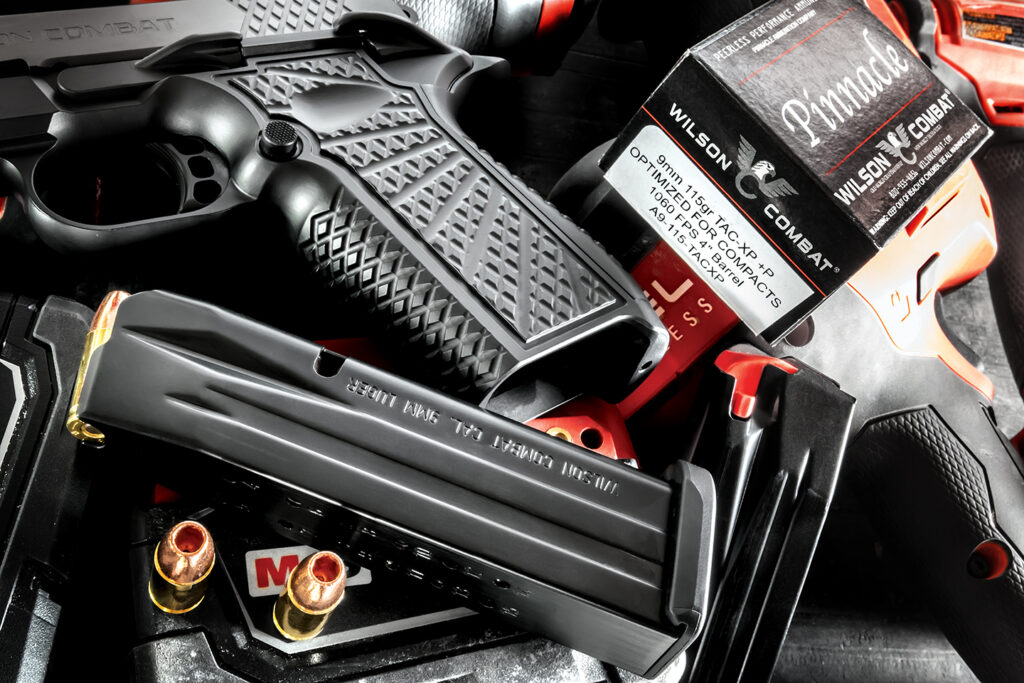 Other Considerations
Lights are becoming standard for duty pistols, so regarding holsters, a Safariland SLS worked great with the SXF9 5″ wearing a light, albeit the SureFire X400 light/laser combo fit a bit tight. Moving to the non-light version of the SLS, it was a little tight at the top, as the grip of the SXF9 is wider. It fit perfectly in a holster I have for an STI Carry Comp, so you should be able to access properly-fitting duty holsters pretty easily. Wilson Combat also has its own line of OWB and IWB holsters of all sizes of EDC X9/SFX9 pistols, and they're all extremely nice.
Having carried full-sized pistols for years, the SFX9 is fully capable of off-duty carry. Using both the OWB holster from Wilson Combat and the IWB for my STI, the pistol carried nicely, without significant printing under a sweatshirt. Add a jacket, and it will all but disappear. Magazines are similar in size to the SIG P229, so my Mitch Rosen SOS (Spier Off Side) magazine pouch worked just fine. Along with a single magazine, the SOS holds my Surefire handheld light securely and discretely and is my everyday carry system, no matter the pistol.
Front sights tend to be subjective to the end-user, and the SFX9 has several to choose from. My preference is a bigger dot with tritium, and Wilson Combat offers one with a large orange outline. Replacement is easy; you just need a #8 Torx bit — kind of like a Glock without the need for a special tool. The rear uses the Tactical Adjustable Battle (TAP) sight, which is all-black with no dots, bars, or tritium inserts, but the dovetail is standard Novak, so it can be ordered with different designs.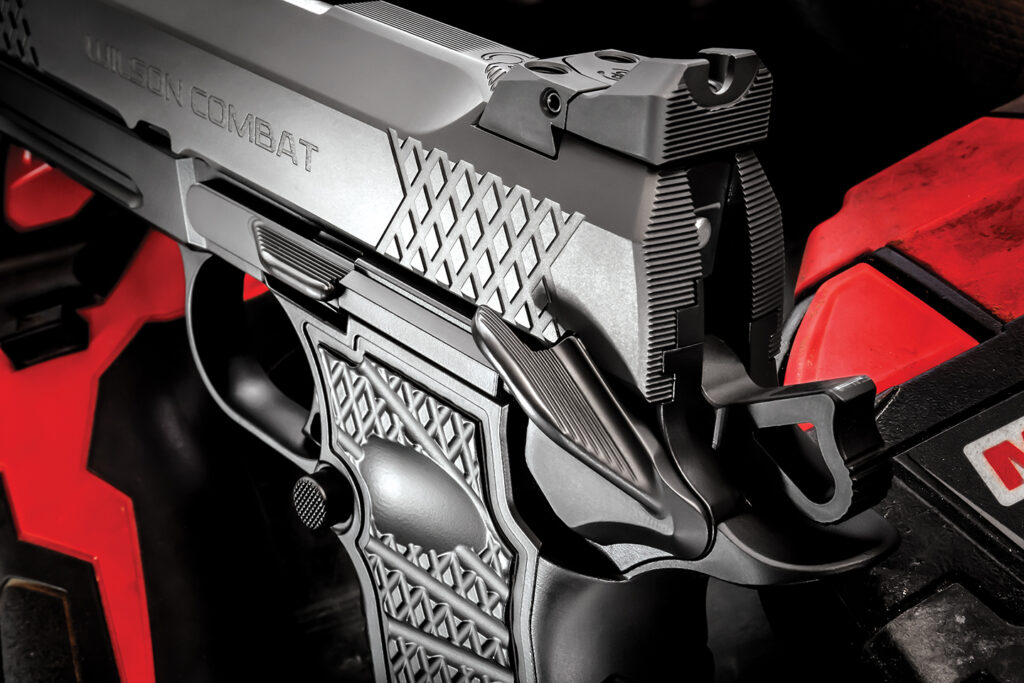 Bottom Line
Longer barrels were once the standard — then the purview of competitors and law enforcement alike. As holster designs improve, many are beginning to opt for the "standard" 5-inch barrel — especially in 1911-style pistols — even for concealed carry. There is a growing need for self-protection, and many will sacrifice the convenience of a smaller pistol for capacity and accuracy. If you are looking for the least-possible recoil and muzzle rise without the need for a flame-throwing noisemaker on the end (muzzle brake), this is the ticket. If you have been carrying a full-sized 45 ACP 1911 for decades and want to move to the 9mm cartridge, add capacity, and —most importantly — have it work, this is for you too. You pretty much get the best of all worlds with the SFX9 5": an 18-round capacity, longer sight radius, the best possible ballistics, and complete reliability. As a bonus, it is still one of the most comfortable pistols you will ever hold, and when you consider everything as a complete package, this one's pretty hard to beat. See the double-stack line of Wilson Combat pistols at your nearest dealer or for more info. contact Wilson Combat directly at; Tel.: (800) 955-4856; Web: www.wilsoncombat.com.
Specifications:
Action:                      Single Action Hammer Fired
Caliber:                     9mm
Barrel Length:            5 Inches
OAL:                         8.4-inches
Width:                      1.4-inches
Weight:                    30-ounces (empty magazine)
Capacity:                   15+1 or 18+1 (extended magazine)
MSRP:                       $3095.00