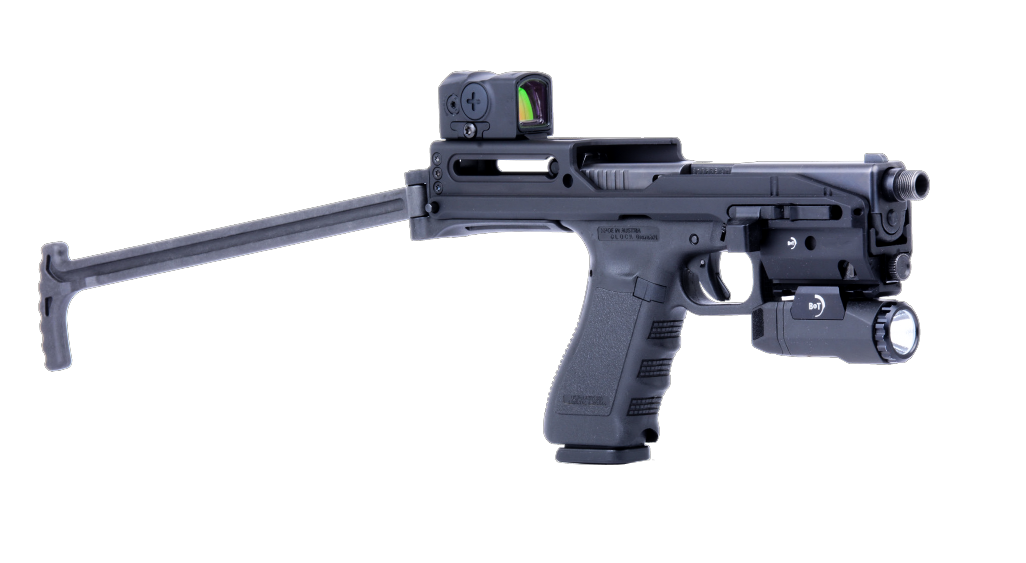 B&T USA USW-G ASSIGNED NSN NUMBER
Tampa, FL (October 20, 2022) – B&T USA is honored to announce its Universal Service Weapon chassis for Glock small frame pistols (USW-G) has been assigned a National Stock Number (NSN). The issuance of an NSN streamlines the product procurement process for all NATO members and partner countries, identifying all standardized material items of supply. The NSN number issued to the B&T USW-G is: 1005-12-420-1834.
"B&T USA is a consistent supporter of professional entities worldwide, continually focusing our product development efforts on engineering very specialized items to satisfy these organizations non-standard requirements — regardless of order volume," said Chris Mudgett Vice President of Marketing, B&T USA. "The USW-G is one such product, offering the user the choice of utilizing their pistol in a traditional manner, or with the press of a button, a folding stock swings into place; greatly improving the platforms stability while also extending the range, accuracy and effectiveness of your handgun to that of a 9mm submachine gun."
The USW-G is revolutionary enhancement for the popular Glock 17 and 19 pistols models with standard rails (Gen 3-5). Quickly, easily and without tools, these pistols are converted into the Universal Weapon configuration complete with a spring-loaded folding stock for added stability and a non-reciprocating optic bridge. The USW-G model is compatible with Aimpoint ACRO-series micro red dot sight, however, a picatinny rail section is included for compatibility with other aiming solutions. Aimpoint ACRO and Glock pistol are not included. The USW-G chassis is not a firearm, is not serialized, and is sold as an accessory.
About USW-Series
The Universal Service Weapon, or USW is in category entirely of its own. This unique platform bridges the gap between pistol and submachine gun; designed specifically for police officers, Gendarme, low-visibility soldiers and intelligence officers requiring a concealable pistol-sized platform capable of SMG-like precision, effective range and control.
The USW is similar in size to a traditional service pistol but incorporates a spring-assisted stock that folds flat against the receiver when not in use for a streamlined package and nondescript appearance. With the press of a button, the stock unfolds, and is locked firmly in place by the user, providing both a shoulder and cheek weld. The slope of the stock perfectly aligns the eye behind an Aimpoint ACRO P2 red dot sight affixed to a non-reciprocating bridge mount.
The red dot sight coupled with additional points of contact greatly stabilize the platform, similar to a 9mm police carbine, thereby extending its effective range out to, and beyond 100 meters, even in the hands of average shooters.
Magazines of 17, 19 and 30 rounds are available. The USW concept is also available as a conversion and upgrade kit for other widely used service pistols including the Glock 20/21, SIG Sauer P320, CZ P10, Walther P99 and others. Concealment and level 2 duty holsters are also available, as are full size and compact direct mount suppressors.
Glock 18 compatible models are also available.
About B&T USA
B&T USA, a Florida-based firearms, suppressor and accessories manufacturer operating under license of B&T AG SWITZERLAND, which was founded in 1991 as a designer and manufacturer of the industry's most advanced suppressors. Under the leadership of Karl Brügger, B&T AG has evolved into a world leader in the design, manufacture, and sale of the most technologically advanced, high-performance weapons systems in the world. From the comprehensive APC (Advanced Police Carbine) line, recently adopted by the United States Army, to the new 9mm USW® (Universal Service Weapon) and USW conversion kits; B&T weapon systems are used globally by police, Special Forces, and elite military units. For more information on B&T USA, visit: www.bt-usa.com