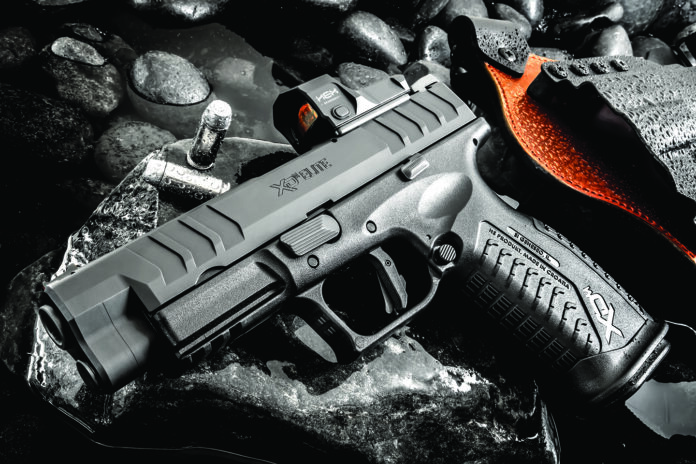 Springfield Armory XD-M Elite 10mm
By: Chris Mudgett
The Backcountry Defense and the Modern Hunting-Handgun Multi-Tool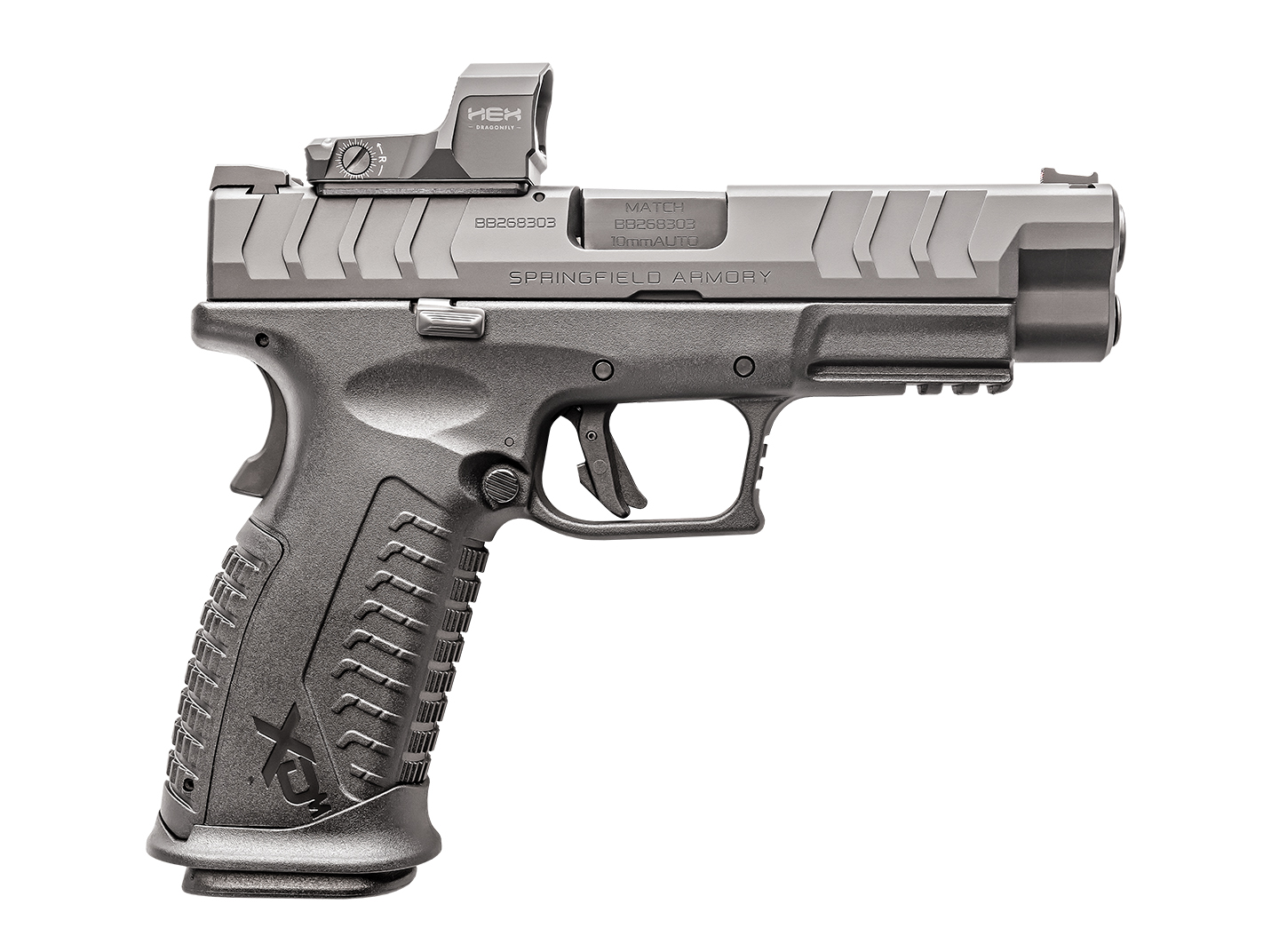 I'm a semi-automatic pistol kind of guy. Like many of you, I shoot them almost exclusively, handle them daily, and have become very comfortable with their operation. My grip, holster draws, and presentation are always the same, as is the process of clearing malfunctions and the act of reloading. Simply put, the operation of a modern polymer-framed semi-automatic pistol is done at a subconscious level, kind of like driving a car; it's something I don't have to think about.
When heading into the backcountry, these same semi-auto pistols used to potentially defend against thin-skinned two-legged predators typically fall short in their ability to stop furry four-legged predators. Now, the internet is flush with stories of folks claiming to have put down bears with calibers ranging anywhere from .22LR's to .45 ACP. If there is an ounce of truth to these tales, they simply got lucky. I prefer to make my own luck, which brings me to two choices for backcountry defense; A: begin the costly and time-consuming quest to become equally proficient with a big-bore revolver, or B: find an optimized and familiar semi-auto to fit my needs.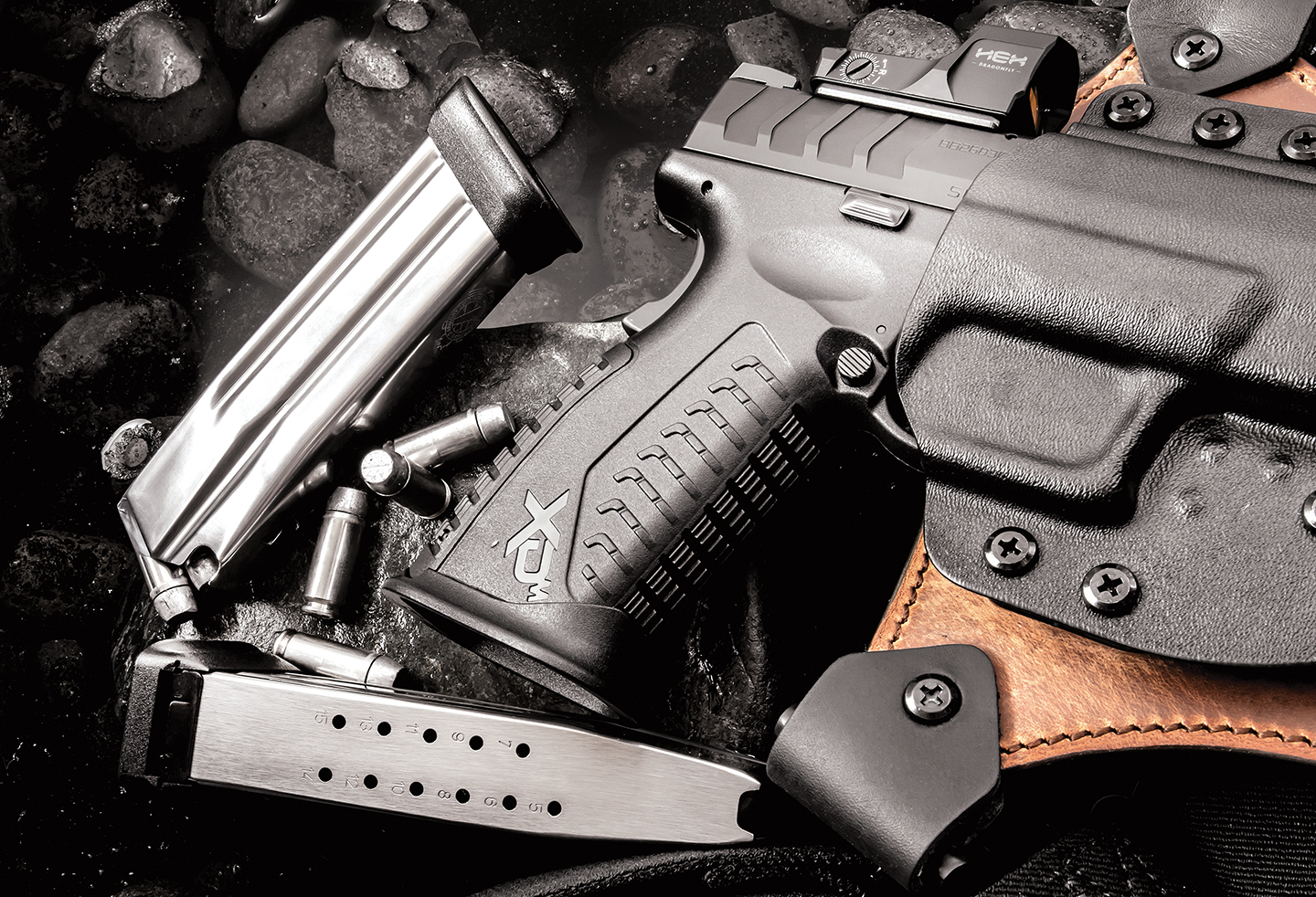 In my mind, a backcountry defensive pistol must be reliable above all other considerations. Next, it should be low maintenance, durable, and resist corrosion. It should be mechanically accurate, boast a high magazine capacity and be easy to shoot well in all conditions.
The most powerful factory-loaded handgun cartridge that still fits into a service-pistol-sized semi-auto is the 10mm Auto. The big ten has a good reputation among Alaskan woodsman as repellant for animals up to and including brown bears and is more than capable of taking medium-sized game at reasonable distances – out to 100 yards or so with the right load.
While the 10mm cartridge is currently benefitting from a resurgence in popularity, until very recently, only a handful of currently manufactured models existed. More on this in a minute. Many preexisting options are based on the 1911 platform, which suffer from limited magazine capacity, are pricey, and can be unreliable if not properly maintained when exposed to wet and rainy field conditions. I'm looking for an enabler, not a disabler, so the 1911 is out of the running for a true multifunctional pistol in this day and age.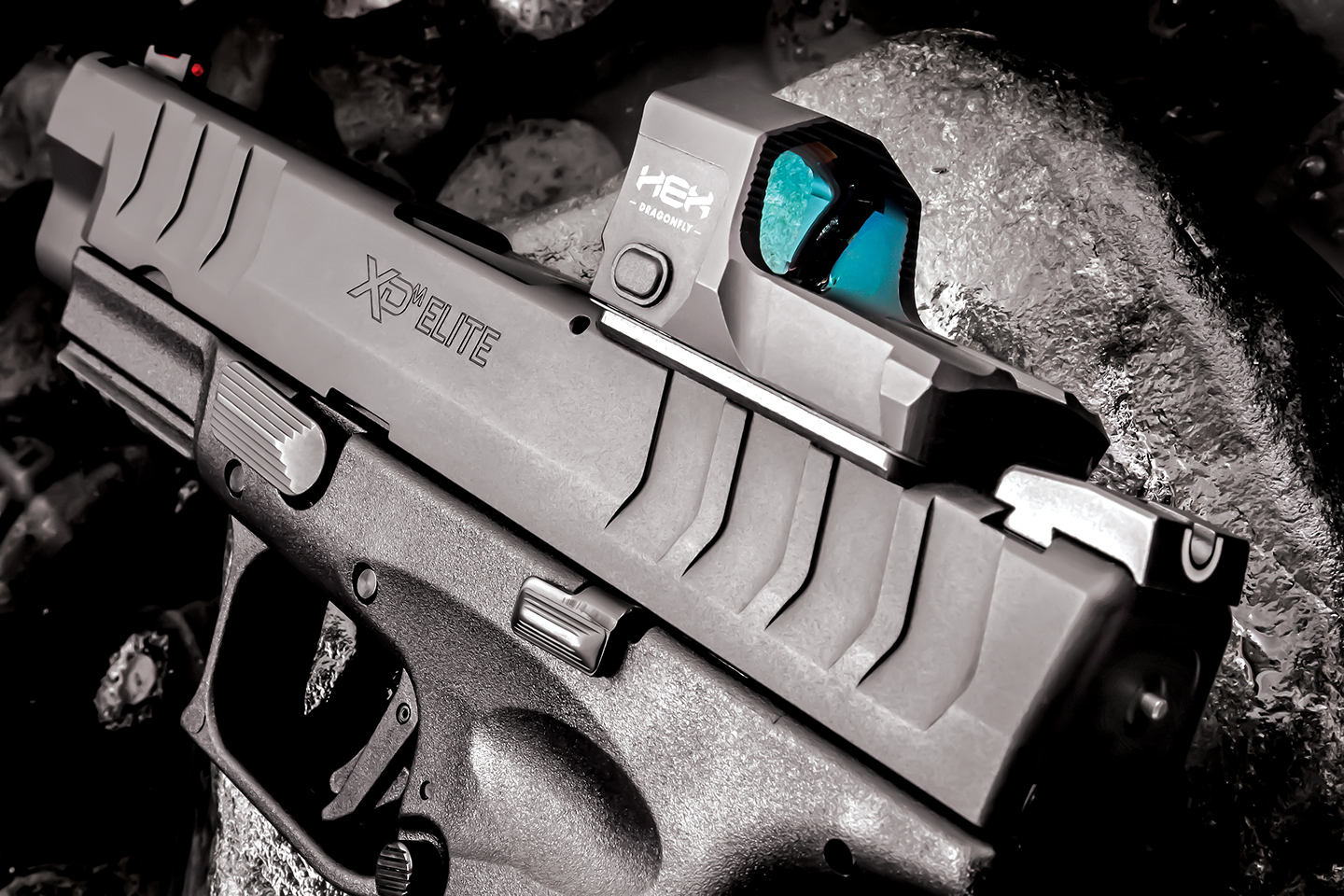 What's faster, reloading or continuing to pull the trigger? More bullets is more better when it comes to defensive arms. I'd rather have more than less when my life is on the line. Attempting to reload a handgun when a hulk of fur is quickly closing the distance is not where I want to be.
Within the last year or so, several popular handgun manufacturers have finally heard (or at least acknowledged) the howls of woodsmen across the country and have answered that call with line extensions of their popular models chambered in 10mm.
One such company answered this call long before many others, and that company is Springfield Armory. In early 2018 Springfield launched a pair of XD 10mm pistols, one with a 4-inch barrel destined for concealed carry, while a 5.25-inch barrel with fiber-optic sights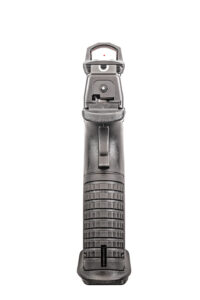 was envisioned for hunting applications. Both pistols shot very well, had great magazine capacity, and handled the increased slide velocity and subsequent muzzle flip well — with the 5.25-inch model getting my nod for its noticeable reduction in recoil over the 4-inch model, thanks to the former's increase in slide mass, which made for a smoother-shooting pistol. Springfield accomplished its goal of a solid initial entry into the polymer-framed big-bore pistol market, but there was room for advancement, and advancement is the subject of this review.
Not ever resting on its laurels, Springfield has just launched a 10mm XD-M Elite. Any box left unchecked with the XD10 has been fully filled in with its M variant and closely splits the difference between the two legacy pistols with a 4.5-inch barrel; offering the best ratio of concealment, accuracy, and shootability, as well as a host of bonus features added in for good measure. Functional slide serrations, even when wet — check. Awesome grip texture, even when wet — check. Optic Ready and factory optic-equipped — check. Flared removable magwell — check. 16+1 magazine capacity, fully ambidextrous controls, match-grade levels of accuracy, soft-recoil, fantastic META trigger — check, Check, CHECK!
Springfield has made many positive changes to its existing product line and has launched a myriad of homerun-hitting products since its new president and industry veteran Stephen McKelvain has settled in his new position. This new XD-M is one of the many byproducts of Springfield's new leadership; a production pistol that checks all the boxes an experienced shooter could want — all in a factory-configured pistol. And it even comes with a red dot sight.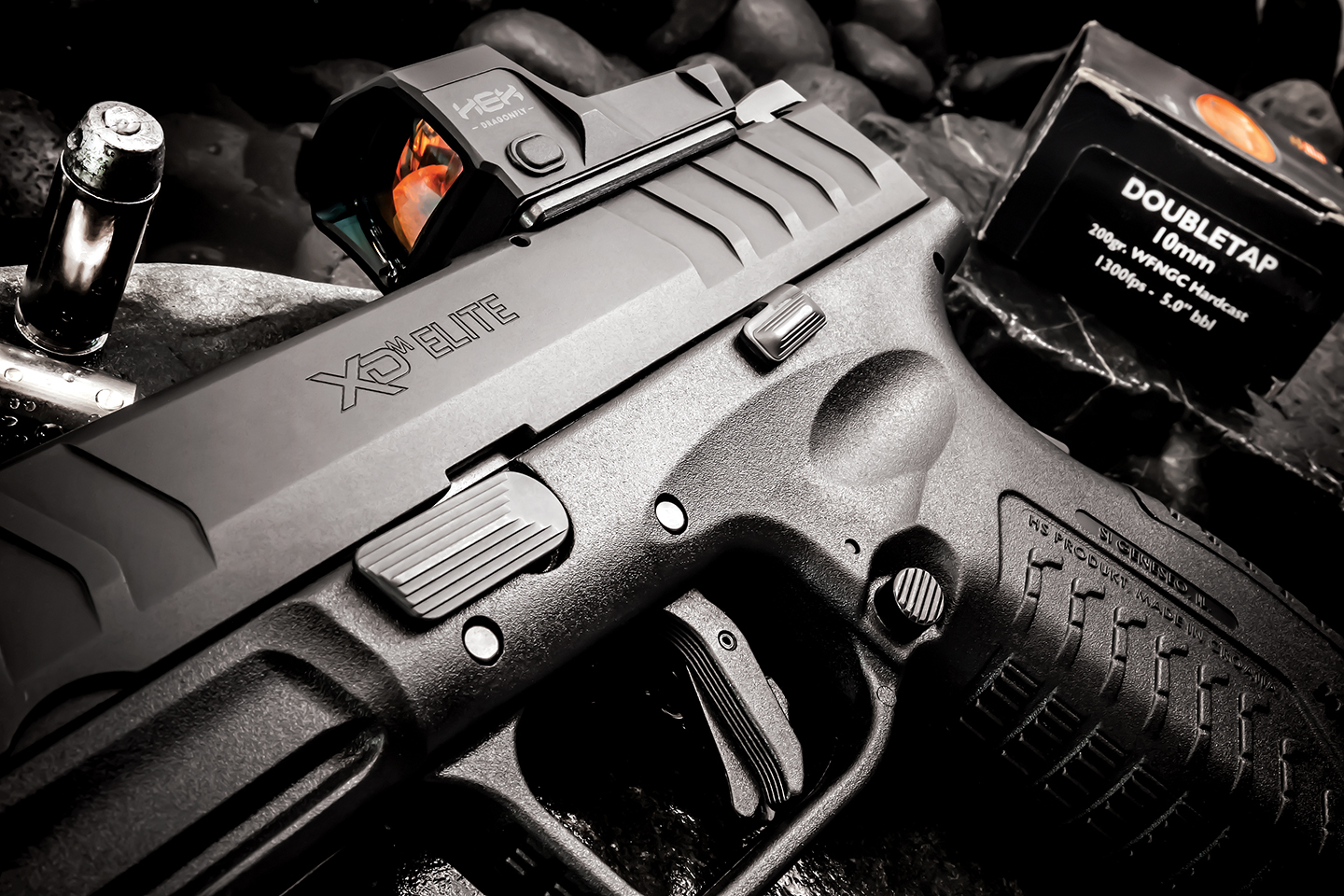 The red-dot advantage
I am a huge proponent of red dot sights on pistols; the advantages are just too broad to ignore. A miniature red dot sight milled into the slide of your pistol makes shooting on the move and shooting at moving targets significantly easier, as the shooter simply places the dot on the target and squeezes the trigger. It takes sight alignment entirely out of the equation. A red-dot equipped pistol allows the shooter to remain focused on the threat, and prior to pulling the trigger, they don't need to refocus on the front sight. Simply place the dot where you want the bullet to impact. The level of precision a small bright dot provides versus iron sights at distance can't be overstated and might be the most significant advantage a red dot sight has over iron sights for the casual user.
The 3.5 MOA red dot found on the Hex Dragonfly gives a precise aiming point that, to the eye, is approximately half the width of a factory front sight blade yet is much smaller in reality. I found the 3.5-minute dot (my preferred dot size for use with a pistol) to allow a high level of precision on small points of aim at distances out to 100-yards while still being quick and easy to rapidly pick up upon presentation from the holster. If you'd prefer a larger dot for close-in distances, simply turn the dot intensity up, and it will appear both larger and brighter. Turn it down, and you'll have a precision tool in your hands.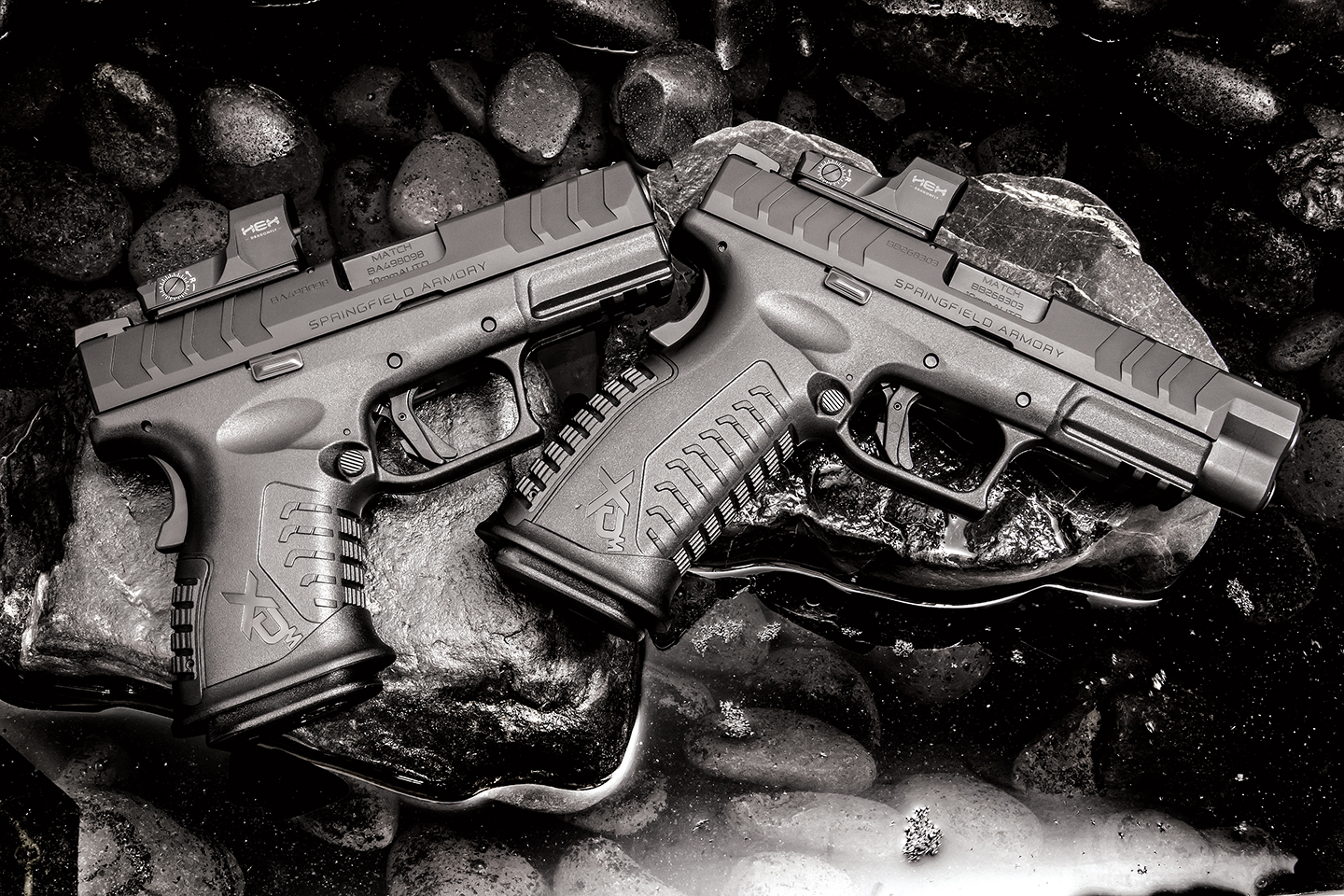 How to carry it
Carrying a pistol in either a hunting capacity or for backcountry defense mandates that it's always ready and a draw-stroke away from implementing. Inside your backpack does not fit these criteria.
Traditional belt holsters do not play well with backpack waist belts, waders, or rain gear, so a chest holster should be given serious consideration. Crossbreed Holster has blended a mixture of high-tech synthetic and natural materials to create an extremely comfortable yet functional holster making it a logical choice for a modern pistol that is destined to be exposed to severe weather conditions and hard use without much maintenance.
If you happen to be the kind to venture off the beaten path, there are a few firearms that I think everyone should own, carry, and be proficient with. One such tool is a polymer-framed, double-stack semi-automatic 10mm handgun. They're a lightweight, heavy-hitting, super accurate, multifunction tool that can be comfortably carried (and concealed) within a chest holster or under a barn coat. Not only are they the ideal hunting arm in steep mountainous terrain, but they also serve as bear justice in the backcountry. When you can't carry a rifle or shotgun, accept no substitutes. See the new XD-M Elite OSP 10mm at your nearest dealer, or for more information, contact Springfield Armory; Tel.: (800) 680-6866; Web: www.springfield-armory.com.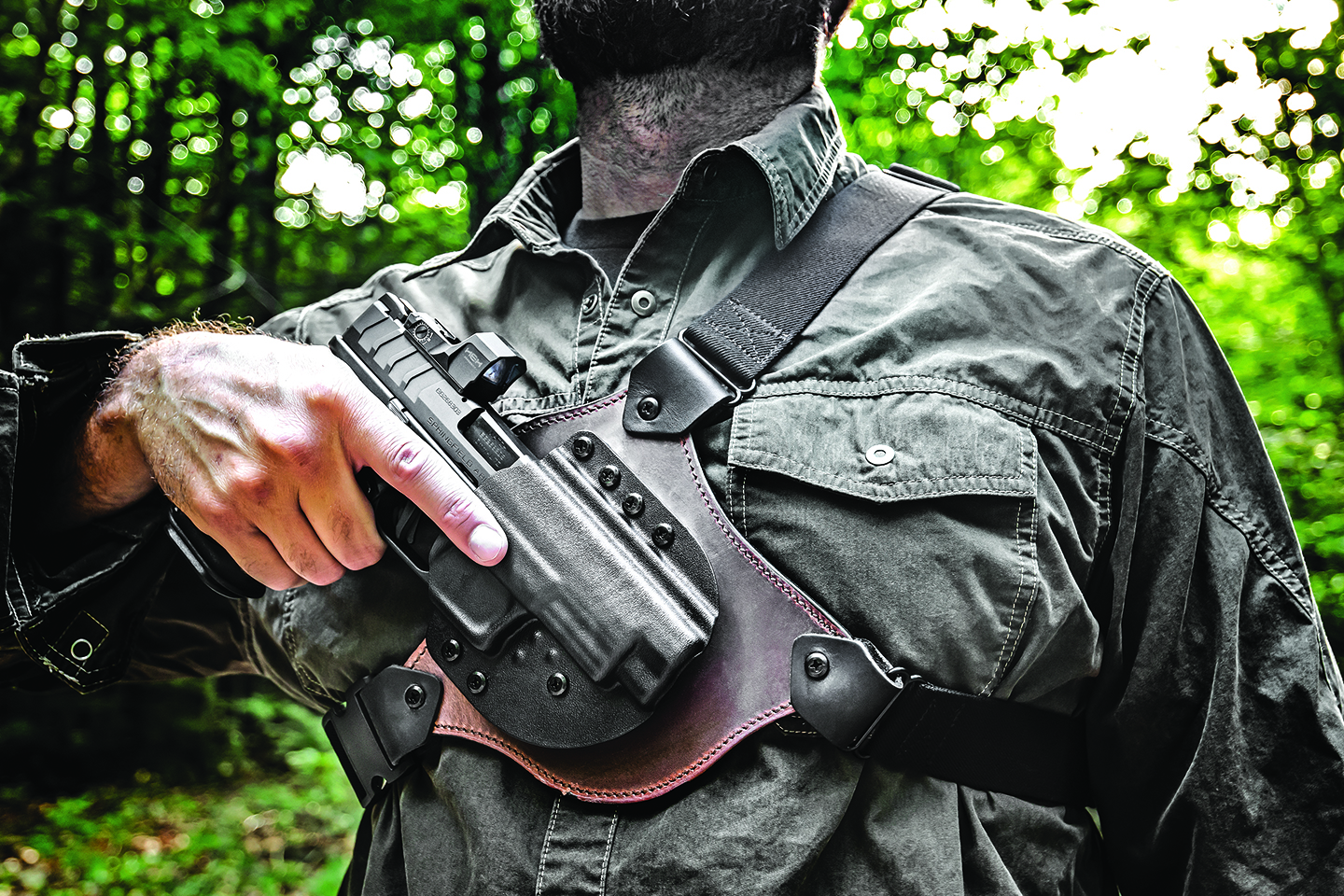 Specifications:
Springfield Armory XD-M Elite 4.5 OSP
Action: Striker-fired, recoil-operated
Cartridge: 10mm
Barrel Length: 4.5 in., hammer forged
Overall Length: 7.6 in.
Width: 1.2 in.
Height: 5.75 in.
Weight: 32 oz.
Finish: Black Melonite
Sights: Fiber Optic Front; U-Dot Rear; Hex Dragonfly Red Dot Sight
Capacity: 16+1 rds.
MSRP: $837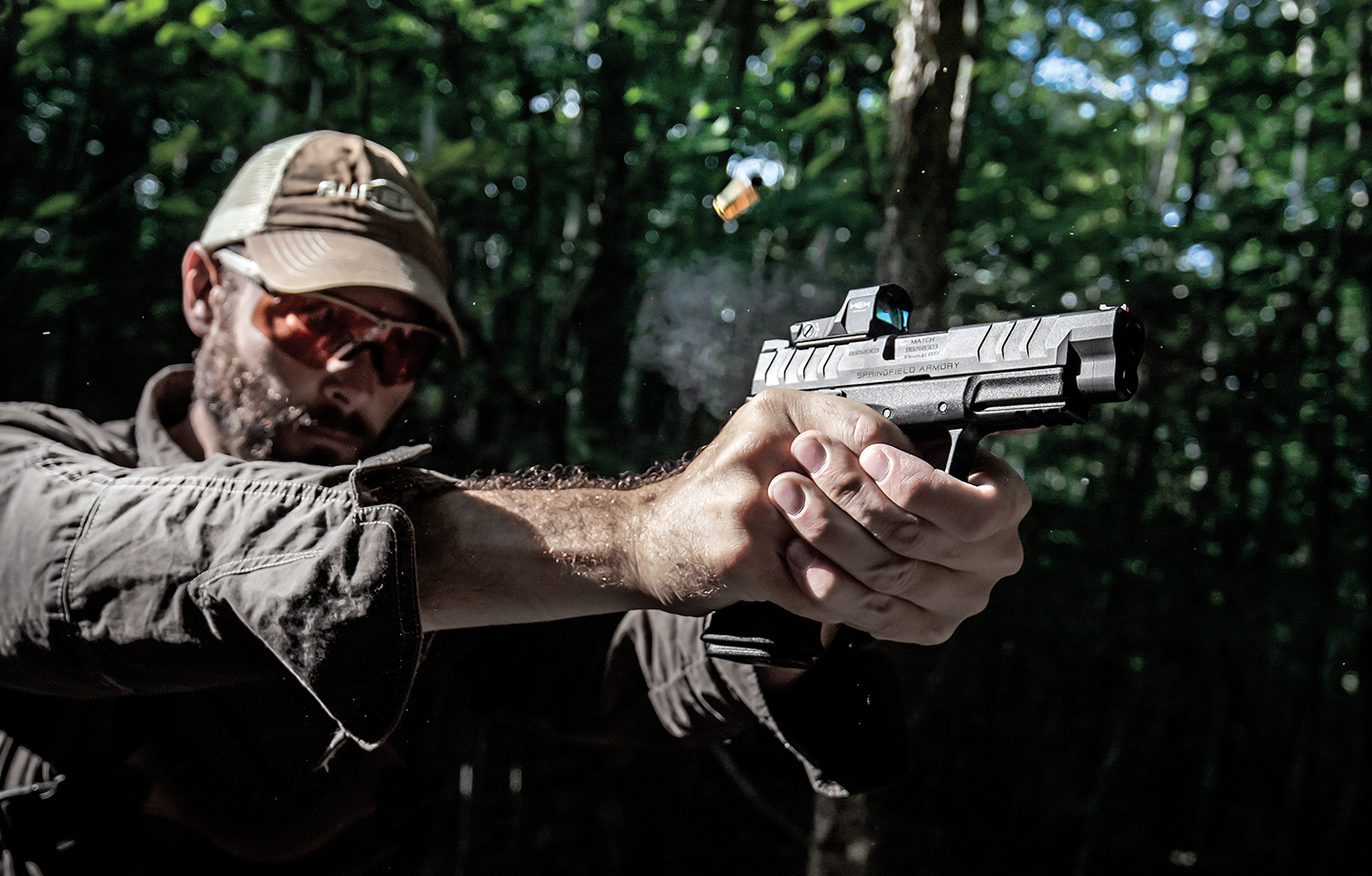 Performance Data:
SIG Sauer 180-grain FMJ
Average Group: 3.1
Best Group: 2.3
SIG Sauer 180-grain V-Crown JHP
Average Group: 2.2
Best Group: 1.6
Hornady 175-grain Critical Defense
Average Group: 3.5
Best Group: 2.8