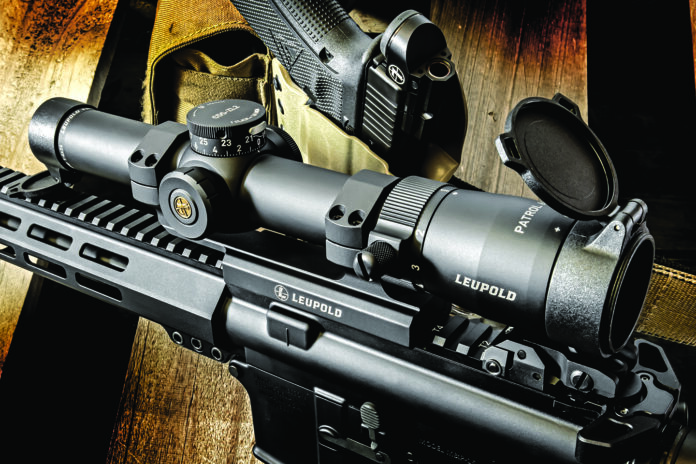 Leupold Patrol 6HD 1-6x (from $1,399.99)
While the topic is certainly still up for debate, a 1-6x variable power optic is about as close as you can get to the ultimate power range in a general-purpose optic for your AR-15. Six-power is enough to get you on target at distances and out to the maximum effective range of 5.56mm 16-inch carbine.
Leupold realizes this sweet spot and has recently released its all-new Patrol 6HD 1-6x rifle scope. As the name implies, the Patrol is ideal for law enforcement officers looking for a no-compromise scope that is lightning-fast up close within a structure while maintaining the ability to ID a threat at distance and engage it with precision. The 6HD is ultra-lightweight, is low-profile in design, offers a daylight-bright illuminated reticle, and professional-grade glass that is waterproof, fog-proof, and shockproof.
In addition to the power range, we love that Leupold included a removable throw lever (we prefer it installed) that allows fast and precise changes to magnification levels. We're also digging the exposed elevation turret with zero stop; why all LPVOs aren't equipped with this feature these days is mind-boggling, but they're not. We also like the fact the elevation turret can be quickly swapped with Leupold's Custom Dial System (CDS) and be customized to your agency's particular duty load. Long story short, there isn't anything not to love about Leupold's all-new 6HD. For more information, contact Leupold; Tel.: (800) LEUPOLD; Web:www.leupold.com.