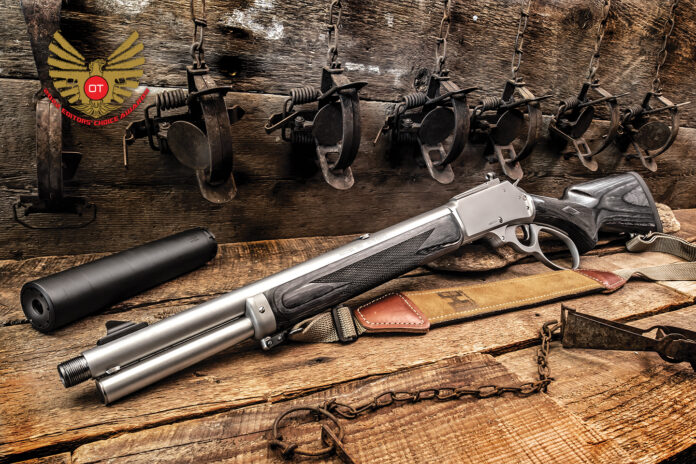 Marlin .45-70 Govt. 1895 Trapper
By: Dave Bahde
Who would've guessed that the best thing for Marlin would be Ruger?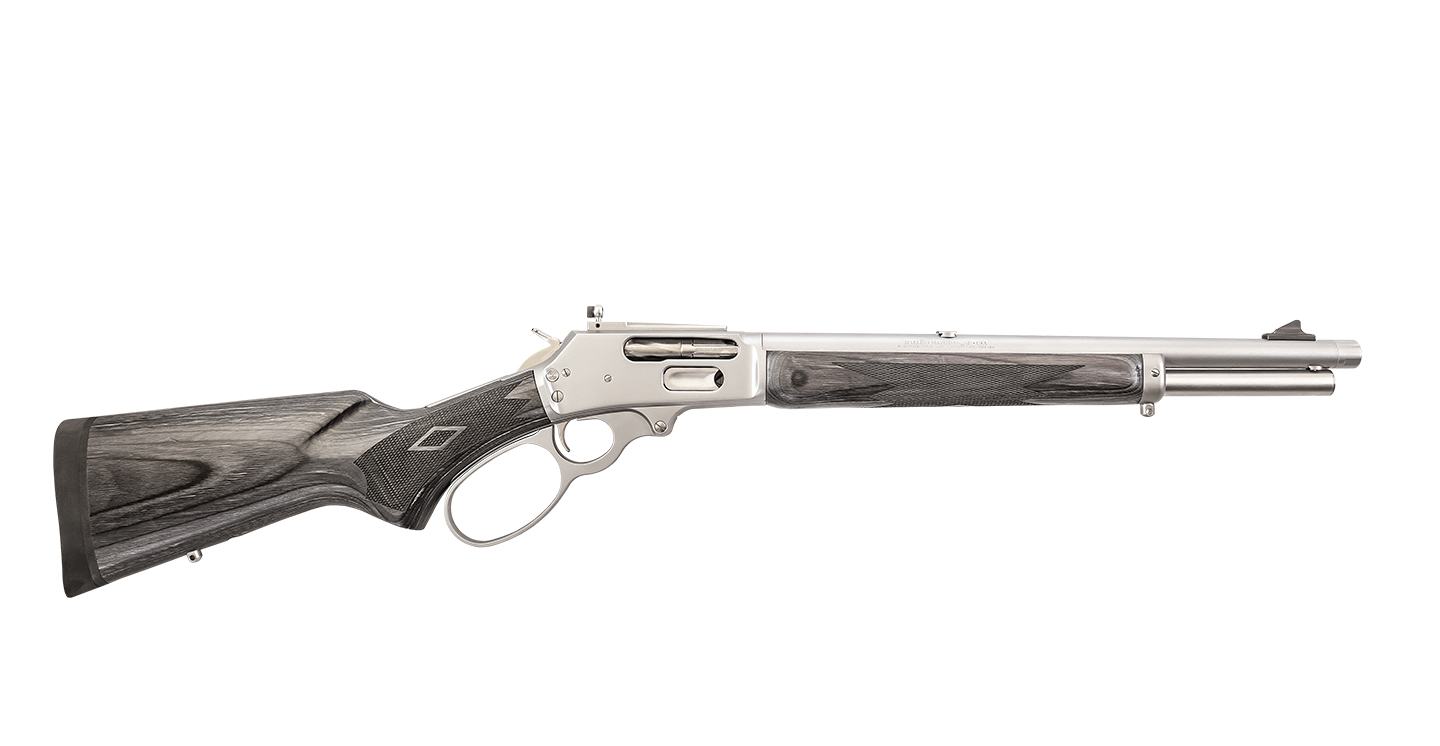 Lever actions rifles, in general, are amidst a huge resurgence, although mostly in pistol calibers and the venerable 30-30, but the .45-70 is gaining some traction. Marlin's 1895 is all but iconic for this caliber and is a huge favorite amongst trackers, hunters, and those who may encounter larger game. Touted as capable of taking most any North American game, the cartridge is versatile in today's loadings. Around since 1873 in its black powder configuration, .45-70 gained some serious power as it moved to modern powders. As bullet design and ammunition manufacturing has improved, it has only gained popularity. Originally developed with 400-500 grain cartridges (mostly 405), newer offerings in 300 grains or even less provide substantial energy on target, deep penetration, and surprising accuracy. For the last several years, it has been considered the quintessential hog killer and a favorite for backcountry use where large predators rule.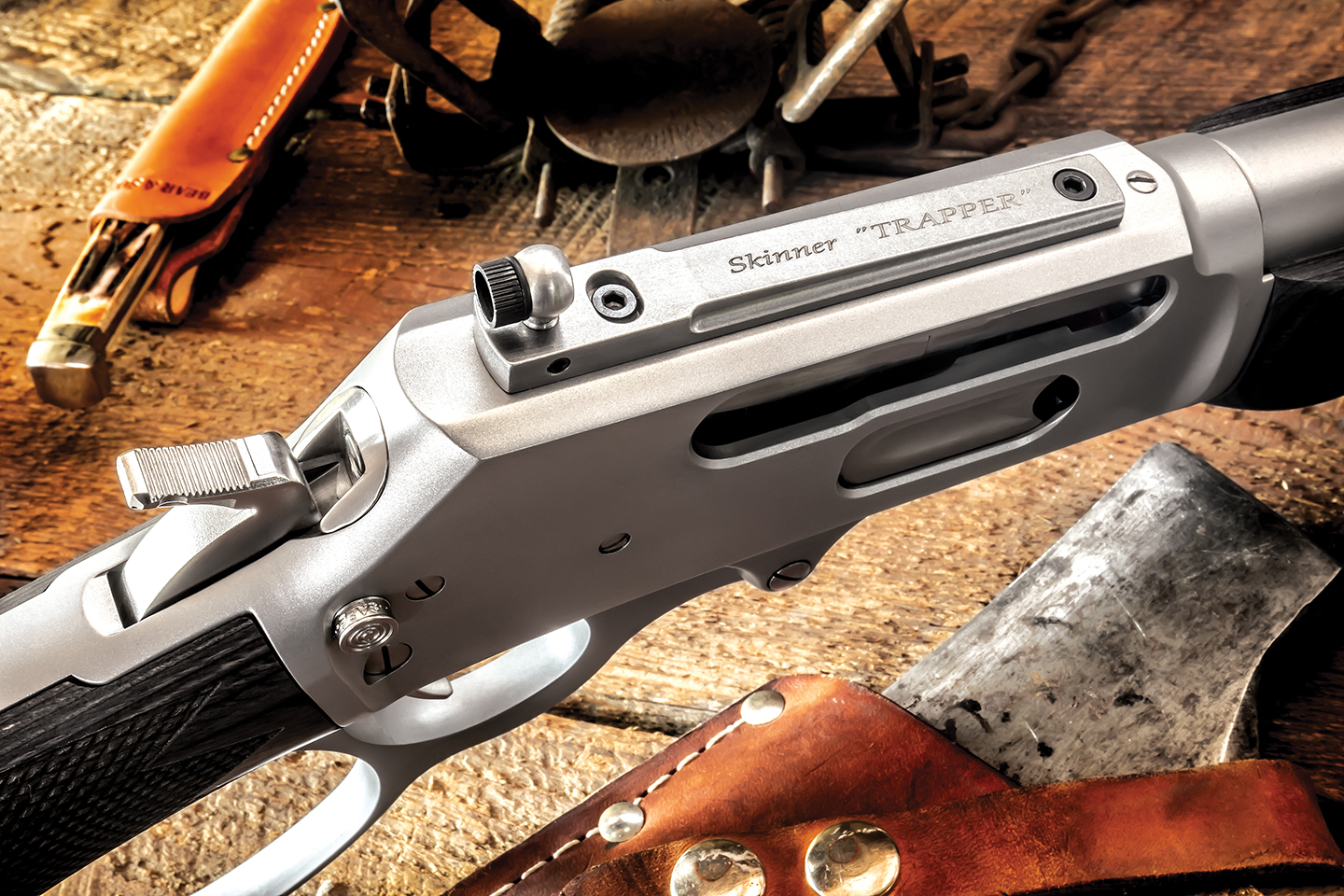 Marlin 1895 Trapper
Ruger's purchase of Marlin has been good to the venerable 1895 platform, with evidence of precision manufacturing and improved attention to detail found everywhere. Based on the 1895 SBL, the Trapper uses a shorter cold hammer-forged stainless 16.10-inch barrel that is threaded 11/16 x 24 for suppressor use. Skinner Sights receiver mounted peep rear and blade front sight handle the aiming. Like the barrel, the action is made from stainless steel and bead blasted for a low luster. It's equipped with a moderately-larger lever loop for use with gloved hands and holds five rounds (plus one in the chamber) in its full-length tubular magazine. Ruger's improvements include a more refined forend, checkered grip panels, a laser engraved Marlin Horse and Rider logo on the grip, and an overall attention to detail not seen in a long time. The cross-bolt safety remains, but as with all 1895's, there are "delete" kits for those who would prefer it disappear; I've never found it bothersome. All the traditional internal safety mechanisms remain.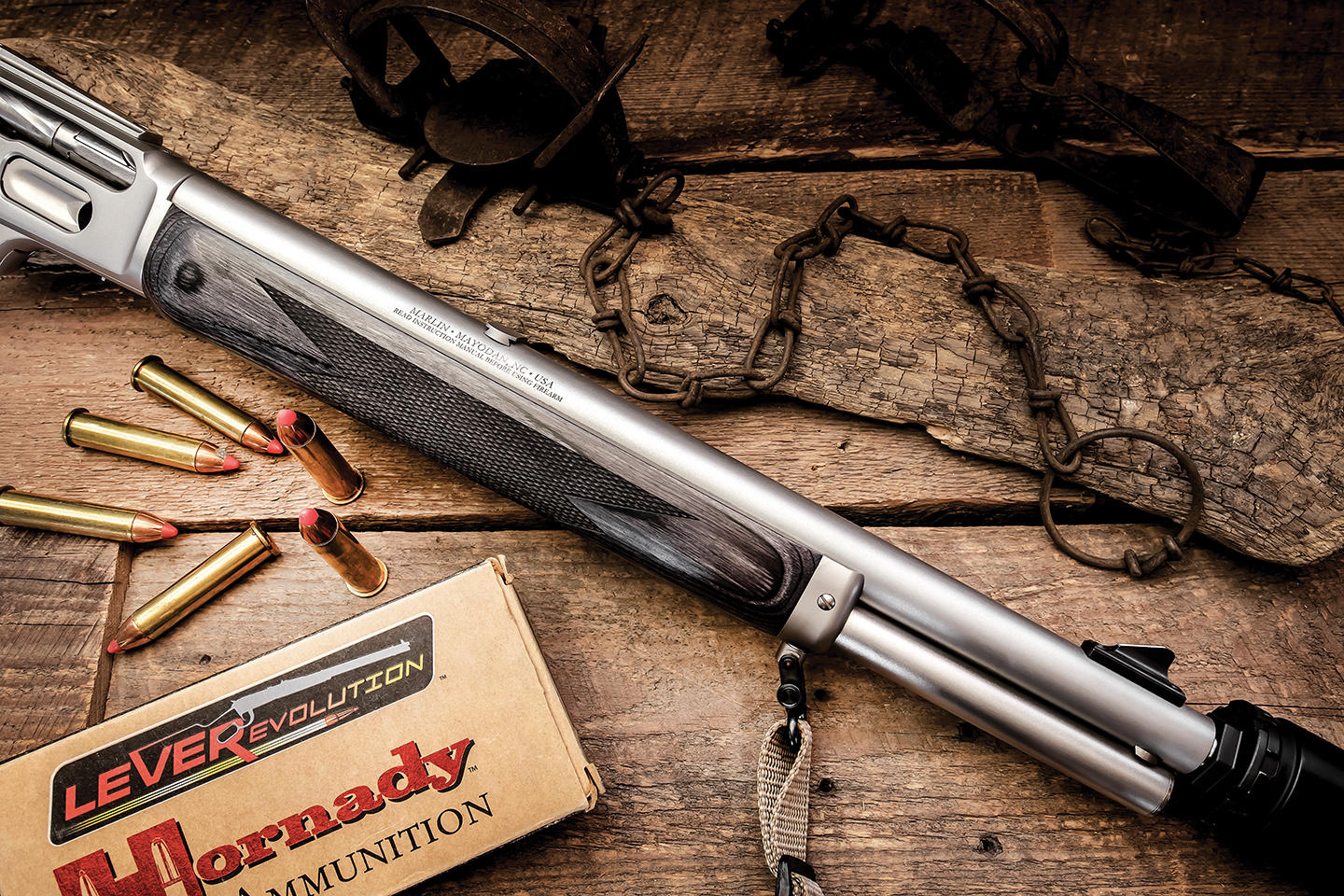 Range Testing
Testing included the addition of a .46 caliber Dead Air Silencers (www.deadairsilencers.com) Primal suppressor threaded onto the Trapper's 11/16"-24 muzzle threads. While the suppressor knocks down the felt recoil of the .45-70 and all but eliminates any flash, it still remains pretty stout with the hotter loads —especially when shooting prone. Still, I managed a 1.5-inch group at 50 yards using the iron sights and Barnes VOR-TX 300-grain TSX (Flat Point) ammunition. Making around 1900 FPS from this barrel, the energy on target is impressive, and the TSX is a proven hunter. I commonly stacked three shots with two fliers, but given the recoil and steady wind and rain, I was happy. I tagged the 12-inch steel at will at 100 meters with the irons, even put a few on the Larue size target at 200 meters. Anything beyond 200 meters, the holdover with irons is pretty significant, and adding a low-power variable optic would be a game changer here. The most comfortable load to shoot was the Hornady 250 grain LEVERevolution. Maybe the most impressive were the 405 grainers; slow with a rainbow trajectory even at 100 yards, but man, did they move steel.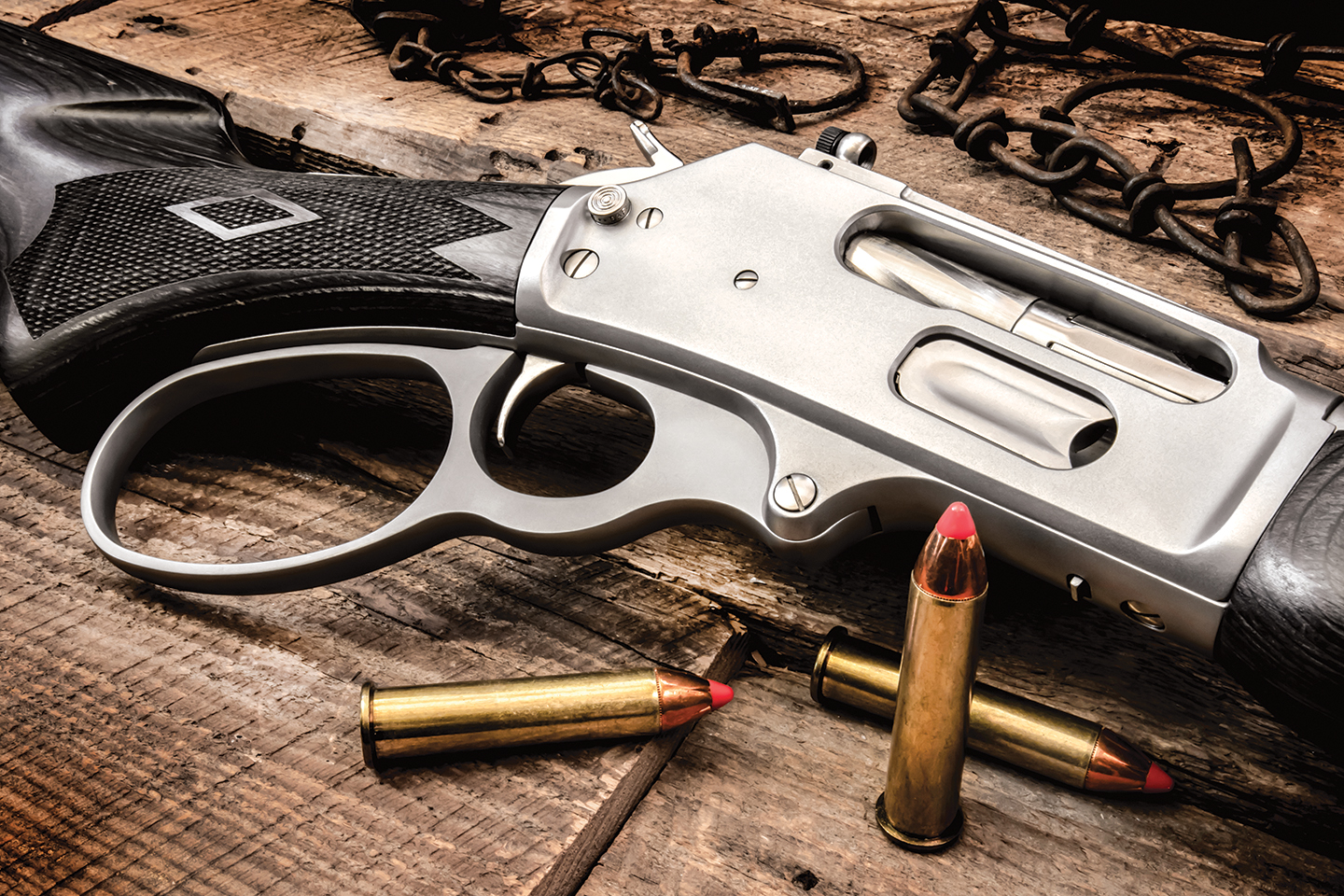 Final Thoughts
Adding the suppressor did not make this rifle barrel heavy, and it is noticeably more comfortable to shoot with it attached. Suppressing the Trapper is a great way to go if you are going to run it hard at the range. The overall quality and component tolerances are about as good as it gets on a production rifle and rival some customs; the current-day 1895 rifle is night and day different from the last batch of Remington-built Marlins. Everything is tight and smooth, and it fed everything without issue. It just feels nice in the hand, with smooth edges and excellent fit and finish. If you were hesitating to see what the Ruger-made Marlins are like, hesitate no more. Get one if you can — you will not be disappointed! See the new Marlin 1895 Trapper at your nearest dealer, or for more information, contact Marlin Firearms; Tel.: (336) 949-5200; Web: www.marlinfirearms.com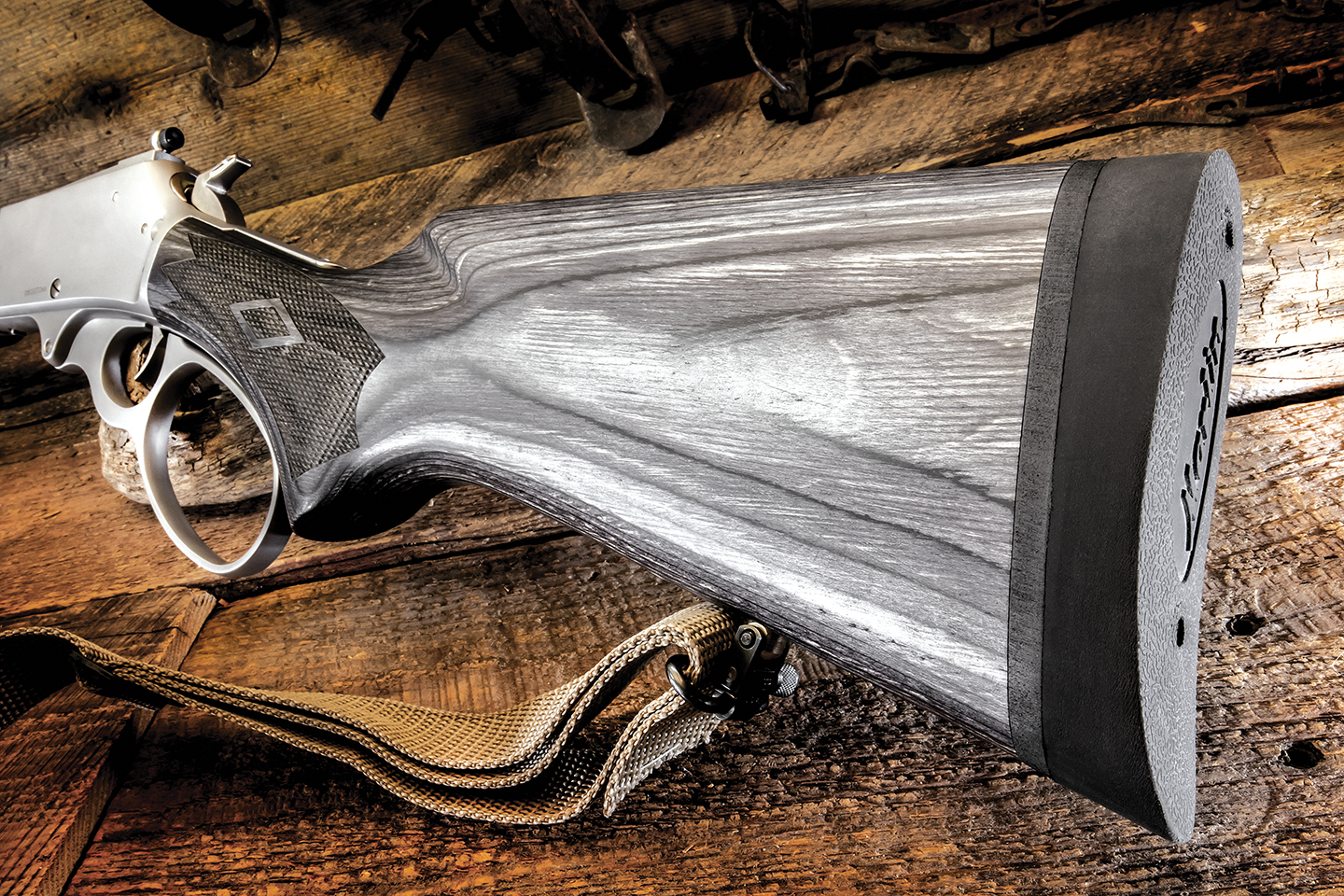 ---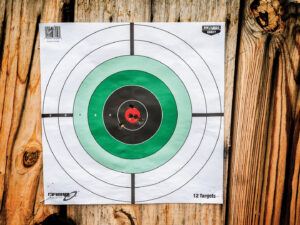 Specifications:
Caliber:                     .45-70 Government
Action:                      Lever action
Barrel:                      16.10-inches
OA Length:                34.25-inches
Weight:                     7 pounds, 1 ounce
Sights:                      Skinner Adjustable Rear, Blade front.
Stocks/Grips:             Black laminate
Finish:                       Satin stainless steel
Capacity:                   5+1
Price:                        $1,349.00