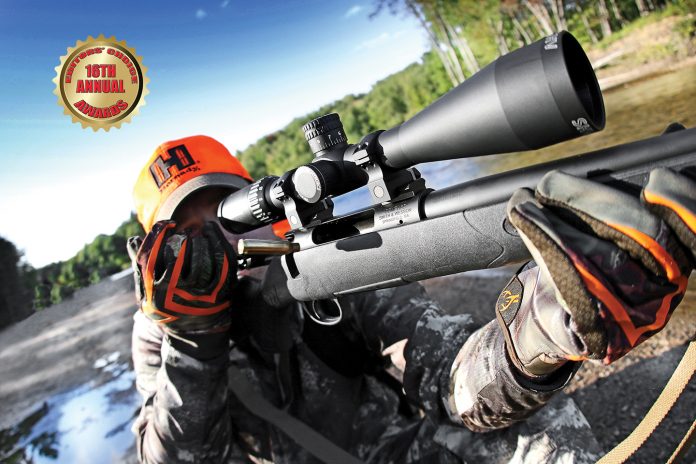 Do You Carry A Compass? T/C thinks you should. Its newest bargain-priced rifle makes a compelling argument!
If you said the Compass is just another entry-level hunting rifle, you'd be right. Sort of. At a list price of $399, it costs less than 40 percent of what I paid for one big game license this year! And, up until December 31st, T/C has sweetened the deal even further with a $75 mail-in rebate. For hunters just dipping their toe in the sport, or for whom November has many other distractions, the Compass packs all the power, accuracy and reliability they'll need during annual sits in the deer woods.
But "entry-level" doesn't cover either the rifle or its applications. The Compass has features you might expect only on more costly rifles. And if your gun safe is already crowded, your pickup rack may not be. How many of your centerfires are compact, durable and so inexpensive you don't mind if they get a few handling dings or collect a little road dust?
Opening the T/C box, I didn't salivate. The Compass is a blued bolt-action with a molded black polymer stock, one of a growing cohort promising, solid service at a bargain. But this rifle has roots that reach back to the Icon, a ground-breaking rifle at its inception a decade ago (see sidebar). My early hunts with the Icon took me to Africa, where it—and the then-new 6.5 Creedmoor cartridge—felled animals as elusive as vaal rhebok and as big as eland. The rifle's stiff receiver and excellent T/C barrel promised and delivered MOA accuracy in range trials at 200 yards.
But the Icon was heavier than its competition, and priced on the high side of mid-range. In 2009 T/C announced the Venture, at $499 about half the price of an Icon. Fashioning receivers from bar stock and replacing the Icon's figured walnut with polymer dramatically reduced production cost.
Like its forebears, the Compass runs a full-diameter bolt relieved behind three equidistant locking lugs that afford you a shallow 60-degree bolt lift. Gobs of scope clearance. Fast cycling. The lug-mounted extractor works with a plunger ejector in the recessed bolt face. The left-side bolt release appears identical to that on the Icon. But instead of a two-position thumb safety peeking from the stock below and right of the bridge, the Compass has a 3-position, Model 70-style wing safety on the bolt shroud. Brilliant!
The trigger on this rifle resembles the Winchester 70s too, albeit there's additional hardware. As my sample Compass came with a 5.5-pound let-off, I removed the stock to drain ounces from this "user-adjustable" trigger. Neither the requisite wrench nor an appropriate screw-driver was provided. Quarter-inch wrenches proved too small, 5/16 too big. Also, I found the lower nut secured with hard glue. So yes, this trigger is user-adjustable—for the equipped and persistent. Mustering a smile, I'll say the pull is clean and consistent, with almost no perceptible take-up.
Sliding smoothly in its race, courtesy a guide-groove that engages a tooth in the bolt release, the Compass bolt has a conical/cylindrical knob that seems to be replacing the traditional spherical knob on many new rifles. It tucks tight to the stock but is easy to reach.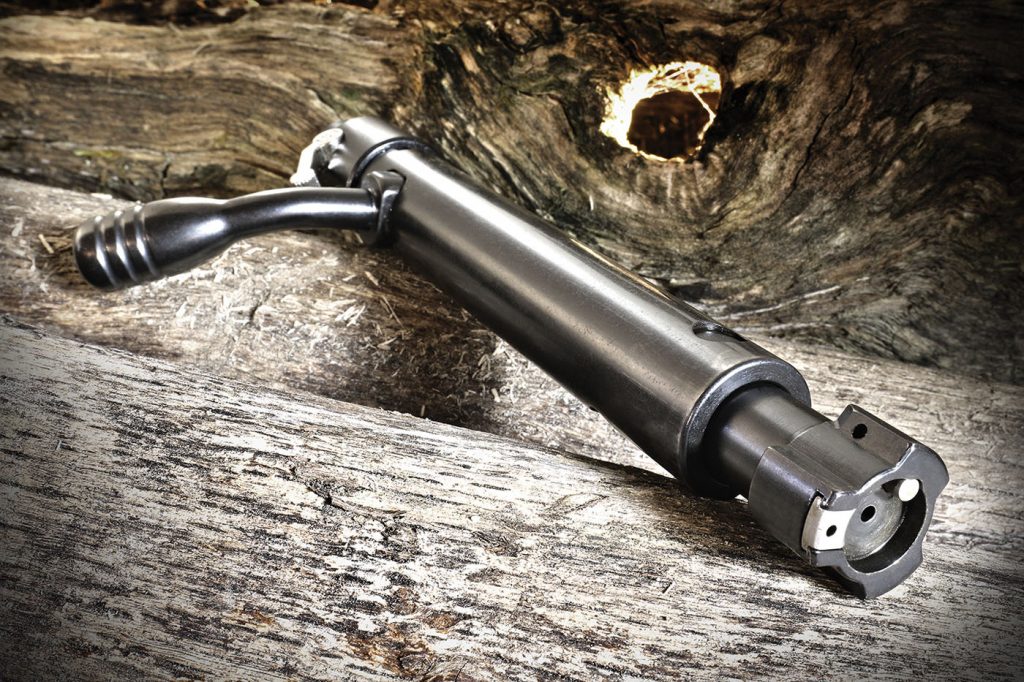 The tubular chrome-moly receiver is held to the stock with two identical hex-head guard screws inserted through alloy pillars. The steel recoil lug is imbedded in the stock, engaging a cross-groove in the belly of the receiver ring. This arrangement, a cost savings, seems as functional as the traditional receiver lug forged with the ring. On top, the Compass is drilled and tapped for Weaver scope bases, which T/C provides with each rifle.
Rotary magazines appeared over a century ago. They're at last getting the attention they deserve, mainly because they can now be fashioned as detachable polymer boxes—a much less expensive effort than machining a cavity in a steel receiver blank! The Compass magazine fits snugly, secured in front by a flimsy-looking but functional polymer latch attached to the magazine. Easy to insert and to extract, the box is lightweight and feeds cartridges smoothly. T/C lists it as a 5-shot magazine for the nine standard Compass chamberings, a 4-shot in 7mm Remington and .300 Winchester Magnums. I found resistance pretty stiff after loading four 6.5 Creedmoor rounds in my rifle.
The slender 22-inch Compass barrel (24 inches for magnums) floats, and boasts the popular "5R" rifling that appeared some years ago at T/C. Naturally, twist rate depends on the chambering; it's 1-in-8 for the 6.5 Creedmoor. The selling point to this rifling form: minimal bullet distortion. T/C button-rifles its Compass barrels and guarantees minute-of-angle groups with factory loads. In a nod to current trends, it also threads the muzzles for suppressors and brakes – 1/2-28 for .204, .223 and .22-250; 5/8-24 for .243 to .300 Win. Mag. All come with knurled caps.
Equipped with a pliable 3/4-inch recoil pad, an integral trigger guard and standard sling swivel studs, the molded Compass stock has sleek lines, a straight comb and open wrist. I like all that, am less inspired by its reverse-angle nose. Hands cold and wet? The functional texturing at wrist and forend (also helpfully troughed) keeps you in control. This stock feels agile. Not as stiff as some shooters might want for hard bipod use, it's solid enough from traditional hunting positions, and its light weight holds overall rifle heft to 7.4 pounds. The comb positions my eye just right for a low-mounted scope but offers plenty of support for quick aim through the Nightforce 4-14×50 I installed in medium rings.