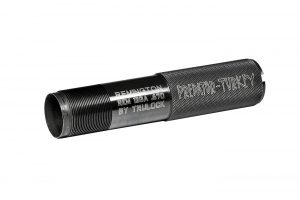 Although the mag-fed design required some internal changes, the gun still has all the positive attributes of any 870 shotgun. Like any other 870 model, it still has the non-binding twin rails for reliability, and it still has what would otherwise be called a magazine tube, but it functions only as a guide for the slide to ride back and forth on.
Perhaps the most notable feature of the gun, apart from the detachable magazine, is its appearance. It is fitted with Remington's synthetic ShurShot pistol grip stock, which makes it much easier to control with one hand while it's resting on shooting sticks, leaving the other hand free for other tasks. The stock, action, tactical-style forend and barrel all wear a Kryptek Highlander camo finish, which blends well into just about any environment when hunting. The stock is equipped with an effective SuperCell recoil pad, but with a weight of just 7.5 pounds, you'll still notice the recoil a bit when shooting full-house 3-inch loads.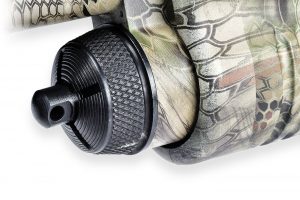 The top of the receiver has a Picatinny rail installed for mounting optics, and the guns used on my hunt came with red dot sights installed. That sight rode a bit high for my liking, but others had no problem with them. Call me old-school, but I took the optic off my shotgun, preferring to use the gun's XS ghost ring sights with their highly visible white bead in the front blade instead. While the rear aperture is adjustable for both windage and elevation, no adjustment was necessary. The sights proved to be dead-on when checking shot pattern and placement at 25 yards prior to the hunt.
The DM Predator comes with extended TruLock XFull predator/turkey and XFull hog chokes. The turkey/predator choke produced wonderfully effective patterns on Primos turkey patterning targets at 25 yards—not to mention actual turkeys—with Remington Nitro loads using both No. 4 and No. 5 shot.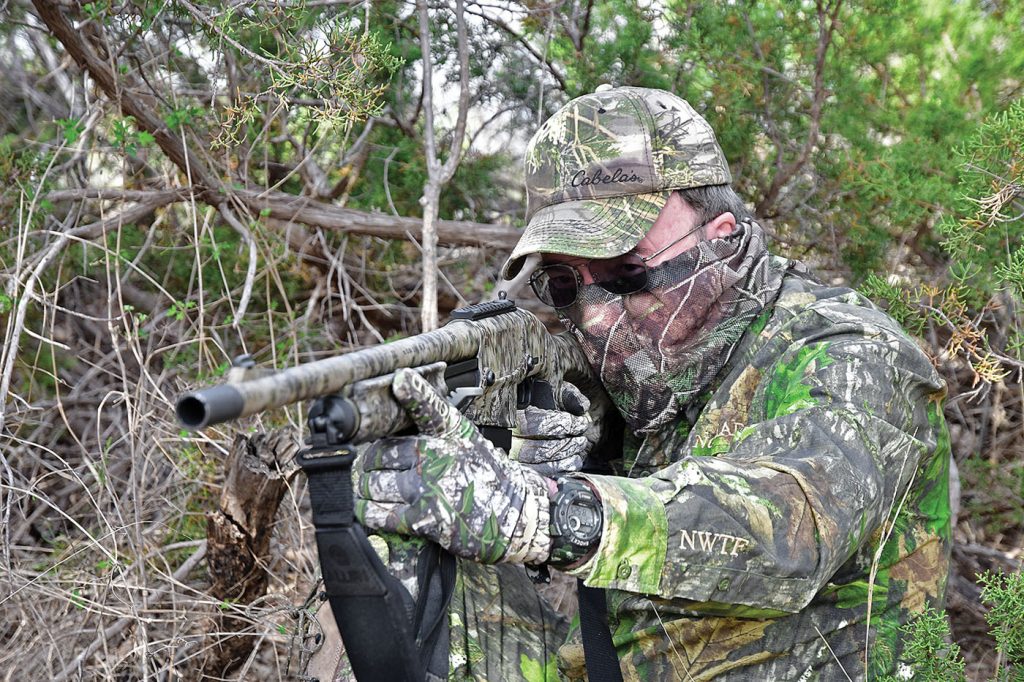 Shooters will find controls within easy reach of a trigger finger. A simple crossbolt safety is located in the usual position at the rear of the generously sized trigger guard, and a right-hander need only slide the hand forward and wrap the trigger finger around the front of the trigger guard to reach and engage the slide release latch.
With an overall length of just 38.5 inches with an 18.5-inch barrel, the gun is quite handy and compact, making it a good choice for hunting from blinds or in tight cover. Length of pull is 14 inches, while drop at comb is 1.5 inch and drop at heel is 2.5 inches. You likely won't be shooting upland game birds with the Predator, but woe be unto the gobbler, coyote or hog that finds itself centered in its XS ghost ring sights within effective shotgun range. As my four-bird hunt demonstrated, the Predator fully lives up to its name.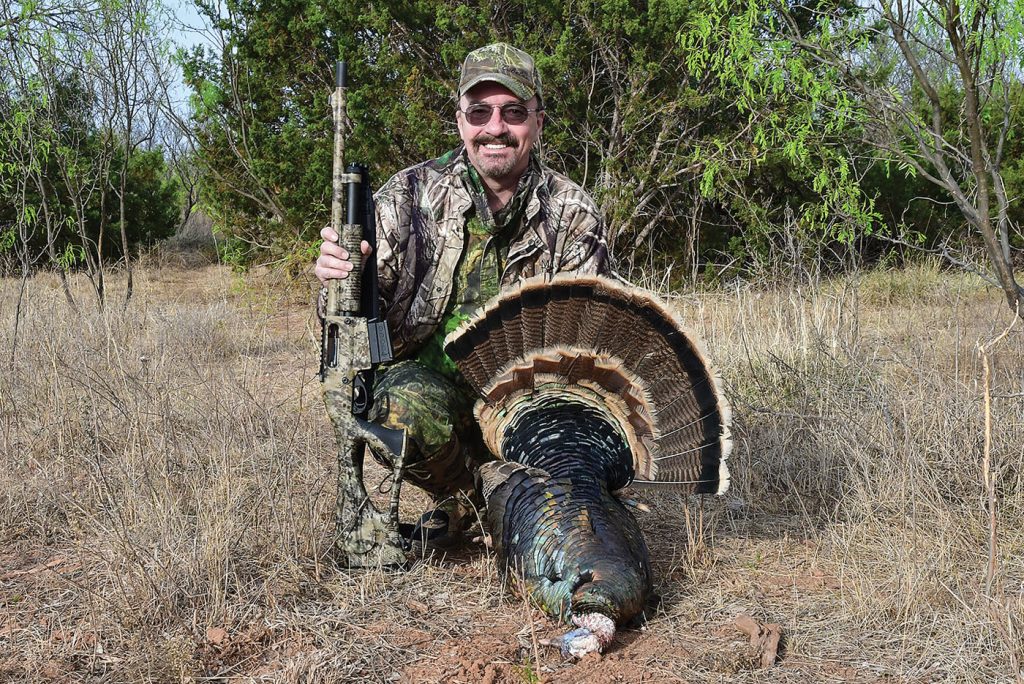 The shotgun comes with a limited lifetime warranty. MSRP is $799, but you should be able to find it for a somewhat lower real-world price. For more information, contact Remington Arms, Dept. OT; Tel.: (800) 243-9700; Web: www.remington.com
SPECIFICATIONS
Remington 870 DM Predator 12 gauge
Gauge: 12
Action: Pump action
Barrel: 18.5 inch
Capacity: 3- and 6-rounds detachable magazines
Stock:  Synthetic Remington ShurShot
Sights: XS ghost ring, adjustable
Finish: Kryptek Highlander camo
Length: 38.5 inches
Length of pull: 14 inches
Drop at comb: 1.5 inch
Drop at heel: 2.5 inches
Weight: 7.5 pounds
MSRP: $799