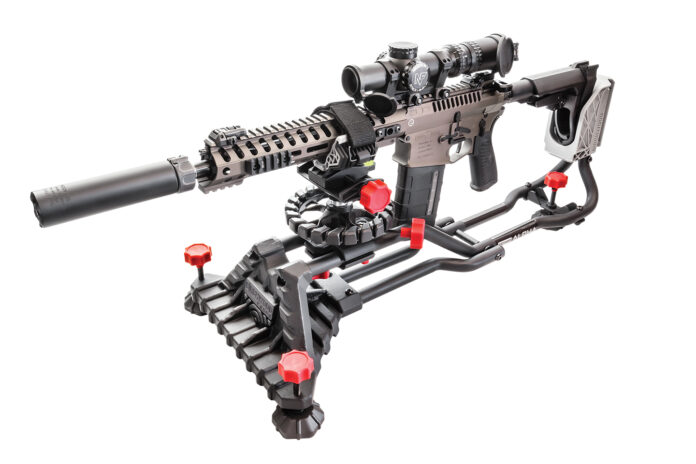 Birchwood Casey Alpha Shooting Rest ($230)
Every serious rifleman should have a solid shooting rest they can rely upon. Whether accuracy testing, load development, or truing a rifle, the uses of a good rest are many. Bonus points if it's consistent and doesn't require building or rebuilding a position.
We like Birchwood Casey's Alpha shooting rest for several reasons. It features a rugged and rigid steel frame that tips the scales at about 35 pounds. A weighted rest moves around less and is more repeatable, with a whole lot less effort. The additional weight is a God-send when shooting magnum caliber rifles or snappy lightweight rifles for extended periods. A non-slip rubber stock rest is easy on nice wood while also being easy on your shoulder. The Alpha offers plenty of elevation adjustment and will accommodate most rifles. The feet are fully adjustable, and a bubble level ensures everything is where it should be. Unlike many other rests, the Alpha can be utilized in the prone position for those without a dedicated bench. For more information, contact Birchwood Casey; Tel.: (877) 269-8490; web: www.birchwoodcasey.com.