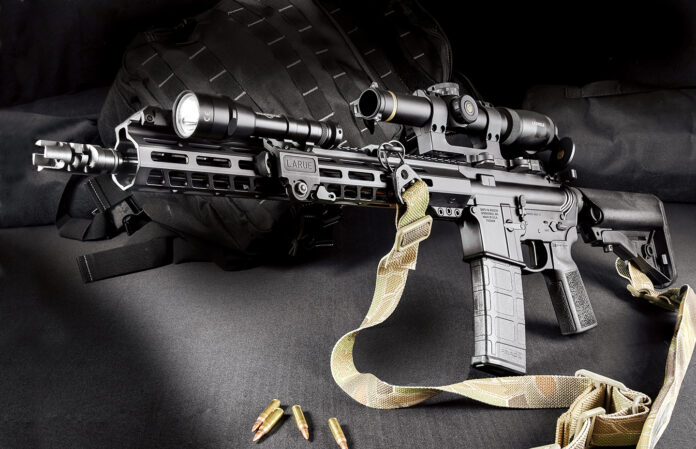 Smith and Wesson M&P 15 Volunteer XV Pro
By: Guy Coursey
Photos by: Peter Grilloni
Big Blue's factory performance package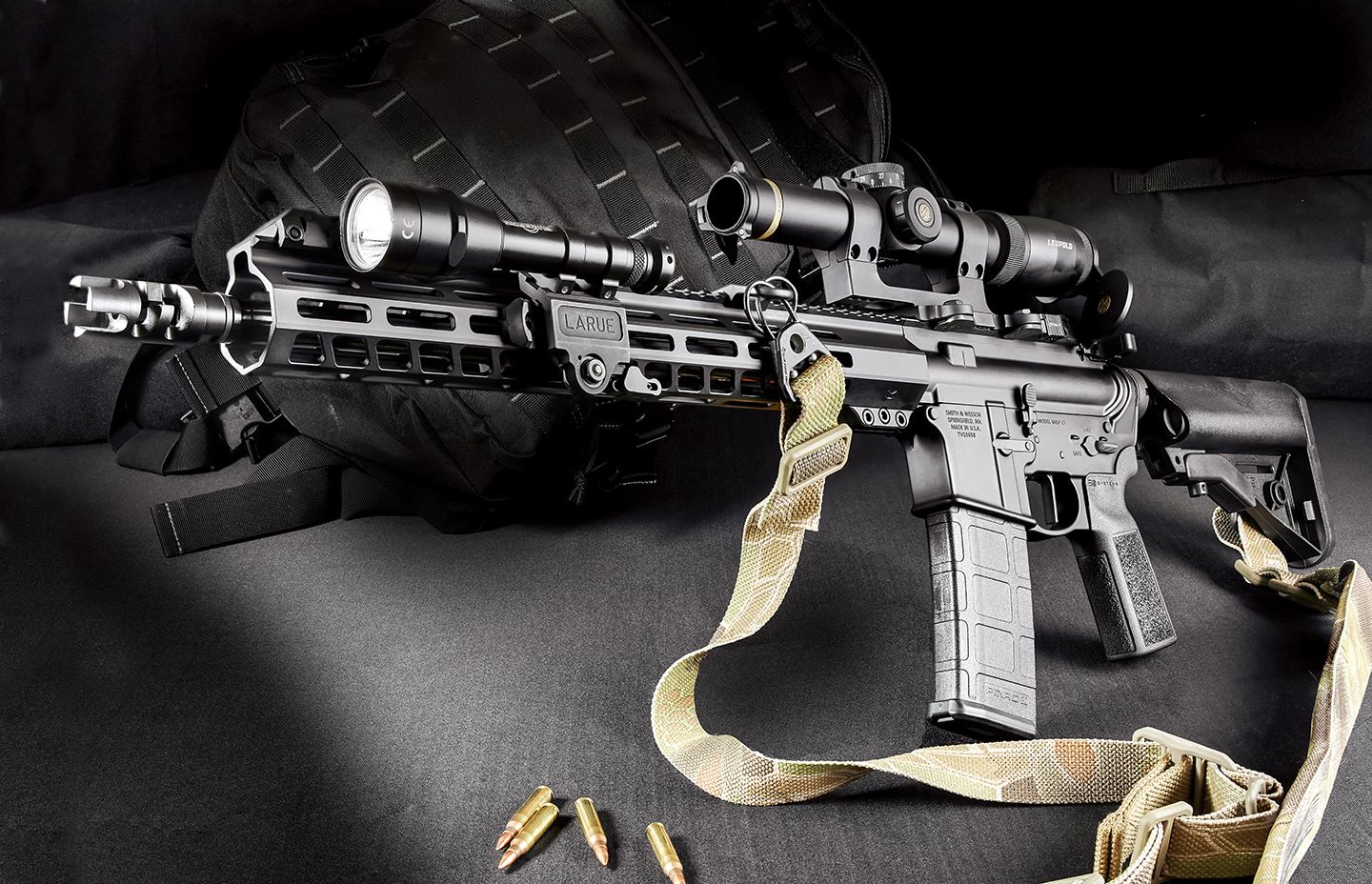 When many shooters think of Smith and Wesson (S&W), they typically think of S&Ws many lines of quality pistols and revolvers. Most do not automatically consider their lines of long guns, including several different variations of the now ubiquitous AR-15 "sporting rifle" platform. This is unfortunate because S&W's M&P 15 line includes some of the better out-of-the-box AR-15s out there. Some of these are vanilla, and some are not, such as the now discontinued M&P-15 VTAC offering. For 2022 S&W has introduced its new "Volunteer" line to commemorate its escape from blue-state tyranny and re-location to the great state of Tennessee. The Volunteer line includes six new models, each with slightly different characteristics but dressed nicely in the most popular tactical apparel. The Volunteer line had its formal debut at SHOT earlier this year, but I did not get the chance to handle or fire one until recently. The results were a bit surprising.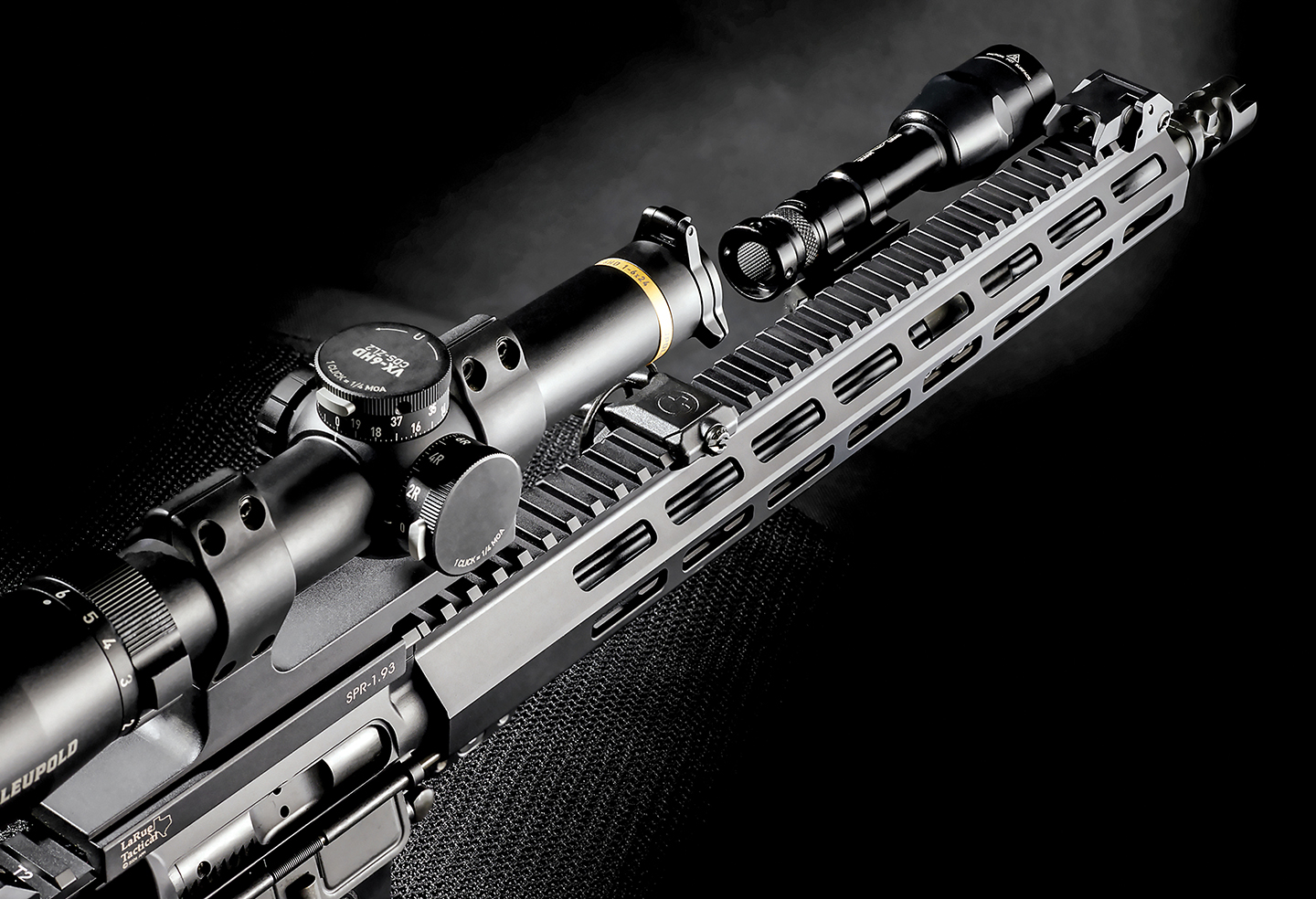 The M&P15 XV15 Volunteer line continues the trend of AR-15s semi-customized from the factory with tactical furniture and other features that many shooters would add on their own. Each Volunteer XV is built around S&Ws standard mil-spec AR-15 aluminum upper and lower. The baseline Volunteer XV model comes with a 5.56mm, 1:8 twist barrel in 14.5, 16, or 20-inch lengths and A2 birdcage flash hiders, while the higher-end XV Pro series have the same barrel lengths but are free-floated and sport PWS muzzle brakes. The 20-inch Pro version has a rifle-length gas system, while all other Volunteer XV versions have mid-length gas. The baseline Volunteer XVs have a BCM handguard with either an A2 type front sight post or a front sight gas block, while the Pro models come with proprietary-S&W M-Lok handguards, Radian Raptor ambi charging handles, and Williams Gunsight Company folding BUIS. All Volunteer XV models come with a B5 CRANE-style stock, B5 grip, chromed pins, a mil-spec safety selector, and a proprietary flat, single-stage trigger. Each Volunteer comes with a 30-round Magpul Gen 2 mag, a gun lock, and the usual literature in a heavy cardboard box. For testing, I was provided with a 16-inch Volunteer XV Pro model. The carbine was topped with a Leupold VX-6HD CDS-ZL2 1-6×24 variable optic with a Firedot SPR-style reticle, riding in a Larue Tactical 1.93 SPR QD mount. This optic set-up deserves a short article of its own, but in the interest of space, I will say that the Leupold was outstanding, with very clear glass, zero-stop turrets, and Alumina flip-up scope covers. Instead of a dial found on most optics of this type, there is a button on the left side turret that is used to turn on and adjust the Firedot inside the cross hairs of the reticle. Nice.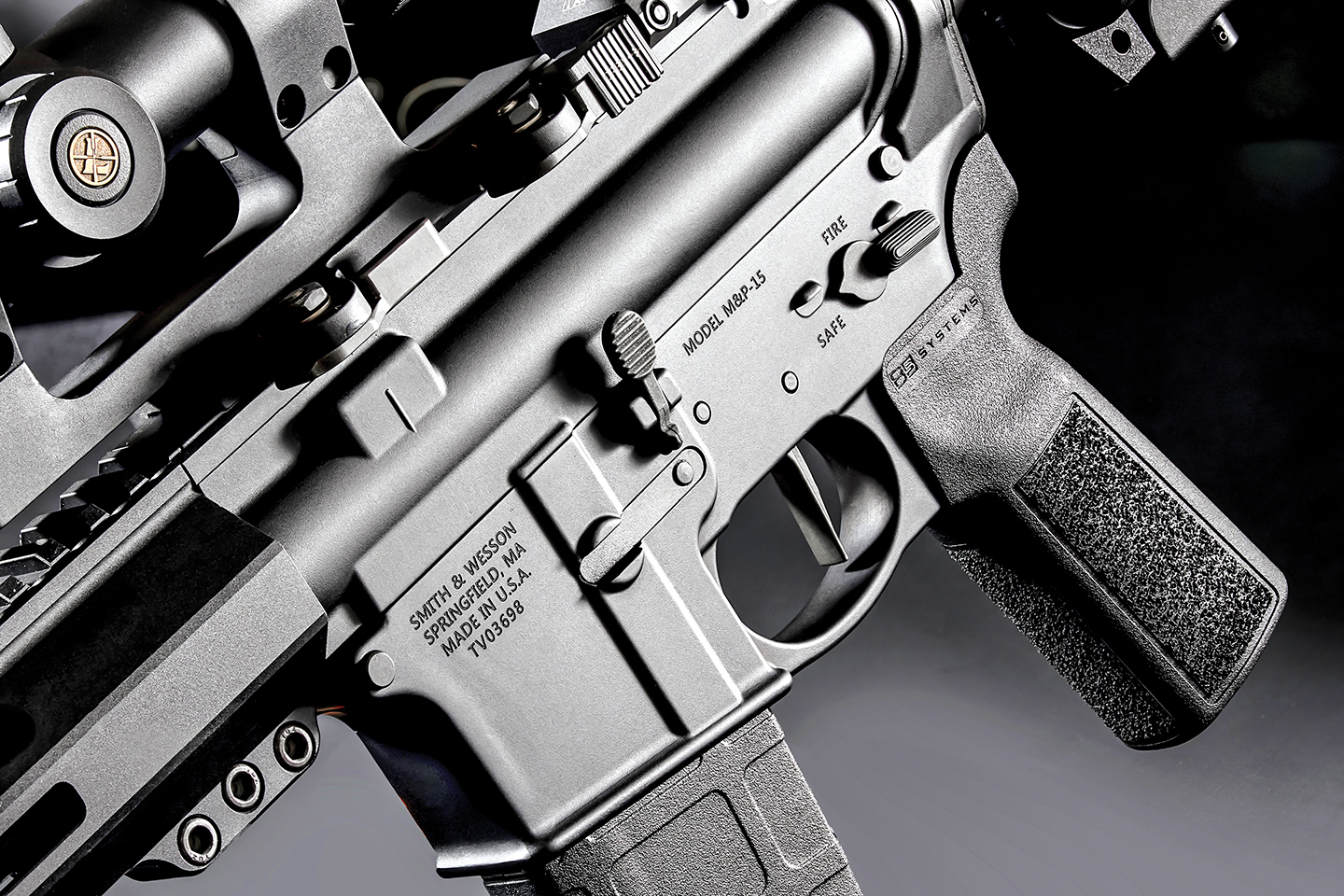 Although my impressions of the S&W XV15 Volunteer Pro were very positive upon initial handling, I had a few misgivings as I headed to the range. First was the height of the Larue 1.93 SPR scope mount. Like all other Larue QD scope mounts, it is built like a tank, and if the scope is mounted properly will retain zero regardless of how often they are taken on or off the gun. But the 1.93 SPR is meant for higher magnification scopes with larger objective lenses, so the Leupold VX-6HD I had sat a little high. Oh well. My second concern was the flat, single-stage, proprietary trigger. I like a flat trigger configuration, and this one broke consistently at about 5.15 pounds. On the surface, this is perfectly serviceable, but it felt much heavier. The trigger press starts with almost no take-up, transitioning through a significant amount of creep and grit, seeming to "slip" about halfway when it would then stiffen slightly, from which continued pressure finally trips the sear after about a total of ¼ inch of movement. Reset was like all AR mil-spec single-stage triggers. In short, I didn't like it. Maybe I'm a trigger snob now, but I felt this trigger was not optimal for wringing out accuracy. Or so I thought.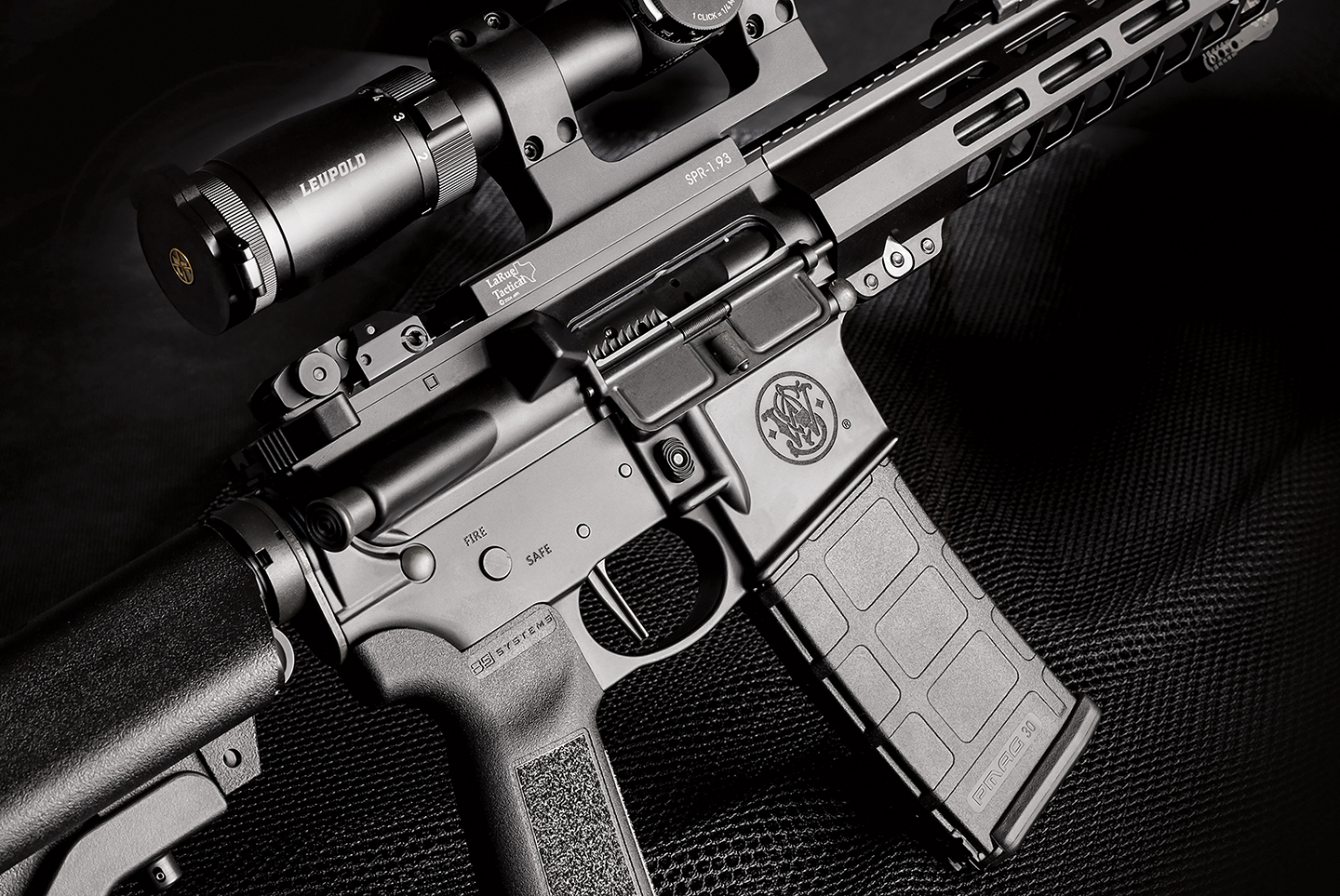 Range testing with the Volunteer XV Pro was done over two days using six different ammo types. Each type of ammo was shot in three groups of five from a padded bench rest. On the first day, I conducted initial sight in using some Freedom Munitions .223 55-gr ball at 50 yards before cranking the Leupold up to 6x for accuracy at 100 yards. The weather was sunny, with a gusty zero value wind coming from my 6 o'clock at about 20 knots. I managed groups averaging about 2.5 inches on this day utilizing Federal 5.56 62-gr M855 green tip and some Winchester "White Box" 55-gr ball. In most cases, the best four shots were nearer 1.50-inches discounting the flyers. I had to wrestle the trigger every inch of the way and work to get a decent cheek weld, but the results were still consistent with military-grade ammunition. I was, however, pleasantly surprised by the extremely minimal recoil impulse and perfect timing of this gun, which threw a pile of brass at precisely 4 o'clock regardless of the ammo used. A few days later, I returned on a sunny, windless morning to test with MFS 55-gr ball, Federal AE 5.56mm XM193, and finally, a box of coveted Sig Sauer 77-gr OTM. The MFS and Federal AE produced results consistent with the first day of testing. But I had saved the best for last with the match-grade Sig Sauer ammo, and I was not disappointed. My first two groups were near identical, sitting just high and right of the bull, coming in at 0.50 and 0.60-inches, respectively, measured center to center. Well, all righty then!! I managed two flyers to screw up the final group but was satisfied nonetheless in having discovered the Volunteer XV Pro's true potential. Reliability was near perfect throughout testing, with a few failures to feed and one failure to lock back on empty that I traced to an older, first-generation Lancer magazine which will now be put out to pasture.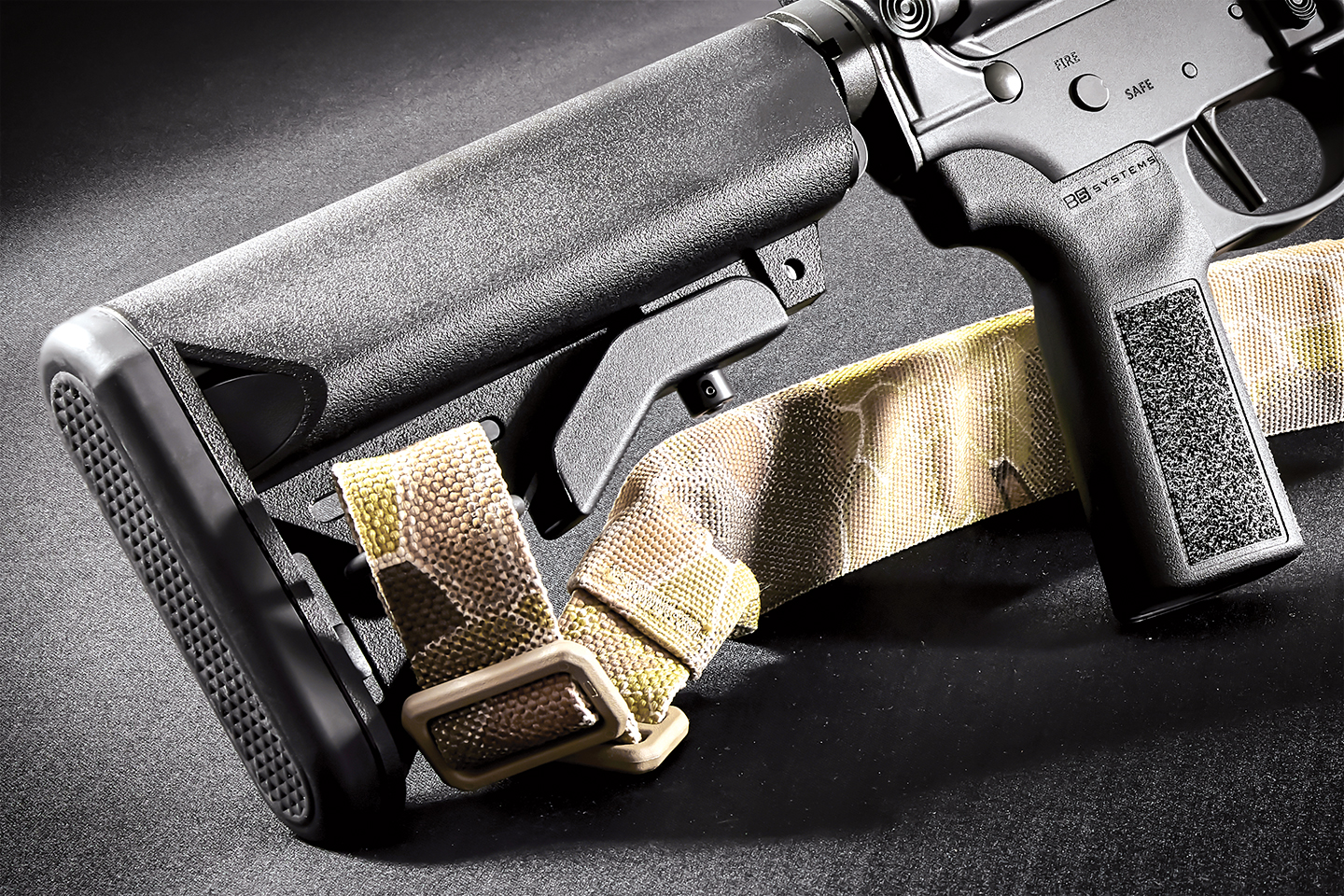 Smith and Wesson has contributed to the semi-custom AR market in a big way with the Volunteer XV line. The Pro models are capable of DMR-worthy sub-MOA accuracy and set up about as well as any tactically oriented AR you can buy or build yourself. About the only things I would change are to add an ambi safety selector and replace the trigger, or at least the trigger springs. To be fair, the trigger was beginning to smooth out a bit towards the end of testing, so your experience may vary with a good break-in period. Prices for the Volunteer XV series range from $1049 for the baseline models to $1599 for the Pro versions. If you are in the market for a quality, reliable, high-performance AR-15 at a reasonable price, the S&W Volunteer VX series are worth a serious look. Check them out at your nearest dealer, or for more information, contact Smith and Wesson; Tel.: (800) 331-0852; E-mail: [email protected]; Web: www.smith-wesson.com.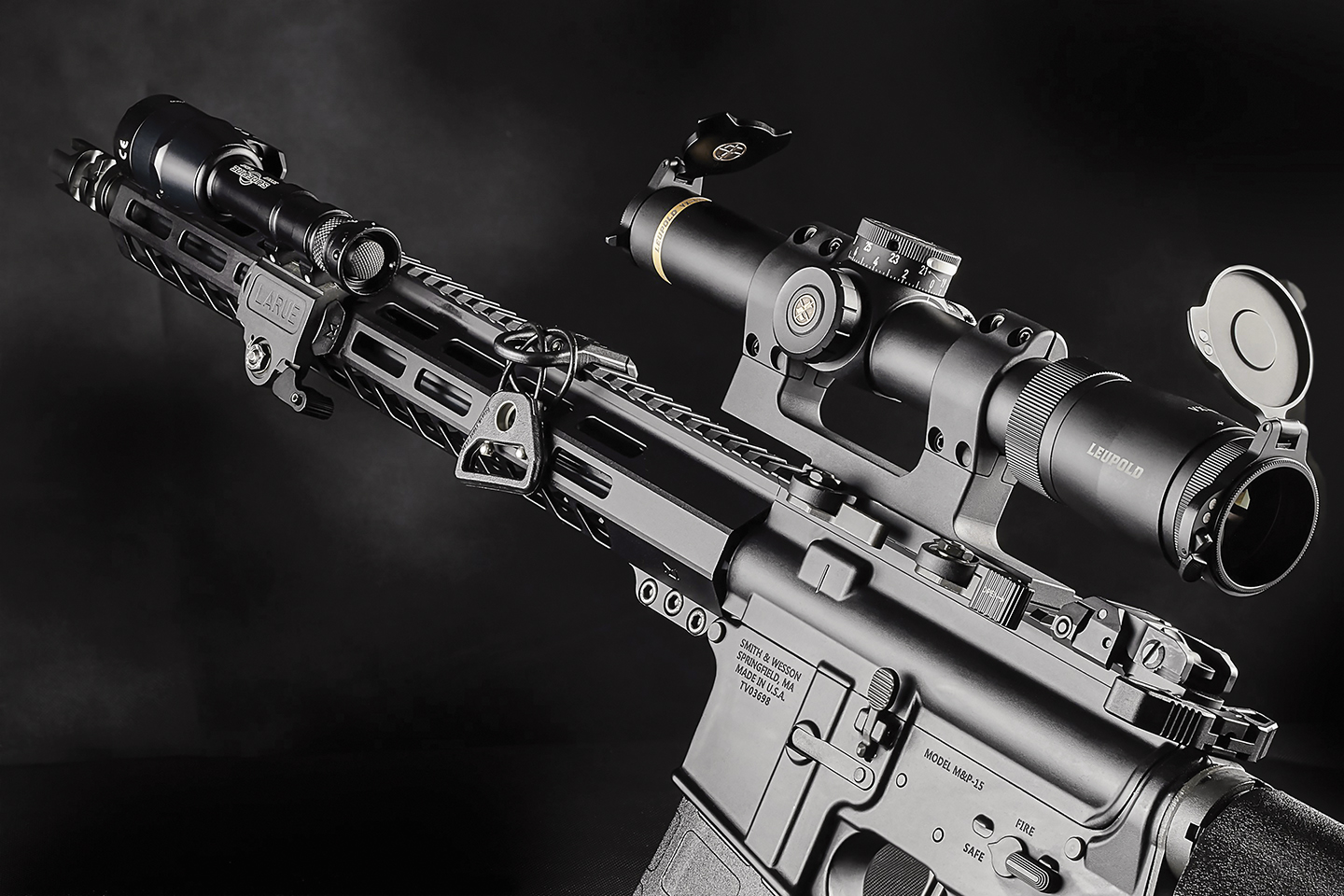 Specifications:
Caliber:                     5.56mm NATO/.223 Rem.
Receiver Set:             Forged Aluminum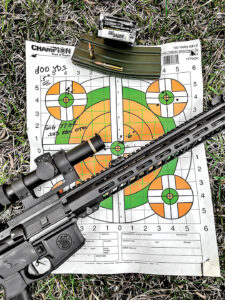 Barrel:                      16-inches
OA Length:                36.75-inches
Weight:                     6.80-pounds
Sights:                     Flat Top/WGS Folding Sights
Stocks/Grips:            B5 Systems
Action:                    Semi-Automatic/Rotating Bolt/Direct    Impingement
Finish:                      Matte Black
Capacity:                   30-rounds
Price:                        $1,569.00