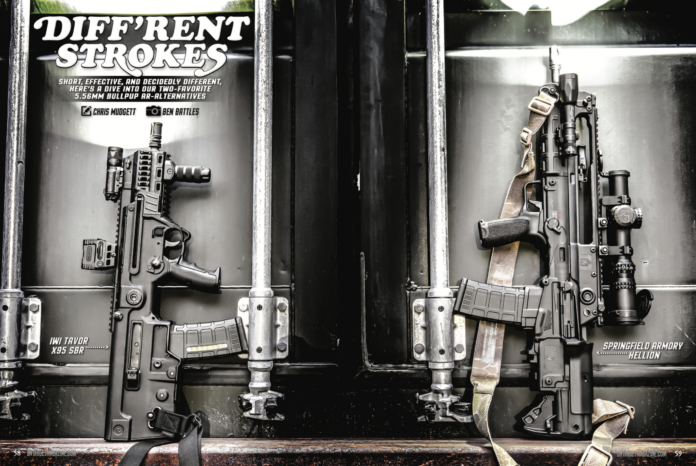 Different Strokes
By: Chris Mudgett
Photos by: Ben Battles
Short, effective, and decidedly different, here's a dive into our two-favorite 5.56mm bullpup AR-alternatives
---
IWI Tavor X95 SBR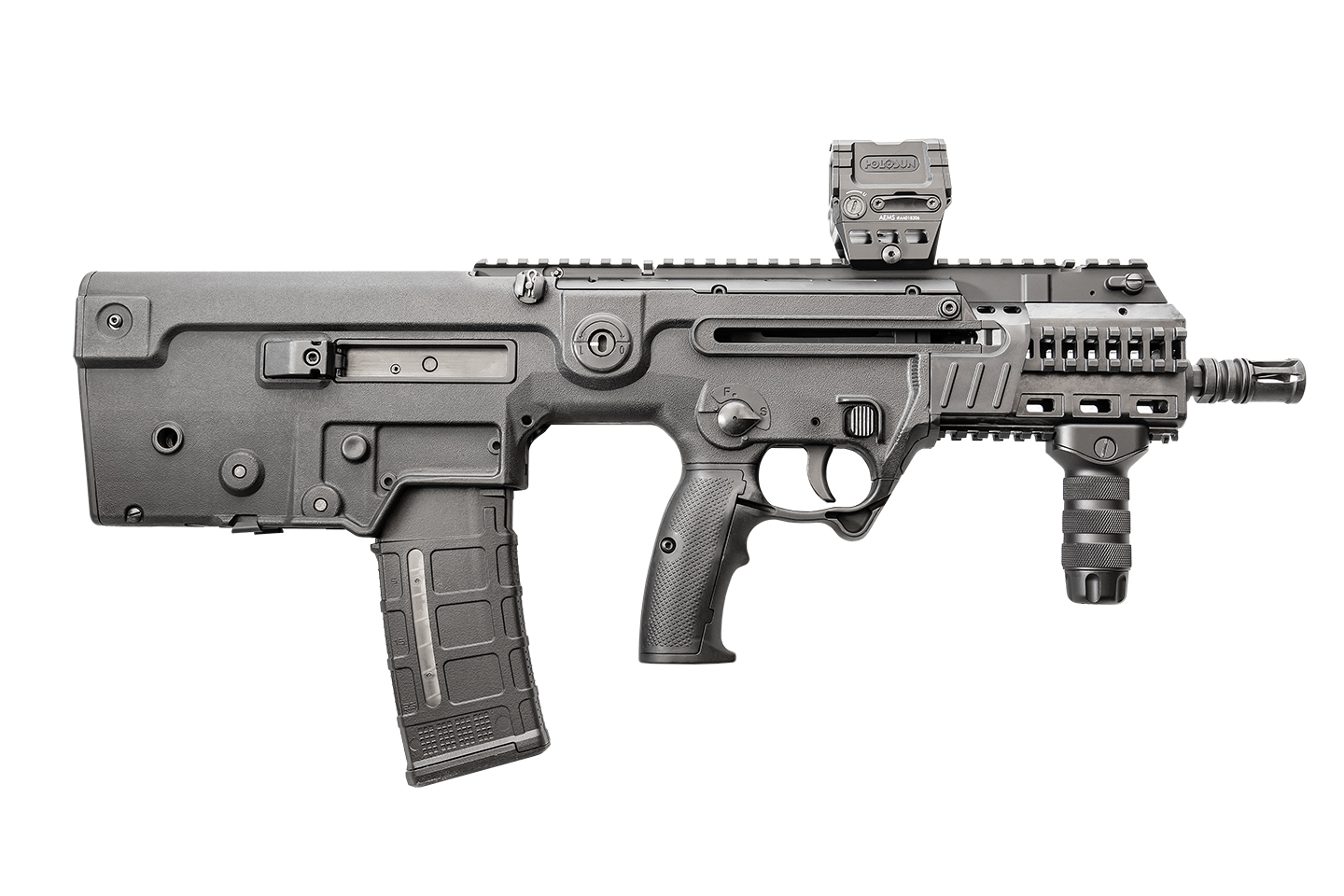 I'm not entirely sure if the allure of the short-barreled rifle (SBR) is to have the noisiest cricket on the range or if it's the overall reduced length of the platform allowing for a shorter, more maneuverable and easier-to-conceal package — suppressed or otherwise. If I were a betting man, my money would be on the latter, but the answer likely lies somewhere in the middle.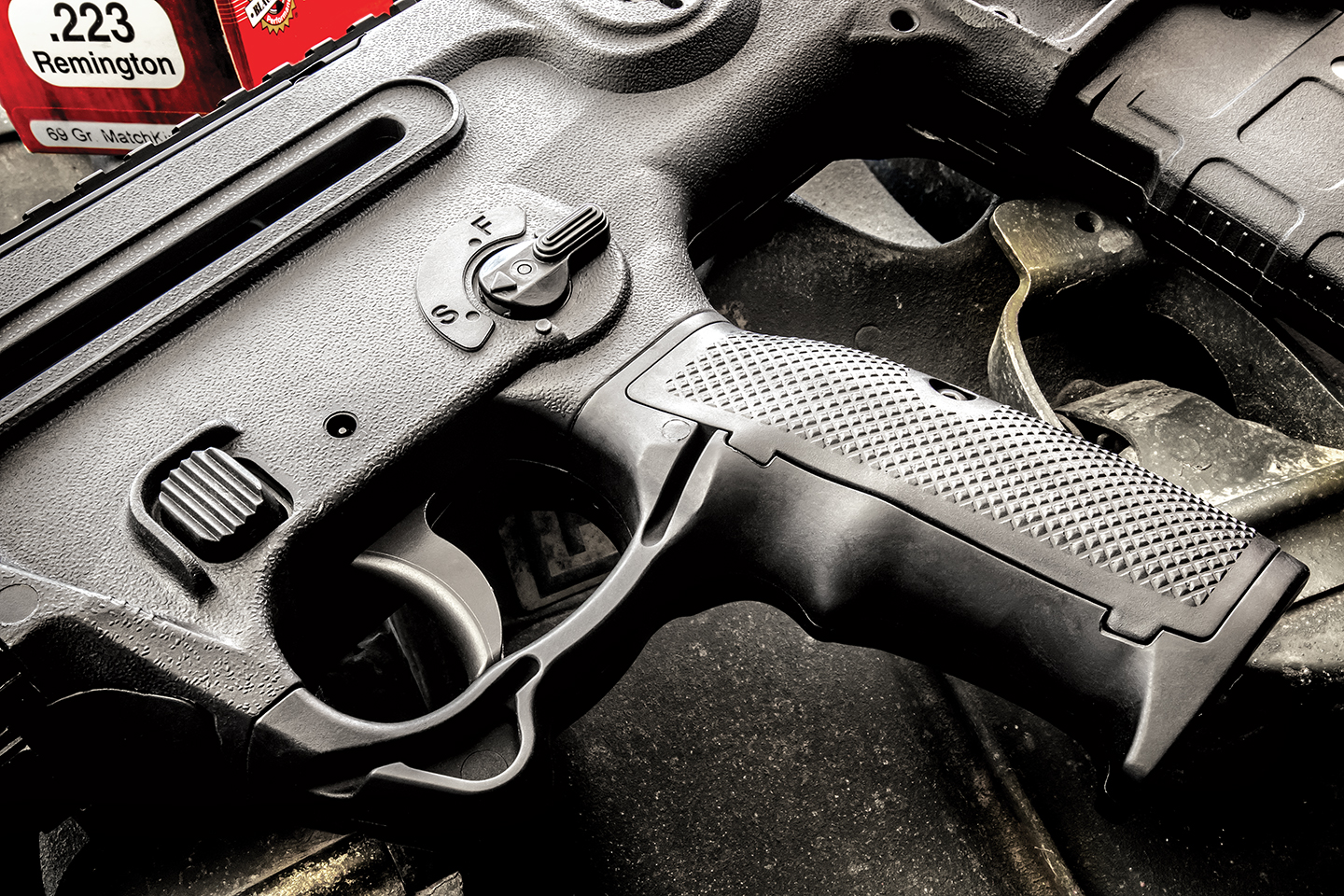 Time will tell what happens to the braced pistol market, but one thing is for certain SBRs are here to stay and will continue to see a rise in not just overall popularity but ownership as a whole. Companies like IWI and many other mainstream manufacturers are also betting on it.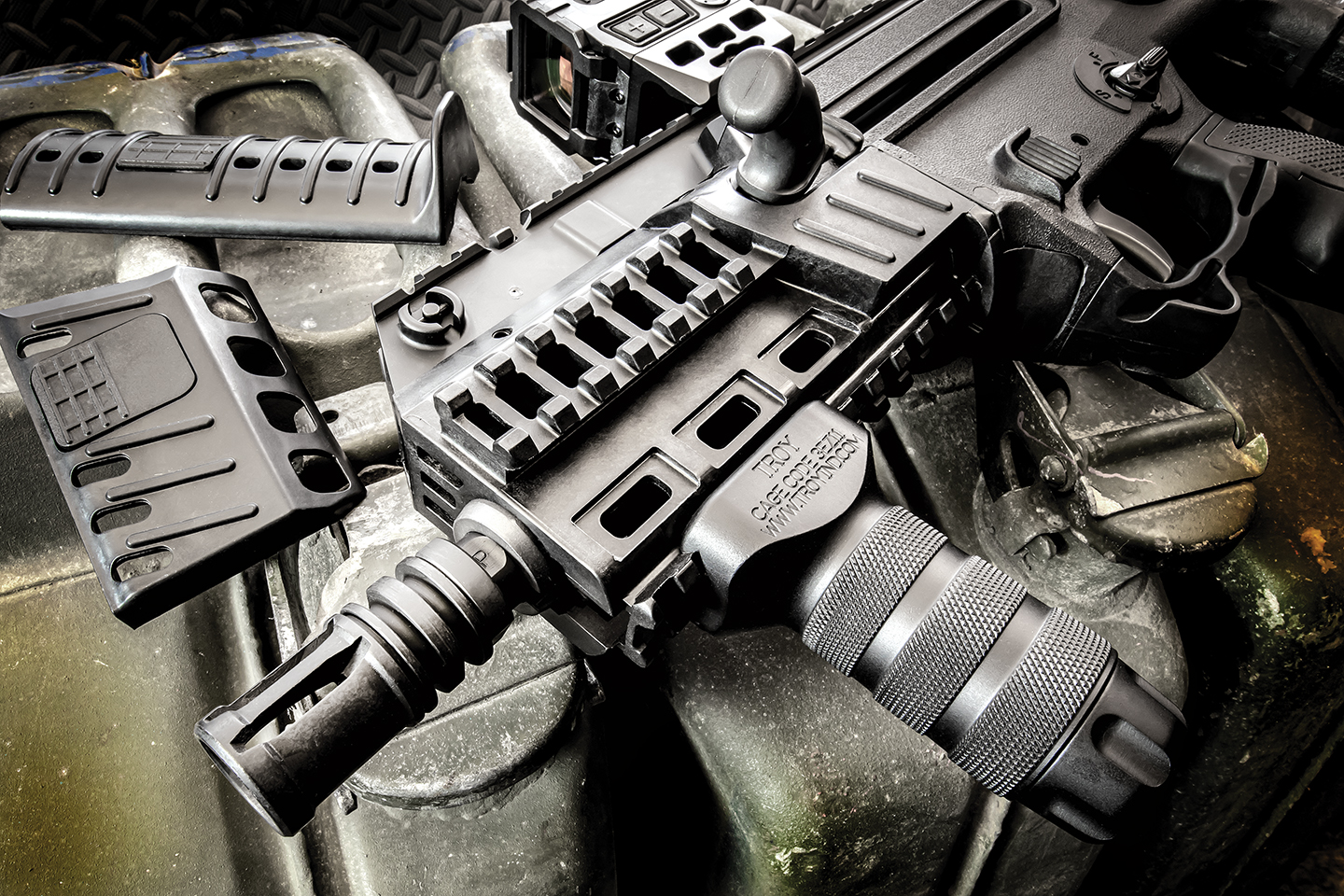 Enter the Bullpup
If you want a short overall length and a high level of concealability while still maintaining the ballistics you're used to in a 16-inch AR, look no further than a bullpup. Even with a 16-inch barrel, the overall length is substantially shorter than a comparable AR — in fact, it is smack dab within the shorter range of an SBR AR-15. If you want to have your cake and eat it too, IWI's 13-inch barreled Tavor X95 is what you've been waiting for. The X95 SBR provides the user with the best of both worlds; the ballistics of a general-purpose barrel length in an extremely short, sub-26-inch (22.8-inch actually) overall length. The trade-off? For some, it's the fact that it's still a bullpup, but let's re-examine that.
Now, bullpups have gotten a bad rap over the years, mainly due to the reputation of a select few. That's how it happens — a few bad apples wreck it for the rest of us. However, I would classify IWI's Tavor X95 — an enhanced model based on the Tavor SAR — as the better bullpup.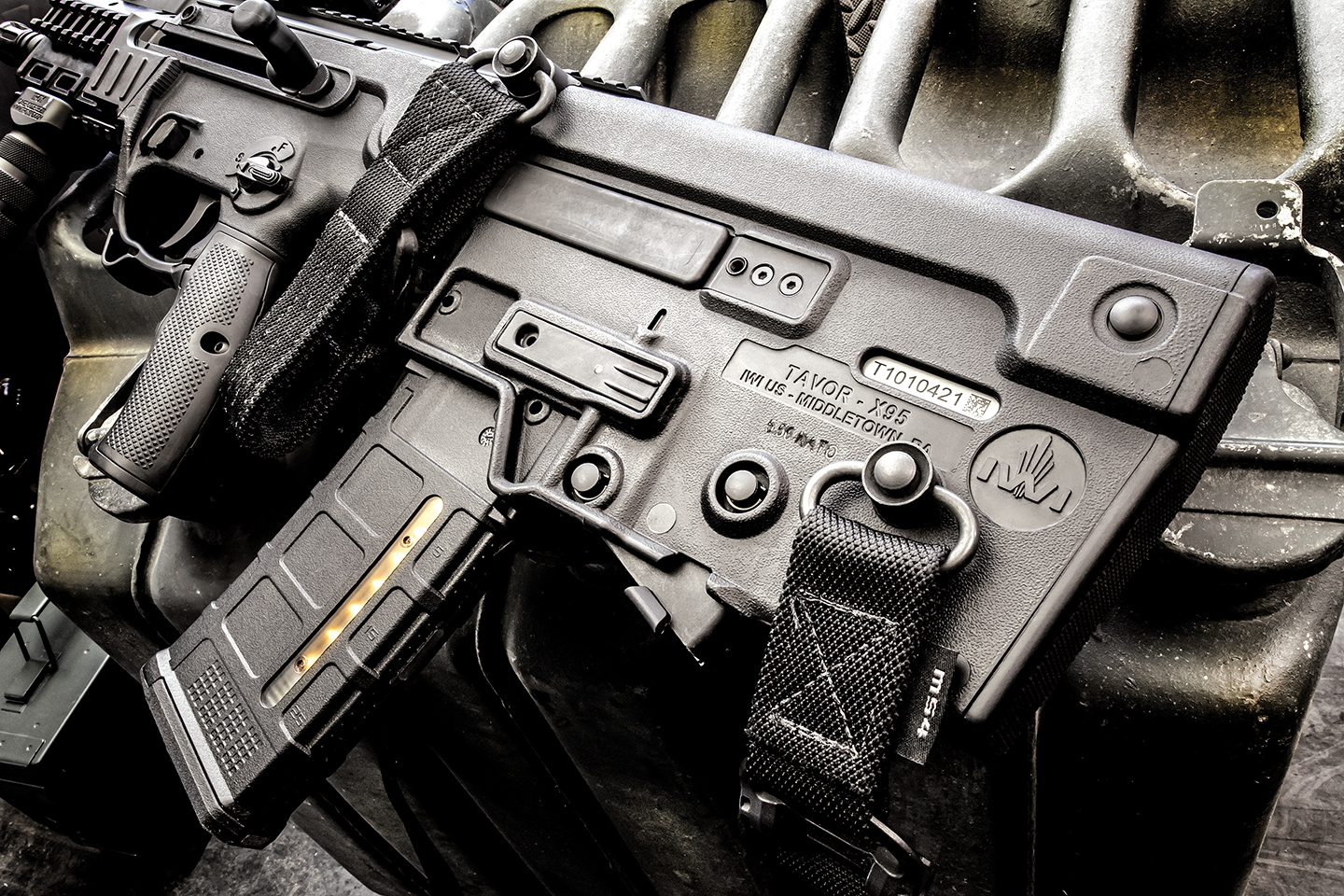 IWI has most of the platform's nuances worked out, such as the trigger-pull stigma, crappy control placement, and "love it or hate it" ergonomics. Some drawbacks simply cannot be overcome, such as handguard real estate (to be fair, this is an issue with most short-barreled platforms) and the biggie — its different (compared to an AR) manual of arms.
Let's start with the good. The X95's trigger is simply superb for a bullpup and quite possibly the best we've felt. While it's not candy-cane crisp like a Geissele two-stage — which isn't possible anyway due to the linkage — it's light and smooth with a long take up. For a bit of a trigger snob, I really like it, and it made for a predictable shooting platform, even at speed, without any disruption to our sight picture. Simply put, it's like a very well-broken-in Glock trigger, which is a compliment.
The safety selector placement and operation are straight out of the AR-15 playbook, and that's a good thing for most shooters. The selector throw is 90 degrees, just as it should be, feels well broken in, and is easily manipulated. The bolt release has also been resized. The controls of the Tavor X95, in general, have served to break the bullpup mold and go a long way towards shaking the chains off for AR diehards.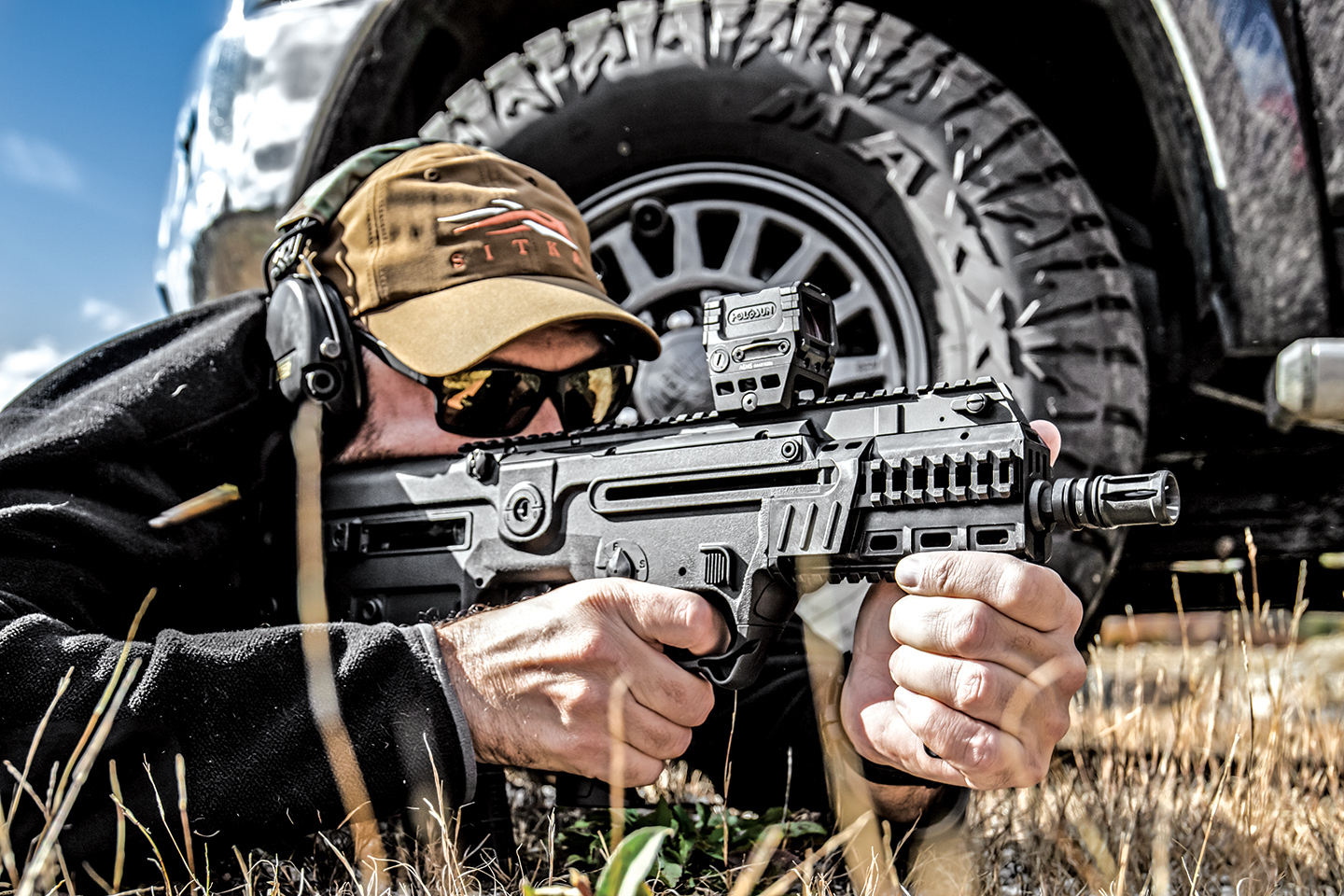 The pistol grip is ergonomic, well textured, and offers a more vertical rake making it an excellent match for the fighting stance required for fast-paced stand-up shooting. As a bonus, the backstrap and triggerguard are user configurable to fit your hand size or preferences. You can't swap it out like an AR, but at least this one doesn't give the ascetics of a space invader rifle. Short sections of Picatinny rail adorn the rifle's forend and beg for an offset SureFire M300 Mini-Scout or M300 PRO white light. Likewise, the 6 o'clock rail needs a short vertical grip to feel right. Once installed, the package comes into its own.
The X95 comes with an A2-like birdcage flashider; we say "A2-like" because, while it looks close in appearance and identical in function, it's not a NATO-spec unit. Mounting a suppressor to the X95's muzzle would balance the tail-heavy rifle out and make it feel much faster in hand, all while taking full advantage of the benefits of the long-stroke gas piston operating system. Speaking of, the X95 is a smooth shooter, with and without a suppressor installed. Due to the placement of the ejection port, the shooter's eyes and respiratory system are mostly free from the detractions of excess gas, making it not only a healthy choice but a comfortable one to shoot at that.
The rest of the X95 is all bullpup. It's still a little space-aged appearance-wise, and even with all of that polymer, it weighs a little more than an AR (7.5 lbs.). Its manual of arms is undoubtedly non-standard to those accustomed to the AR, and if you're wrong-handed, you'll have to convert the gun to left-hand eject by swapping the bolt, ejection-port cover, and some other ancillary components. The left-hand-eject conversion runs $174; contact IWI for more info. With all that said, if you're seeking the shortest overall package chambered in 5.56, with useable ballistics, and you're committed to the cause, you won't find a more compact or smoother shooting SBR than IWI's 13-inch Tavor X95. See one at your nearest dealer, or for more information, contact IWI; Tel.: (717) 695-2081; E-mail: [email protected]; Web: www.iwi.us
Specifications:
Type: Long-stroke gas piston, semi-automatic
Caliber: 5.56 NATO
Barrel: 13 in., 1:7 in. twist
Overall Length: 22.8 in.
Weight: 7.5 lbs.
Stock: Fixed
Grip: Proprietary
Finish: Melonite
Capacity: 30-rounds
Muzzle Device: A2-style flashider
Sights: Folding front sight w/tritium insert; folding aperture rear sight
MSRP: $1,999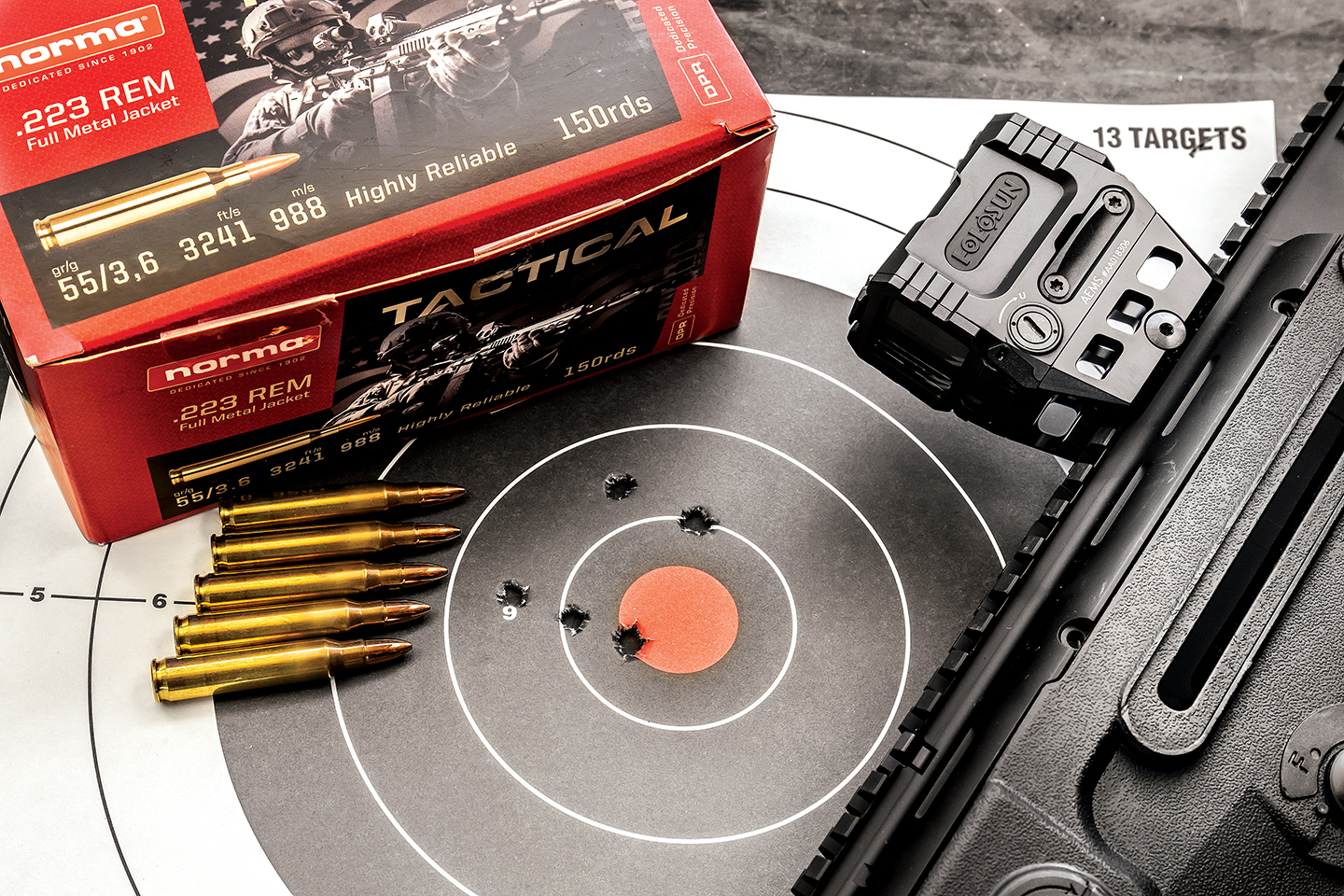 ---
Springfield Armory Hellion
By: Chris Mudgett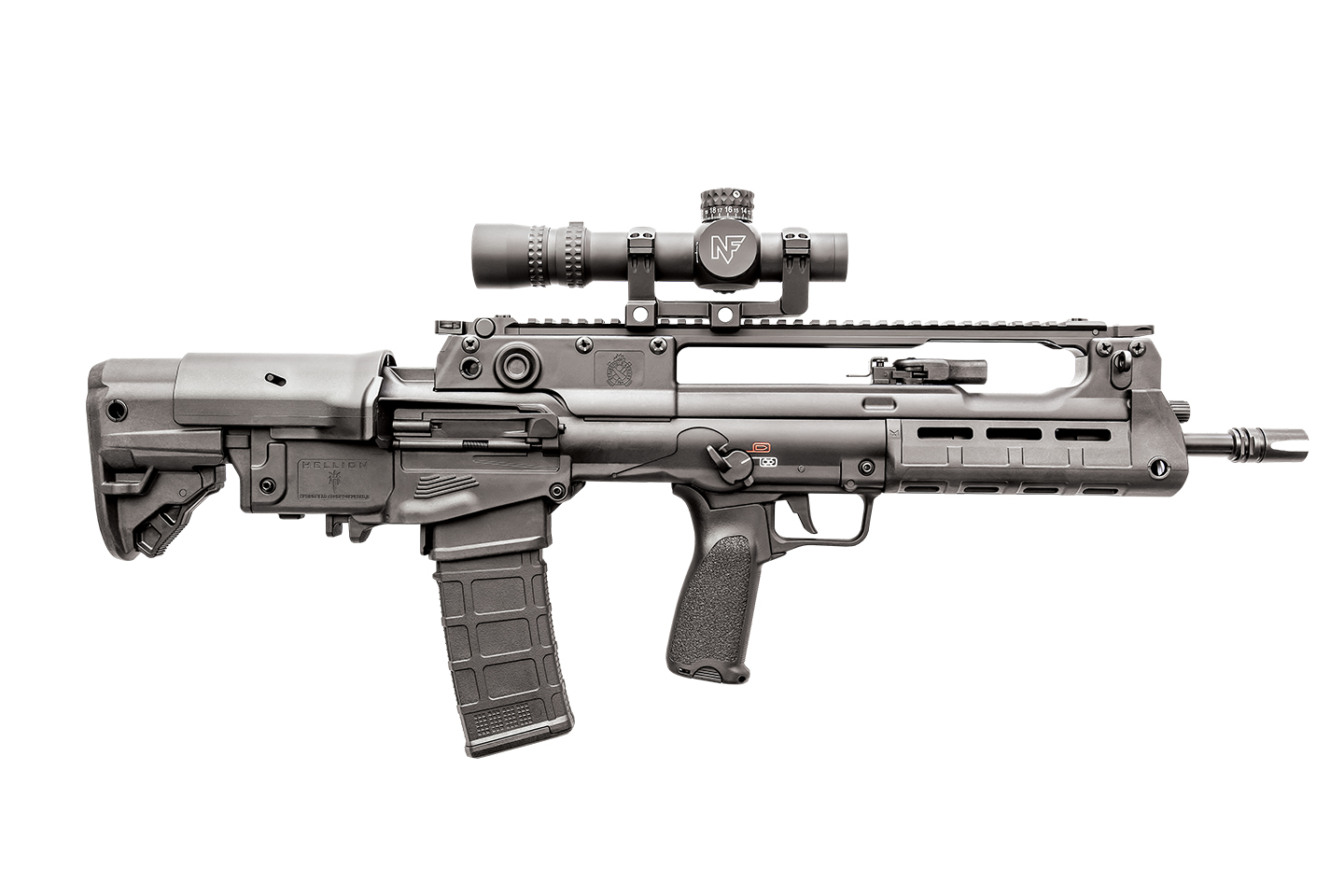 Given Springfield's recent tear to the top of the industry, dominating another product category seems to be just their style. Outside of a bullpup's stand-out trait of being able to house a 16-inch barrel in a smaller overall package size compared to a traditional carbine, Springfield has a whole lot more up its sleeve with the Hellion, so let's take a look.
Trigger
Typically, bullpup triggers are sub-par, and there isn't much you can do to fix that due to the length of the linkages that must stretch from the trigger housing far rearward to the fire control module. While the trigger in Hellion isn't comparable to, say, a Geissele in an AR-15, it's probably on par with a standard Mil-Spec M4 trigger. Which is to say it's pretty average when compared to a traditional rifle, but it's straight-up awesome when compared to some of the other bullpups.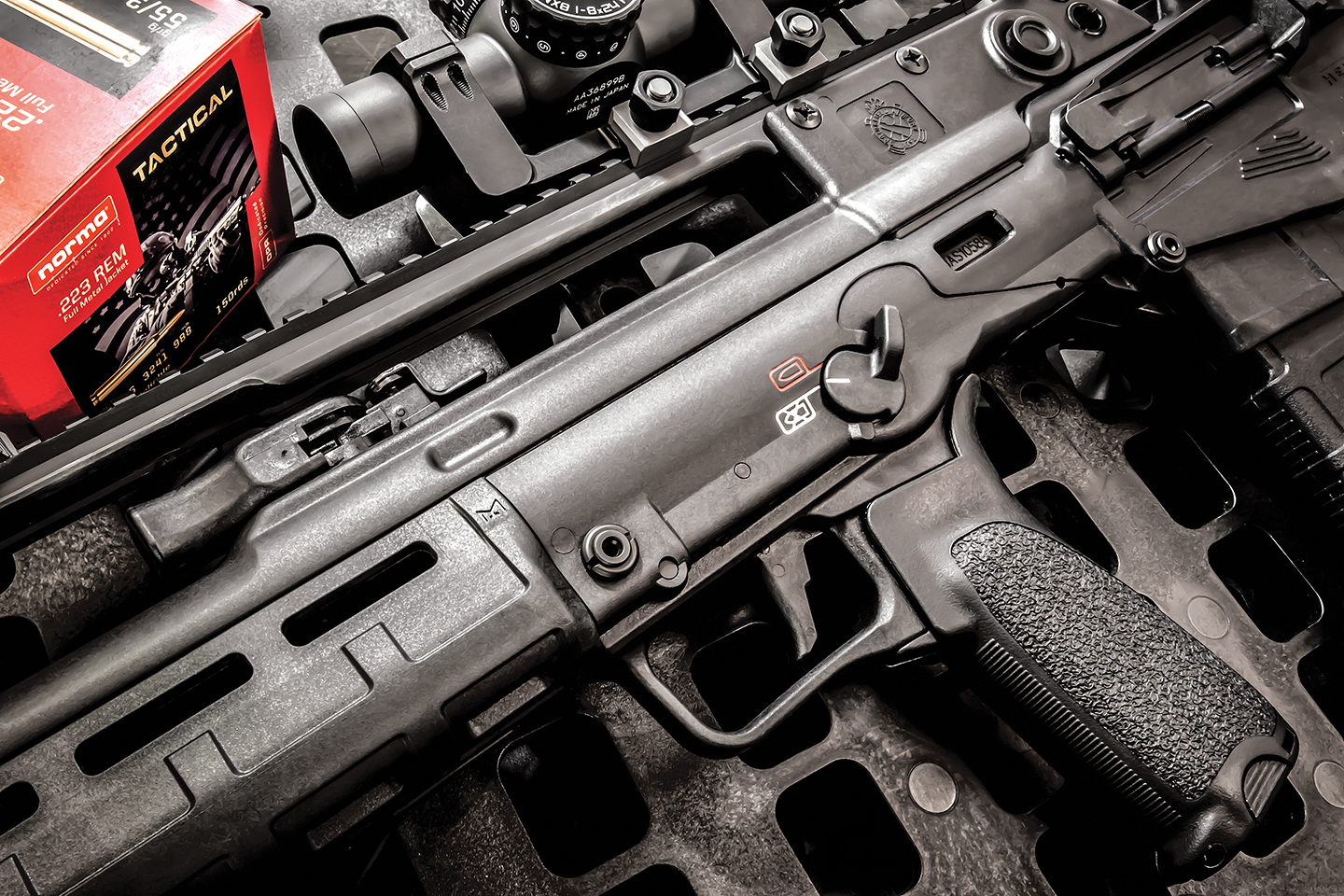 Controls
One of the things I typically dislike about bullpups are the placement of its controls and overall manual of arms, but the Hellion is far from typical in this department. Both right and left-hand friendly, all of the Hellion's are ambidextrous, including a pair of ejection ports located on the left and right side of the carbine, allowing you to choose which side spent cases will eject from.
The non-reciprocating charging handle is spring-loaded and located along the centerline of the rifle, just beneath the optic rail. The magazine release is also located along the platform's centerline, just behind the AR-15 mag compatible magazine well. Just behind that resides the bolt release.
The safety selector takes a little getting used to, less so if you have XXL hands. Those will smaller digits will have a steeper learning curve, kind of like trying to reach that item on the top shelf when you're just not tall enough. Overall, the placement and function of the Hellion's controls aren't ideal for users indoctrinated to the AR platform, but are very intuitive with practice.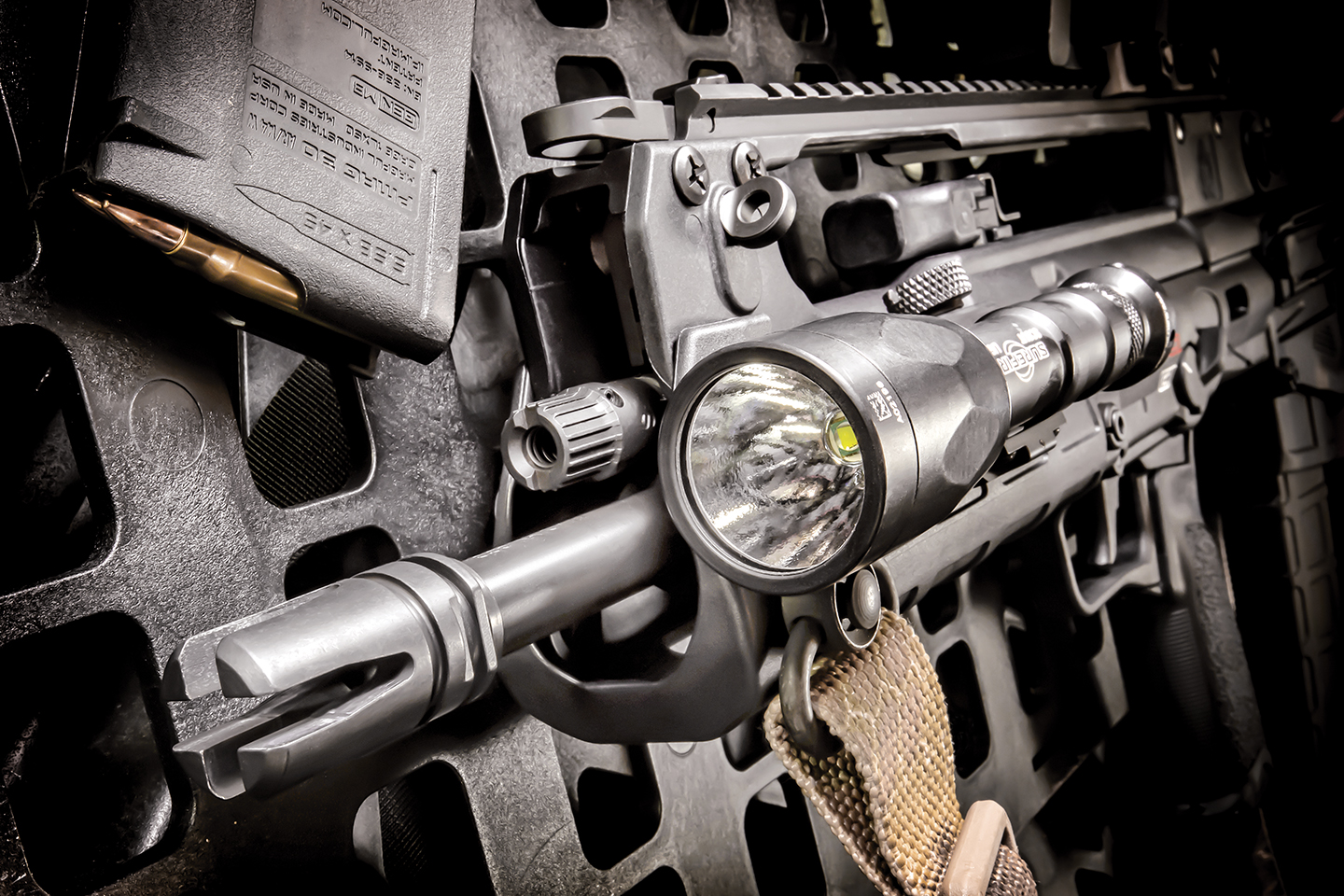 Grip & Stock
Typically, you're screwed when it comes to grip replacement on a bullpup — you get what you get. Except in the case of the Hellion, which is smartly compatible with the myriad of AR-15 grips available on the secondary market. It comes with BCM's Gunfighter pistol grip, and if that isn't your style, simply spike it into the parts bin and replace it.
Traditionally, with a bullpup, the ergonomics and length of pull are fixed from the factory. Fully recognizing this previously-inherent drawback, the Hellion comes with a five-position adjustable stock. Additionally, you can also make adjustments for your head placement via an adjustable cheek riser, giving tremendous flexibility in not only optic choice but optic height as well.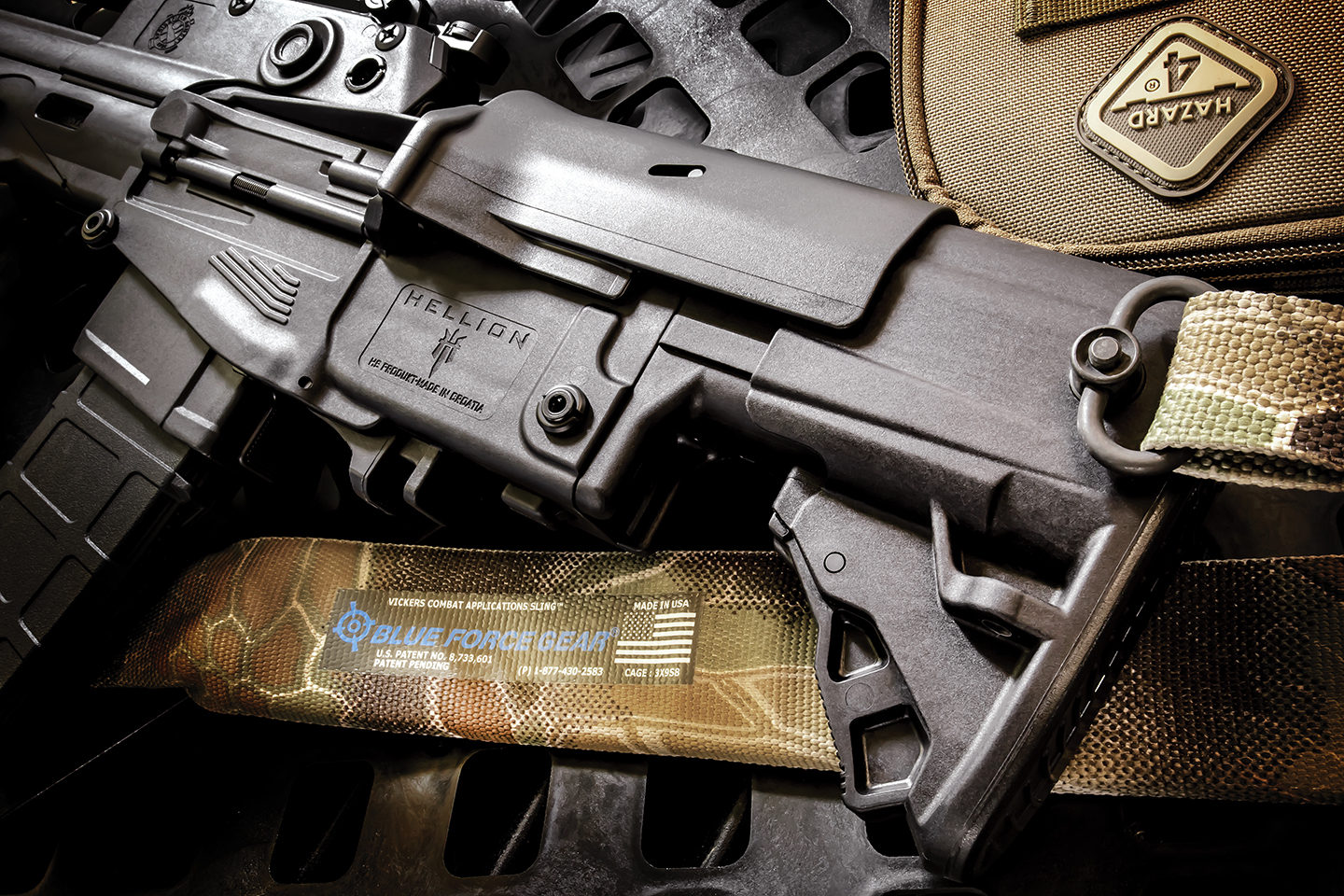 Optic Rail
Which brings us to the removable top rail that doubles as a carrying handle. There is significant top-rail real estate to mount virtually whatever optic your heart desires, from red dots (with magnifiers) to low power variable optics like the Nightforce NX8 shown; high-power optics, clip-ons, prisms, aiming lasers — well, you get the idea. Another nice feature is a set of fully adjustable iron sights that lay flat and unobtrusive until needed. When called upon, they each spring into place with the press of a button.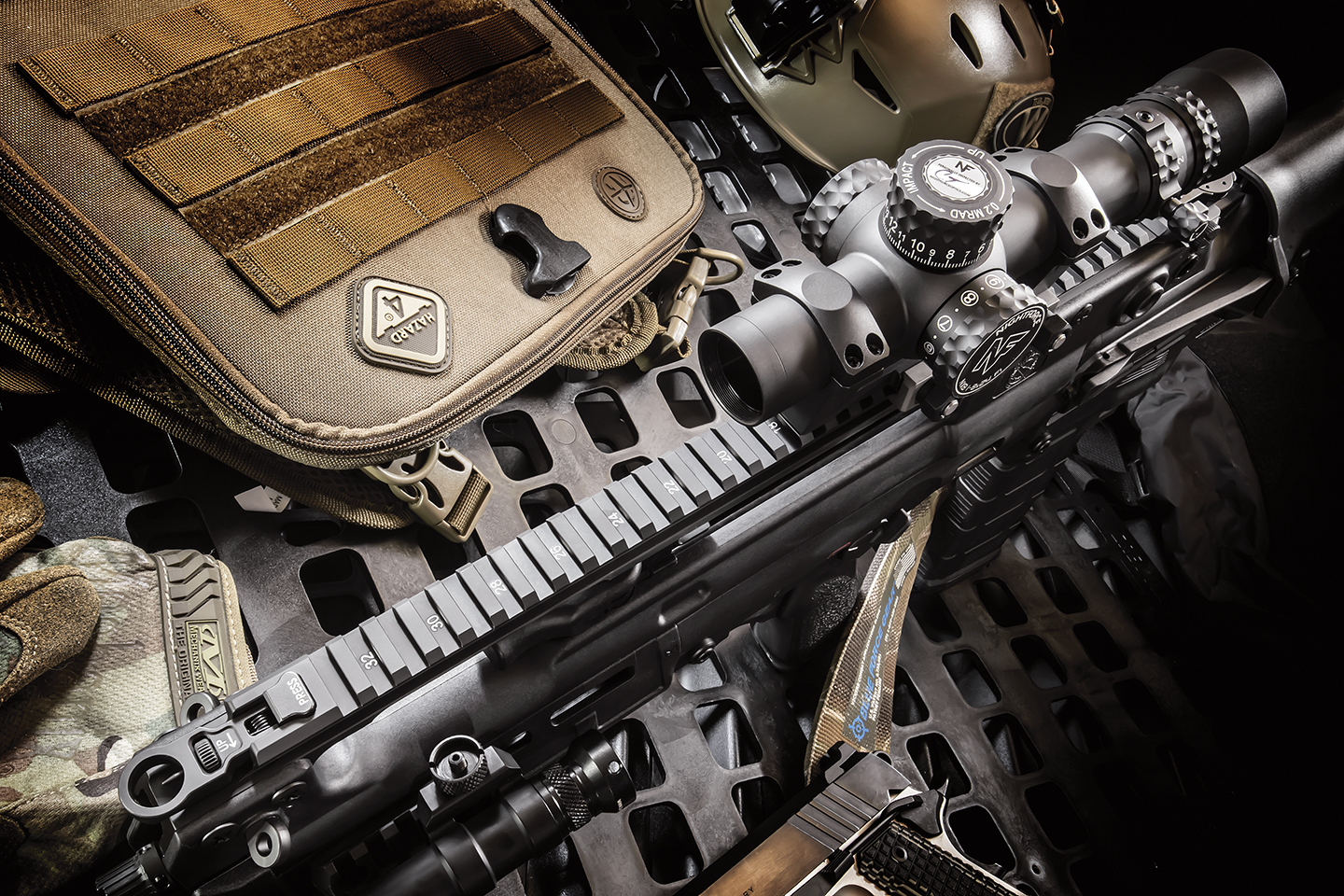 Forend
The forend features M-LOK compatible slots at 3, 6, and 9 o'clock to accept any needed accessories. The Hellion features a total of six anti-rotation QD sling cups and four hook locations. The latter are located at the fore and aft ends of the carbine; the front two rotate to ensure your sling stays out of the way of the charging handle area. Your options are pretty much endless with the QD cups, allowing front, rear, and mid-point placement on both sides of the carbine.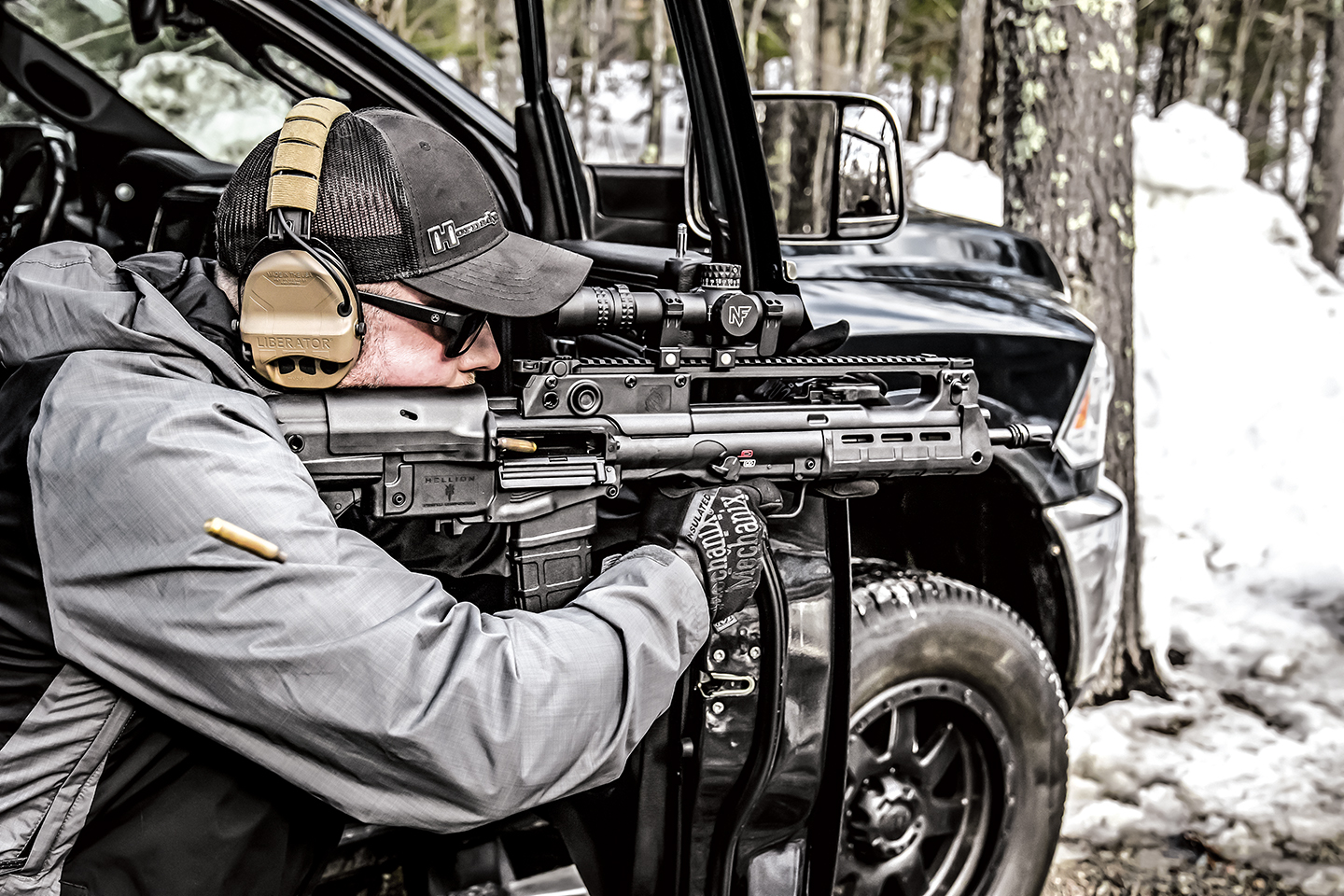 Performance
So, how does it shoot? Recoil was tame, although the impulse was foreign in feel compared to an AR. The bulk of the gun sits a lot closer to your body, making the platform feel more-nimble than its weight would suggest. The Hellion features a short-stroke gas piston with a two-position gas valve for normal or suppressed shooting and, during testing, was completely reliable. Our best group was achieved with Hornady 55-grain American Gunner ammunition, printing a five-shot group measuring 0.90-inches at 50-yards. Average group sizes ranged from 0.98 to 1.53-inches with all ammunition.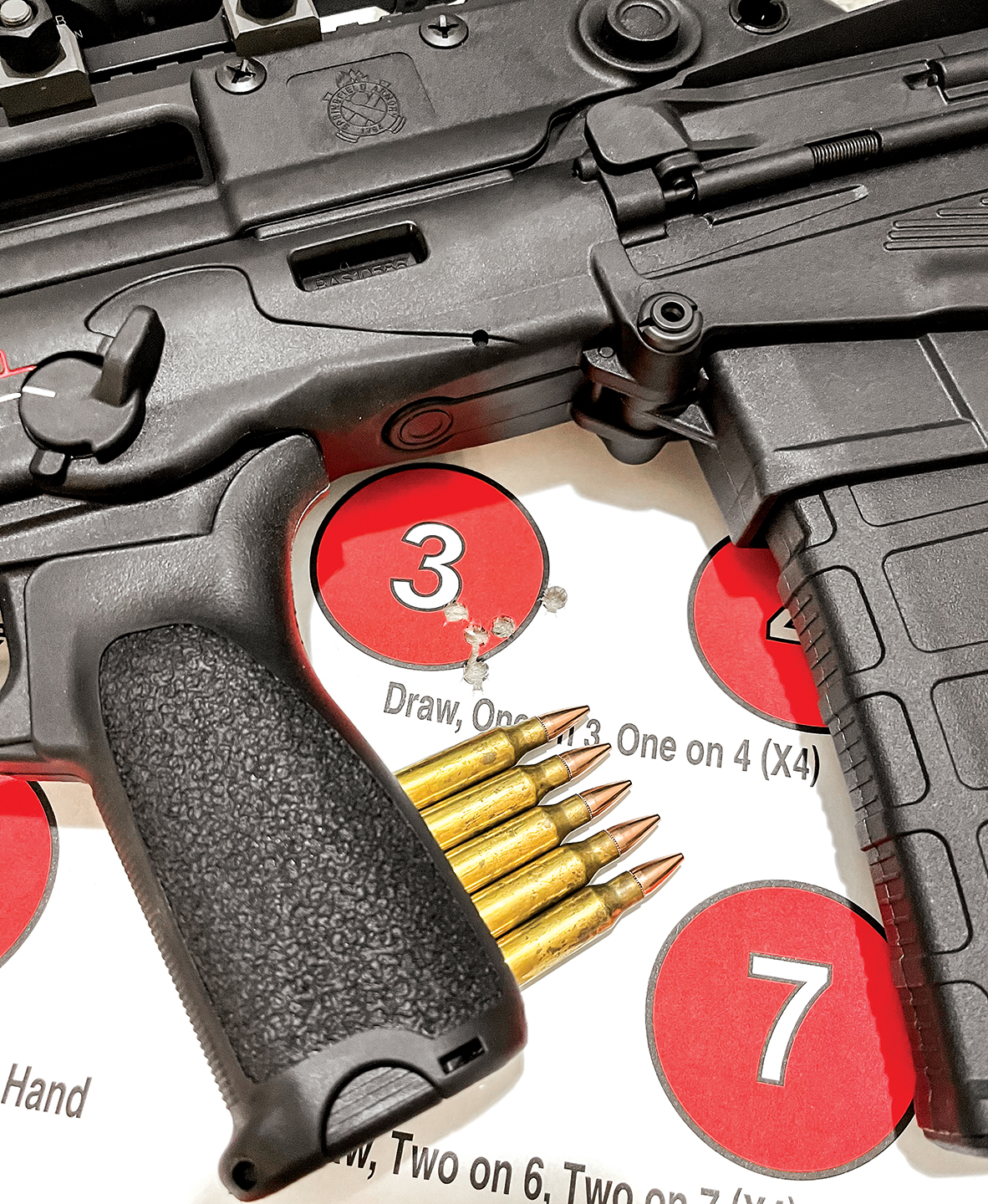 Conclusion
For those of us that have historically despised bullpups of old, Springfield has incorporated thoughtful and very functional updates to the platform with the Hellion, and I have found myself encouraging others to give it a try. Different, yes. Better than an AR-15? Depending on your needs, quite possibly. See the new Hellion at your nearest dealer, or for more information, contact Springfield Armory; Tel.: (800) 680-6866; Web: www.springfield-armory.com.
Specifications:
Type: Short-stroke gas piston, semi-automatic
Caliber: 5.56 NATO
Barrel: 16 in., 1:7 in. twist
Overall Length: 28.25 in.
Weight: 8 lbs.
Stock: 5-position, adjustable
Grip: BCM Mod. 3
Finish: Melonite
Capacity: 30-rounds
Muzzle Device: 4-Prong Flash hider
Sights: Flip-up, adjustable
MSRP: $1,999