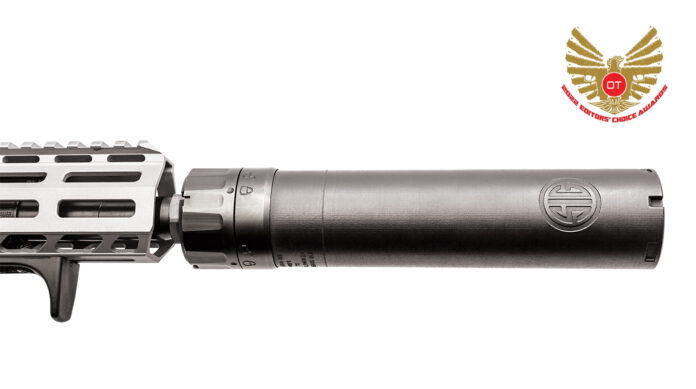 2022 Editors' Choice Award Winning
Sig Sauer SLX 5.56 QD
Free-flow perfection
Sig Sauer's new SLX suppressor line is born from years of development and testing to provide a light, reliable and quiet suppressor with less back pressure. Designed to meet current military specifications, it is now available to the civilian market in both 5.56 and 7.62mm variations. And, manufactured using the latest additive manufacturing (3D printing), the SLX represents the latest in suppressor construction.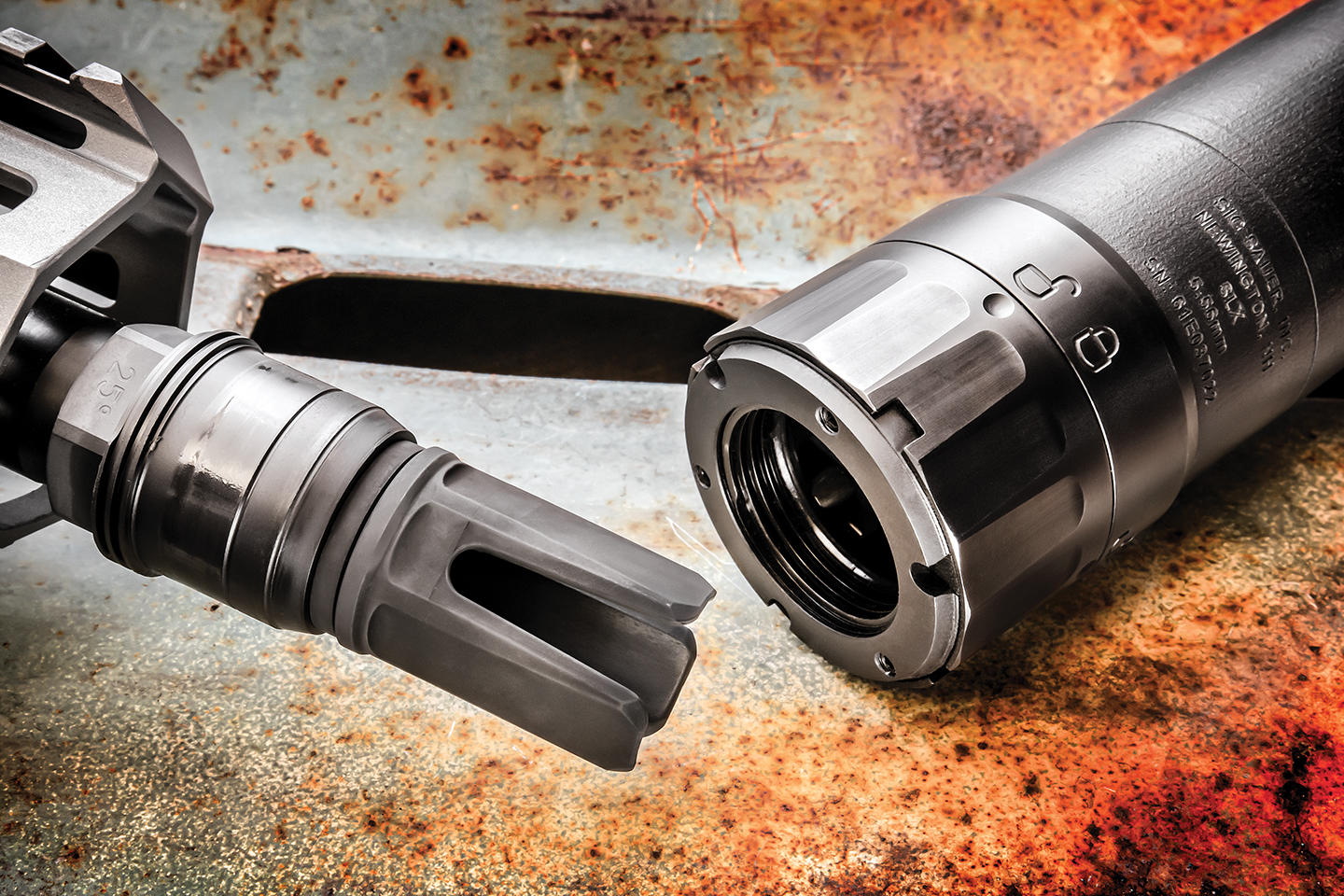 SLX suppressors are available in either a direct-thread mounting or their latest Clutch-Lok QD attachment (shown). The Clutch LOK system uses an intuitive and tactile locking ring with infinite radial locking positions. Constructed of Inconel with a monolithic core, the SLX556 – QD weighs in at 19.4 ounces, including the mounting system. The overall length is 7.4 inches with a 1.67-inch outer diameter. The design reduces both back pressure and flash signature over previous Sig Sauer suppressors and other conventional designs, and its rugged 3D-printed construction completely eliminates the chance of welding defects.
Testing was completed using a Sig M400 Switchblade pistol equipped with an 11.5-inch barrel. Range sessions were spent working in and around vehicles, and even with the added length of the SLX556-QD, the Switchblade was easy to maneuver in tight spaces. Removing and reinstalling the suppressor changed impact very little. The recoil impulse was not excessive, and excess gas from the ejection port was minimal; carbon buildup on the magazine and in the chamber was noticeably less than with previous designs.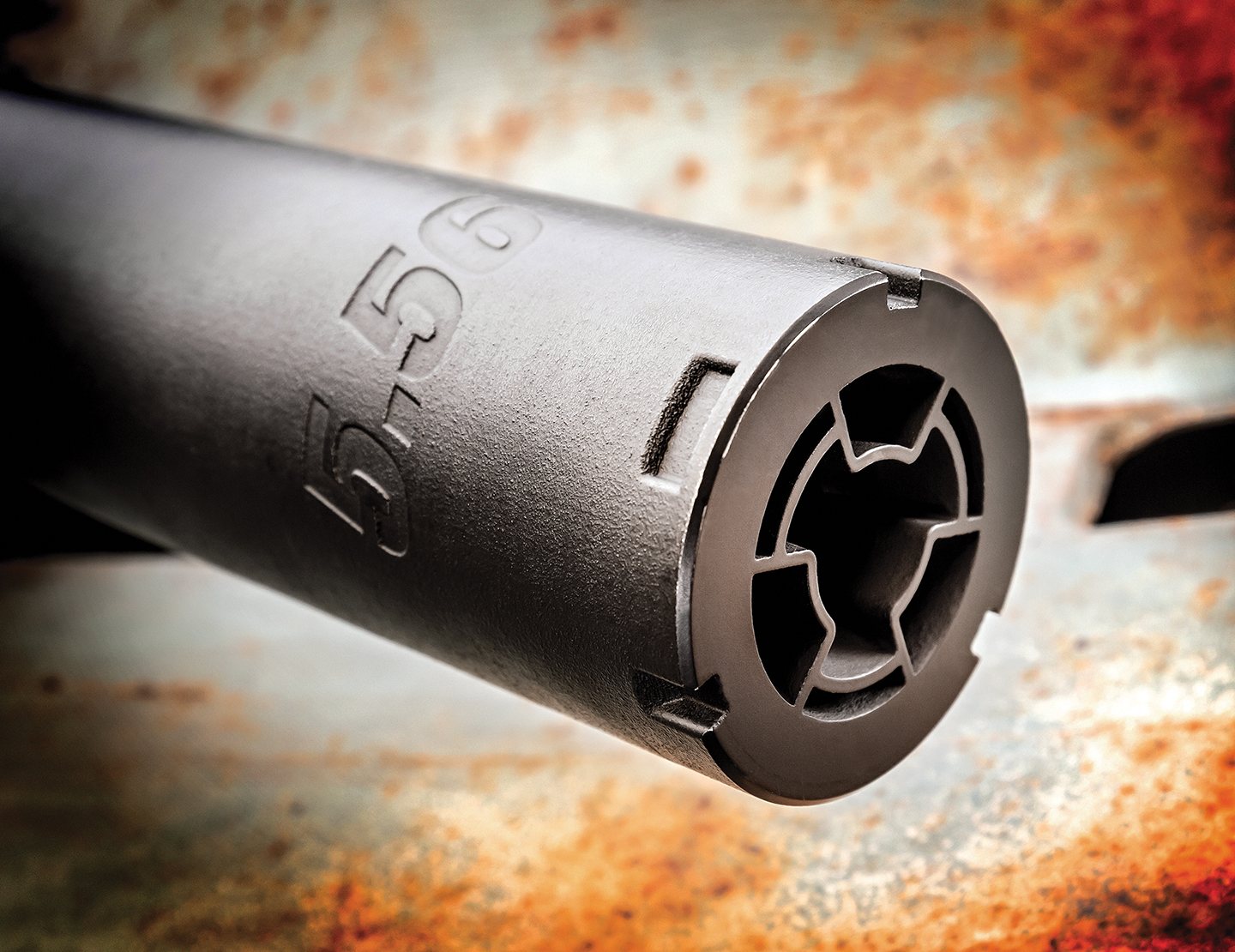 Even with the short 11.5-inch barrel, the SLX is quiet, and felt recoil is about the same as unsuppressed using a flash hider. There was very little change in brass-ejection patterns, and the Switchblade was controllable during multiple round strings.
The SLX556-QD is a lightweight suppressor with an improved attachment system and noticeably less backpressure and excess gas in the shooter's face, resulting in a more reliable and cleaner shooting gun. Though not inexpensive ($1,479.99), if you want one of the best 5.56mm suppressors available today, you have found it. See the complete line of Sig suppressors at your nearest dealer, or for more information, contact SIG Sauer; Tel.: (603) 610-3000; Web: www.sigsauer.com.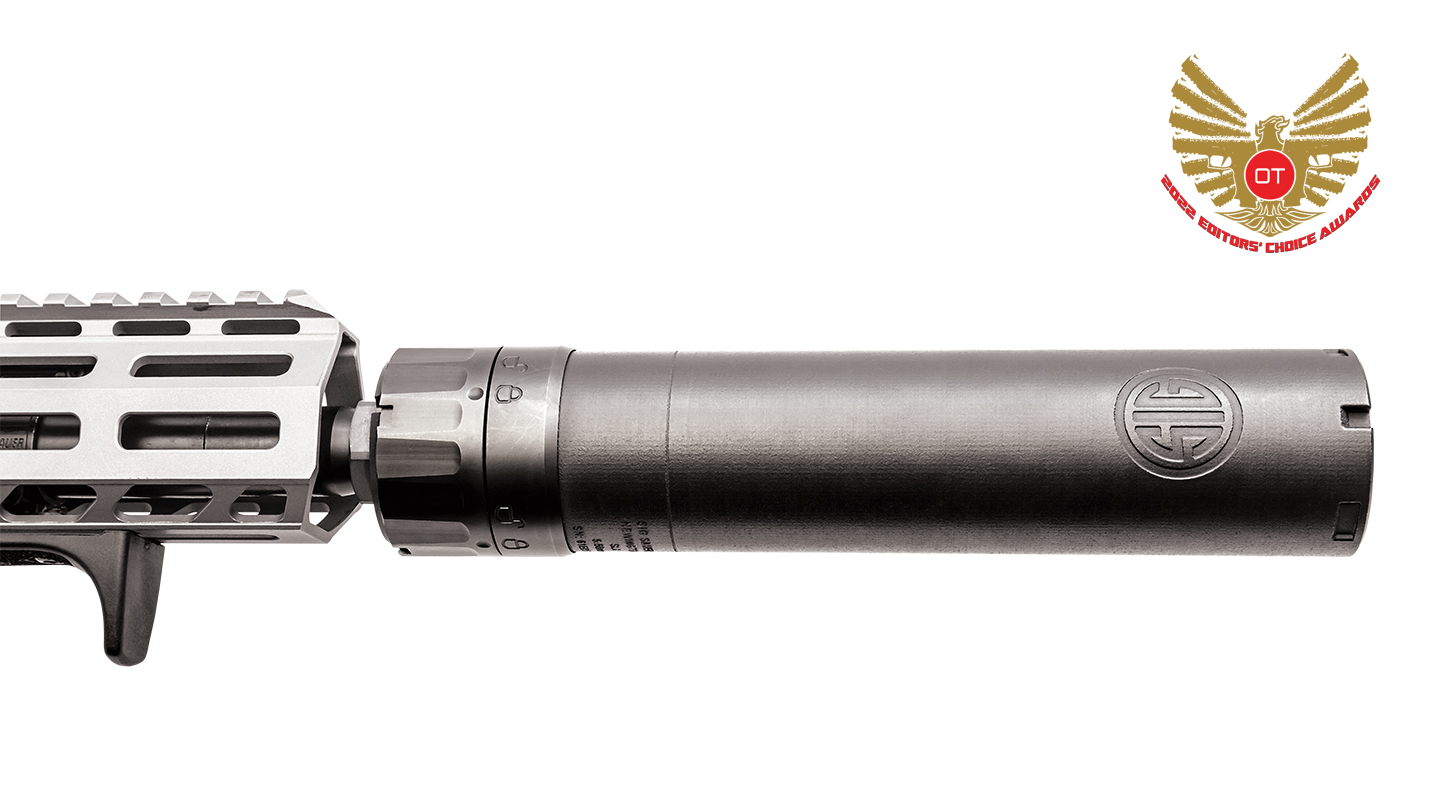 CAPTIONS:
1— SLX suppressors are available in either a direct-thread configuration or their latest Clutch-Lok QD attachment (shown). The Clutch-Lok dial is quick, extremely easy to use, and offers reliably-solid lockup.
2— Made from Inconel using the latest 3D-printing technology, the SLX features internal passages, ultimately exiting through the outer rings of the end cap, to substantially reduce back pressure.