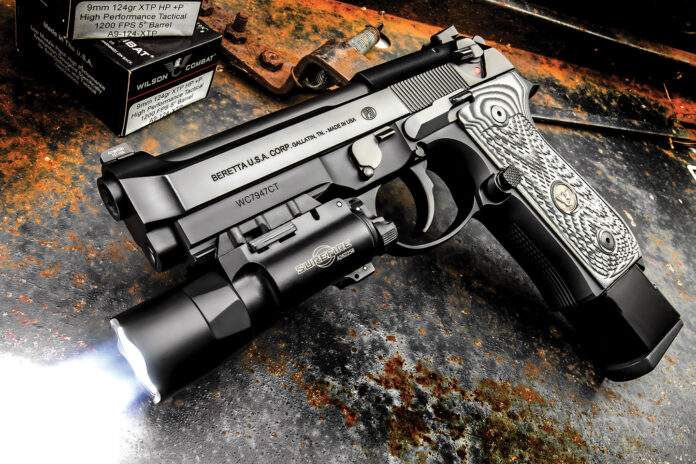 Wilson Combat Beretta 92G Centurion Tactical
By: Massad Ayoob
           A great pistol gets even better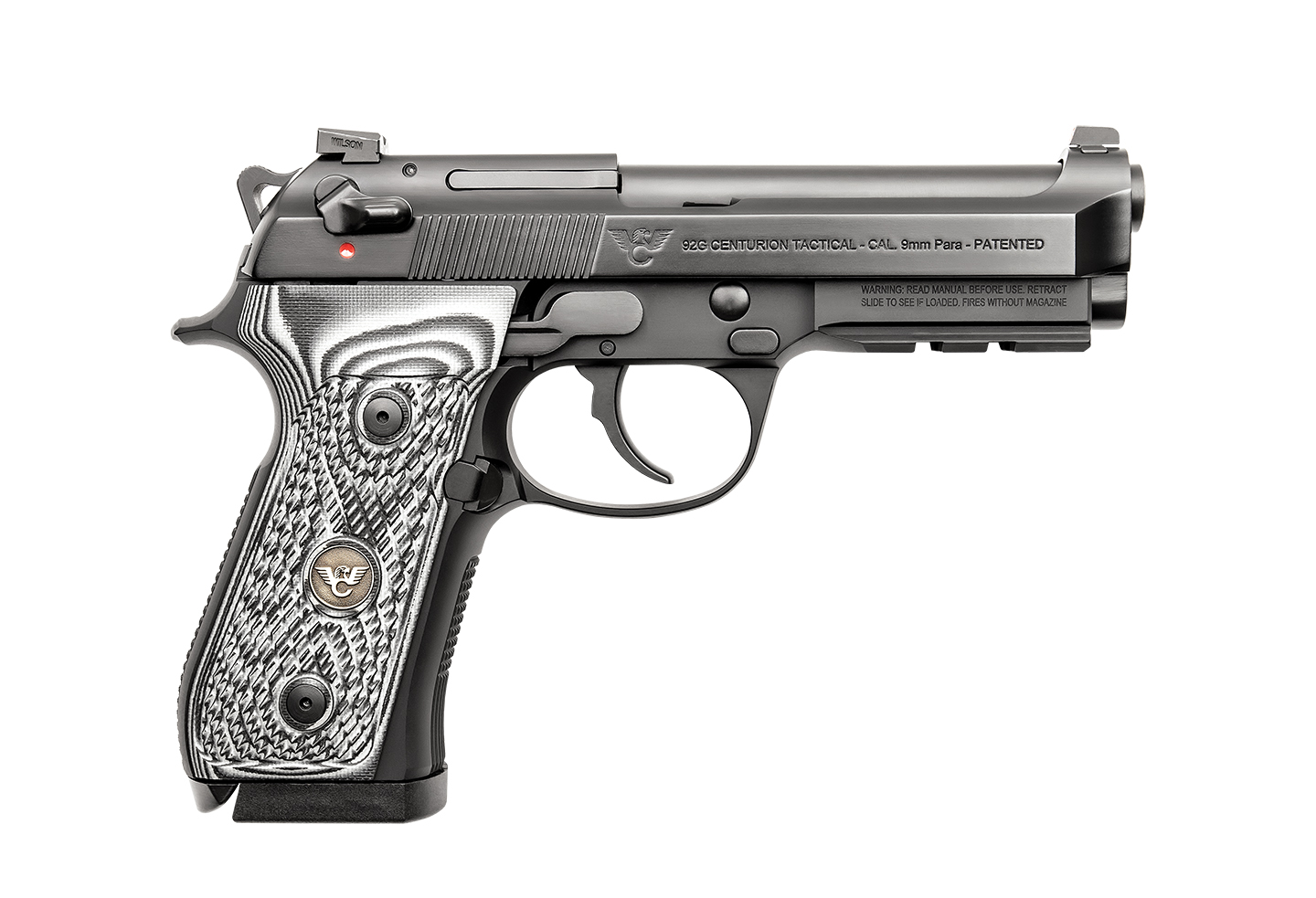 I met Bill Wilson back in the '70s when we both competed at the Second Chance bowling pin shoot, which by the way, has been revitalized as The Pin Shoot. I watched Bill win championships and shoot his way to fame with the 1911 .45s he first customized and then manufactured himself. For a long time now, the Wilson Combat brand has been a gold standard of high-quality 1911s.
While some see him as "Mr. 1911," Bill has also had a long-standing appreciation of the Beretta 92 9mm pistol and has done multiple co-op projects in which Beretta builds a specific variation to Wilson's specifications, and the customer then has the option of upgrading by having Wilson Combat's gunsmiths fine-tune the pistol. Bill brought in his friend, Beretta maestro Ernest Langdon, to teach those gunsmiths the fine points, so there's some high-quality "shared DNA" in the engineering.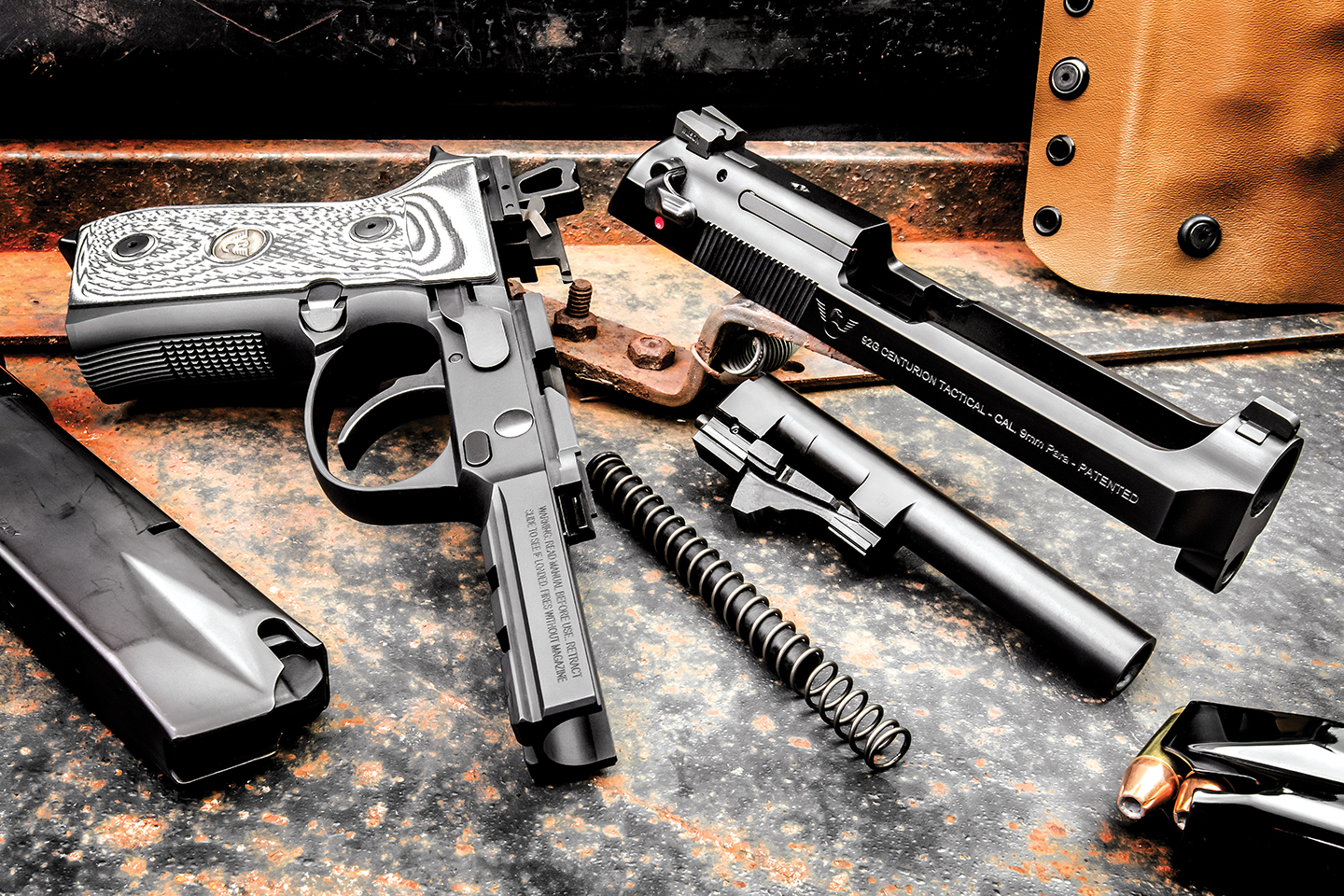 Total disclosure to start: this writer is a longtime fan of the Beretta 92 and of Wilson Combat, recently becoming one of the latter's content providers on their YouTube channel. To get an idea of why Bill and I are so partial to these guns, take fifteen minutes to watch this on YouTube: https://www.youtube.com/watch?v=TN–QZp8S0U. Last year, the single pistol I personally carried most often was a Wilson Beretta 92 Compact Carry.
Now comes the latest Beretta/WC collaboration, the 92G Centurion Tactical. It's three ounces lighter than WC's popular Brigadier Tactical because it has the standard Centurion barrel slide instead of the heavier Brigadier, 4.3" barrel on a full-size aluminum frame with an accessory rail. The popular WC Brigadier Tactical has become known in "shooter-speak" as the "Brig-Tac," so I hope you'll forgive me if I call this one the "Cent-Tac."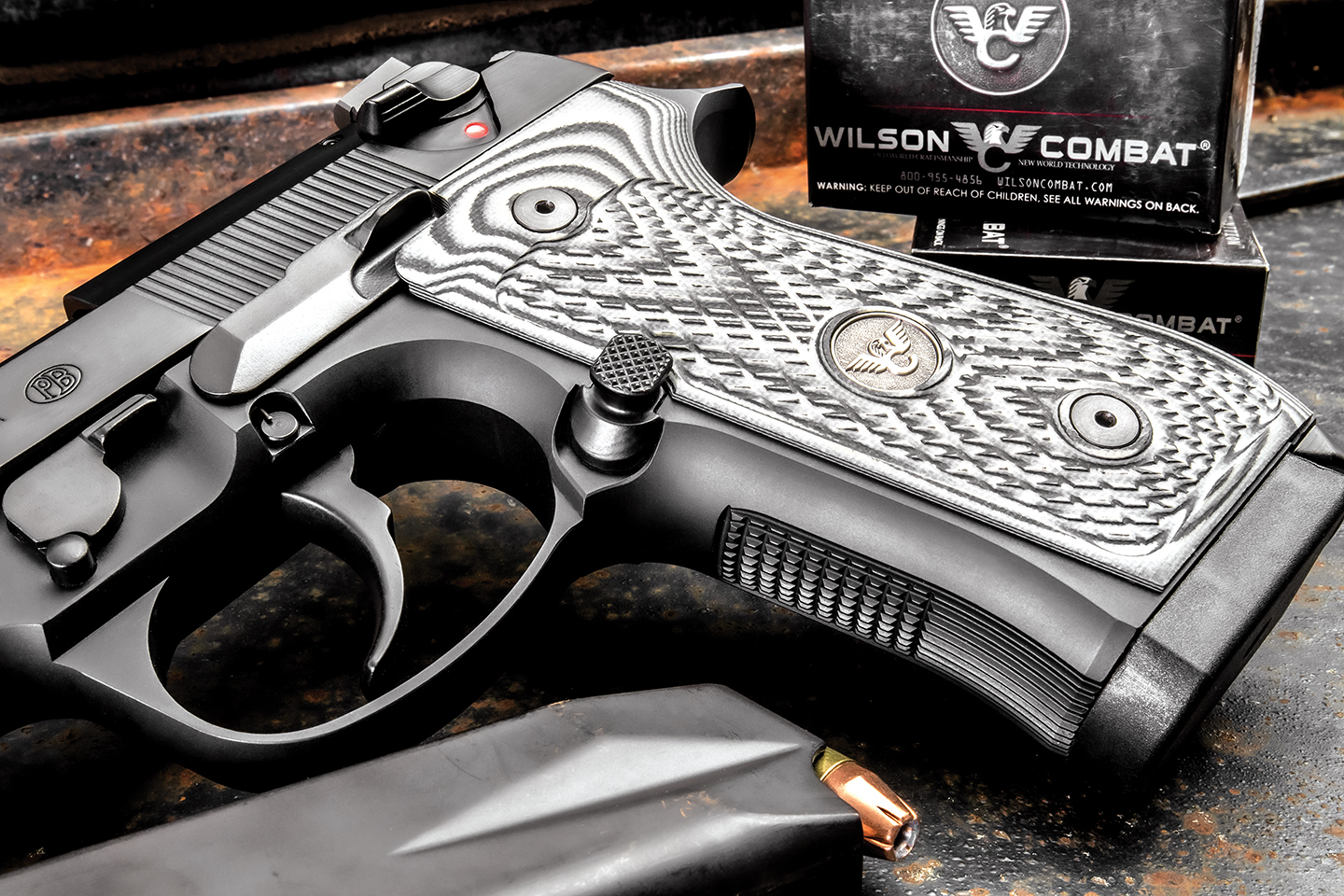 Wilson has added super-thin VZ grips, which give a more solid hold and a tad more reach to the trigger, and WC's BattleSights with big U-notch rear and red-orange Ameri-Glo ball on the front post, with a nice green Tritium night sight insert in the center. The recoil spring guide rod is all steel, an easy-to-hit Wilson mag release button is in place, there's a WC mag funnel for faster loading/reloading … and, perhaps most important, our test gun has the optional upgraded Wilson Combat action tune. The pistol came with two MecGar magazines holding 17 rounds, thank you very much, instead of the traditional 15, and one of the extended 20-round mags originally designed for Beretta's M/93 machine pistol.
Wilson Berettas – I like to think of them in shorthand as "WilBers" – have been earning a great reputation for a while. What's new about the WC Centurion Tactical? Wilson Combat's Tressa Joubert explains, "We offer two types of action tune: Standard action tune is a complete trigger job package that uses a combination of internal geometry changes, precise polishing, and a thirteen-pound mainspring. It results in a double action pull weight of approximately eight pounds and single action pull of approximately four pounds. It does not sacrifice reliability. This option is $110."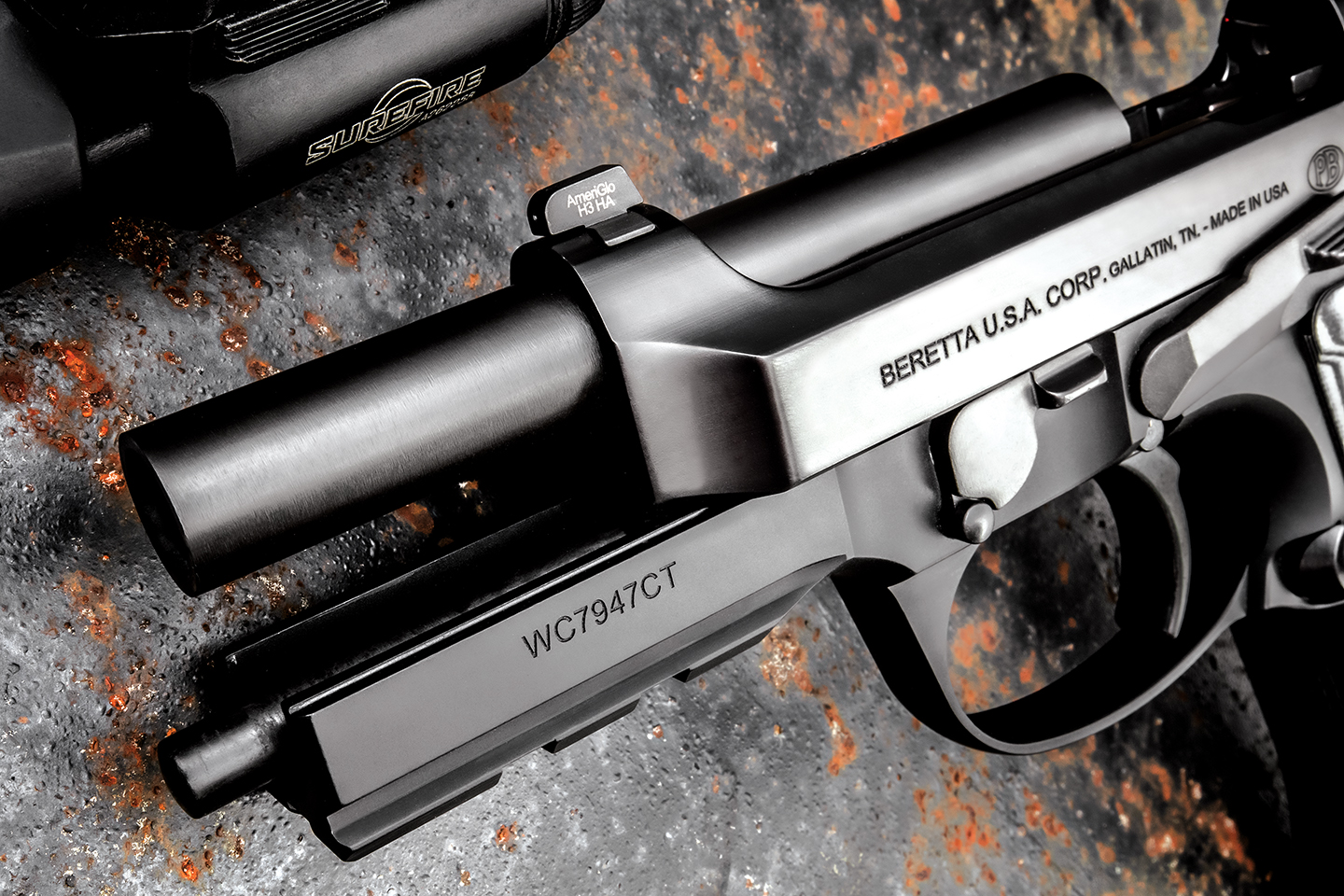 She continues, "The action tune with chrome silicone replacement springs uses the following springs and is $135. Recoil Spring – 12.5 # – part # 701CS-12.5. Hammer Spring – 13# – part #721SC-13. Firing Pin Return Spring – part #744. Extractor Spring – part #711XP. Trigger Return Spring – part #750."
The Cent-Tac on the Range
With a Caldwell Matrix rest on a concrete bench at 25 yards, we tested accuracy with three brands encompassing the three most popular 9mm bullet weights. Each five-shot group was measured once overall for an idea of what an experienced shooter could expect under ideal conditions and again for the best three, which experience has shown will come awfully close to what all five would have done from a machine rest. It's easier for most of our readers to duplicate this on their own range with their own specimens than to set up a Ransom Rest.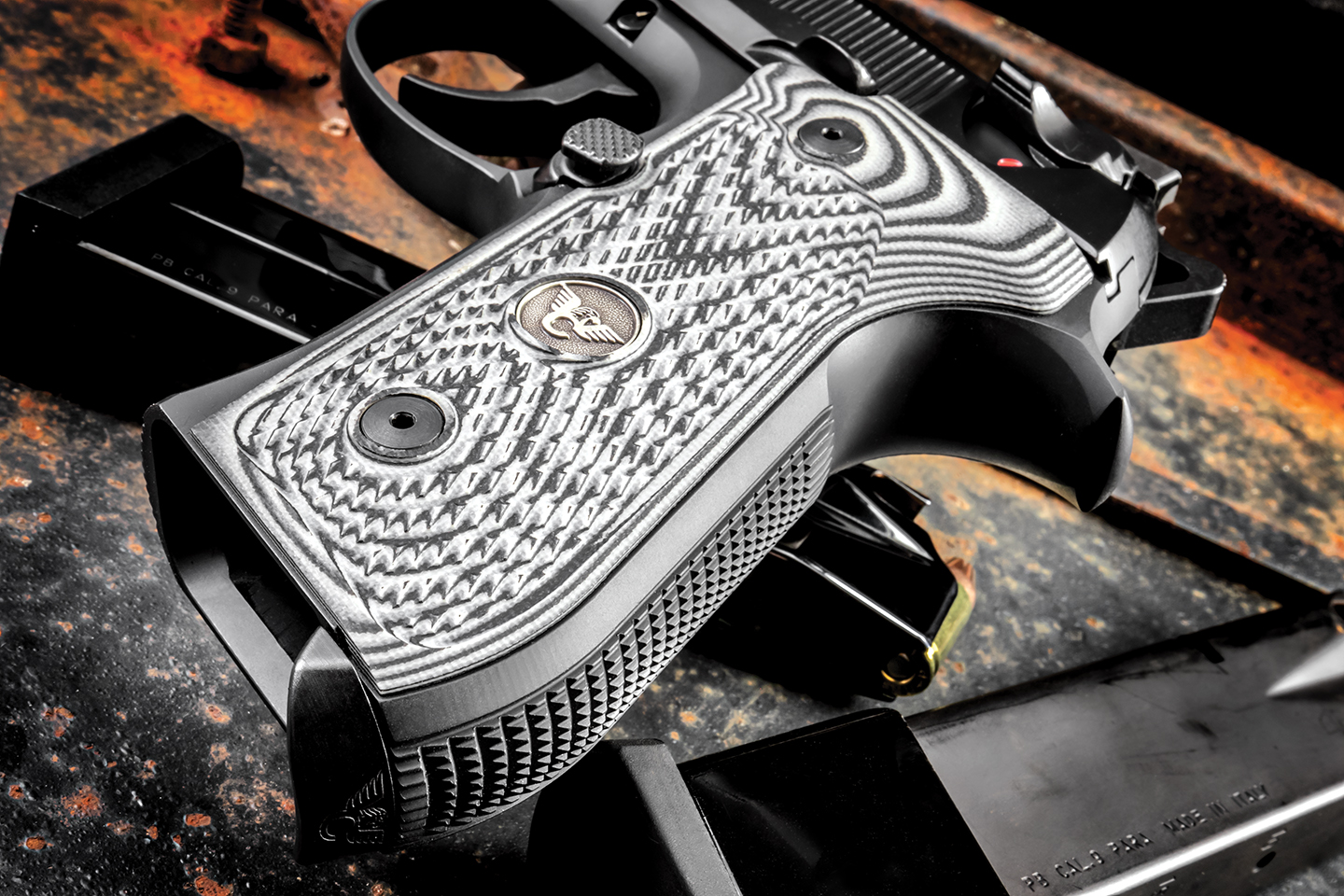 115 grain Federal 9BPLE jacketed hollow point is spec'd for 1300 feet per second, generally coming in a little under FBI's recommended minimum of 12" penetration but with a very wide wound channel, and became famous as a fight-stopper in the 4″ barrels of Illinois State Troopers' S&W Model 39s back in the day. I carried this load when in Portland during the Antifa riot period or anyplace else where there was likely to be a crowd situation, and over-penetration had to be minimized. The five shots went into 1.45″ center to center, and the best three formed a tight 65/100ths of one-inch group.
124 grains was once the heaviest you could get in 9mm, and today represents a solid middle ground for the caliber. Wilson Combat's own ammo, a 124-grain Hornady XTP loaded to 1200 foot-seconds from a 5″ barrel, put all five into 1.30" and the best three just under an inch at 0.95″. Many prefer "heavy for caliber" 147 grain subsonic, which was represented in this test with Winchester WinClean training ammo that produced a 2.55″ five-shot group, the best four of which were exactly an inch tighter at 1.55″ and the best three again under an inch at 0.80″. The dual reputations of Beretta and Wilson Combat for great accuracy were upheld.
All groups clustered a bit low left with a "post in notch" sight picture. The accuracy testing was done in the late afternoon on a north-facing range with strong sunlight from the left. The old marksman's saying that with iron sights, "the gun will shoot toward the sun" is true: as the sunlight hits the left edge of the front sight, the reflection creates the illusion of the sight being more to the right than it is, which may have caused the leftward drift. The red-orange ball of the Ameri-Glo front sight sits very slightly below the top edge of the front sight, which led me to believe that the manufacturers sighted this gun for the dot instead of a traditional post-in-notch, or what is commonly called a "drive the dot" sight picture.
You want to test a defense gun under time pressure. I shot a 50-round qualification course "on the clock" with this one, four to fifteen yards, encompassing four speed reloads, which WC's release button and mag well funnel greatly facilitated, and nine different shooting positions, including one hand only with either hand. I "drove the dot" on the qual, holding a tad right to compensate for what I'd seen from the bench shortly before, but by now, the sun was below the treetops. Sure enough, the dot sight picture gave me the proper elevation, but I had overcompensated holding to the right, and the group went slightly toward that direction, with one shot barely outside the center scoring zone. The whole 50-shot group measured right at five inches, and the single one-point-down hit was so close to the max-point scoring line that a .45 or even a .40 would have cut it. I could almost hear the ghost of Jeff Cooper saying, "I warned you about 9mms!" But the 299 out of 300, a 99.66% score instead of 100%, was entirely my fault and in no way the pistol's.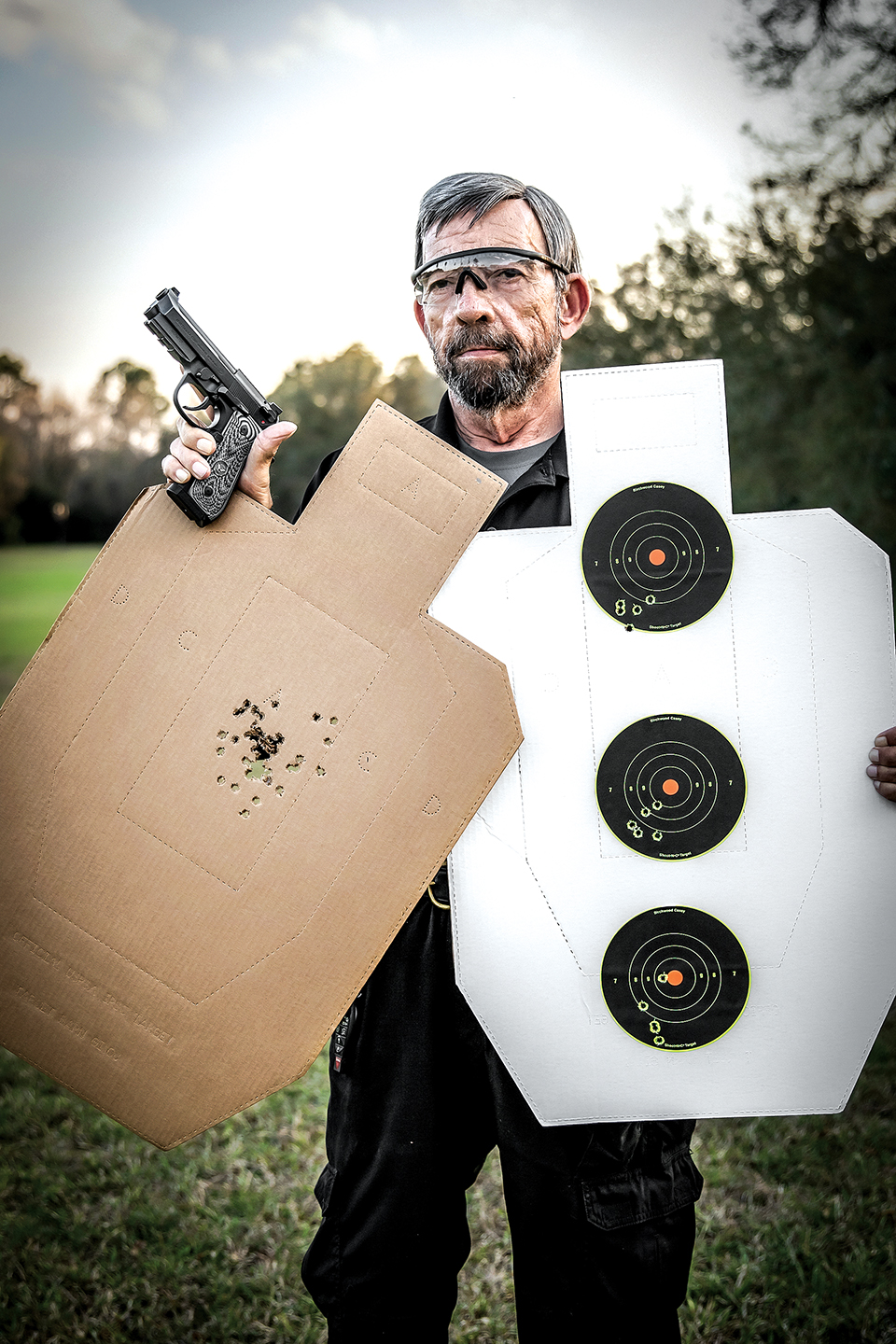 The Test Jury's Verdict
The Cent-Tac was on hand when my friend Herman Gunter, III hosted a two-day get-together of MAG (http://massadayoobgroup.com) staff in Florida. The gun was passed among a dozen or so of us, including at least three state or national champion shooting title-holders. No one had anything bad to say about it, and state champion precision rifle shooter Barb Benton spoke for most who had tried it when she said, "Smooth shooter, perfectly balanced. All headshots right on." Robby Harris remarked, "Excellent, smooth-as-butter trigger. I can see this WC Centurion Tactical as my first Beretta." Tom Beaty added, "The smooth combined DA/SA trigger, along with the great gripping surface and easy-to-see sights, made for fast, accurate, and precisely controlled pairs and hammers."
About the only negative thing I could say about the Cent-Tac was that the 20-round magazine was so hard to fill it was all but unusable.
At $1250 MSRP plus the price of the Wilson Combat action job (which I would most strongly recommend!), it's about half the cost of most Wilson Combat pistols but still bears the mark, the prestige, and the performance, just in a Beretta-shaped instead of a 1911-shaped package. If I didn't already have two Wilson Berettas, I would have bought the test gun for my own collection. See the Wilson Combat Beretta 92G Centurion Tactical at your nearest dealer, or for more information, contact Wilson Combat: Tel.: (800) 955-4856; Web: www.wilsoncombat.com.