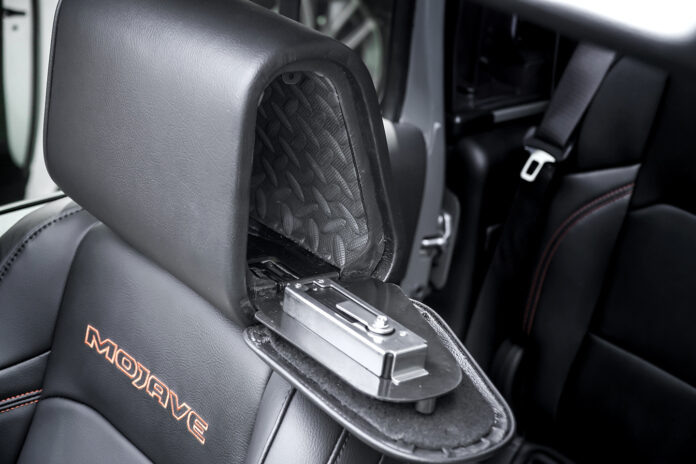 Headrest Safe: $489
When it comes to carrying your valuables or firearms in your vehicle, most people think they have to choose between safety and convenience. Not so, the Headrest Safe Company "Headrest Safe" allows you to have the best of both worlds: peace of mind that it's secure plus effortless, convenient access.
You can now take your firearm, cash, and medications — to name a few things — with you in your vehicle and relax knowing they will stay hidden in plain sight, out of the hands of kids, valets, or jackers. With three ways to open your safe (thumbprint, key, or code), you will have quick access to your valuables.
The Headrest Safe is completely covered in 1/2-inch foam rubber, and the safe itself is made of 18-gauge steel with a 16-gauge steel door. The lock is also made of steel. Once installed, The Headrest Safe locks into place so that only you can remove it. The fabric coverings that are used look and feel like genuine leather and appear to be OE by the casual observer.
With its universal design, the Headrest Safe will fit in virtually all vehicles with a 2-prong post headrest pattern and can easily be installed by the end user. With the quick access biometric lock reader and keypad, rapid access to your valuables has never been easier or more convenient. For more information, contact The Headrest Company; Web: www.theheadrestsafe.com