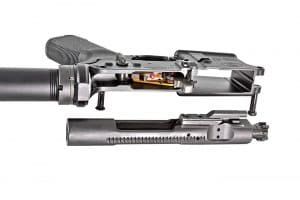 A quality optic is necessary to make a modern DMR a DMR. For my test, the nice people in the front office at On Target managed to secure a Burris XTRII 1-5X in a PEPR mount for me, augmented with a Burris FastFire red-dot. This second-focal plane scope had the Ballistic 5.56 Gen 3 reticle, which is an inverted 2.25 mil horseshoe with .25 mil center dot, and a .125 mil dot below it for 200 and another below that for 300 yard shots. The horseshoe can be illuminated to any of 11 settings, with the bottom stadia lines numbered to assist with holds to 1,000 yards, while the horizontal stadia subtend every .5 mils. The glass seemed clear and the reticle busy but useful for quick, accurate shots, while .1 mil clicks on the zero-stop turrets were positive. The PEPR mount was solid and retained zero. The FastFire, which sat forward atop the PEPR on a two-slot rail, was about as tiny and light as it could be yet still be useful. It would have been a welcome addition if I had to execute CQB scenarios, even though the cheek-weld was more like a chin-weld when using it. The optic(s) and mount added about 1.75 pounds to the DMR, which is significant but acceptable given the mission-profile the weapon was designed for.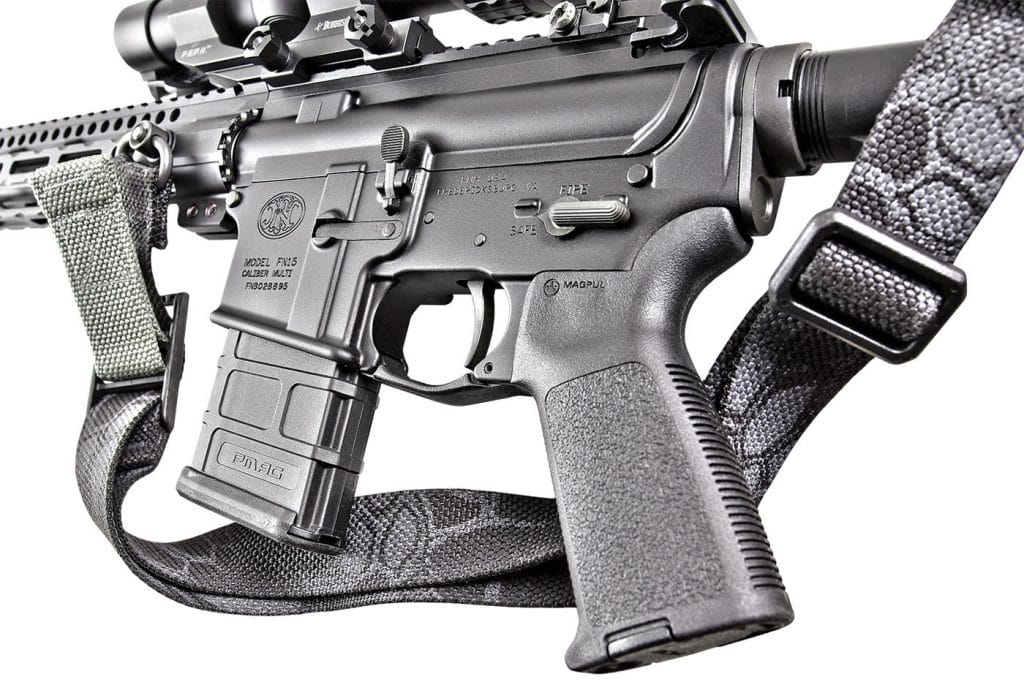 Shooting the FNH DMR lived up to expectations. The combination of the rifle-length gas system and Surefire muzzle brake kept recoil not just manageable but downright negligible. A small price paid was in the noise and blast signature from the two-port brake. If I had to change one thing on this rifle, it would be in this area. A muzzle device that focuses a bit less on recoil mitigation, which is already very good, and more on reducing sound signature, as well as possibly adding a suppressor, may be worth considering for a true DMR. However, in the all-important area of accuracy there is nothing to complain about, though I had to work for it.
I was shooting from prone off a rucksack on a warm, sunny day with no wind, but as we recently had experienced heavy rains it was soggy and prone to a touch of mirage even at 100 yards. Combined with increasing shadow from nearby trees as the day wound on, and a determined visit from the local contingent of eastern Carolina misquotes, it made for some challenges to wring out the most optimal accuracy. As designed the FNH DMR is capable of 2-MOA accuracy with quality ammo, and this is probably conservative. I fired half-a-dozen different types of 5.56 and .223 ammo, fully anticipating the DMR would tend to prefer the heavier loadings given its 1:7 twist rate. Sure enough, Norma Match .223 Sierra Matchking 77-gr. HPBT put five shots nearly centered inside 1.5 inches. The other two 75- and 77-grain match loads from Hornady and Federal did nearly as well, with groups usually slightly larger due to one flyer, with the best four almost all inside an inch. Reliability was perfect throughout, despite the fact I did not lube the DMR at all.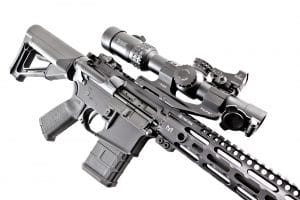 Even though they weren't used for precision testing, the Magpul MBUS Pro iron sights are top notch. The front post is slightly tapered to enable a finer sight picture, and adjustments with the bare fingers were easy. In less than 10 rounds at 50 yards I had the DMR zeroed, with five rounds of Federal 62-gr. M855 green tip nearly touching inside an inch. Winchester 5.56 FMJ 55-gr. "white box" put all five into about 2.5 inches at 100 yards. Accuracy testing done, I emptied a magazine into a 9-inch steel swinger firing from kneeling at 50 yards as fast as I could just for fun. No issues—and no misses—given the DMR's lack of recoil and perfect reliability.
FNH USA has a winner in the DMR. It does everything it was intended to do, and would be suitable for either DMR work or civilian competition. The MSRP is $1,899. The Timney trigger, rifle length gas system and MI SSM handguard alone make it worth the price. And, of course, a garage-built AR won't have the FNH pedigree or quality backed by a factory warranty. Your mission should drive your choice of equipment. If your mission includes a DMR requirement, or good competition performance, take a look at the FNH USA FN 15 DMR at you local dealer, or for more information, contact FNH USA, Dept. OT; Tel.: (703) 288-3500; Web: www.fnhusa.com