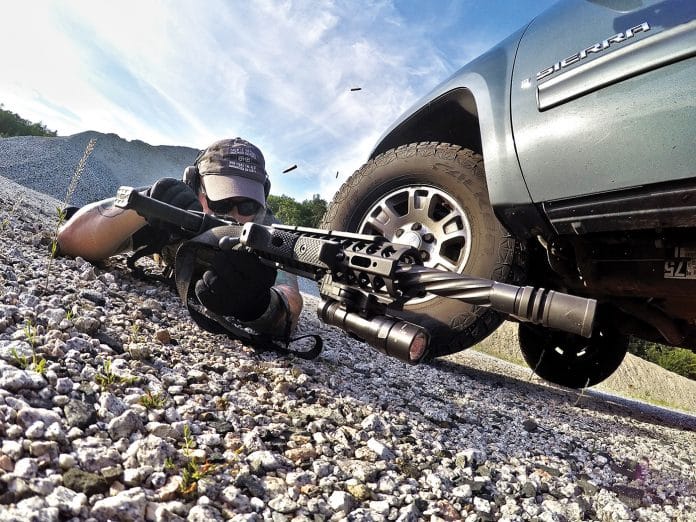 By Dave Bahde
---
More than just another direct-impingement carbine
One of the first reliable piston ARs I used was an LWRCI. The early 10.5-inch upper it was rugged, reliable and accurate (uncommon at the time). Early short-barreled ARs were spotty in general, especially when suppressed. Over-gassed, they were dirty, harsh and loud. The LWRCI was one of the most robust and ruggedly built I had ever seen or used. After years of hard use it was replaced with a 6.8 SPC, the start of an entirely new adventure. LWRCI fixed that as well dealing with the magazine issues presented by the larger 6.8 SPC case. Using both the standard and short barreled versions they are completely reliable. The chance to test short-barreled versions of the Individual Carbine–PSD (Personal Security Detail) chambered in 5.56 NATO reminded me how well LWRCI rifles work. But patrol rifles in longer barrels have less need for a piston design and the costs that go with it. For years, customers have been clamoring for LWRCI to build a direct-gas-impingement AR of the same quality, and they finally did in LWRCI-DI 556.
So Why DI?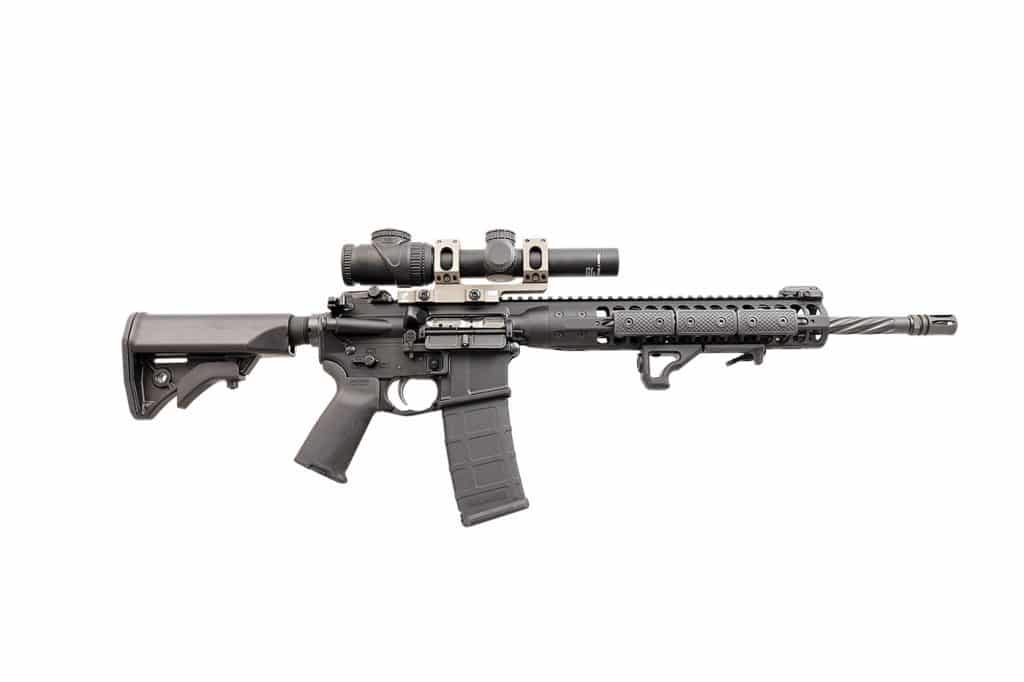 Piston rifles are great; they do things most DI guns just won't. Shorter barreled piston ARs work better and handle suppression more easily. Unfortunately they are expensive, can be heavy and add some parts and complexity. Most applications just have no need for either a short barrel or suppressor. The vast majority of civilian applications (LE or otherwise) are met easily with a 16-inch barrel using a simple direct-impingement gas system. Simplicity in the field is critical and nothing meets that need like a well built AR using a tried and true direct-impingement gas system. The vast majority of ARs fielded today remain direct impingement and likely always will.
LWRCI-DI 556 Rifle
This rifle starts with LWRCI's proven "double coined" forged receivers. Forged from 7075 aluminum, they are among the strongest you can buy, with great attention to detail, consistent manufacture and uniform construction. Equipped with ambidextrous controls and an oversized trigger guard they are well suited to use in any condition. Magpul's rubber coated MOE grip provides comfortable control. An LWRCI compact stock keeps the LWRCI-DI 556 usable with plate carriers or other duty gear. Internals are mil spec, including the trigger.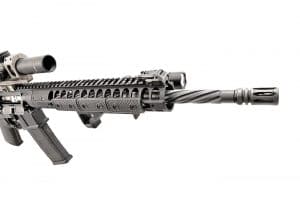 Nestled in the upper is a cold hammer forged 1:7" twist barrel using M4 cuts and a 5.56mm NATO chamber. Fluted for less weight and improved cooling, it is capped with an A2 style flash hider. Built from 41V45 steel. it is stress relieved and coated in NiCorr for longevity and corrosion resistance. Gas is delivered to the Enhanced DI bolt carrier group using a NiCorr coated gas tube.
Covering the barrel is a 15-inch rail developed specifically for the DI rifle. Attaching solidly at the receiver, it keeps the barrel free floated. Rails can be attached at the 3, 6, and 9 o'clock positions. The continuous top rail facilitates sighting enhancements and additional accessories. LWRCI's rails are solid and slim, adding less to the overall diameter and allowing you to add equipment without bulk. Rail panels are provided along with their Angled Forward Grip. Two rails are included, a short one for lights and an angled rail that includes a QD sling cup along with bolt-on side covers. There is also a QD sling cup on the back of the Angled Forward Grip. Each rifle ships with a single Magpul 30-round PMAG.
Testing
Just as the red-dot sight has all but supplanted iron sights on working ARs, the low powered optic is starting to gain increased popularity. The ability to identify your threat or target is imperative, and optics make that exponentially easier. Add age to the equation and it becomes more advantageous. While I can still hit targets at 300 yards with a red-dot, it is a ton easier with a low-power variable optic. Trijicon's Accupoint is one of the most rugged, reliable and simple systems available. Using a Mil-Dot reticle and fiber optic center dot the 1-6x24mm Accupoint is equally at home from CQB to 300 meters. Six power is plenty for most engagements using this carbine, facilitating proper target identification and increased accuracy. Using a 30mm tube it is light, short, and very handy. It was mounted in an American Defense Manufacturing AD-Recon Cantilever mount. Having used several over the years they are strong, light, easy to use and simple to setup. Priced reasonably they provide an option for duty or professional weapons that will not break the bank.