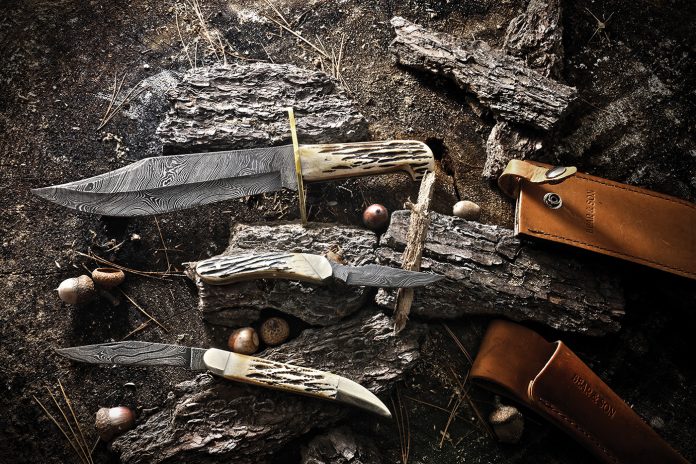 "We build 'em tough. We build 'em right. We build 'em here." So goes the motto of one of America's fastest growing knifemakers—Bear & Son Cutlery, Inc. Build 'em "here" means you're getting a 100% American-made knife built by a bunch of good 'ol boys in Jacksonville, Alabama. My kind of knife.
The three new knives that are the subject of this article are all 2017 introductions, manufactured from Bear & Son High Definition Damascus Steel. Damascus Steel is made from several types of soft steel, high-carbon steel, iron, etc.) with slices welded together to form a billet, then pounded flat, folded over and pounded flat again—all under extremely high heat. The process can continue forever, but most modern Damascus knife makers like Bear & Son only go so far.
Damascus steel was used for manufacturing sword blades, which were characterized by distinctive patterns of banding and mottling reminiscent of flowing water. They were tough, resistant to shattering, and capable of being honed to a sharp, resilient edge. To attain a Master Smith rating with the American Bladesmith Society, the smith must forge a Damascus blade with a minimum of 300 layers.
Bear & Son Damascus blades are forged from 416 layers of alternating medium- and high-carbon steel, with added nickel to magnify definition. Flexibility is superb, and every Bear & Son Damascus blade is as distinct as a fingerprint. Damascus blades also have "secret" sharpness—they never feel as sharp to the touch as they really are!
"High Definition" means high contrast between the several types of steel and iron slices welded together, with marked white lines serrating the layers of steel, providing a beautiful contrast. Bear & Son's three new Damascus knives all feature 416-layer high-definition Damascus steel blades with genuine India stag bone handles exhibiting lustrous dark brown, light brown and golden ivory color tones throughout the bone.
The strikingly beautiful, 9.0" non-locking folder ($155.99) features a 4.0" folding blade, nickel silver bolsters front and rear, leather sheath, taper ground blade and an overall weight of 6.0 oz.
The 6-3/4″ overall-length, fixed-blade Caper ($189.99) has a 3.0″ Damascus blade, a long and deeply serrated top thumb grove and front nickel silver bolster. It weighs a svelt 2.4 oz. and comes with an oil-tanned leather sheath.
The last member of new the Bear & Son Damascus line-up is a an 11-3/4" fixed –blade Bowie with a solid brass hilt that extends 1-1/8 inches above and below the 7-1/4-inch Damascus blade ($299.99). It comes with an oil-tanned leather sheath, hollow-ground blade and weighs 12.5 oz.
See them at your outdoor retailer, or for more information contact Bear & Son Cutlery, Inc., Dept. OT; Tel.: (256) 435-2227; Web: www.bearandsoncutlery.com