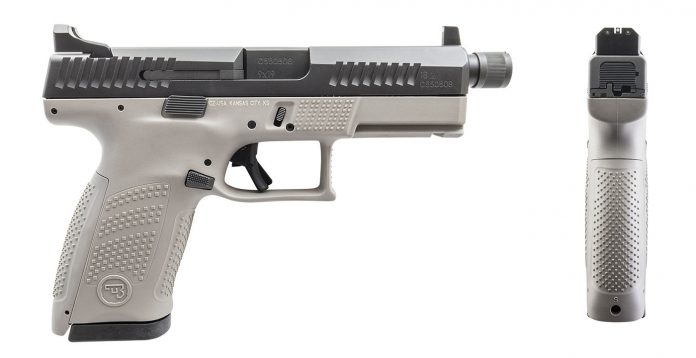 CZ USA's P10 has become one of the most popular compact polymer 9mm pistols on the market today. Known for their ergonomics, quality trigger, and rich feature set for the price, they are liked by many. The P-10 C is their compact model designed for concealed carry, as well as on and off duty use. The trigger is crisp with less stacking than most striker-fired pistols and measured a consistent 5 pounds. The trigger guard is generous, allowing lots of room for gloved hands. Built for hard use, it can withstand most anything you can throw at it.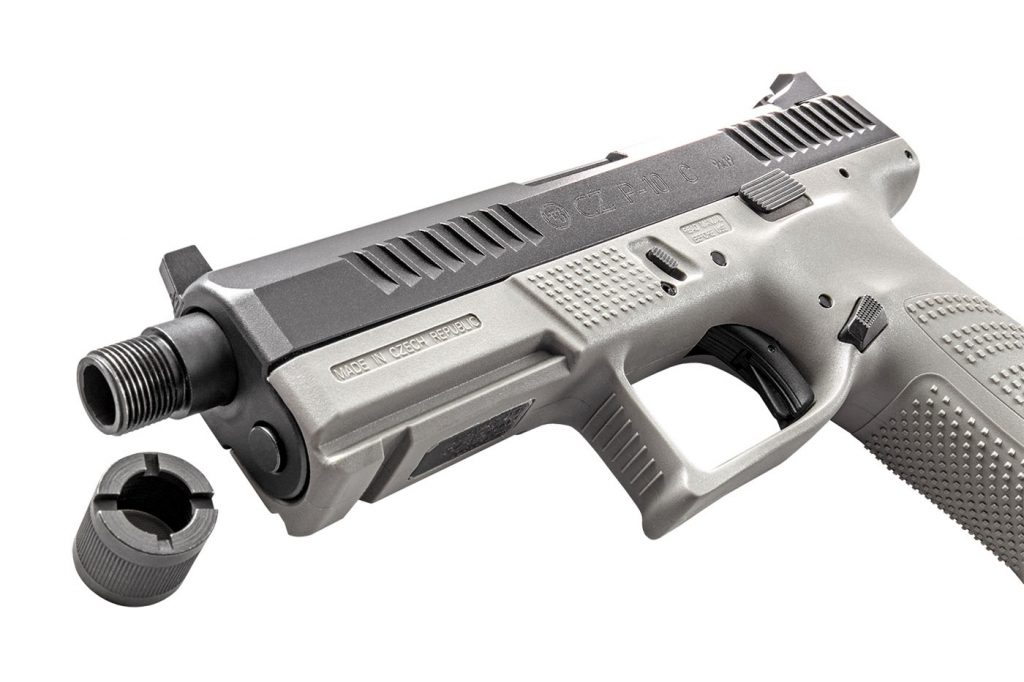 The suppressor-capable models add a threaded, 4.61-inch, cold-hammer-forged barrel threaded 1/2 x 28. Taller sights contain tritium—the front uses a white outline, the rear is subdued. Flush-fit magazines hold 15 rounds, with extended magazines holding 17 rounds available. My test pistol is Urban Grey, a limited production color that shipped with two 15-round magazines. Standard models are black and ship with two 17-round magazines.
Silencerco Omega 9K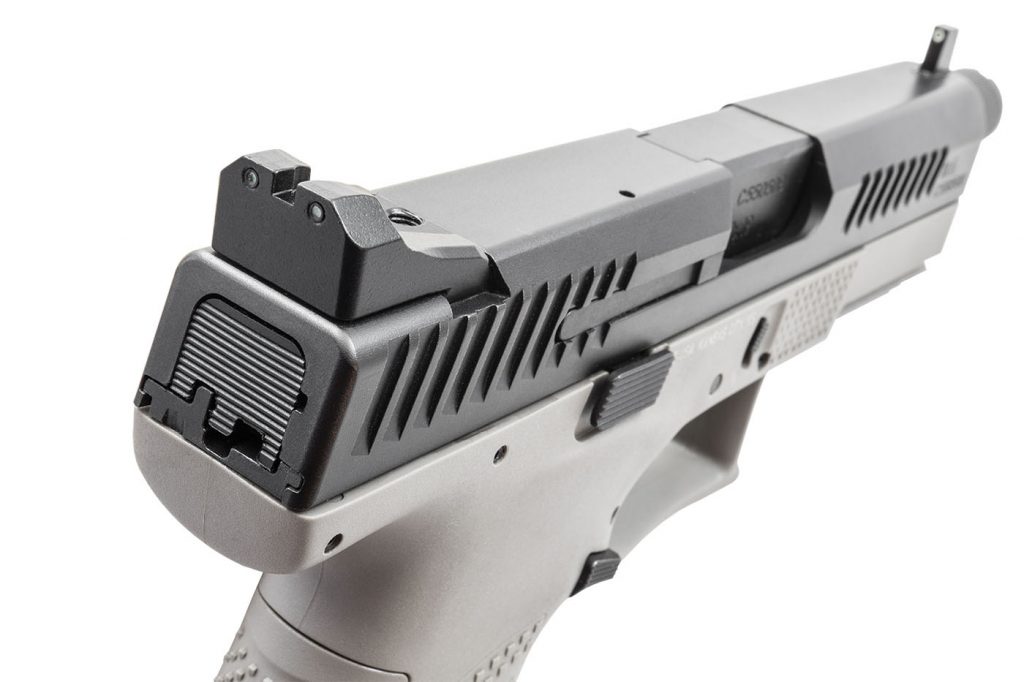 Silencerco's Omega 9K is one of the shortest and lightest pistol suppressors on the market today. It has proven reliable on several pistols and a few 300BLK rifles. Pistons can be swapped out for various thread patterns, with direct-thread adapters used on carbines and 300 BLK rifles. At 7.2 ounces and under 5 inches it keeps your pistol light and handy to operate. Built from Stellite and stainless steel, it is made to last and handle the highest powered 9mm ammunition. Full-auto rated, the Omega 9K is incredibly strong and durable for a suppressor its size and weight. Its tubeless design nets a rugged suppressor that's only 1.47 inches in diameter that will hold up to most anything. Not as quiet as some, it is surprisingly so for its size.
Range Time
CZ USA pistols have always been accurate, and this P-10 C was no exception. Groups were under 2.0 inches at 25 yards with everything tested. My best group came with the Federal 147-grain HST with the suppressor attached. Recoil is minimal and the HST is one of the most widely used bullets in law enforcement today. Right behind it was the Hornady 135-grain +P Critical Duty, another proven round that was recently chosen by the FBI as their +P service ammunition. The trigger makes accuracy much easier with its lighter pull and lack of significant take up and predictable reset.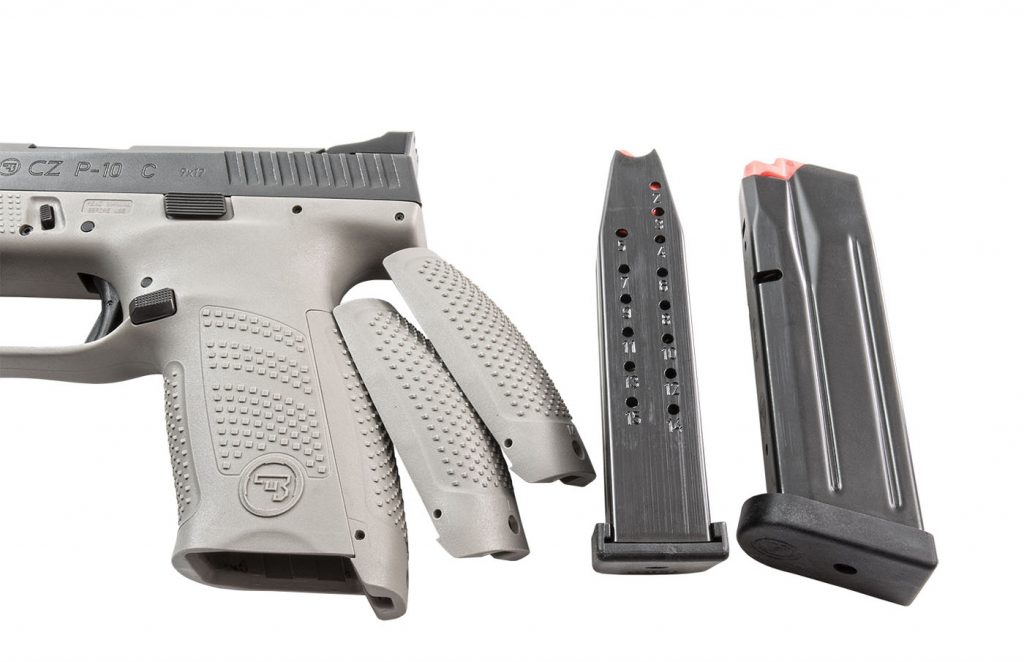 Everything used functioned perfectly with the exception of the Ammo Inc USA 147-grain subsonic. This is a light recoiling round at only 1,000 f.p.s. that is very quiet when suppressed. It just wasn't powerful enough to reliably cycle. Having tested dozens of pistol suppressors over the years, this is common with slow and/or lightweight ammunition. It's all about weight and the piston design. Unsuppressed it ran perfectly and is incredibly pleasant to shoot, an excellent round for high round count classes or training. All the other test ammunition ran perfectly both suppressed and unsuppressed.
The pistol's sights are easy to see and tall enough for this 1.5-inch suppressor. The top of the front sight sits just above the Omega 9K. The rear sight is designed to lessen snagging on clothing or holsters and it will accommodate non-conventional reloads and stoppage drills.