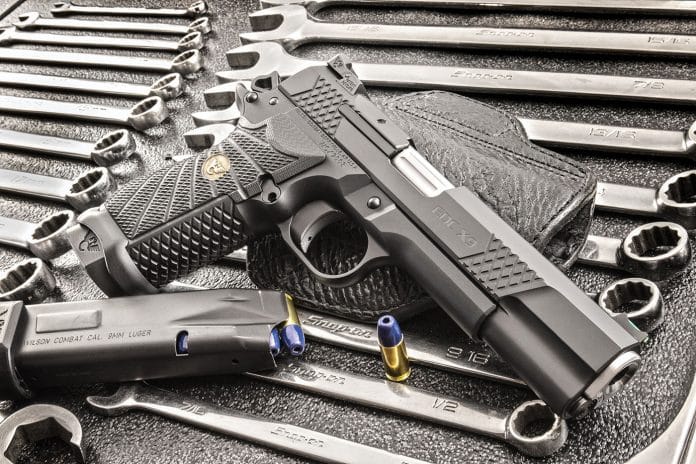 Photos by Ben Battles and Gail Peppin
When quality tools count, the new 19-round capacity X9L full-size does not disappoint.
When Bill Wilson introduced the Wilson Combat EDC X9 in 2018, it resonated through the market so authoritatively it became the company's best-selling pistol. Combining accuracy, reliability, and just pure quality with easy recoil and a 15+1 capacity of 9mm, it's easy to see why so many handgun connoisseurs were happy to pay its $2895 retail price. It's also easy to see why On Target magazine gave the EDC X9 an Editor's Choice Award.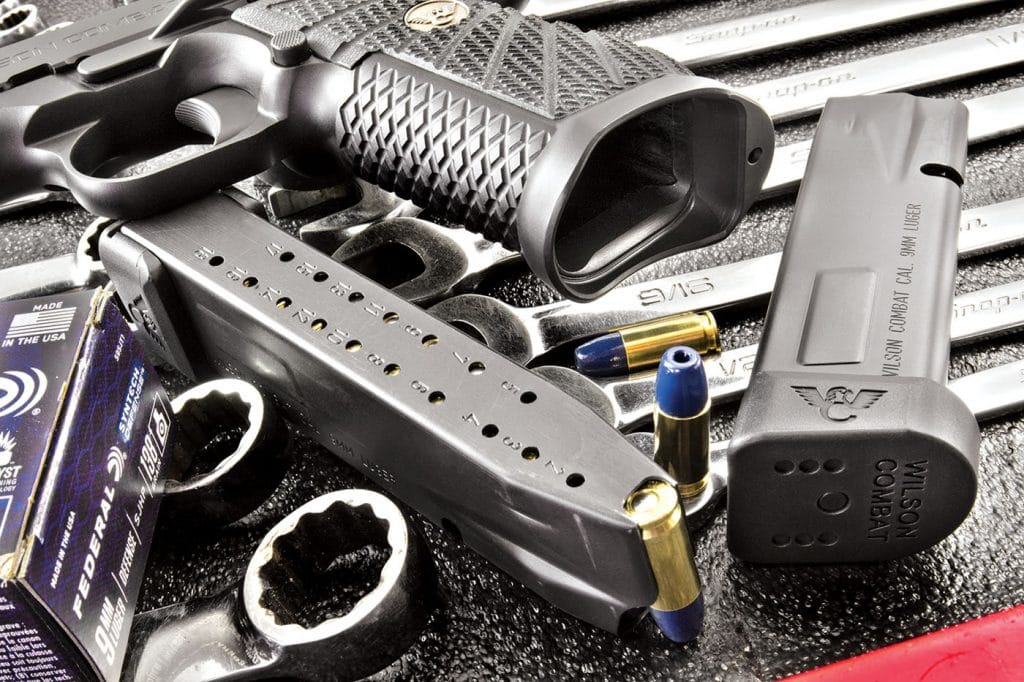 There wasn't much to add, but Bill's fertile mind came up with something. This year's NRA annual meeting saw the introduction of a new version, the EDC X9L with five-inch barrel and 18+1 capacity. I drove to the Wilson Combat plant at Berryville, Arkansas to join a few other gun writers for a pre-NRA show introduction.
First Look
This is basically the already-highly successful EDC X9, extended. The first thing you notice is that extra inch of barrel and slide. The original four-inch barrel is fluted at the chamber area, as is this one, but where the original has a coned barrel, the five-inch has the conventional John Moses Browning 1911 bushing system, without full length guide rod. This is a combination that makes takedown and reassembly easy. The second immediately obvious difference is the longer butt, accommodating the 18-round mag with slight floorplate extension.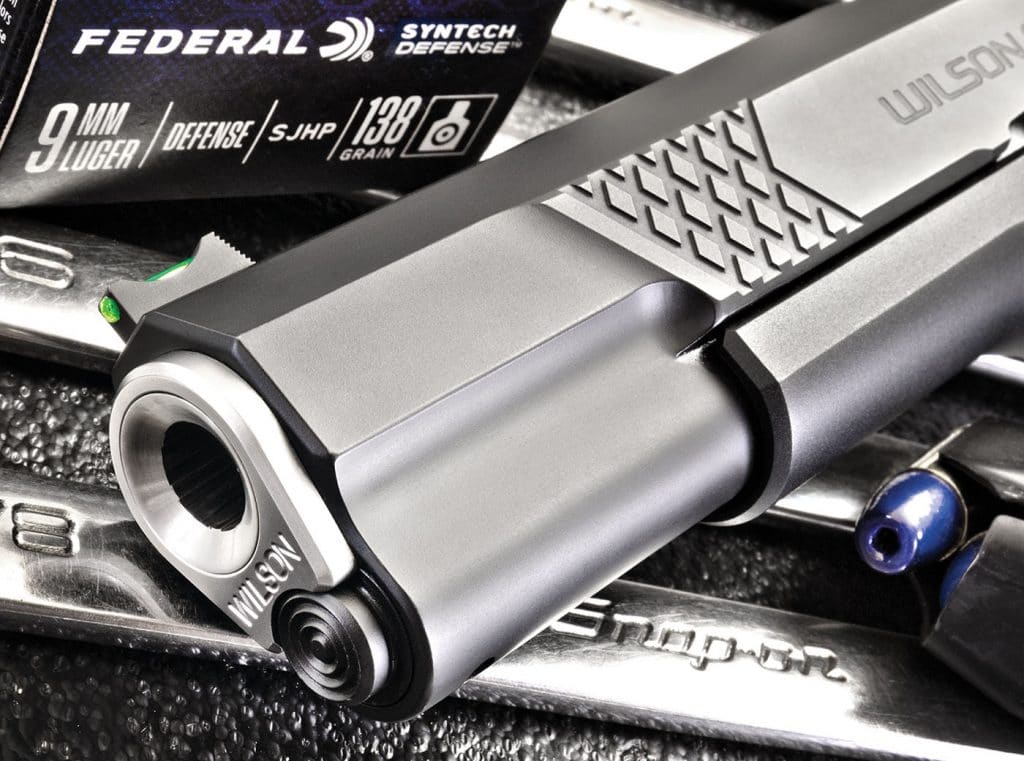 An aluminum frame gives this full-size pistol a reasonable carry weight: 32.4 ounces with empty magazine in place, on my calibrated scale. Diamond pattern grasping cuts at front and back of slide offer good traction. The full grip has an excellent feel in the hand. Wilson's trademarked Battle Sights, with a big green fiber optic front and a generous U-notch rear, give a great sight picture. The rugged rear adjustable sight has a front ledge, allowing the shooter to catch it on the edge of belt or holster to work the slide one-hand-only in an emergency.
Where the original X9 has a fifteen-round magazine adapted from the Walther PPQ, the new one is built around an adaptation of the 18-round Beretta 92 magazine produced exclusively for Wilson by MecGar (Walther and Beretta mags won't run in the X9, however, because of differently placed cuts for the magazine catch.) A robust mag well to speed up reloads is attached to the five-inch gun's grip frame.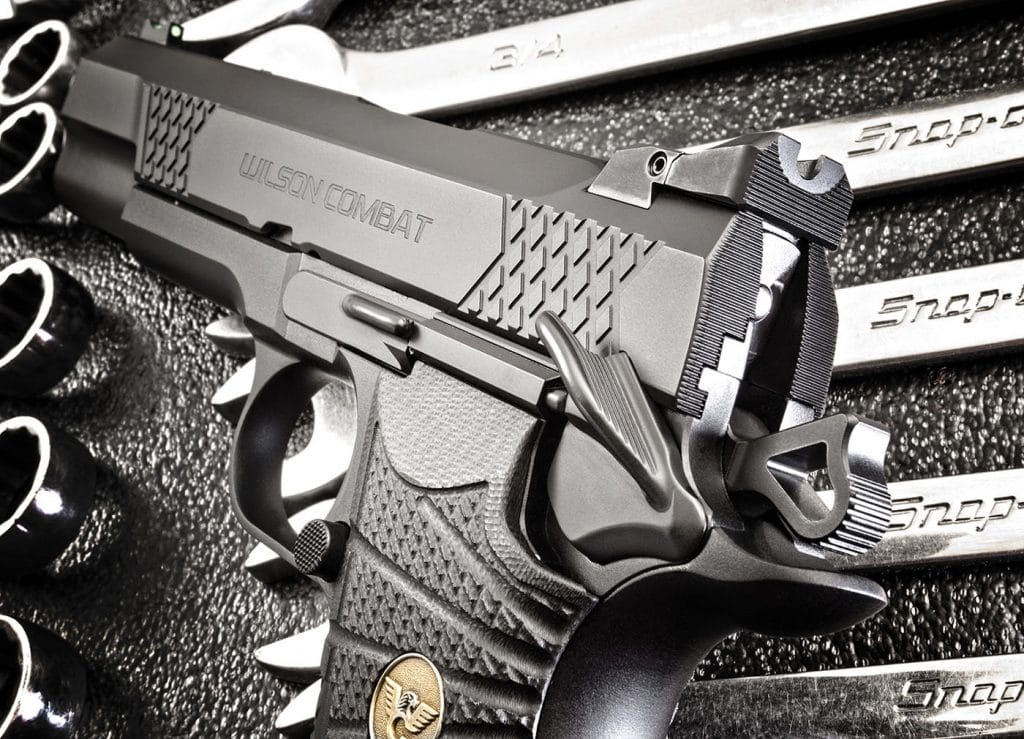 Trigger pull weight, measured on a Lyman digital scale, averaged 4.255 pounds, well within "liability standards" for a single action autoloader used for duty or defense purposes. It's also well within "shootability" parameters, with a light take-up, crisp release, and absence of backlash.