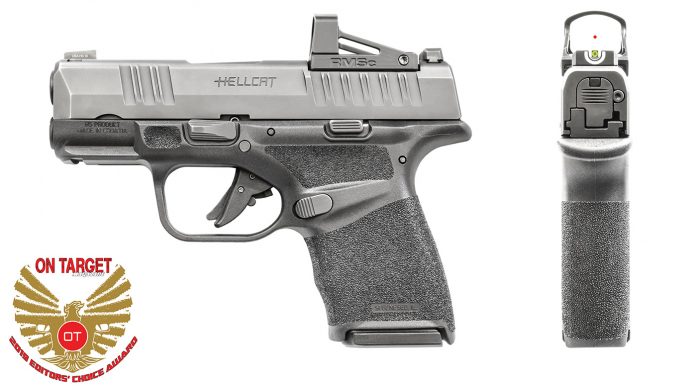 The new top-dog in the high-capacity/minimal footprint war?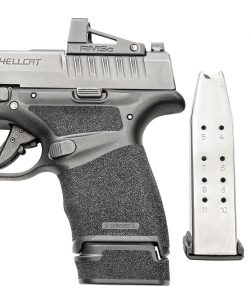 As the number of concealed carry guns continues to grow, the industry is striving to provide the most options possible. The last couple of years have seen sub-compact pistols that shoot like compacts, red-dot-sight capability and higher magazine capacity. Sacrificing capacity for deep-concealment is no longer required. Single-stack 9mms are carrying ten rounds these days with longer grips, less weight and solid reliability and accuracy. But it's the small striker-fired, polymer-frame double-stacks that are catching on, with features normally reserved for compact and full-sized pistols. One of the latest is Springfield Armory's new 9mm Hellcat, an 11+1-round micro-compact with a 3-inch barrel and a very-strong feature set.
The basic Hellcat includes tritium night sights and a smooth and crisp trigger. The rear sight is a U-notch with a ledge for emergency reloads and stoppage drills, while the front is a large tritium/luminescent dot—both are steel. Its 3-inch barrel is hammer forged for longevity and consistent accuracy. The front rail uses a standard cut accepting most compact lights and lasers, and the magazine release is reversible and slightly extended. Other notable features include a Glock-like trigger safety and a loaded chamber indicator. Springfield's new and amazingly effective "Adaptive Grip Texture" is present on the grips, side of the frame and front front and rear straps. Its standard magazine holds 11-rounds with either a flush or slightly extended base pad. The included higher-capacity 13-round magazine features a nicely contoured extension that mates smoothly to the grip. The OSP model (tested) adds a cut in the slide to accept a Shield Sights RMSc (shown) or those with the same pattern. The rear sight is slightly smaller to make room for the RDS, and the cover plate fits flush. No adapter plates are needed—just bolt your RMSc, JPoint or similar MRDS directly to the slide.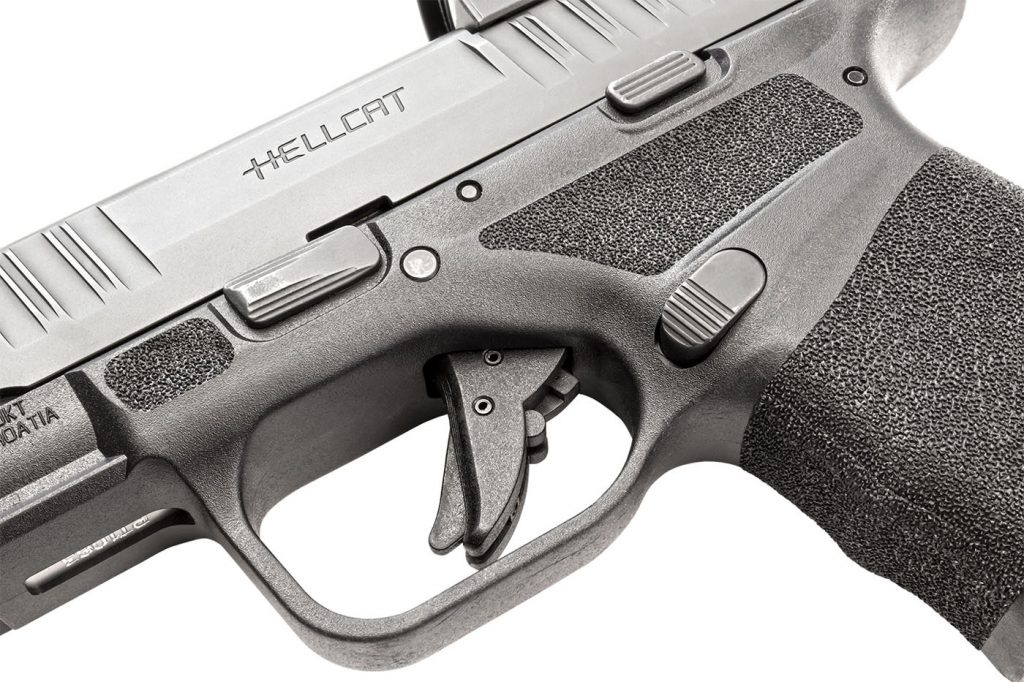 Range TimeOur test pistol included a Cross Breed IWB Kydex holster that will work with or without the MRDS. Teaching a Gunsite Academy concealed carry pistol class, all of the testing occurred during or after class, allowing for some runs on the Scrambler and some other simulators. The Hell Cat was also carried on a few trips into town using the Cross-Breed holster.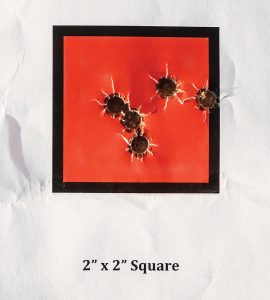 Accuracy is what you've come to expect with this new breed of pistol—as good or better than most compacts. My best 25-yard/5-shot group measured 1.75-inches using Barnes 115-grain TAC-XPD. Most of the smaller pistols seem to shoot this ammunition well, but everything was in the same range.
There weren't any stoppages, and reliability was excellent with everything tested. The extended beavertail helps with recoil control and it was most pleasant to shoot with the extended magazine. Using the flush-fit base plate, my little finger hung under the grip, while adding the extended baseplate with a lip gave me a 3-finger wrap on the 13-round magazine. Carry was like all these new pistols, incredibly comfortable—"forget you have it" kind of comfy. The extended magazine did print a bit more, as expected, and the best tactic for most will be to carry with the flush 11-round magazine inserted and with the 13-rounder as a spare.
Bottom Line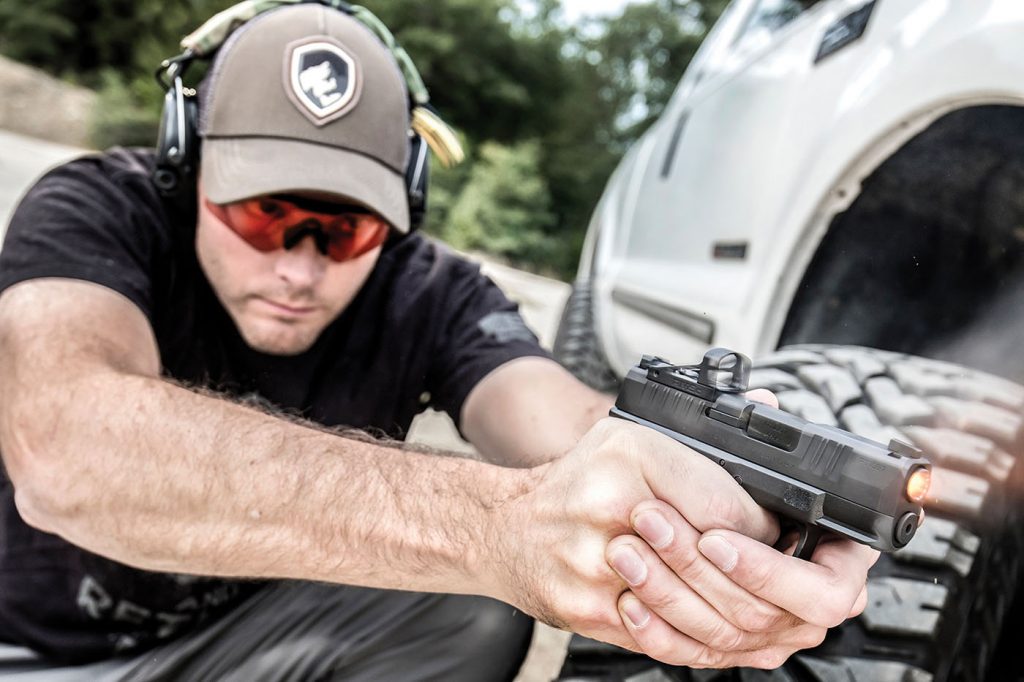 Springfield Armory has added a really solid choice to this market with usable capacity, serious conceivability and a decent price. Retail on the standard model is $569, with the OSP adding only $30 to the sticker. All-in-all, the Hellcat is all its made out to be: small, accurate and comfortable to shoot and carry with a great payload capacity. Check out the new Hellcat at your firearms retailer, or for more information contact Springfield Armory; Tel.: (800) 680-6866; Web: https://www.springfield-armory.com
Specifications
Caliber: 9mm (+P Rated)
Barrel Length: 3 inches
OAL: 6 inches
Width: 1.0 inches
Weight: 18.3 ounces
Capacity: 11+1 and 13+1
MSRP: $569 to $599