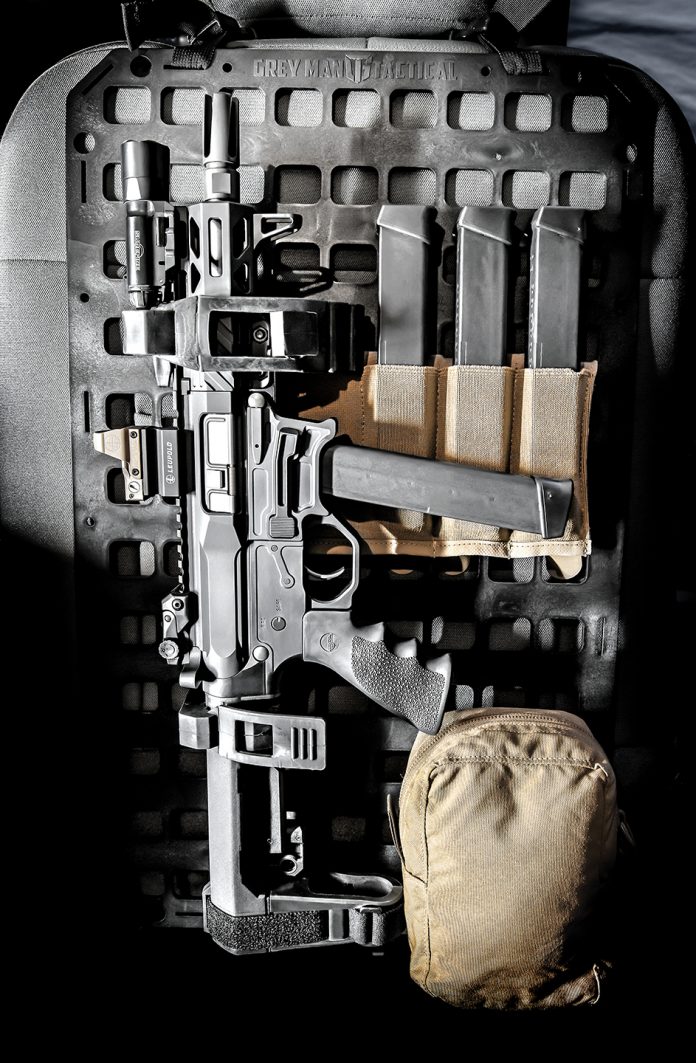 One For The Road
by Chris Mudgett
Grey Man Tactical Takes On The Modern Truck Gun
Growing up in a small town in the northern northeast, it was common to not only ride around in a pick-up truck with an old .30-30 hanging in the rear window, but to see most trucks on the road with at least one rifle hanging there too.
The rifle popular in my neck of the woods 35 years ago was the Winchester Model 94, chambered in .30-30 Win. or .35 Rem., complete with iron sights, a taught two-point leather sling and a rough weathered stock from years of spur of the moment trips into the woods and from being tossed into the rack or front bench seat dripping from the elements. Most weren't pretty, or maintained to the highest degree, nor were they treated like a prized heirloom—they were a tool to get a job done.
A truck gun, as most were referred to, was not necessarily for personal protection (although, they were used for that too), but more of a readily available tool for those good times and bad. Want to go shooting in the pit; it's up to the challenge to see who is a better marksman that day. Collide with a deer or other animal in the roadway; it's there to ethically put it down. A walk through the woods; it's a silent, comforting companion. The uses of a good truck gun are near endless and a man should always have one within arm's reach on the road.
Fast-Forward to Present Day
The vehicular carriage of long guns has been a long-time American tradition, continuing to this day. We've just gotten a little more savvy about the way we carry them. One thing is for certain, in today's liability-obsessed society, if you're going to carry a gun in your car, it's best to lock it up. Enter Grey Man Tactical.
Grey Man Tactical was founded by Paul Capdepon to create way of concealing a scalable EDC loadout within the confines of a non-descript messenger-style bag or daypack. The first product Capdepon created was the company's Rigid MOLLE Panel, or RMP—a rigid, MOLLE pouch compatible polymer panel. The RMP was a near instant success, and after additional testing, evaluation, and customer feedback, the RMP series has grown to include a full line of RMP solutions from safe organization panels to our personal favorite, vehicular based solutions, specifically the Seatback RMP.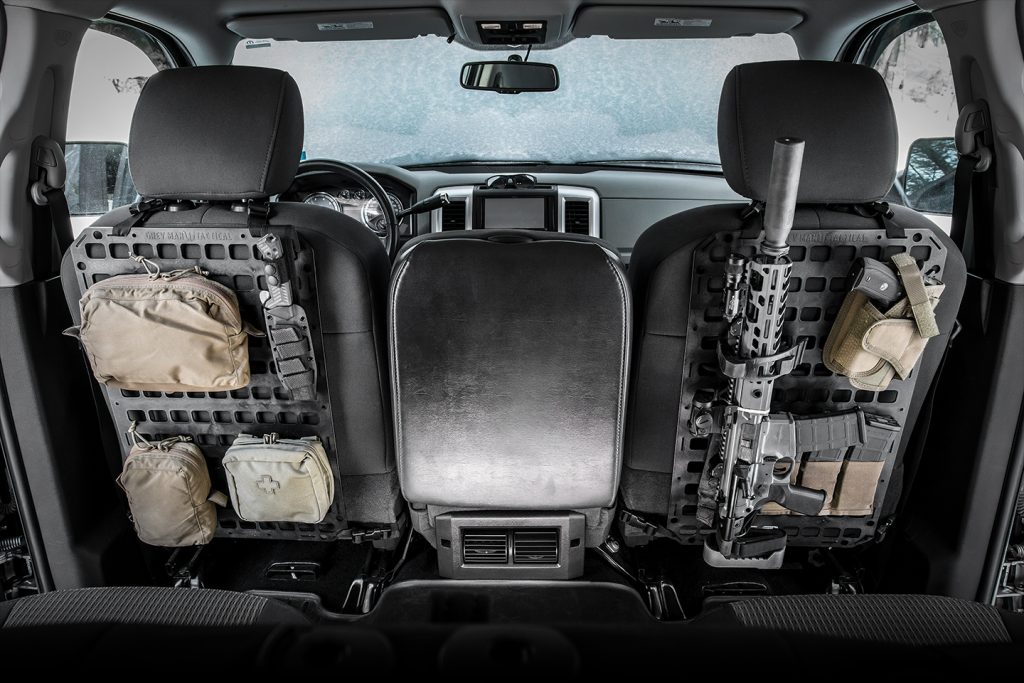 The Seatback RMP is a simple, yet clever product that mounts a rigid MOLLE compatible panel tight behind a vehicle's seatback that can be configured and fully customized based upon the user's needs. What caught our eye was the ability to store a long gun positioned so it can be accessed by the driver in a hurry, and be lockable to the seatback.
For the driver, we recommend attaching the unit to the backside of the front passenger seat, allowing unimpeded access to both gun and equipment. The RMP primarily attaches to the headrest and underside of the seat to keep it securely in place.
The panel itself can be locked to the seat base using an optional 5/16-inch Python Master Lock locking cable. A buttstock cap, available in two sizes, features high sides that capture your rifles buttstock (or brace) that bolts into place from the backside of the panel. A law enforcement grade SC-6 locking rifle clamp is very similar to those used in traditional rifle racks found in police cruisers. An electronic release button and timer can be easily set and accessed by the driver, while a key included for manual unlocking should electricity become unavailable. Again, very similar to those used in police cars. When the button is pushed, the lock unlocks for a pre-set amount of time, allowing you to remove your rifle from the ratcheting clasp. The SC-6 also bolts in place from the backside of the RMP, making the system virtually tamper proof.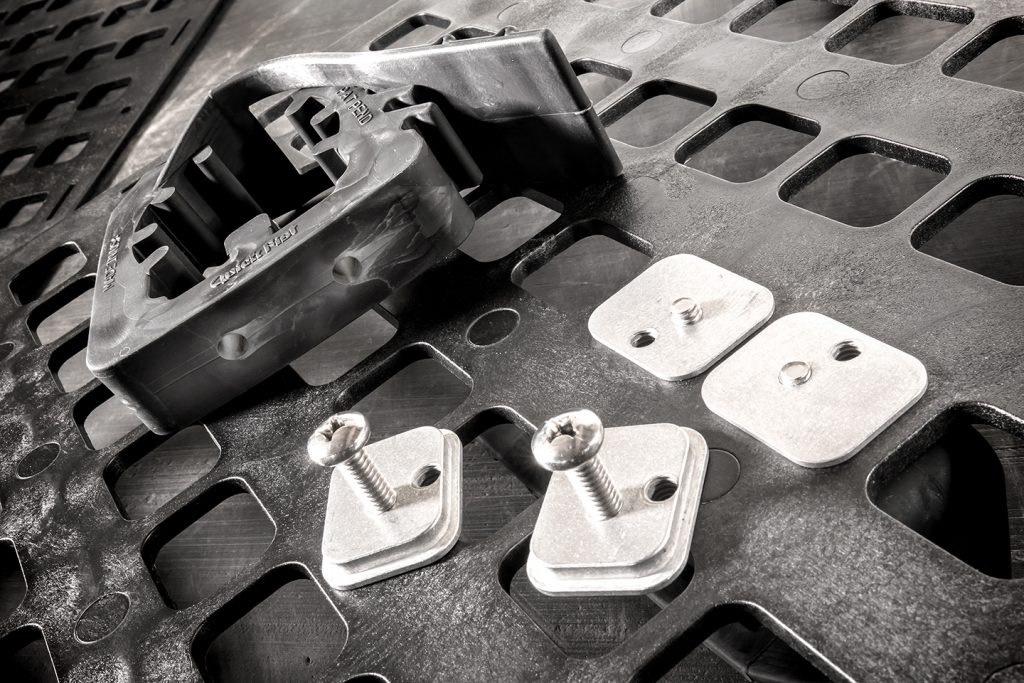 Thanks to its height adjustment along the Seatback RMP panel, the SC-6 lock can be positioned to minimize interference with rail mounted accessories. This also means the system is compatible with not only AR-15 style rifles, but shotguns and hunting rifles as well.
If a locking system is overkill for your intended uses, you can save yourself some coin and complication by utilizing either QuickFist or Rifle Rack rubber clamps in place of the SC6 and standard nylon straps in place of the cable lock. You can always retrofit the RMP or add your own cable locks down the road.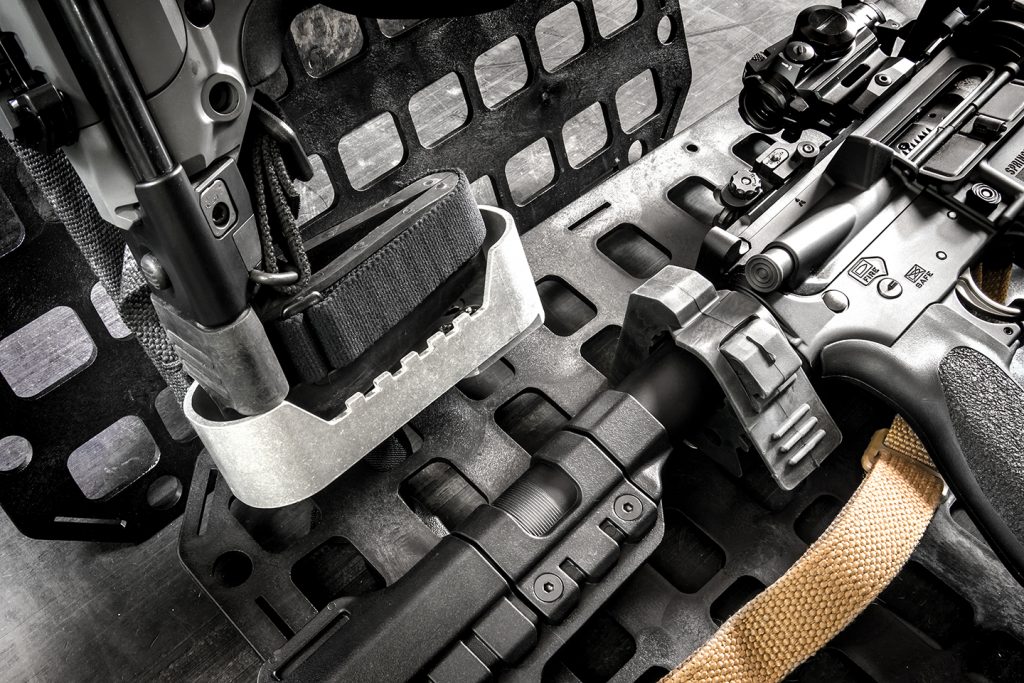 Once you've got your rifle positioned, it's time to start outfitting the system with pouches to fit your support equipment. A huge assortment are available from Gray Man Tactical, or you can use what you have on hand. We added a multitude of pouches to fit magazines, range supplies and other items we may need along the way. Like other MOLLE platforms, the RMP can be quickly reconfigured to support your needs at any time.
As the times we live in continue to become more unpredictable, its advantageous to have a secure long-gun readily available for the many uncertainties encountered along the road and away from home. The Seatback RMP offers us a modern-day solution for our modern truck gun, one that securely provides peace of mind, both literally and figuratively. Check out all the Grey Man Tactical Products at Tel.: (985) 290-3161; Web: www.greymantactical.com