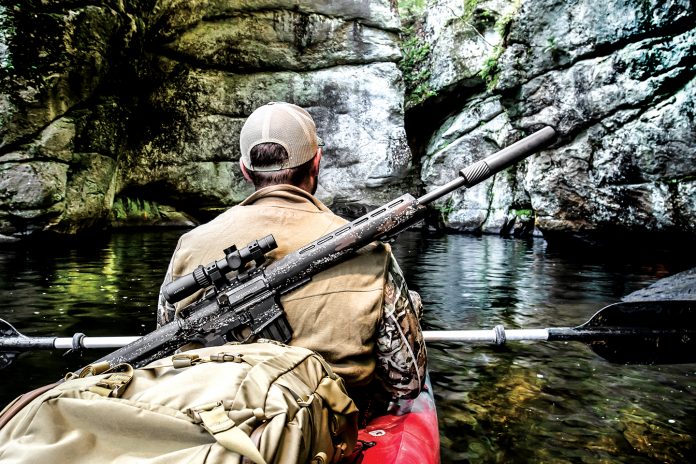 Brenton .450 Bushmaster Stalker Carbon Hunter 18
By: Chris Mudgett
The Midwestern Sledgehammer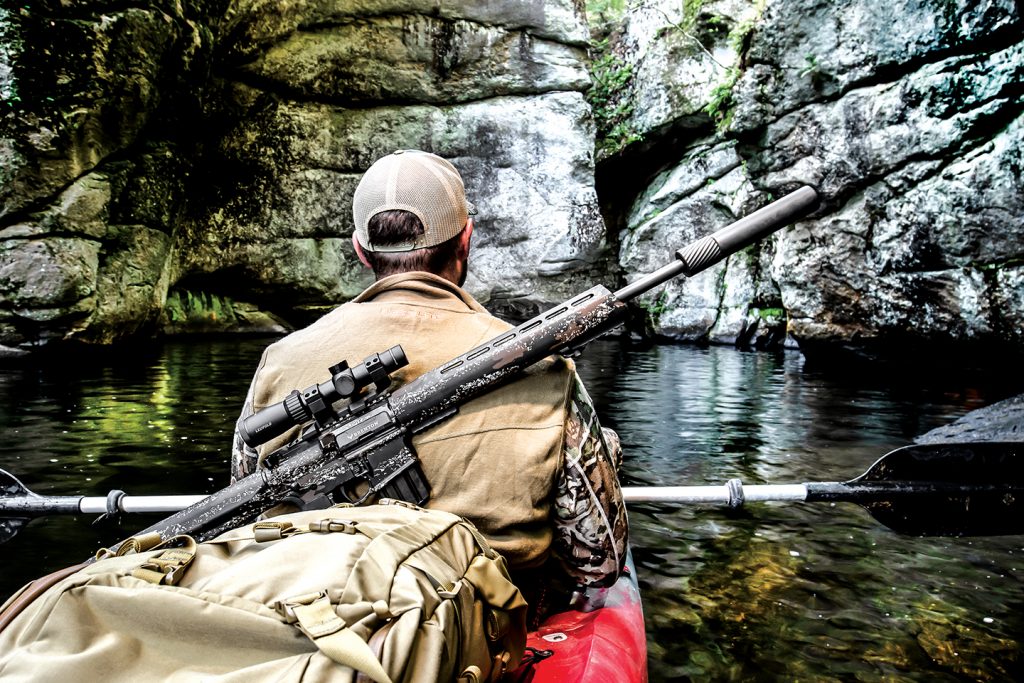 Like many young hunters of my generation, I too grew up carrying a hand-me-down lever action Model 94, except mine was chambered in .44 Remington Magnum. When the time was right, that rifle would snap up and onto my shoulder; my eye perfectly aligned behind the peep sight, as I took the slack out of the trigger; milliseconds later the rush of recoil was absorbed by my boney shoulder. I loved, and respected that rifle; it was lightweight (at least during the first hour), hard-hitting and pretty handy — considering the alternatives for me at the time. Thanks to the seemingly never-ending dry practice sessions on my grandparent's front lawn, I was able to manipulate and accurately shoot that '94 at a subconscious level, just like precision casting a fly rod, the other skill honed on that very same stretch of lawn.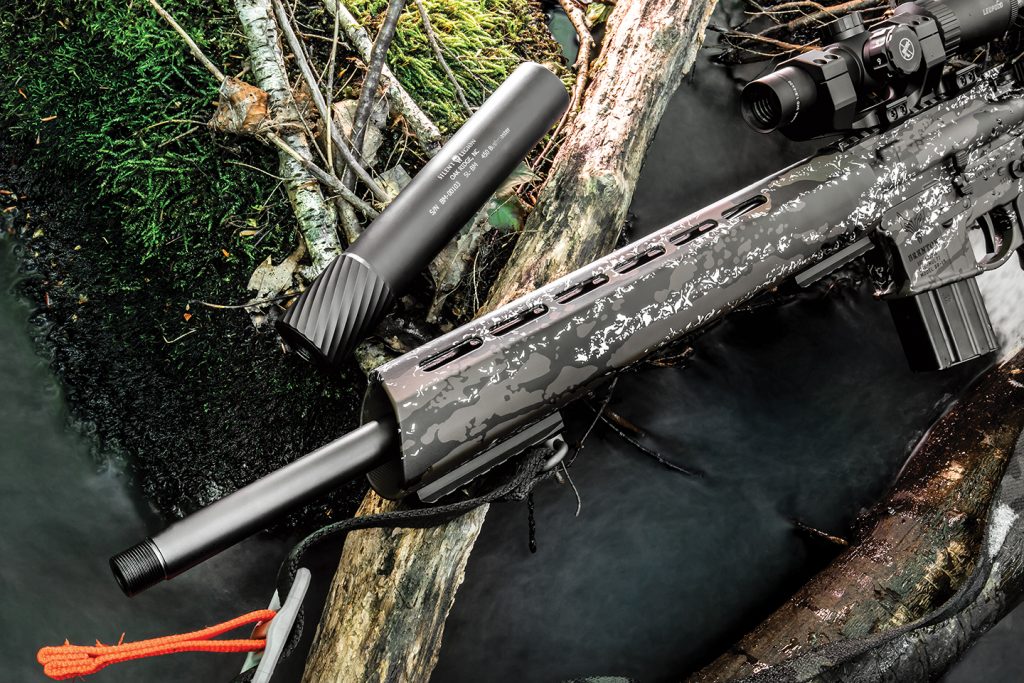 All my admiration for that old Winchester seemingly evaporated the first time I laid hands on an AR-style rifle. The platform's incredible ergonomics gave me an almost reassuring, yet comforting confidence, almost as if Stoner himself had designed the rifle with me in-mind. The sleekness, lightweight and superb balance — coupled with its modern looks, tack-driving accuracy and recoil-mitigating magazine-fed semiautomatic action — simply screamed utilitarian to me. It was love at first sight. Now, what I quickly learned was that, while your standard AR chambered in 5.56 NATO may be ideal for bipeds, it isn't necessarily the optimal choice for medium to larger sized game animals. For that, a little more lead is required. Which brings me yet another reason to love the AR-pattern rifle — caliber choices! The AR-15 is really a modern marvel and can be chambered in a multitude of calibers to fit your specific needs, even in calibers that may give you pause. Those living in certain mid-western states have a unique requirement for a straight-walled cartridge of specific dimensions, if they want to hunt deer with a centerfire rifle. In 2014, Michigan's Natural Resources Commission approved a regulation to allow the use of rifles capable of using .35-caliber or larger ammunition with straight-walled cartridges that have a minimum case length of 1.16-inches and a maximum case length of 1.8-inches to harvest deer in limited firearms zones. These dimensions were instituted to reduce the likelihood of a bullet traveling far enough beyond an intended target to pose much of a threat. The law started in Michigan but spread to neighboring state Ohio and then on to Pennsylvania and Indiana. When it comes to straight-walled cartridges compatible with the AR-15, pickings are slim. But the motivation for modern hunters to find a suitable alternative to a shotgun firing slugs was high, to say the least. One such load is the .450 Bushmaster, a concept originally dreamed of by none other than the late Col. Jeff Cooper, and made a reality by Tim LeGendre, and eventually modified by Hornady Manufacturing. Cooper had envisioned a large bore cartridge in a semi-auto rifle capable of one-shot kills on large game animals out to about 250 yards. LeGendre developed what was coined the 45 Professional cartridge, and later delivered a functional AR-15 to Cooper in said chambering.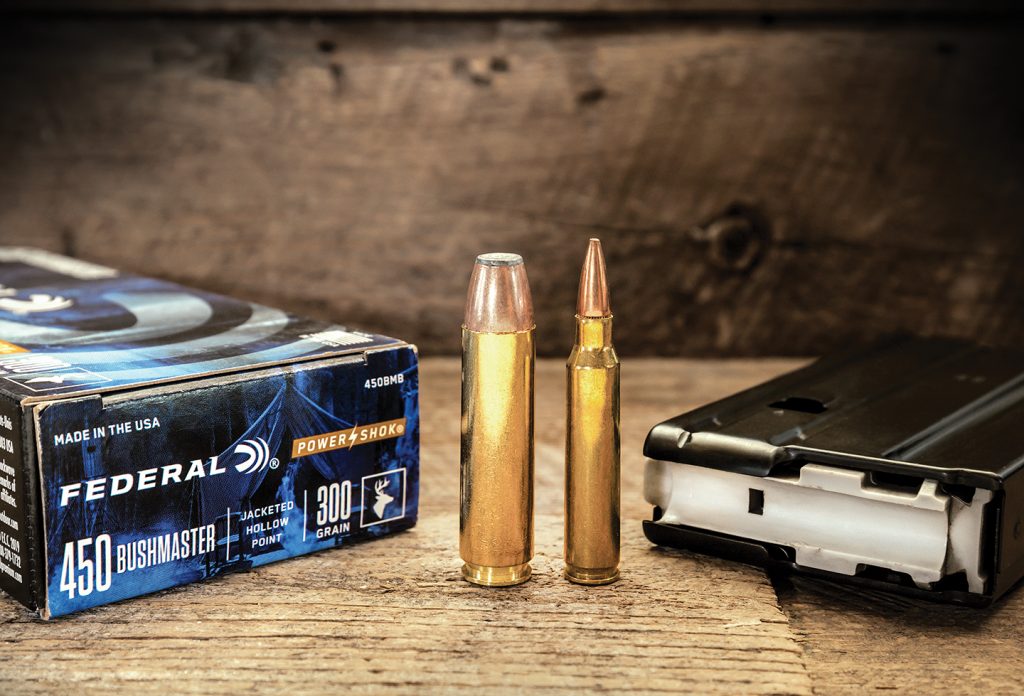 Hornady got involved, and after some modification to case diameter and overall length, they were able to top the cartridge with their 250-grain SST Flex-Tip bullet, and thanks to a new OAL of 1.700-inches, it could be shoehorned into a slightly modified AR magazine with a single-stack follower, albeit at a significantly reduced capacity. In my mind, a modern .44 Remington Magnum was born with a relatively flat trajectory out to about 200 yards, delivering a 250-grain chunk of high-performance lead on target at eye-popping levels of foot pounds of energy, all out of my preferred magazine-fed, semiautomatic platform.
It should be of little surprise that the Stalker Carbon Hunter 18 chambered in .450 Bushmaster gracing these pages was born in the town of Lansing, an area of the State of Michigan keen on taking full advantage of the NRC's reform. After this change, Bartt Brenton, found himself in a frustrating position. As a fellow lover of the AR-pattern rifle, Brenton quickly discovered his choices of straight walled cartridges were not overly broad in his preferred platform, especially in a factory configured rifle. Instead of accepting this, he saw an opportunity to not only solve the problem for himself, but for an entire region of hunters spanning multiple states. Brenton USA was born.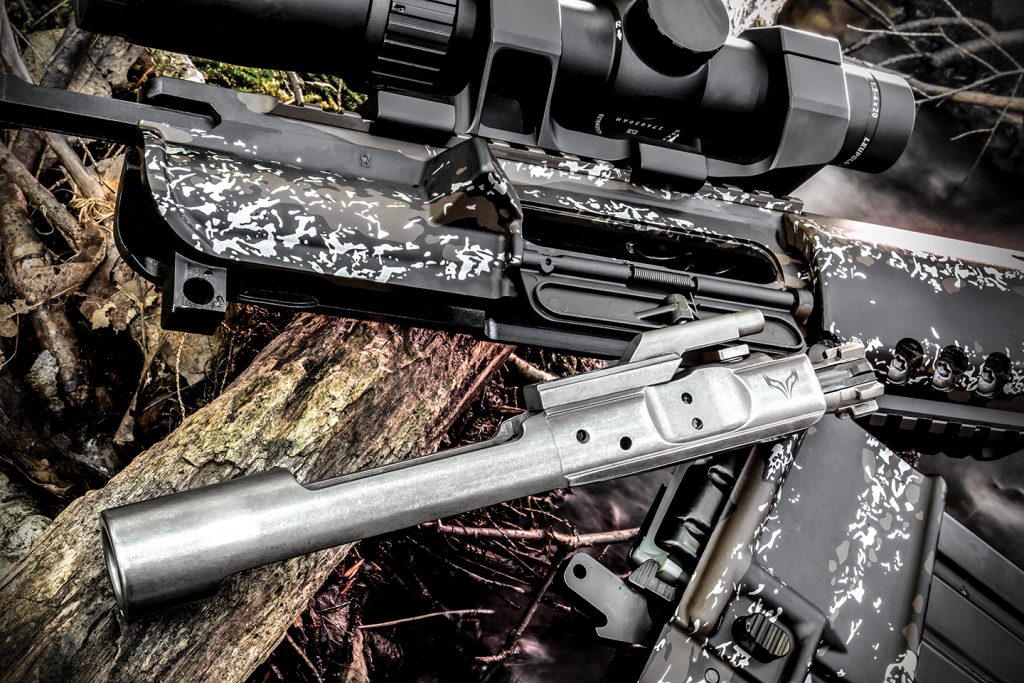 As a career engineer, Bartt Brenton spent his career working at the world's largest superconducting cyclotron laboratory located at Michigan State University. As a lifelong hunter, Brenton's many years afield — combined with his scientific experiences and exposure to technologically advanced science and materials — gave him an advantage over others within the space.
Combining the two, Brenton began building rifles for the serious AR hunter, with an objective of providing a hunting-specific platform that took full advantage of all the benefits the AR brings to the table, but in a premium yet no-nonsense form factor. With an everything you need, nothing you don't mindset, Brenton's rifles quickly gained notoriety among Midwestern hunting circles who shared his passion and desire for a slicked-up, big-bore sledgehammer of an AR in .450 Bushmaster.
The bolt-carrier group is finished in a NiB (nickel boron) UCT EXO coating. The EXO NiB coating is high in hardness, yet lower in friction than either chrome or nickel Teflon. A high-phosphorous electroless nickel base coating ensures excellent corrosion resistance not found in other nickel-boron finishes that utilize a single, thinner layer; all equating to unquestionable reliability.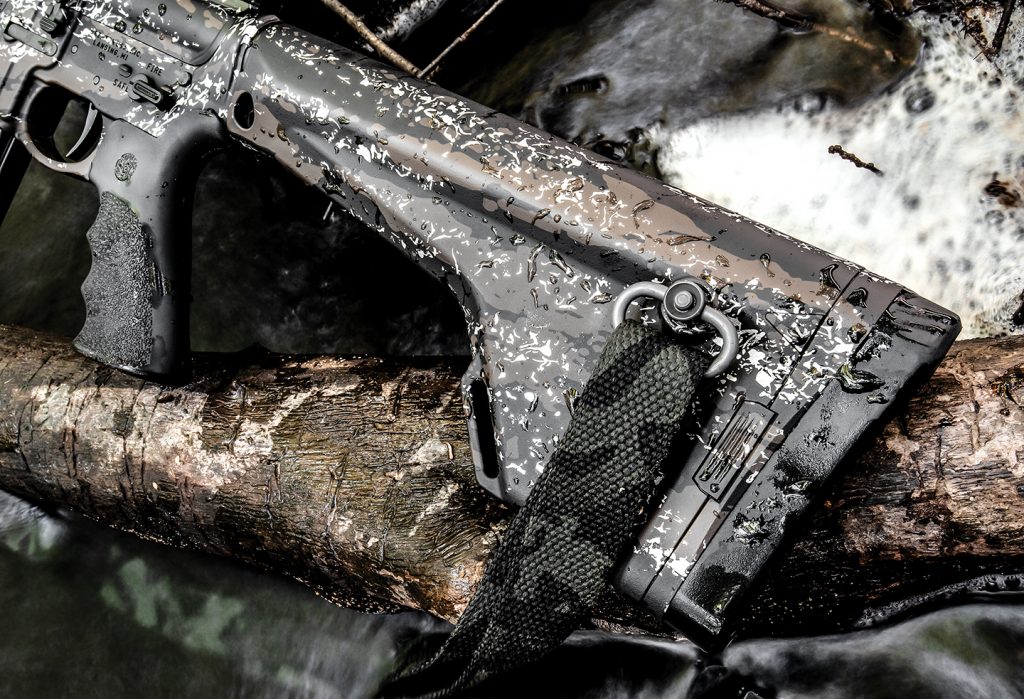 The 18-inch barrel is conveniently threaded to accept your choice of muzzle device or sound suppressor, with our preference being the latter — especially when paired with subsonic 450 Bushmaster in the near 400-grain range. The barrel is encased by a 15-inch free-floating handguard constructed of reinforced carbon fiber composite for toughness, weather resistance and for its extreme lightweight that really balances the rifle nicely. The handguard has a pair of Picatinny rail sections at either end and positioned at 6 o'clock for mounting the rifle on a tripod or utilizing a bipod.
A fixed Magpul MOE stock was chosen for its extremely consistent cheek-weld and massive internal storage capacity. The MOE stock features multiple QD sockets for attaching the rear point of a sling, however, the only choice for a front attachment is a QD cup located at the rear of the front most Picatinny rail section at 6 o'clock. All controls, including the bolt release/hold open, magazine release, charging handle, rear takedown pin have been extended and the triggerguard has been enlarged — all in an effort to increase the platform's usability with gloved hands in the cold winter months the Midwest is known for.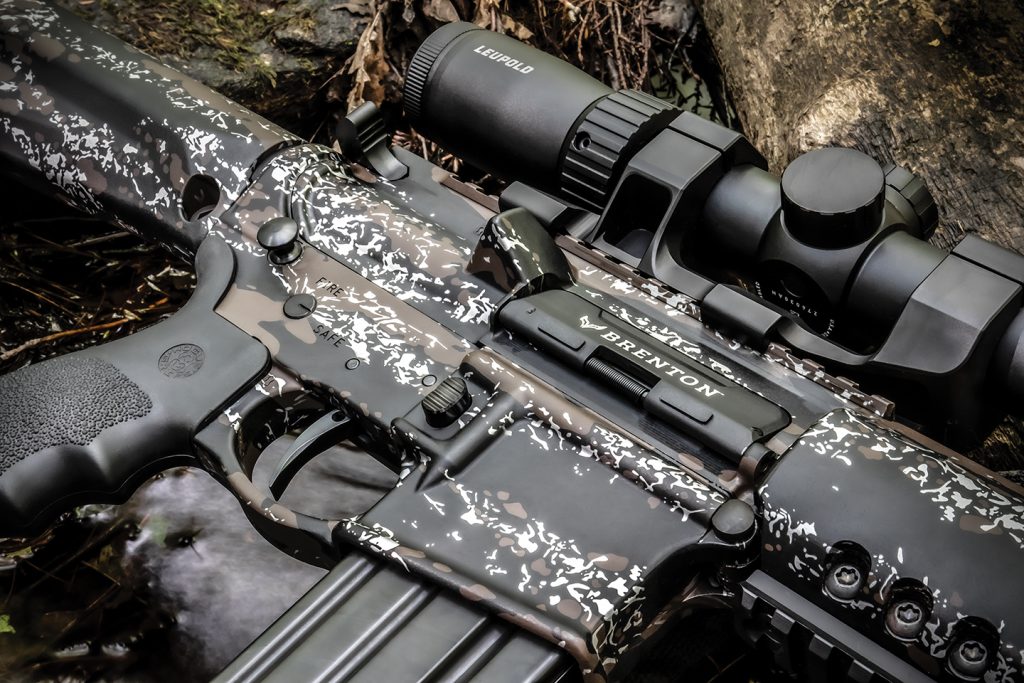 The trigger is Brenton's own Performance Grade Trigger, which is a single-stage drop-in cassette style trigger. The pull weight is user adjustable from 3.5 to 6.5 pounds and the trigger shoe provides a nice contour that is not only functional but atheistically pleasing. Brenton states each trigger is hand-tuned and test-fired (at their test bench) for optimal performance by one of their expert trigger technicians as the final quality check before it's ready for delivery. Our trigger measured 3 pounds 13 ounces using a Lyman Digital Trigger Pull Gauge. Finally, our Stalker was attractively finished in a Marblekote Harvest camouflage pattern that will no doubt blend into most late season terrain. Three other patterns are also available.
Accuracy, Accuracy, Accuracy. Chambered in .450 Bushmaster, the Stalker Carbon Hunter is fully capable of ethically taking virtually any big-game critter in North America. Not only is the Stalker Carbon Hunter in .450 Bushmaster a lead-launching sledgehammer, it does so with scalpel-like precision. At 50 yards, the rifle clover-leafed three rounds of 300-grain Federal Power-Shok — the only ammunition available to us during testing. Moving out to 100 yards the rifle pounded out a three-shot group measuring just 0.58-inches. As long as the distance to target remained reasonable, I would absolutely take this rifle/cartridge combination in pursuit of any game in North America, with absolute confidence.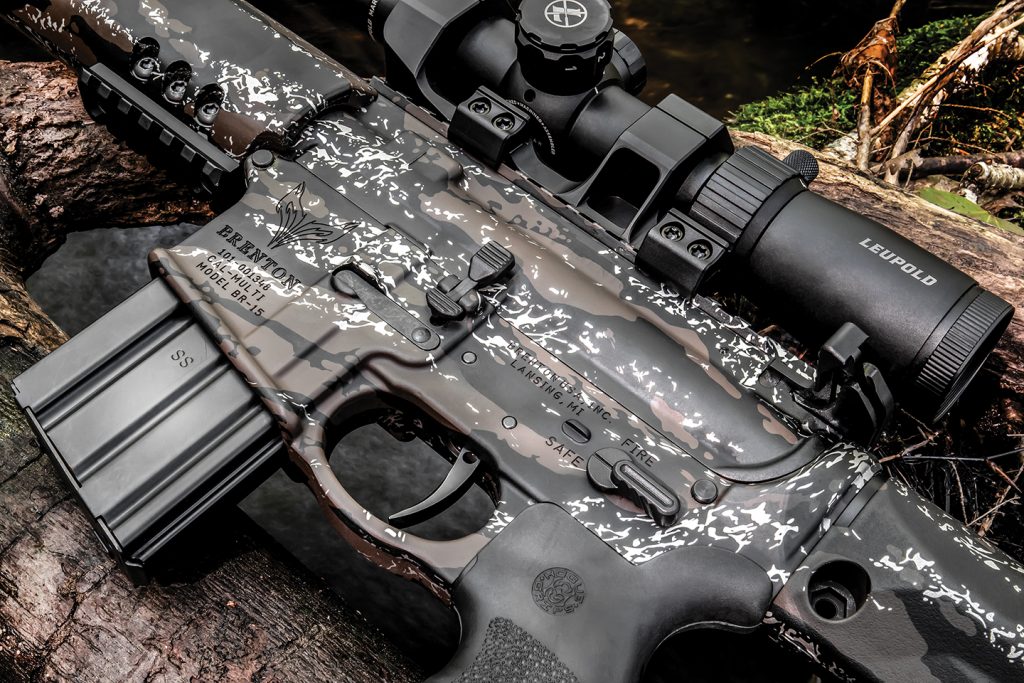 For many years, the uncasing of a magazine-fed AR-style semiautomatic rifle would draw instant sneers, regardless of its chambering, regardless of its color. The mere sight was an instant turnoff for a majority hunters whose paths we'd cross afield. Thankfully those times have changed, and while I can't speak for the hunting community as a whole, within the regions that I've been hunting these last few years, America's rifle has finally gained acceptance by even the most traditional traditionalists among us. For those who can appreciate fine craftsmanship and thoughtful design — all in a practical hard-hitting straight-walled package — will have a tough time doing better than Brenton's Stalker Carbon Hunter, especially when chambered in .450 Bushmaster. See this rifle at your nearest dealer, or for more information contact Brenton USA; Tel,: (517) 281-2571; Web: www.brentonusa.com.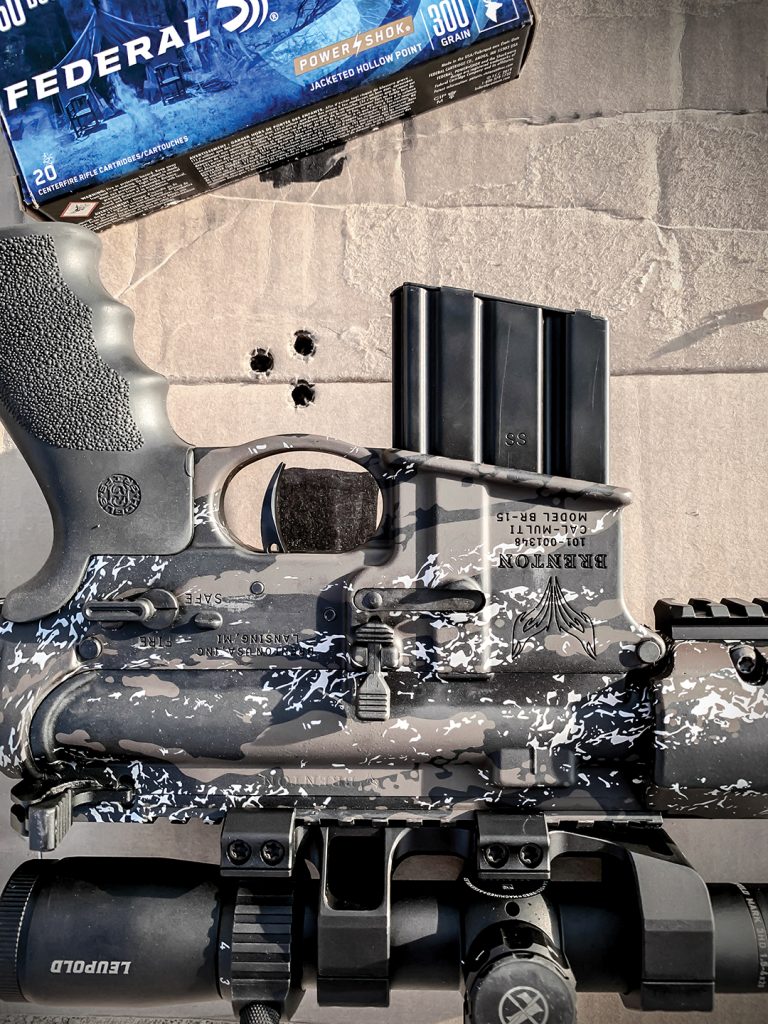 Brenton USA Stalker Carbon Hunter 18
Type: Direct impingement, semi-automatic
Caliber: .450 Bushmaster
Barrel: 18 in., 1:24 in. twist
Overall Length: 36.25 in.
Weight: 7 lbs. 2 oz.
Stock: Magpul MOE Fixed
Grip: Hogue
Finish: MarbleKote
Capacity: 5 rds.
Muzzle Device: Thread protector
Trigger: Brenton BR-1
Sights: None
MSRP: $2,300