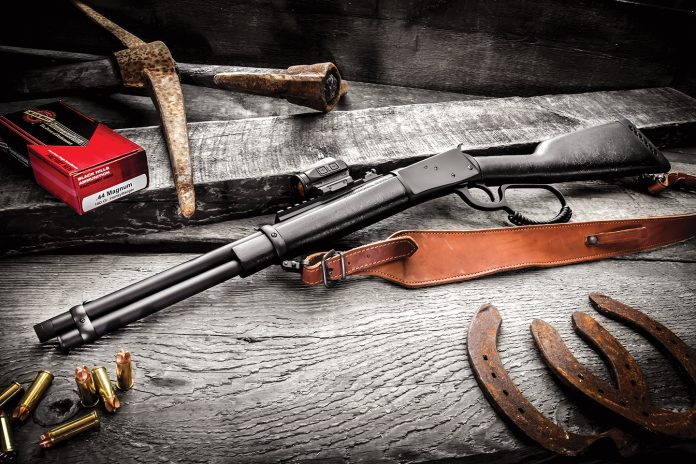 Rossi R92 Triple Black .44 Magnum
Light, fast, powerful and not afraid of doing work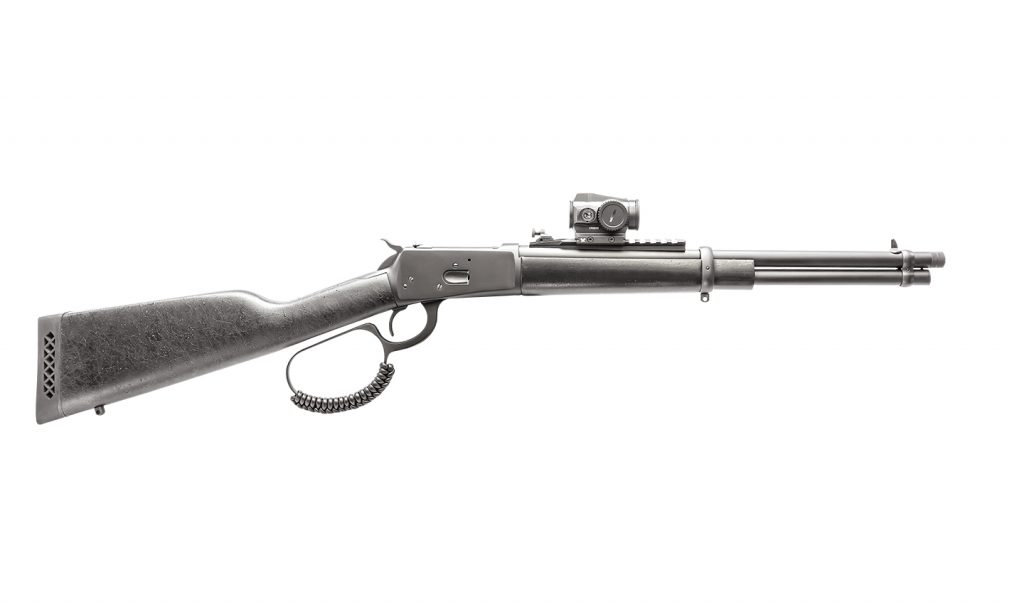 The Rossi R92 is a historically accurate reproduction of the lightweight, small-frame, pistol-caliber Winchester Model 1892. Designed by legendary American firearms designer, John Moses Browning, the Model 1892 prototype was delivered to Winchester only two weeks after it was requested. The Model 1892 was intended as an update of the the Winchester Model 1873—also designed by Browning—which it replaced as the company's pistol-caliber lever gun. Over its 50-year production life more than 1,000,000 Model 1992s were produced, and it starred in nearly every cowboy Western ever made, including the TV series The Rifleman and "Wanted: Dead or Alive."
The Rossi R92 is available chambered in .22 LR, .357 Mag., .44 Rem. Mag., .45 Long Colt and .454 Casull, in a variety finishes, with a variety of furniture and in a number of different barrel lengths. Our evaluation rifle was the unique R92 Triple Black chambered in .44 Rem. Magnum (also available in .357 Magnum) with a 16.5-inch barrel ($1,020.11). Everything on the gun—except the brass bead front sight—is finished in a weatherproof matte black, giving it an "all business" look. All metal parts are coated with black Cerakote finish for excellent durability in crappy weather conditions.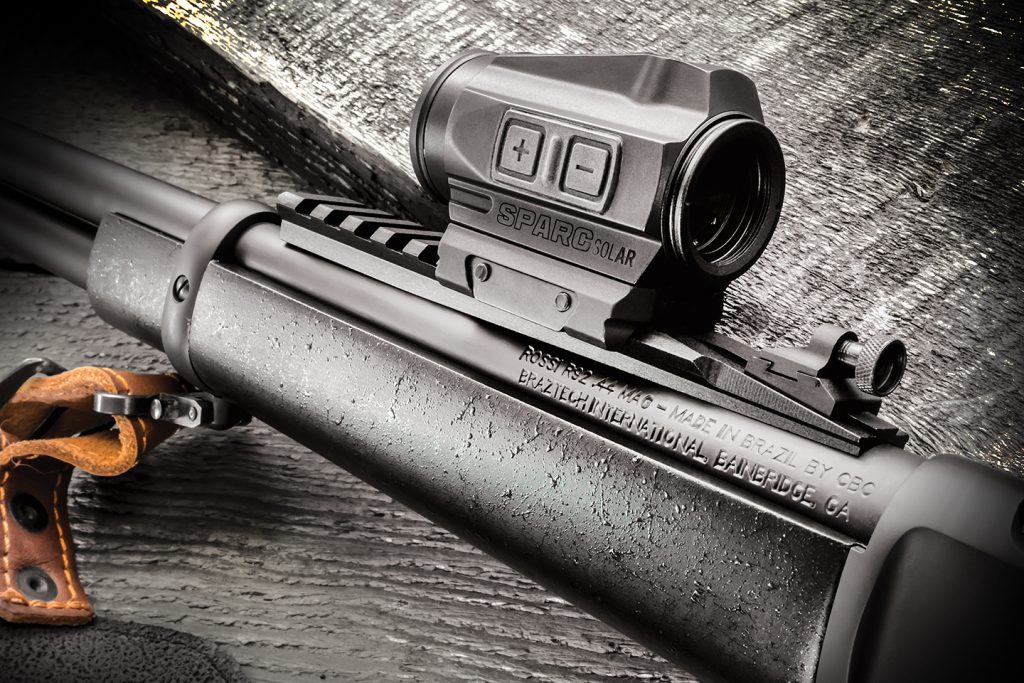 Other features include a "big loop" lever with its lower half wrapped in black synthetic cordage. The big loop lever — made popular years ago by the lever-action specialists of Wild West Guns — is hugely advantageous when large- or gloved-hands are thrown into the mix and is definitely a welcomed addition. A unique sighting arrangement — including a barrel mounted 12-slot aluminum Picatinny rail for optics mounting with an integral and fully adjustable, ramp-mounted peep sight positioned at the rear — are a clever and effective workaround to the model 1892's top-eject receiver design. Although we didn't add either for testing, the muzzle of this R92 comes threaded from the factory (with an included thread protector) for quick installation of a suppressor or muzzle brake. Furniture consists of a matte black buttstock with flat-topped comb and 1-inch, ventilated, black-rubber recoil pad, and a one-piece forearm with single barrel band. Both buttstock and forend are made from wood, both are fitted with sling swivel studs and both are finished in a black, spiderweb-like, splatter paint surface finish for all-weather protection.
In a departure from the original 1892 design, the R92 incorporates a Rossi-designed rotating safety positioned in the top rear of the bolt. Turning the lever 90 degrees clockwise disengages the safety, exposing a red dot in the top of the bolt indicating the gun is "off safe". A 90 degree turn counter clockwise engages the safety, which locks the firing pin to the rear inside the bolt. Hammer and trigger operation are unaffected by the safety position.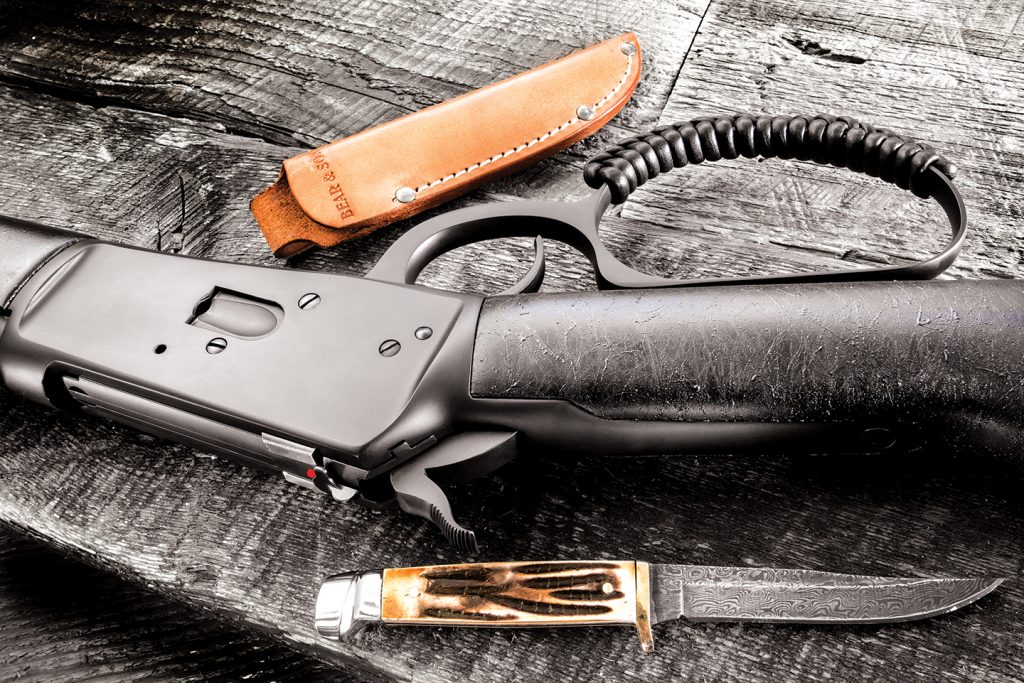 With an empty weight of 5 lbs. 14 oz., and an overall length of 34 inches, the R92 Triple Black .44 Rem. Mag. is a lightweight and handy carbine for brush-gun duty. Its .44 Rem Mag. chambering lends itself to medium game hunting at short to moderate ranges. We've killed enough white tail deer with .44 Mag. handguns to attest to the lethality of this round when loaded with expanding bullets appropriate for hunting, and the extra barrel length of the R92 produces enough additional velocity to make the .44 Rem. Mag. really shine. Ammunition capacity of the R92 Triple Black .44 Rem. Mag. is eight rounds in the under-barrel tubular magazine, plus one in the chamber. Ammunition is loaded into the magazine through a load gate on the right side of the receiver.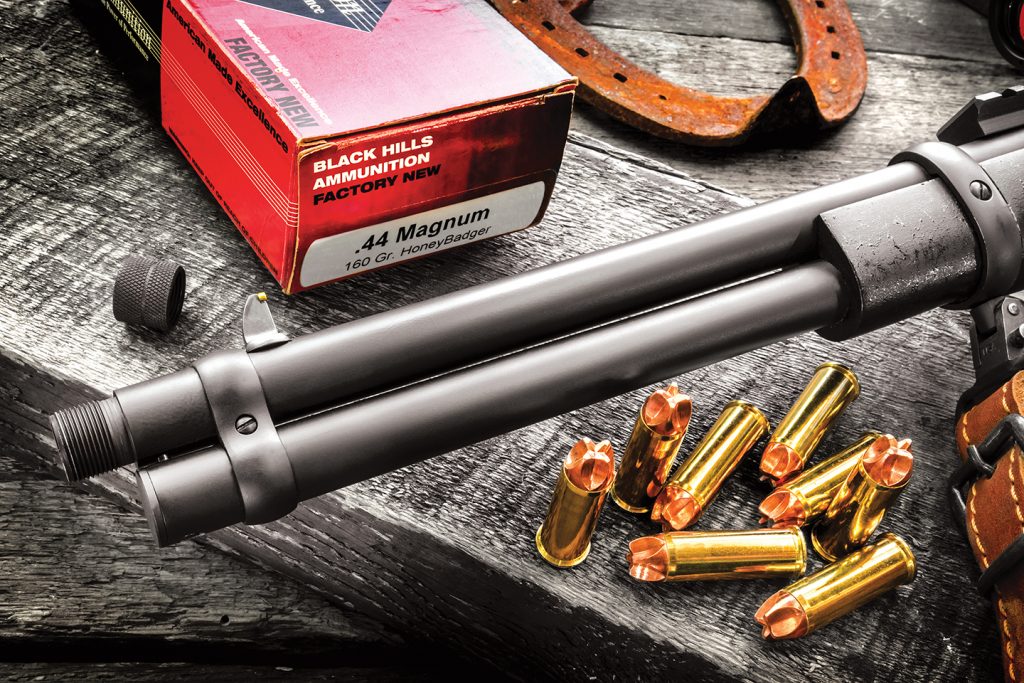 For testing we mounted the new-for-2021 Vortex SPARC Solar red-dot sight ($399.99 with integral mount) on the Picatinny top rail. The SPARC Solar, as the name suggests, is solar powered with a CR2032 battery backup. When ambient sunshine levels are not enough to power the sight, it will automatically switch to battery power. This tag-team effect extends battery life to up to an impressive 150,000 hours!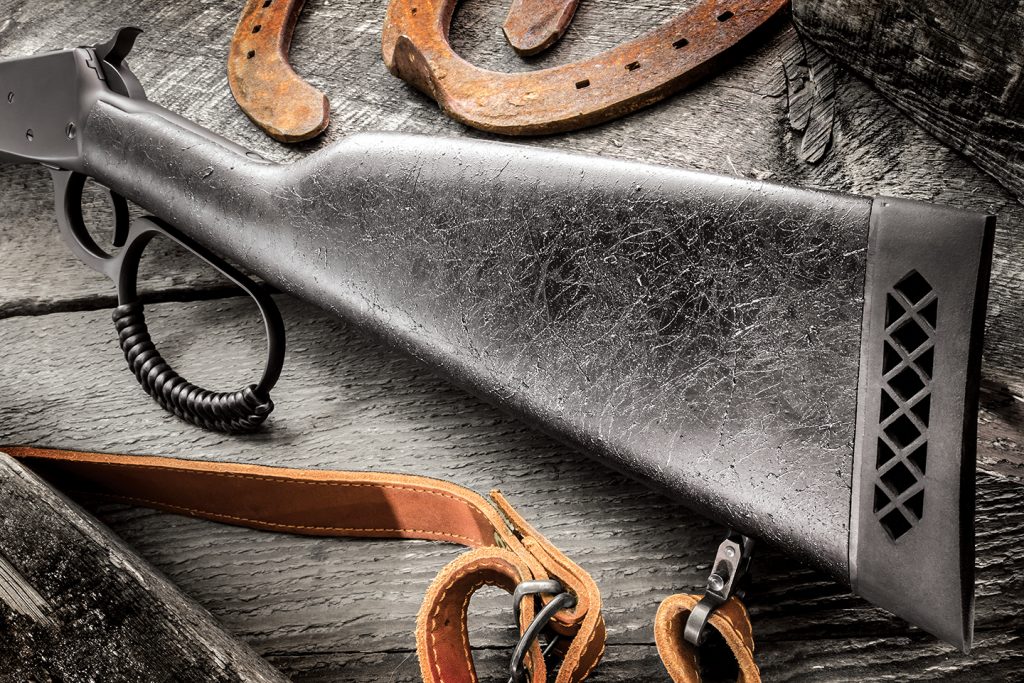 Settling in to the 50-yard yard line — the distance we like to test rifles at when magnification isn't part of the equation — we broke out the three different .44 Magnum loads we could get our hands on for testing; Black Hills nasty-little 160-grain HoneyBadger, SIG's premium 240-grain Elite V-Crown JHP and Federal's 280-grain Swift A-Frame loads. In the downrange-precision department, the Black Hills, SIG and Federal loads all laid down stellar performance through the R92's launch tube, all printing a best three-shot group of under 1.30-inches, but the SIG ammunition — which, time and time again, has treated us to a high level of precision — produced the best performance of testing with its 0.62-inch group. We'd love to see what this carbine is capable of with a good, magnified, extended-eye-relief scout scope. No malfunctions were recorded and our R92 happily consumed everything it was fed.
The R92's dual locking-block action proved extremely smooth, clean and fast to cycle, which is one of the qualities that endeared the Model 1892 design to generations of American shooters. We might even go as far to say that this is one of the smoothest-running lever gun's we've ever tested.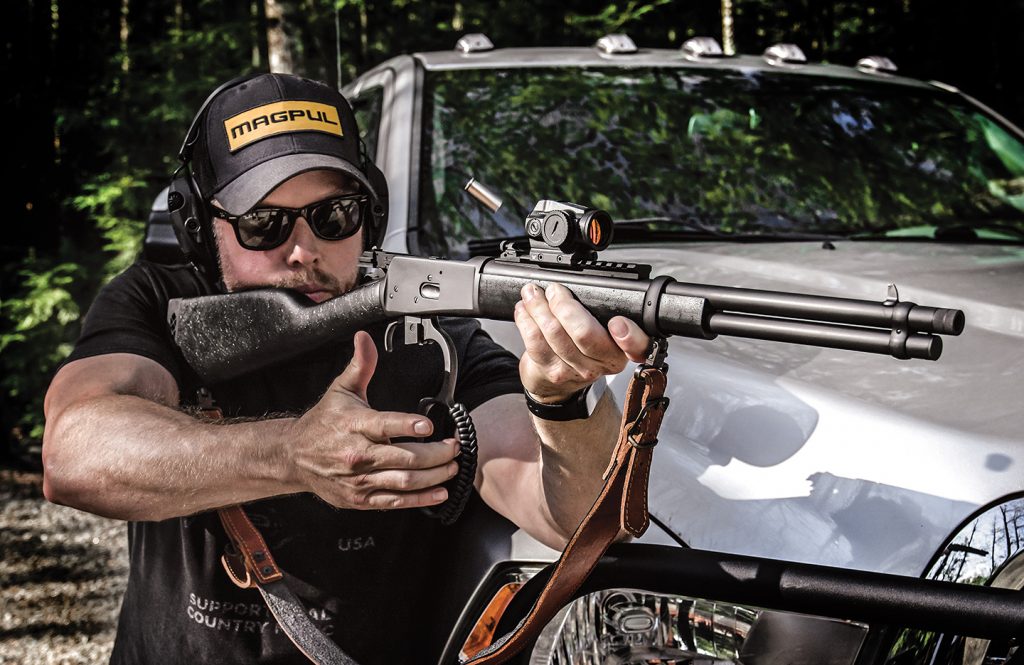 Specifications:
Caliber:                    .44 Magnum
Receiver                    Steel
Barrel:                      16.5 inches
OA Length:               34-inches
Weight:                     5-pounds, 14-ounces
Sights:                      Adjustable aperture/Picatinny optic base
Stock:                       Wood/black-spatter paint
Action:                      Lever action
Finish:                       Black Cerakote
Capacity:                   9-rounds
Price:                        $1020.11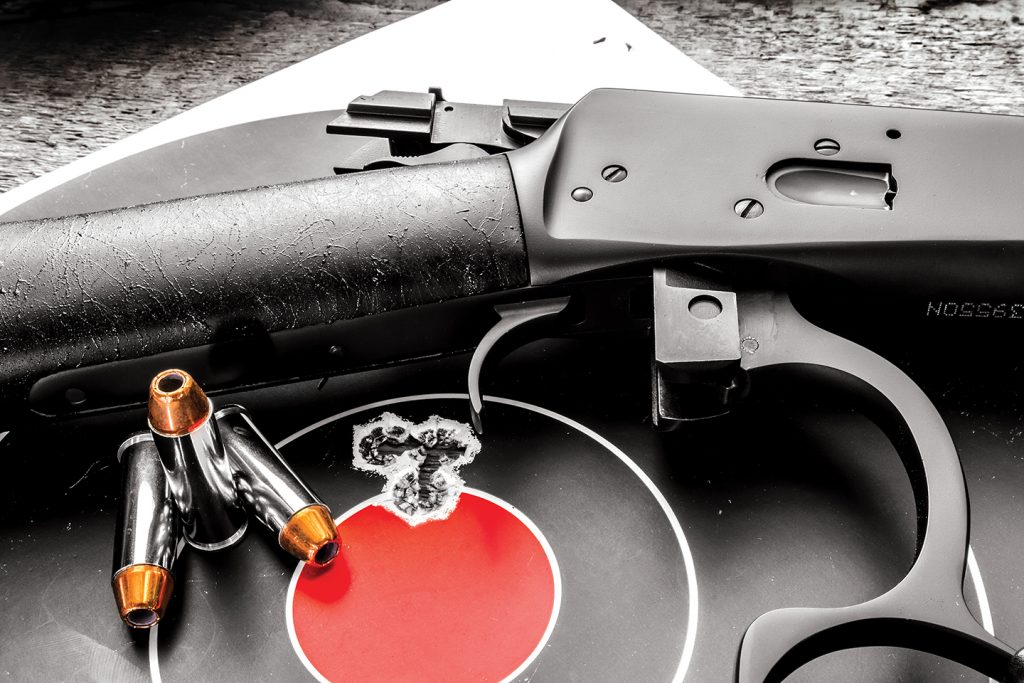 See the slick little R92 Triple Black at your firearms retailer, or for more information contact Rossi USA; Tel.: (800) 948-8029; Web: www.rossiusa.com