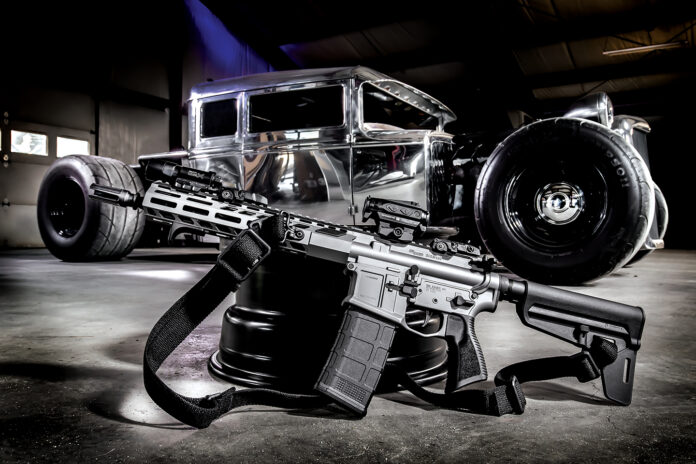 SIG Sauer M400 Switchblade
By: Chris Mudgett
The MCX's closest cousin is SIG's new lightweight hotrod in the M400 lineup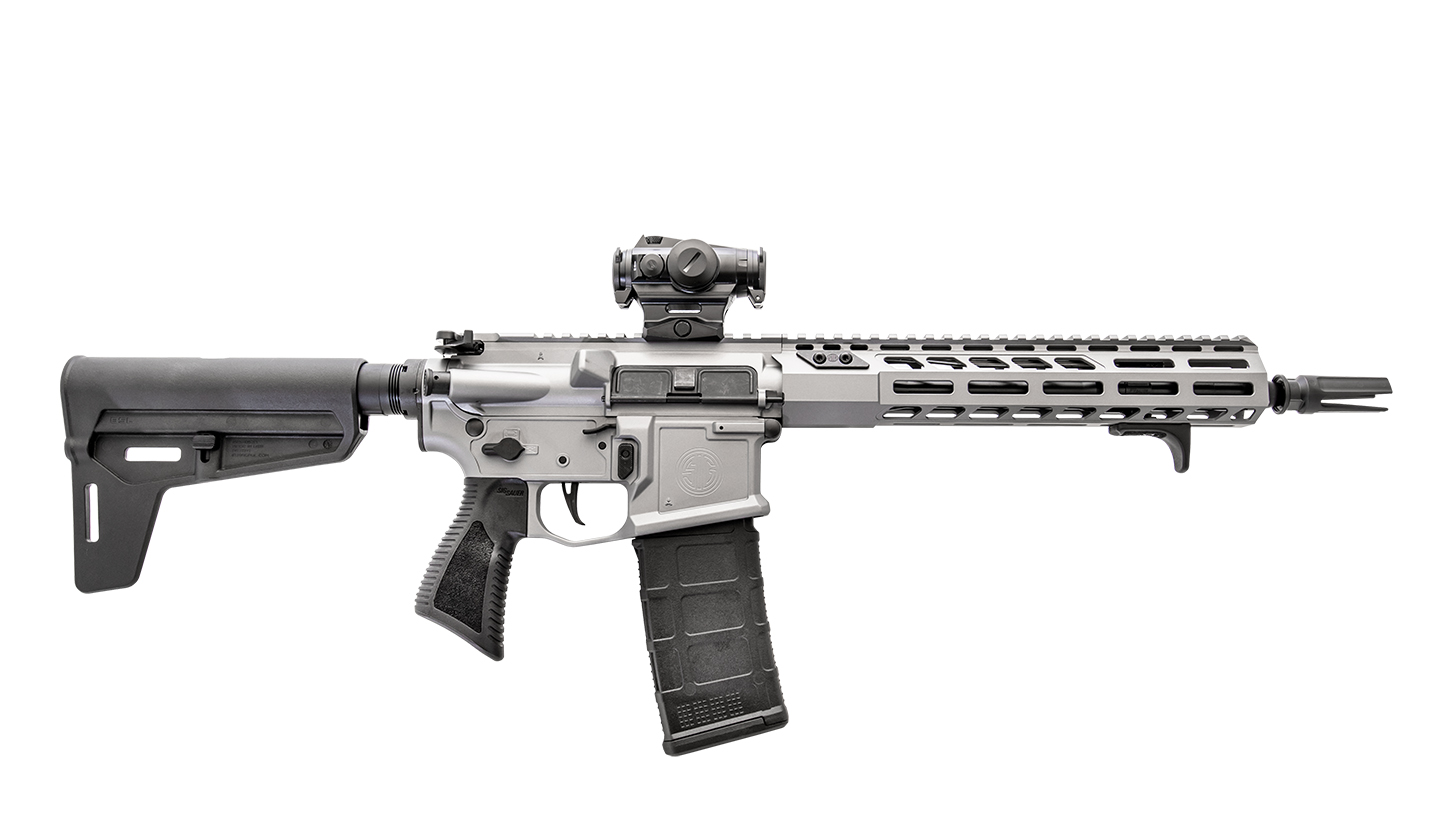 SIG Sauer seemingly struck gold with the creation of its MCX series — nearly every first-world special operations element has taken an extreme interest, with the majority adopting it in some form or fashion. While most of those rifles see service chambered in the .300BLK caliber, many are also configured as 11.5-inch barreled 5.56 variants.
If you're looking for the most modular rifle in the world, get yourself an MCX — that is, if you can afford one and if you can find one for sale. If you are willing to settle for MCX-ish, the M400 Switchblade offers an unbeatable combination of MCX derived parts and desirable feature sets that equate to a lighter weight, close cousin, with a more simplistic direct-impingement operating system.
Please meet the M400 Switchblade. SIG dug deep into the MCX parts bin to assemble this little gem you see before you today. I'll cut right to the chase and say that if you're looking for a lightweight, direct impingement MCX with an 11.5-inch barrel chambered in 5.56 and don't think you'd ever use a folding stock or quick-change barrel system, this package is most certainly for you.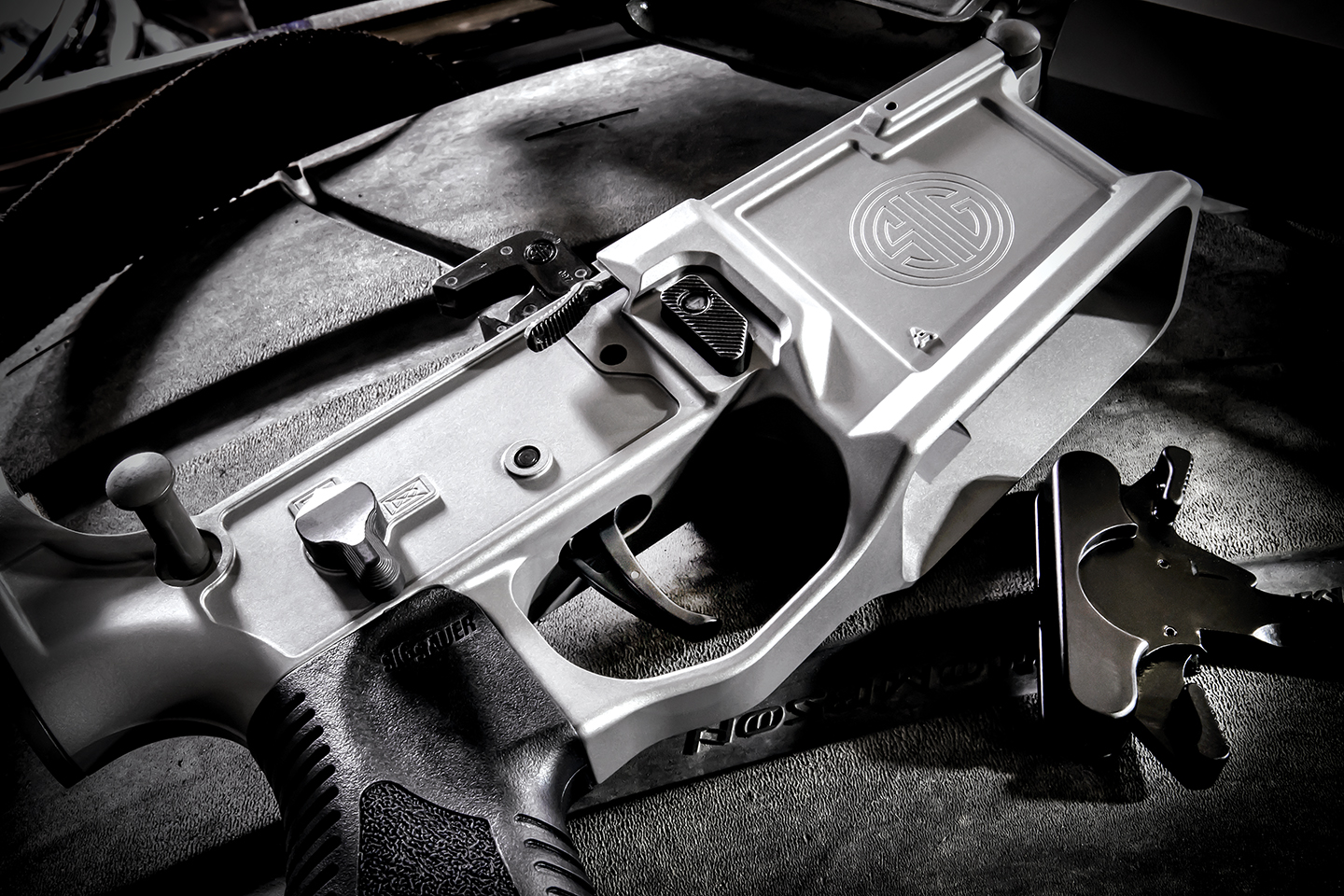 Barrel
Starting with the 11.5-inch carbon steel barrel, you'll quickly notice a deep-black melonite finish (SIG calls it Nitron) that offers excellent corrosion resistance and a medium contour that is very similar to their Virtus model complete with said model's three-prong flash hider and tapered muzzle. The barrel features a 1:8 twist rate and will stabilize the broadest projectile grain weight from 55- to 77-ish grains.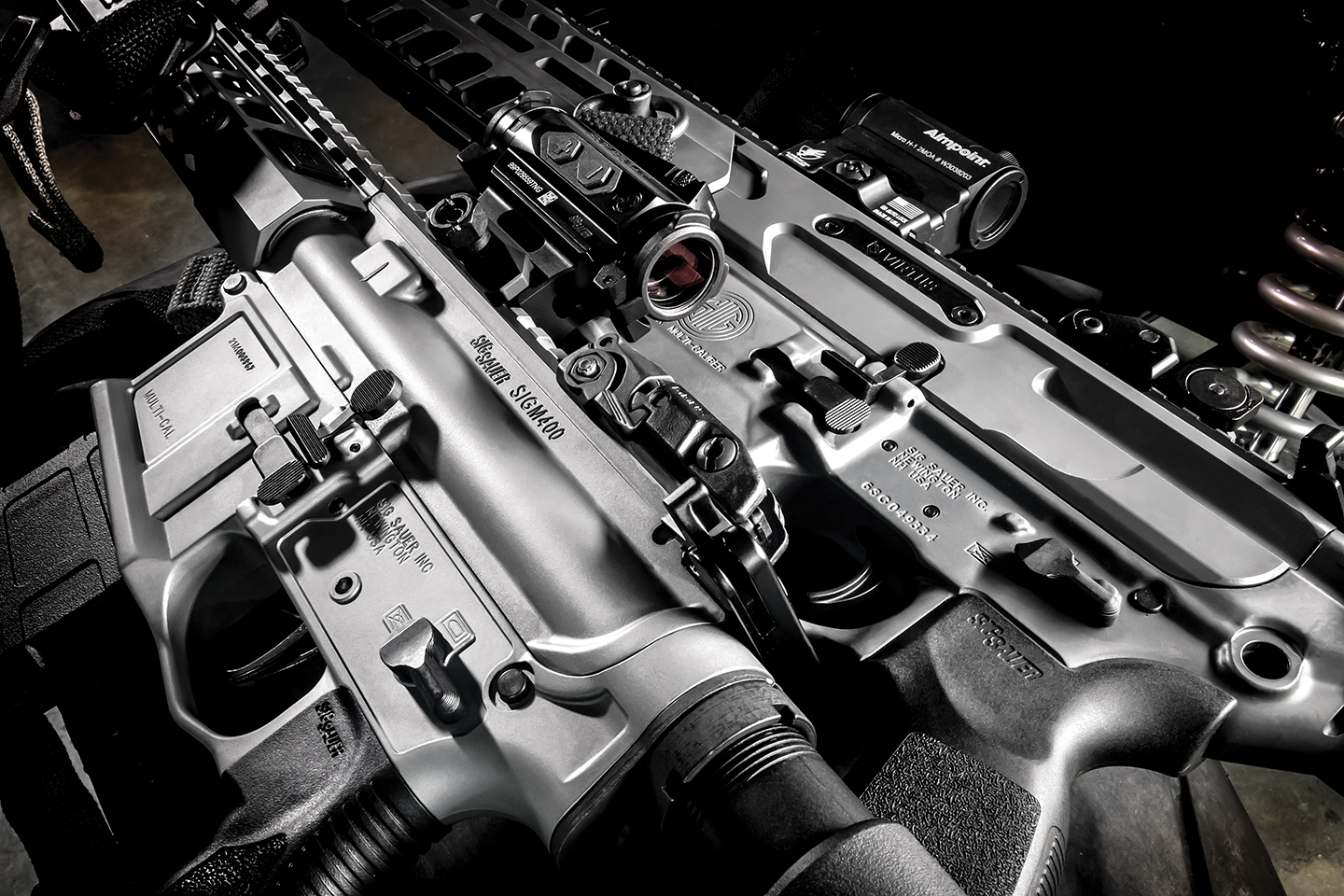 Handguard
The free-floating handguard offers more of a squared-off profile with flat sides and bottom that lock into the hand. Again, similar to its MCX cousin, yet far more ergonomic with a much slimmer, skinny feel, allowing for tremendous grip on the forend. As expected, it is fully M-LOK compatible, with slots at the traditional three, six, and nine, while also offering a pair of handy slots at 2:30 and 10:30 to help tuck a white light high and close to the top rail.
A twin locking clamp coupled with a very ridged rail ensures the latter won't flex, meaning a laser aiming device will remain zeroed, and field positional shooting or sling supported shooting will have zero effect on your point of impact. It's a great system that locks up solid.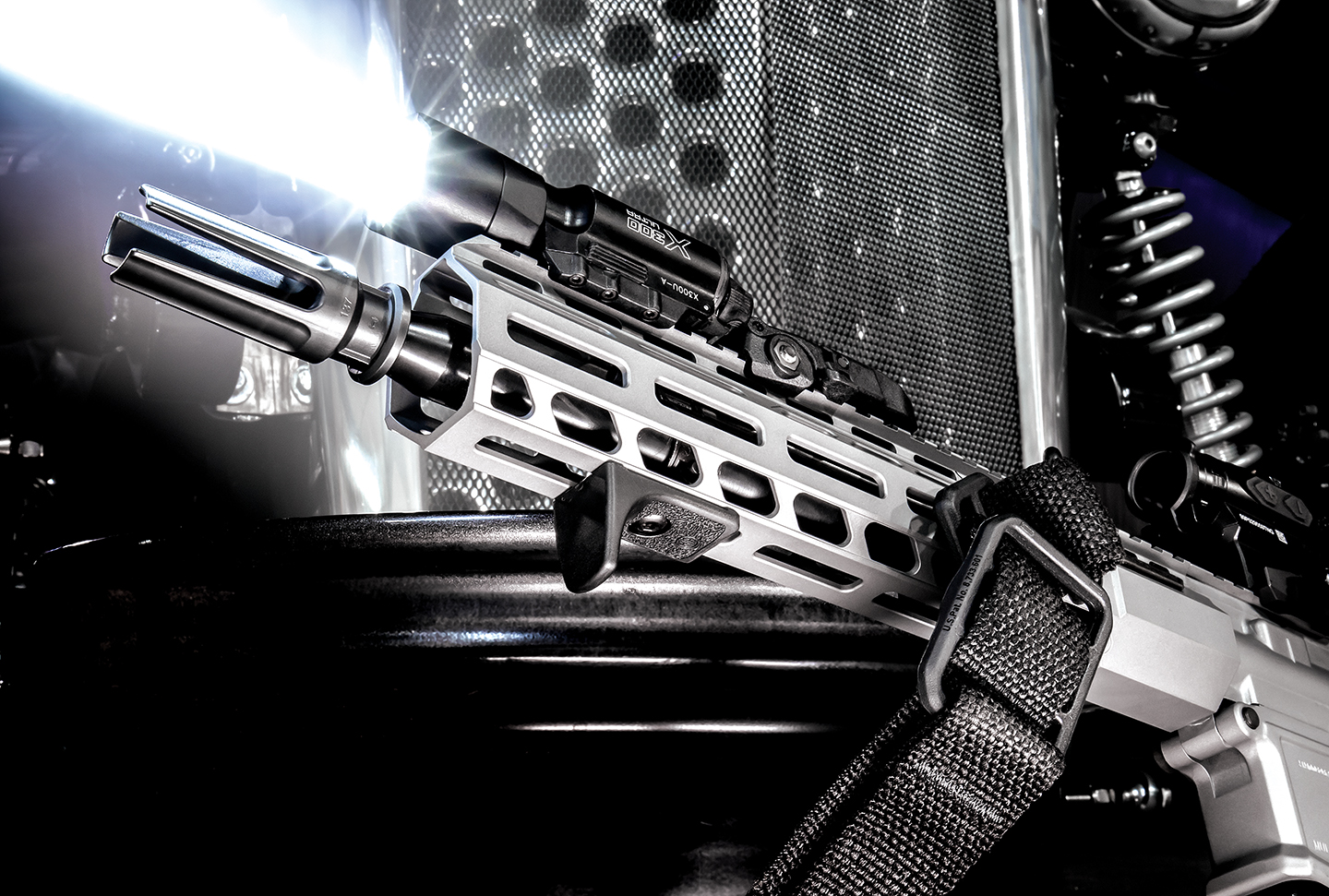 Upper
The rest of the upper receiver is pretty standard fare, with the exception of the ambidextrous charging handle that is very similar to the one found on legacy model MCX's, which is definitely a plus.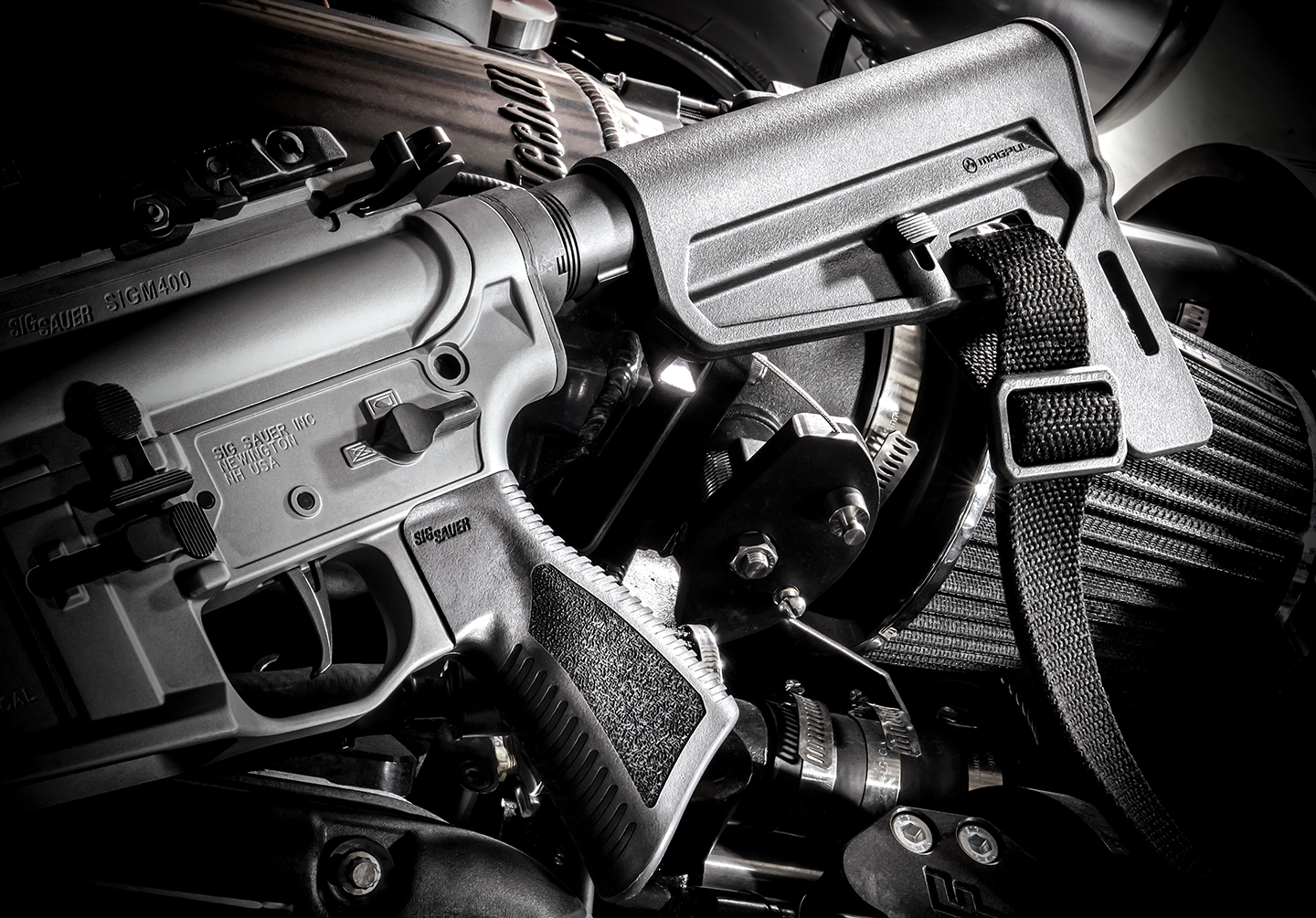 Lower
The lower receiver is where most of the special sauce was slathered on, and it's pure awesome. First, the lower is completely ambidextrous. The most notable improvement is the unique ambidextrous bolt catch. With the flick of your trigger finger, the bolt is released, while upward pressure will lock it rearward. Undoubtedly, most can quickly and easily manipulate a standard AR bolt catch with some instruction and practice, but the ambi bolt catch allows the firing hand to remain where it should always be — firmly in place around the pistol grip. This speeds up reloads and makes malfunction clearance far more efficient than a traditional AR, and for those reasons, make the upgrade a no-brainer.
The MCX influence on the lower receiver can't be ignored. From the left-side bolt release paddle to the ambidextrous magazine release controls, ambi safety selectors, and huge flared magwell — all are reminiscent of or pulled directly from the MCX. The Switchblade even has a Rattler pistol grip.
SIG even included their excellent two-stage Matchlite Duo trigger, almost exactly like the one used in the MCX Canebrake model, albeit the former features a more slimline trigger shoe. Trigger pull is right around 4.5 lbs. While the titanium Cerakote finish isn't quite the concrete-colored finish of the MCX, it's quite close.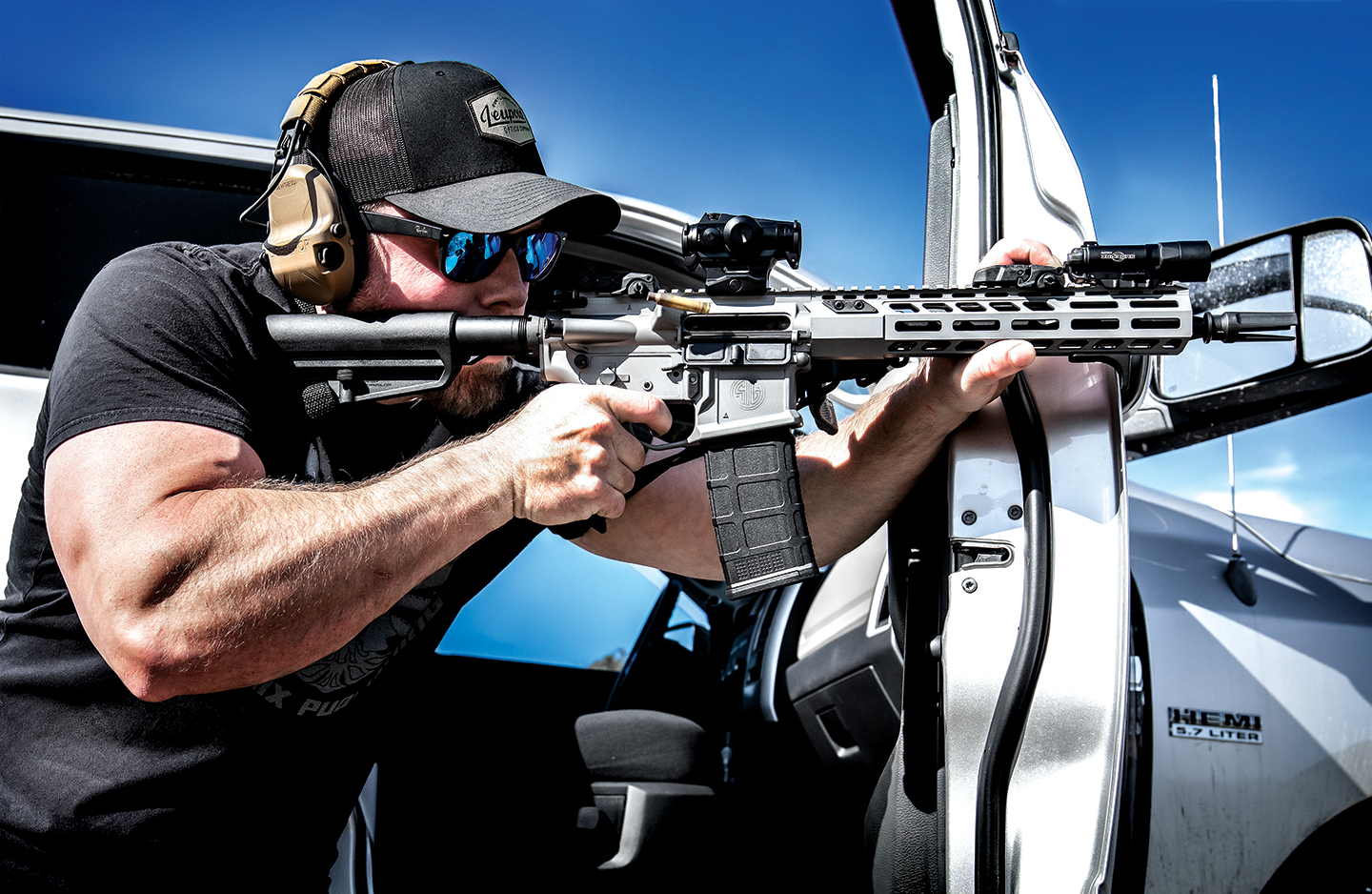 Pulling the trigger
The aesthetics, quality of parts, and their functionality have been — without question — nailed. So how does the pistol shoot? Just as you'd expect. Today, SIG's M400 platforms are among the best values in AR rifles and pistols and are proven performers. The Switchblade is no exception. The best groups came from the Black Hills Ammunition 69-grain MatchKing load, with a best five-shot group measuring 0.70-inches at 50-yards using Sig's own ROMEO4T solar-powered red-dot sight. Functionality was 100-percent.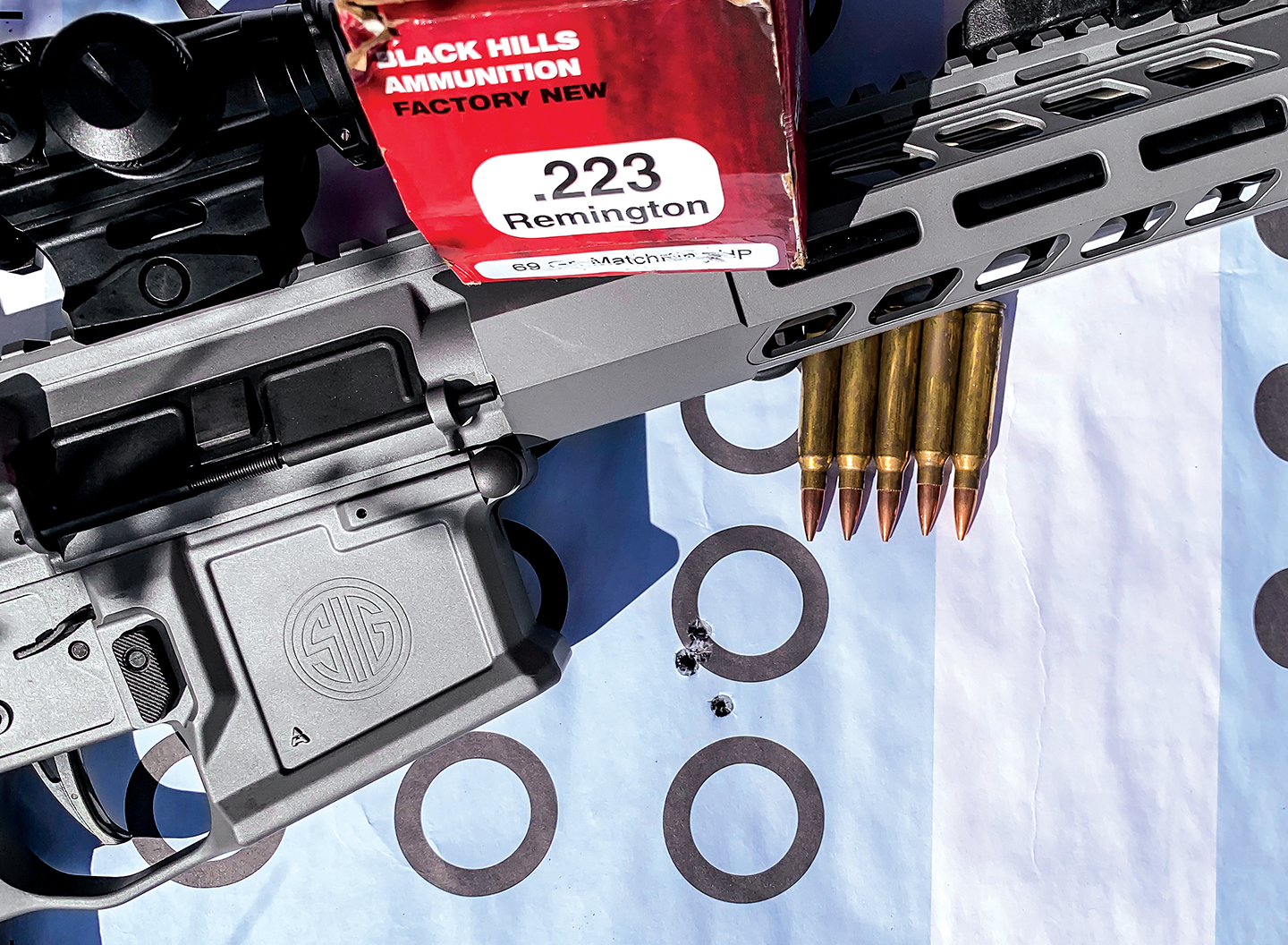 Verdict
Now as much as we love this new M400 variant, the Switchblade isn't perfect. There are a handful of small items we'd like to see changed. The first we have no control over — the name. Switchblade is just kind of stupid — especially for a platform that we can see no possible relation to the original meaning, outside of possibly the color (and that's a stretch.) The second is the Rattler grip, which has already been tossed over the parts bin and directly into the trash can. Nothing but net. The third is the awful Magpul BSL brace, which totally sucks in every possible way. Its only redeeming quality is the fact that it's adjustable. An SB Tactical SBA3 will replace it shortly. Lastly, although we love the trigger break, we'd much prefer the wider shoe that comes with the MCX Canebrake, which is nearly identical-looking, minus the color. Many of these changes are obviously subjective; however, this is one of the many benefits of the AR-patterned platform — it's very much customizable to your particular tastes.
Outside of these minor complaints, SIG has a real winner on its hands with the Switchblade. It's a pistol that offers users everything they could possibly want in a compact AR that is truly at the top of its class. If you're after a lightweight, direct-impingement MCX, this is the closest to it you can possibly get. See the new M400 Switchblade at your nearest dealer, or for more information, contact Sig Sauer; Tel.: (603) 610-3000; Web: www.sigsauer.com.
SIG Sauer M400 Switchblade Pistol
Type: Gas-operated, semi-automatic
Caliber: 5.56 NATO
Barrel: 11.5 in., 1:8 in. twist
Overall Length: 30 in.
Weight: 6 lbs. 3 ounces
Brace: Magpul BSL
Grip: SIG Sauer
Finish: Cerakote Elite, Titanium
Capacity: 20, 30 rds.
Muzzle Device: Flash hider
Trigger: SIG Matchlite Duo
Sights: None
MSRP: $1,399
Manufacturer: SIG Sauer, 603-610-3000, sigsauer.com
Performance Chart
SIG Sauer 55-grain FMJ .223 REM
Best Group: 0.80
Average Group: 1.30
Winchester 55-grain .223 REM
Best Group: 1.10
Average Group: 1.50
Black Hills 69-grain MatchKing .223 REM
Best Group: 0.70
Average Group: 0.80