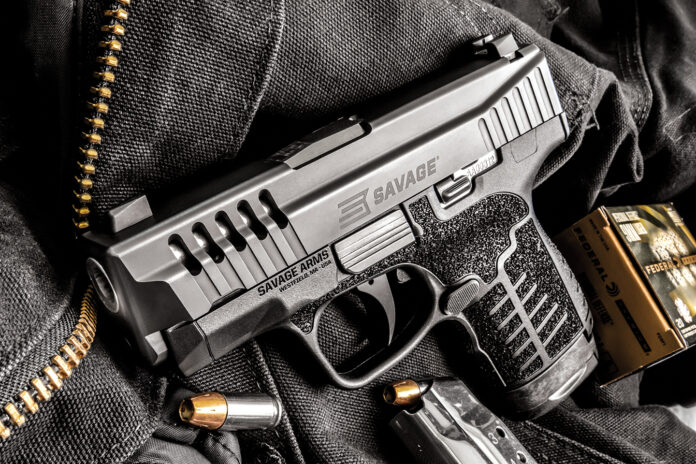 Savage Stance
By: Guy Coursey
It took over a century, but we now have a solid concealed-carry option from Savage Arms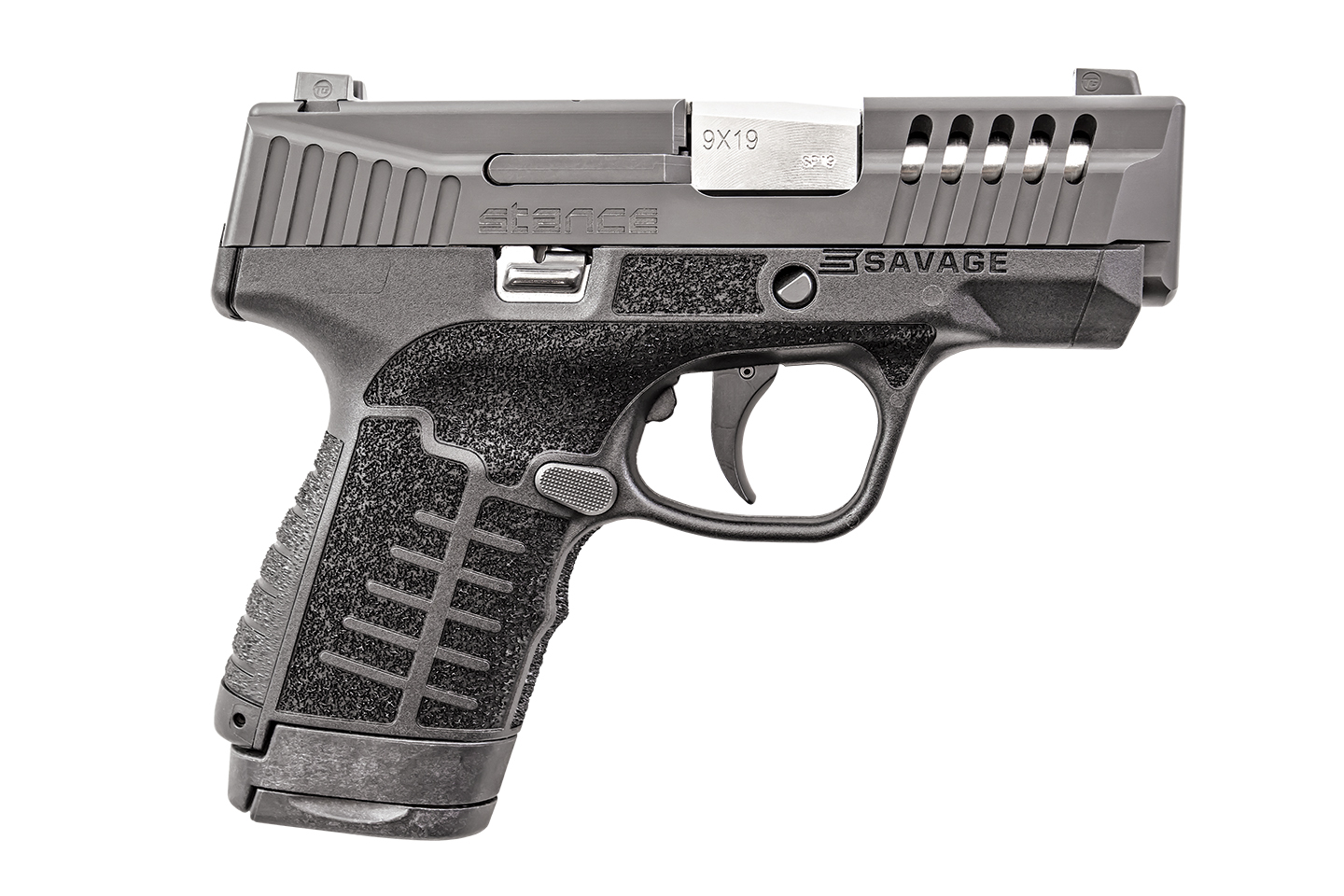 When most of us think of Savage Arms, we think of long guns, usually high-quality bolt rifles and shotguns. The last time Savage made a pistol was near the turn of the previous century. The Savage Model 1907 Pocket Automatic directly competed with the pistol that eventually became the iconic Colt 1911 in .45 ACP, and it gave it a close run for its money. The little Savage was full of what, for the time, were very innovative features, including striker-fired operation and a 10-round magazine. That it eventually came in second was probably due more to its lesser caliber, .32 ACP and .380, and the fact Colt continued to refine its entry until it ultimately won the Army contract and firearms immortality. Today, Savage has re-entered what is already a mature market with a new 9mm pistol designed for concealed carry, the "Stance." The Stance design is filled with features that have proven popular with some of the more modern and better-known model pistols out there. I was fortunate to have the opportunity to get a Stance for testing, and like the name, the results proved interesting.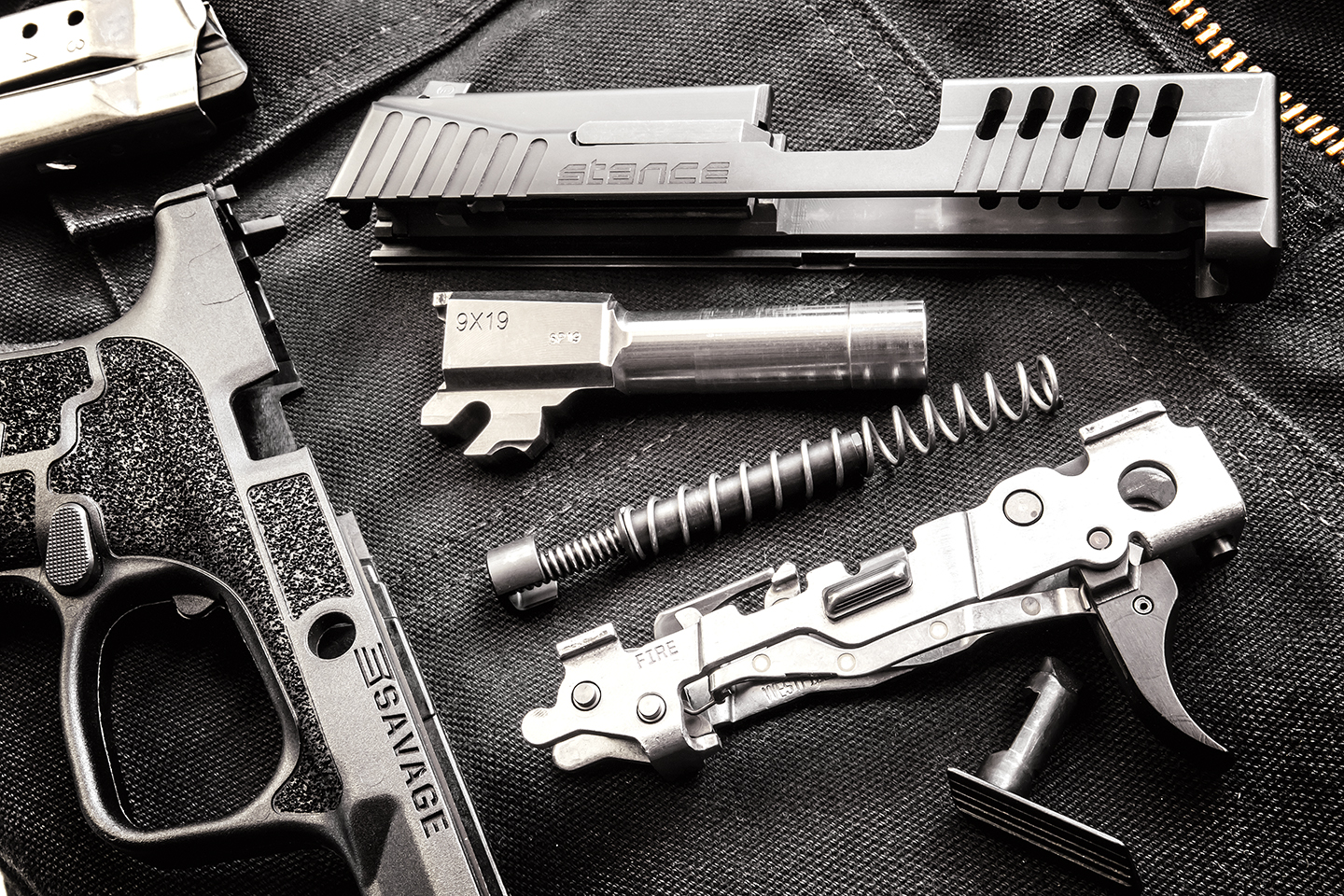 The Savage Stance has a lot to talk about, so I will divide my observations into two broad categories; things I liked and things I did not like. Beginning with things I like, the ergonomics of the Stance are very good. The Stance bears a strong similarity to the popular M&P Shield and the less-popular Honor Defense Honor Guard, for those who are familiar. The frame comes in black, grey, and FDE and is made of injection-molded nylon with aggressive stippling, making it very "grippy." It pointed naturally and felt good in my hand. Some limited customization for different hand sizes is possible with removable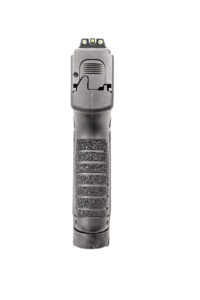 arched and flat back straps. Next, the trigger chassis is the serialized and removable part, much like the Sig P320 or Sig P365. Takedown is accomplished by simply removing the magazine, locking the slide back, and rotating the takedown lever 90-degrees, which allows the slide to go free and the trigger chassis to be removed by pulling out the takedown lever. The primary controls are all ambidextrous, including the slide lock lever, magazine release, and for those models which have them, a thumb safety. Lastly, the black steel nitride slide is topped with three-dot Tru-Glo Tritium night sights, with the front sight typically having an orange outer dot, although mine was white. The slide is step contoured, with a gradual ramp from the top rear down near the cocking serrations to about the longitudinal center and narrowing towards the top. It also has five narrow diagonal cuts forward, partially exposing the stainless-steel barrel. Combined, these features give the Stance a futuristic look that some will undoubtedly find appealing. The Stance comes in a plastic carry case with two 8-round magazines, a gun lock, a backstrap, and the usual literature.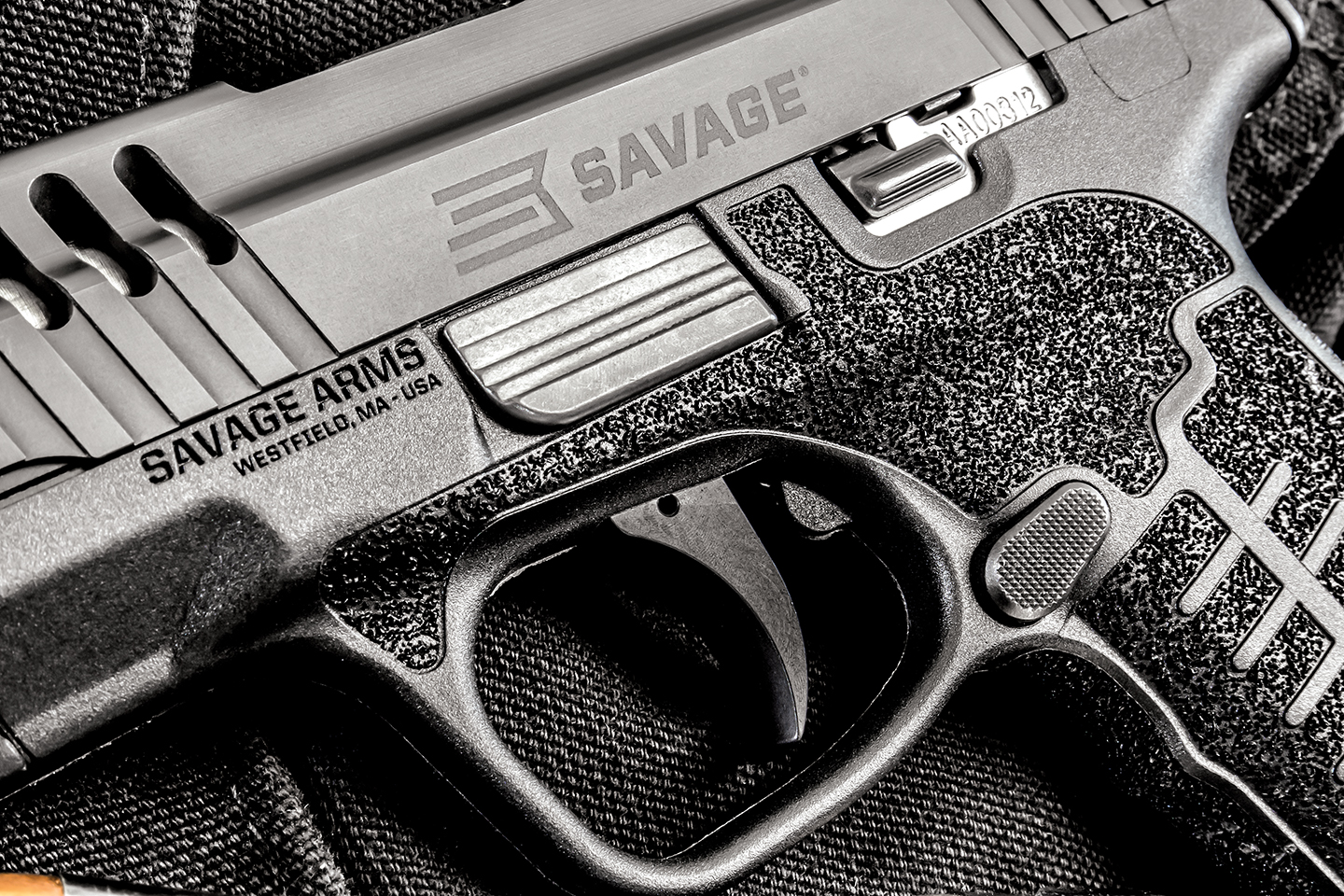 Moving on to the category of things I did not like about the Stance, the first was the overall size. The Stance is marketed as a micro-compact pistol, but while slim, it feels nearer to a sub-compact. This may be a lawyerly distinction, but I compared it side by side with a Sig 365, Glock 43, Springfield XDS 9, and a Glock 26. In most cases, the Stance was roughly comparable in length and width, but in all cases, it had a higher bore line and significantly longer grip (albeit, this is an attribute for shooters with larger hands) with the 8-round magazine inserted. A high bore line is not unique and shared by the S&W Shield, larger Sig Sauer models, and others. Second, I had to take a very deliberate approach to the ambi-magazine release to release the mag, particularly when trying to conduct rapid reloads, in part due to the magazine frequently hanging up on the lower heel of my hand. For those who like to use the slide lock lever as a slide release, this may also prove a challenge as it is both very flat and recessed to a degree inside the frame. Lastly, the trigger on my test gun was simply adequate. I like to have a trigger somewhere between 4-6 pounds on a pistol carried for defensive use. The Stance's trigger broke consistently at a hair over 6.25 pounds, starting with about 1/8" of take-up and ending in a stiff wall. Will this work for a defensive pistol? Certainly, but it is not optimal. As an admitted trigger snob, I understand that some will likely disagree with me, and that's ok. Given its affordable $479 starting MSRP, some consolations are acceptable, including all of the above.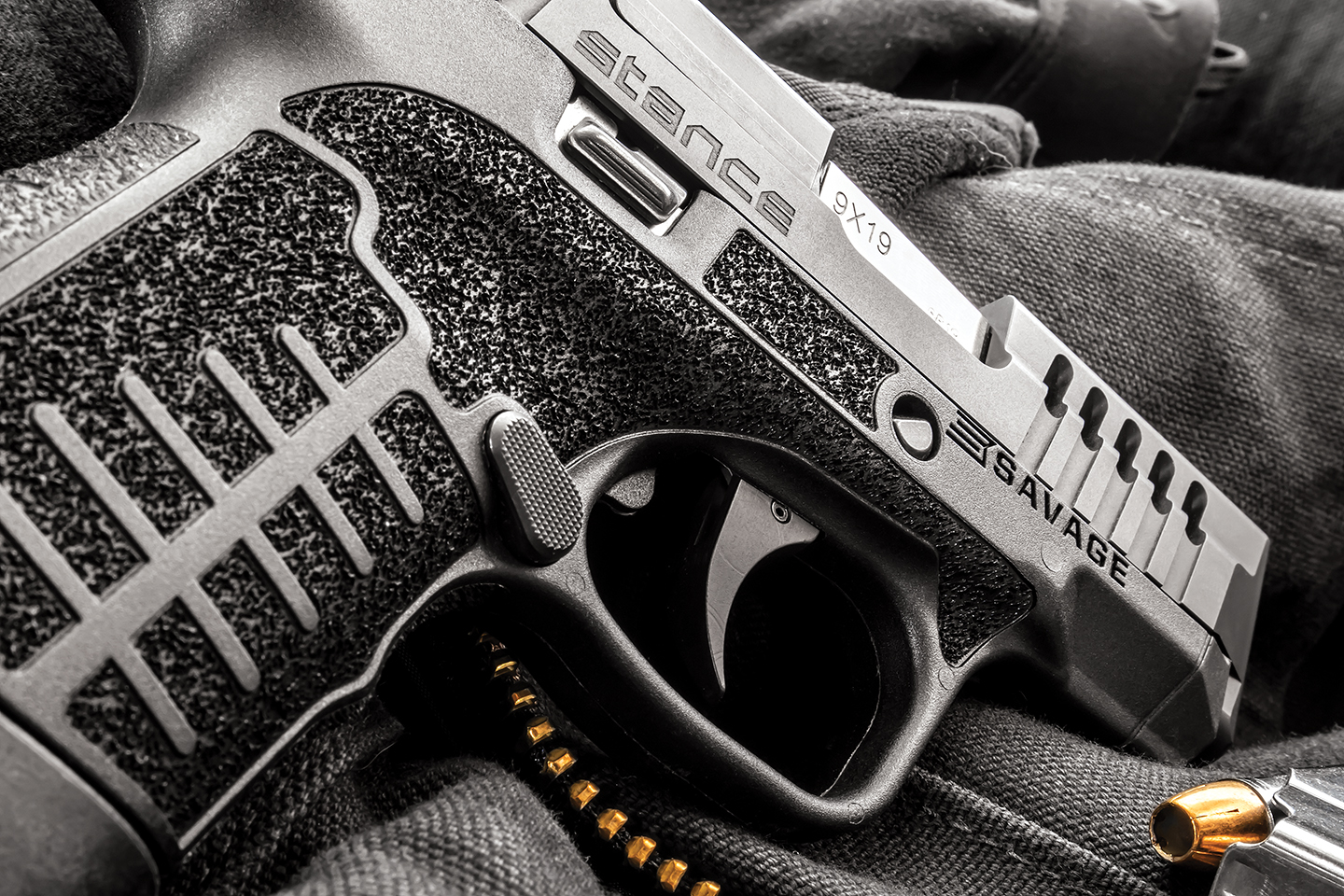 Testing with the Savage Stance went as expected. Considering the closer distance of most defensive handgun encounters and the short sight radius of the Stance, I opted for 15-yard testing instead of 25. The Stance is not a target pistol, and while it's nice if any handgun can print 1-inch groups at 25 yards to demonstrate potential intrinsic accuracy, the fact is most operators cannot live up to their gun, especially under any significant stress or combat conditions. After some warmup at 5, 7, and 10 yards to get a feel for it, I shot five different types of full-power factory ammunition in 115, 124, and 147-grains from a bench, using three groups of five shots for each. Groups averaged a respectable 2.5-3 inches, often with the best four doing a bit better. Top honors went to Freedom Munitions 147 gr RN remanufactured ammo with a 1.5-inch group, with the best four in 1 1/8th inches. All groups trended slightly to the right, which I attribute to the trigger as I typically do not shoot to the right and noticed a pronounced movement of the sights in that direction, even with a laser focus on the trigger press and minor grip changes. I also tried shooting some 6-inch plate racks at speed at 10 and 15 yards and managed to do well, with only an occasional miss to make up. Recoil was very manageable, and reliability was near flawless, except for a few failures to feed and lock the slide open with some 9mm sub-sonic rounds I had from a recent match; an ammo problem, not a gun problem. Bottom line: If you do your job, the Stance will do its job.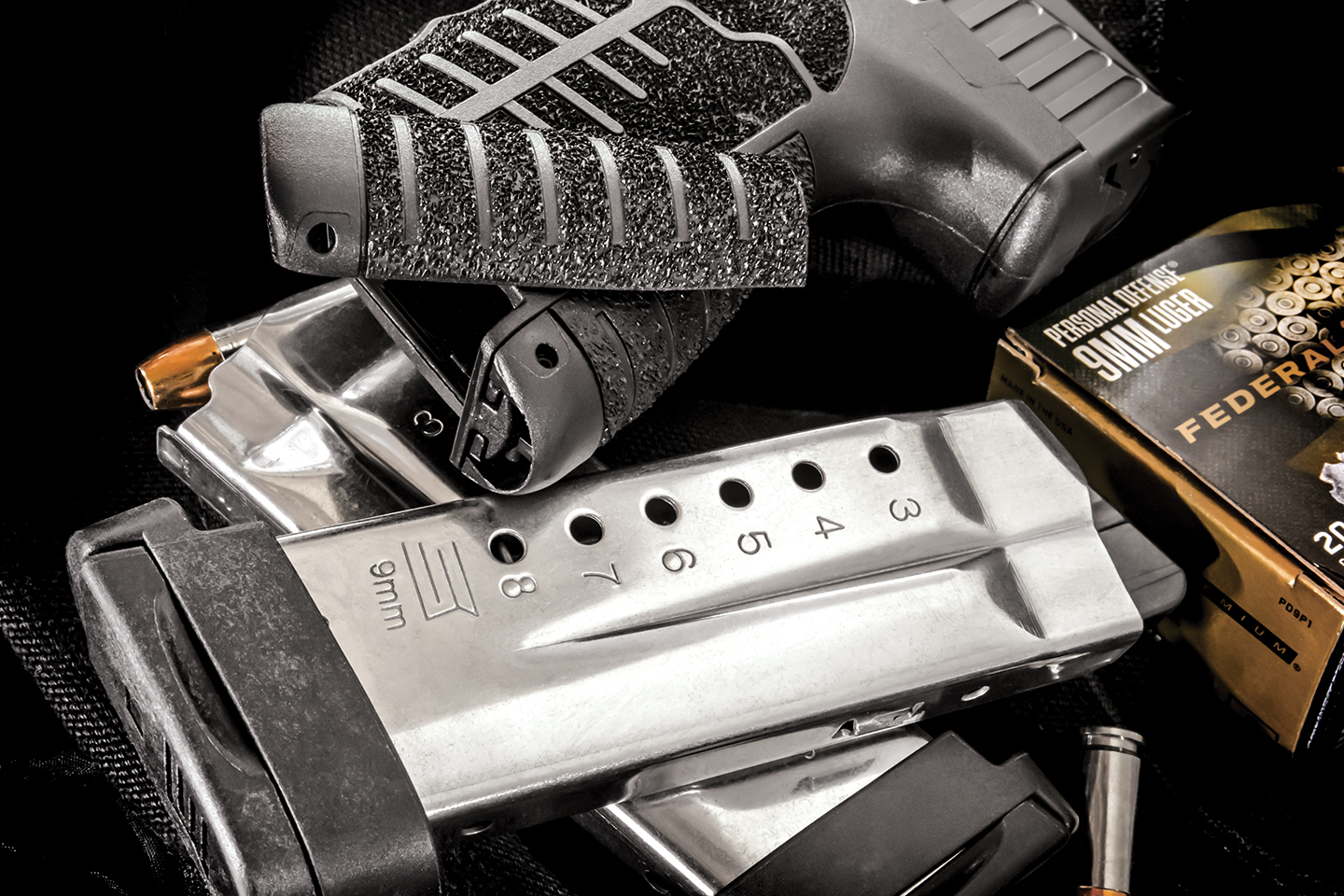 The Stance is a capable concealed carry pistol that represents a solid effort by Savage to re-enter the handgun market after a hiatus of over a century. Given its history, I expect that Savage will be back with an improved version of the Stance in the future, much as Sig Sauer did with the P250, which has evolved triumphantly into the now uber-popular (and military-issued) P320 in its many variations. If that happens with Savage, the rest of the market may want to watch out. In the meantime, check the new Stance out at your nearest dealer, or for more information, contact Savage Arms; Tel.: (800) 370-0708; Web: www.savagearms.com.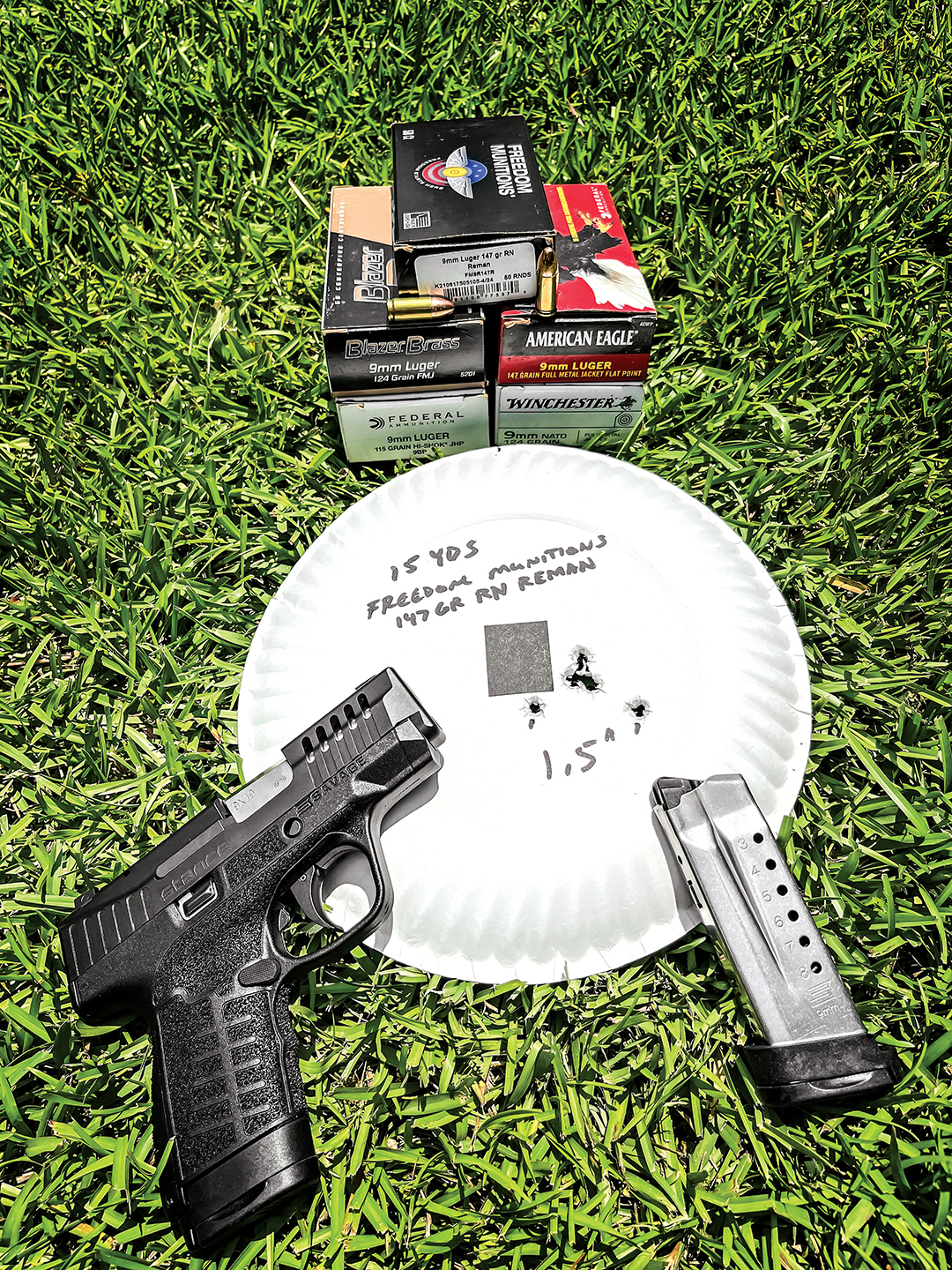 Specifications:
Action:                        Striker fired
Caliber                        9mm
Barrel Length               3.20-inches
OAL:                           6.20-inches
Width:                        0.96-inches
Weight:                      1.375-pounds (empty magazine)
Capacity                     8+1
MSRP                         $479.00 to $561