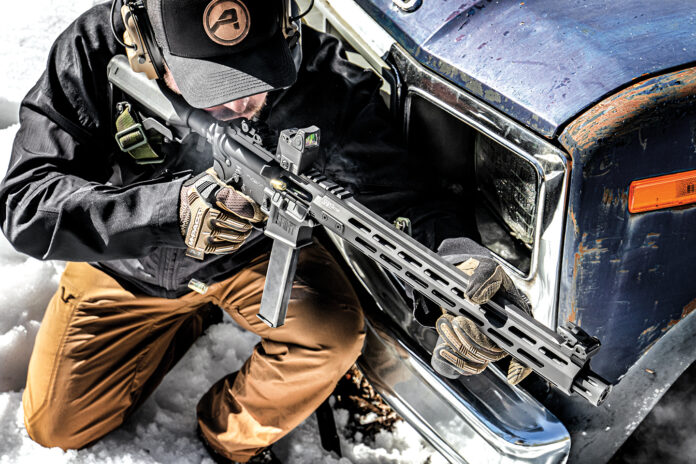 Springfield Armory Saint Victor 9mm
By: Dave Bahde
Springfield adds a quick-handling, ultra-reliable PCC to their popular & proven Saint Victor line
The AR-based 9mm PCC (Pistol Caliber Carbine) remains incredibly popular, offering less blast and lighter recoil than rifle calibers while maintaining the outstanding ergonomics and aftermarket support of the ubiquitous AR platform. Always popular for competition, the PCC is steadily growing in popularity in the self-defense realm. Where the terminal ballistics and range of a rifle caliber are not necessary, the 9mm carbine is a great and, often, safer choice. Ammunition is less expensive, and additionally, the same ammunition can be used for your handgun, adding a high level of convenience to competitions and range time. Longer barrels have been the norm in the 3-gun world, but more companies are now offering 16-inch versions of PCCs for practical applications, which provides all the fun without the NFA concerns a brace brings or the lack of support a brace-less pistol creates. Springfield Armory has recently added a 16-inch PCC to its Saint Victor lineup, and it is proving to be very popular.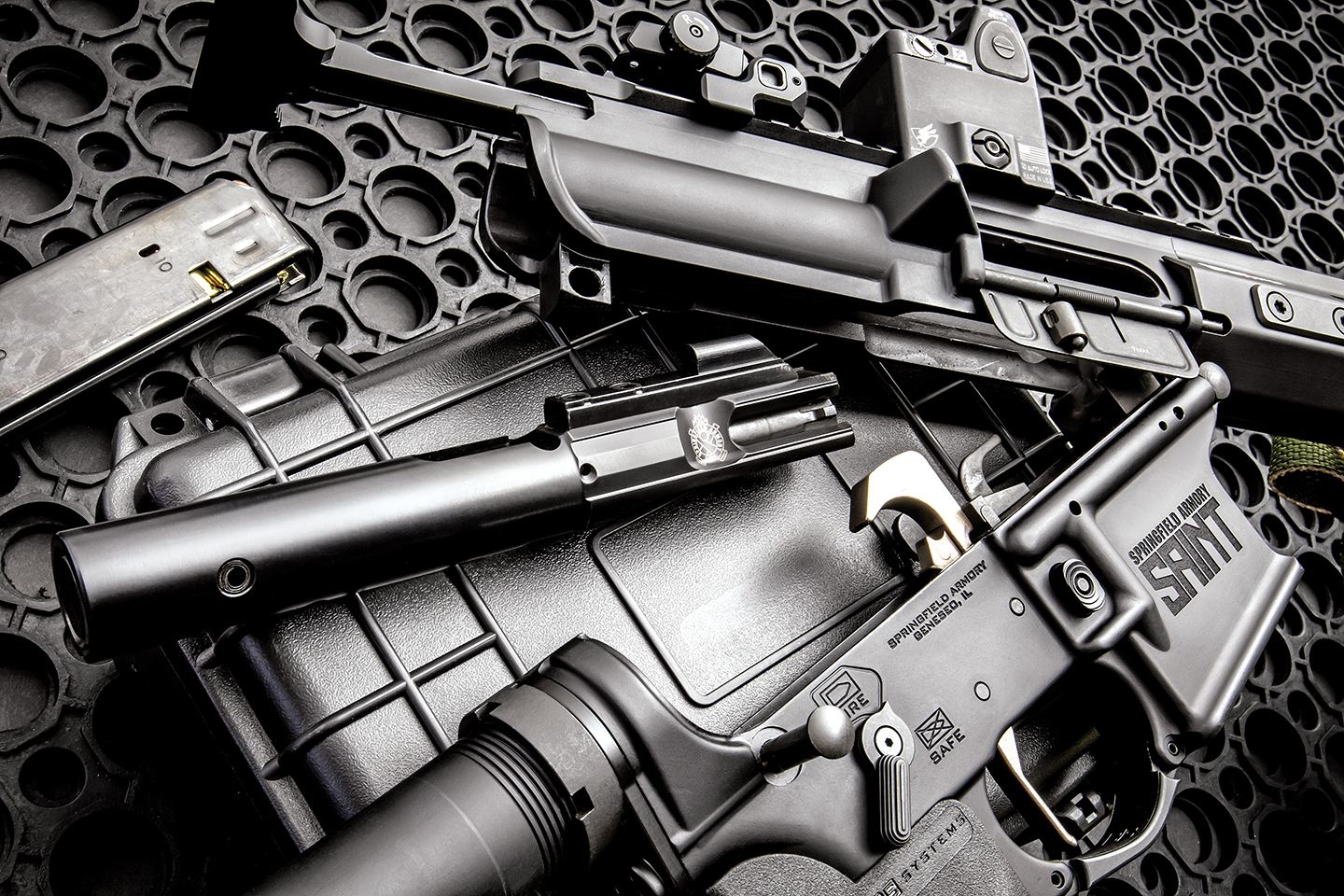 Saint Victor 9mm PCC
Springfield Armory's Saint Victor line represents some of the most popular AR-platform rifles on the market today; they are full-featured rifles with exceptional build quality at reasonable sticker prices. Springfield's new 9mm version of the Saint Victor offers all these things and a few more nice touches. Upper and lower receivers are forged from 7075 T6 aluminum, offering superior strength at a lower weight. The Lower receiver is purpose-built for 9mm, with no conversion insert, and utilizes 32-round Colt-patterned metal magazines. Using a simple "direct blowback" operating system ensures proper operation with a broad range of ammunition.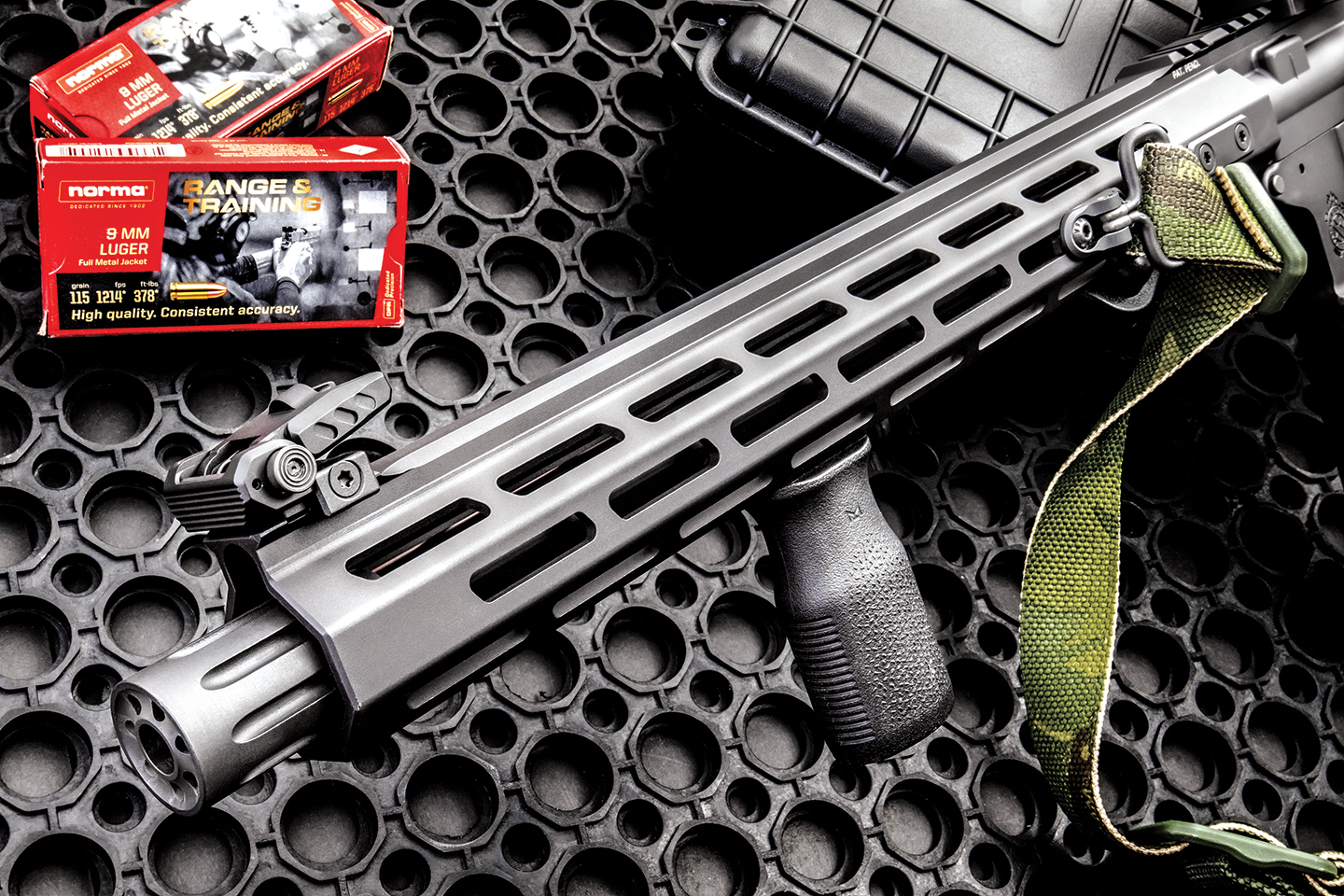 High-quality barrels provide excellent accuracy, and their Melonite coating makes them long-lasting. The 16-inch CMV Melonite-coated barrel that Springfield equips the Saint Victor 9mm with is given a 1:10 twist, and at the muzzle is fitted with Springfield Armory's Forward Blast Diverter, which is nestled partially inside the hand guard in an effort to keep things well balanced and compact. Improved triggers — this one being a flat-faced single-stage unit coated in Nickel Boron sitting within a B5 Systems enlarged polymer trigger guard — and ambidextrous safety make this platform easy for anyone to use. An adjustable B5 Systems Bravo six-position-adjustable stock and Type 23 P-Grip provide excellent ergonomics, traction, and handling. The aluminum handguard is slim in profile, full length, and free-floated, with no shortage of M-Lok slots for accessory mounting. Flip-up sights are included as part of the package, and the rifle ships with one magazine in a padded nylon rifle case. Overall weight is 6 lbs, 15 oz.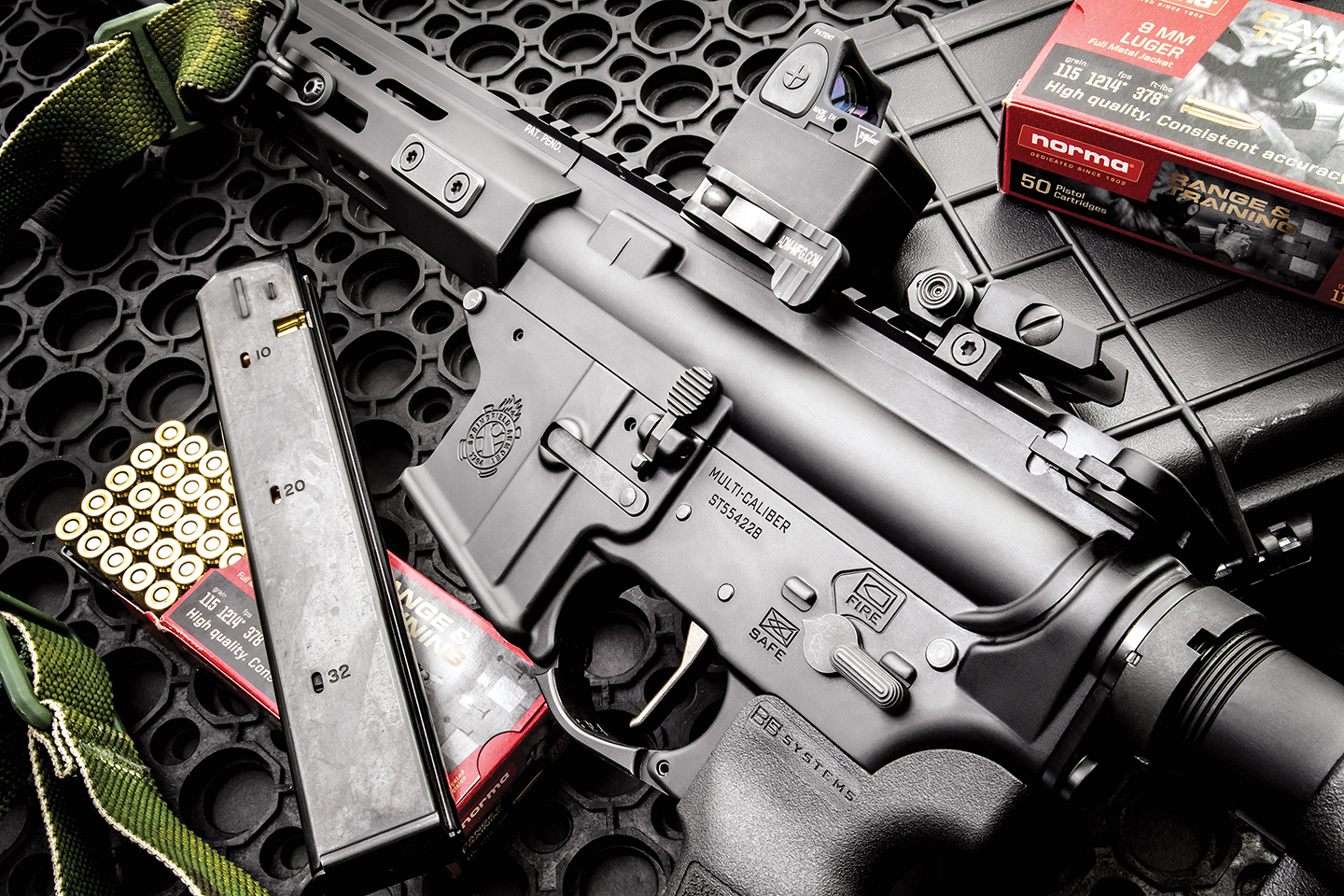 Range Time
My test rifle was equipped with a Trijicon RMR RM06 red-dot mounted on an American Defense Manufacturing QD Auto Lock mount, which allowed for some solid accuracy at 50 yards. In my experience, most PCCs are very accurate — especially when fitted with a 16-inch barrel. This Saint Victor was no exception, producing tightly-clustered groups with just about every ammunition load used. My best group came with Doubletap Ammunition's 124-grain Match FMJ. Four shots were clustered at around half an inch, with one outlier. Groups using Wilson Combat's 115-grain +P Barnes TAC-XP were close to the same, and this particular load was incredibly soft shooting, as was the 95-grain version of the same ammunition. Using a hodgepodge of FMJ I had floating around, it cut one ever-growing hole in the target from 5 to 15 yards during doubles, triples, and other rapid-fire strings. It also ran some old Hornady Steel Match 9mm kicking around — not something all PCCs will do.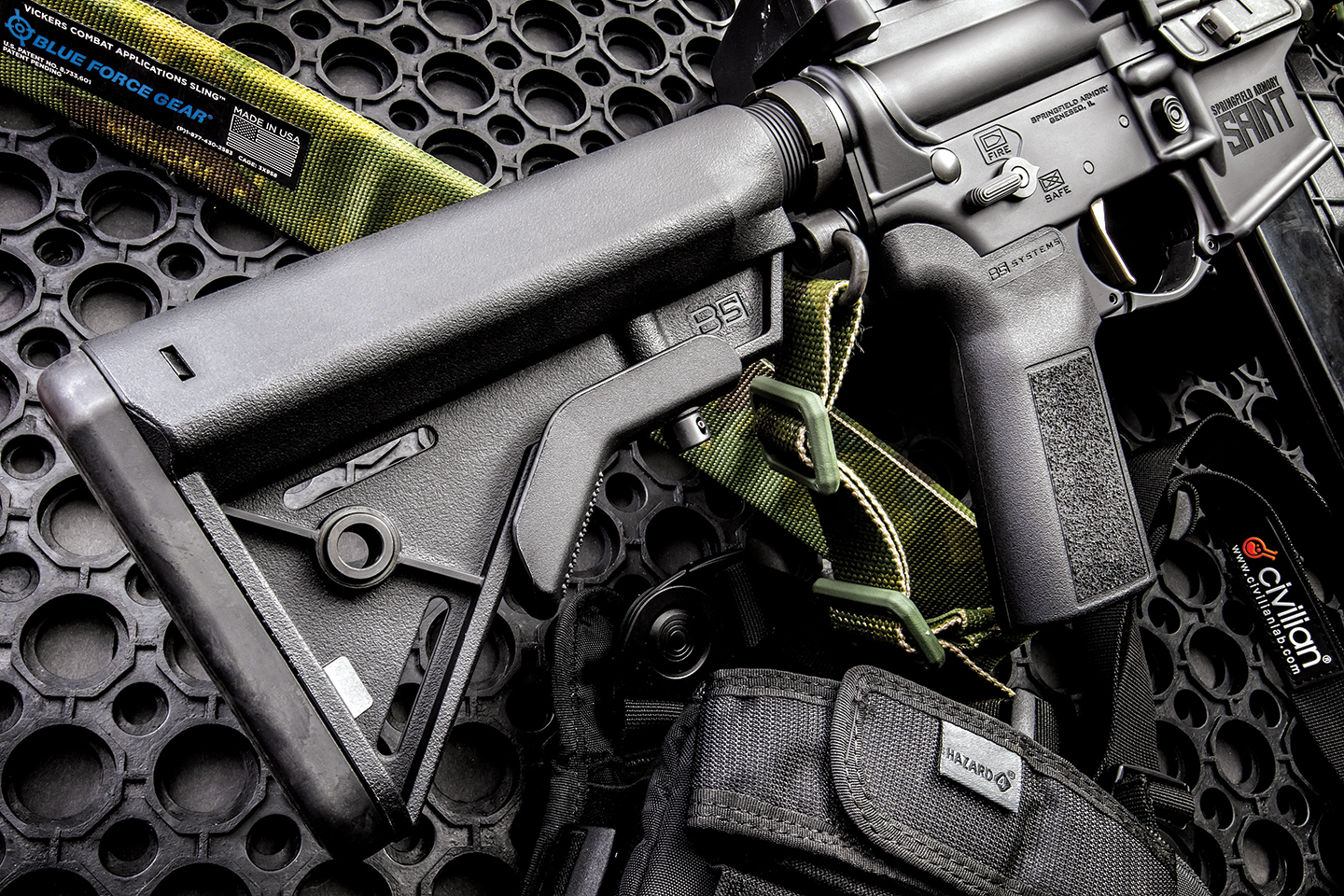 Overall, the Saint Victor 9mm proved to be very reliable with moderate to little recoil. Thanks to the Forward Blast Diverter, there was zero muzzle blast directed back at the shooter, making it not only pleasant to shoot but very clean running. Colt-patterned magazines tend to be pretty solid, and this Springfield armory version gave us no issues during testing. This is one of the most popular magazine patterns, so availability from 10 to 32 rounds is excellent. You can even get 50-round drums if so desired.
The trigger was solid, not as crisp as some, but for a factory trigger, it was plenty fast. Triggers on direct blowback ARs can be heavy; it comes with the territory, but this one felt in the middle of the range to me. It wasn't the lightest, but it always worked using a variety of ammunition. There were no failures to reset or any other stoppages during any of the testing.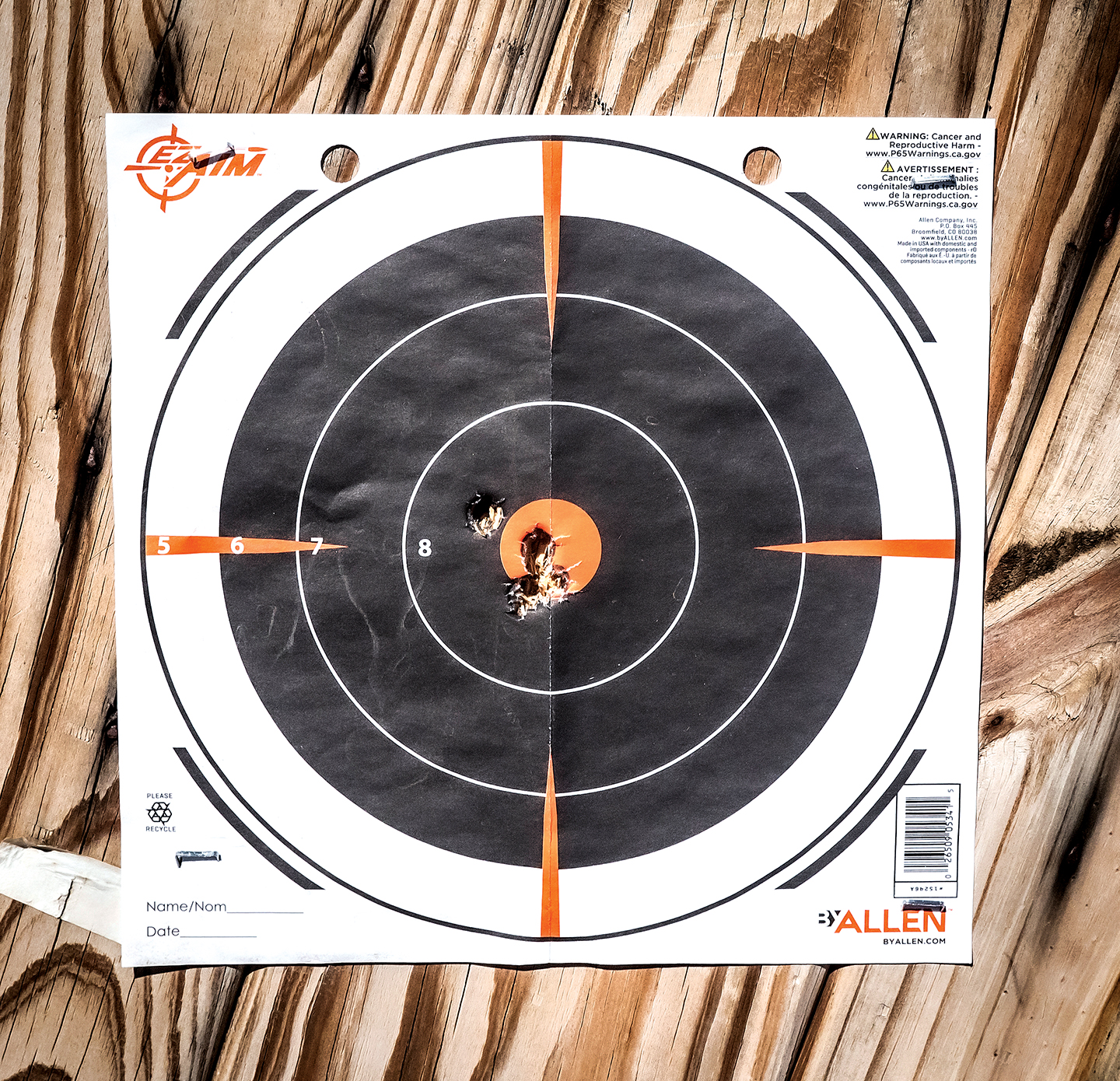 From an ergonomic standpoint, the handguard is slim, comfortable, and long enough for most anyone to stretch out, resulting in fast and controlled transitions from target to target.   The factory plastic flip-up sights worked well and seemed plenty rugged. The top of the handguard only has a Picatinny rail at the very front and very back to accommodate sights. It is basically octagonal, so M-Lok populates the other seven sides, providing enough real estate to mount just about anything you could ever need.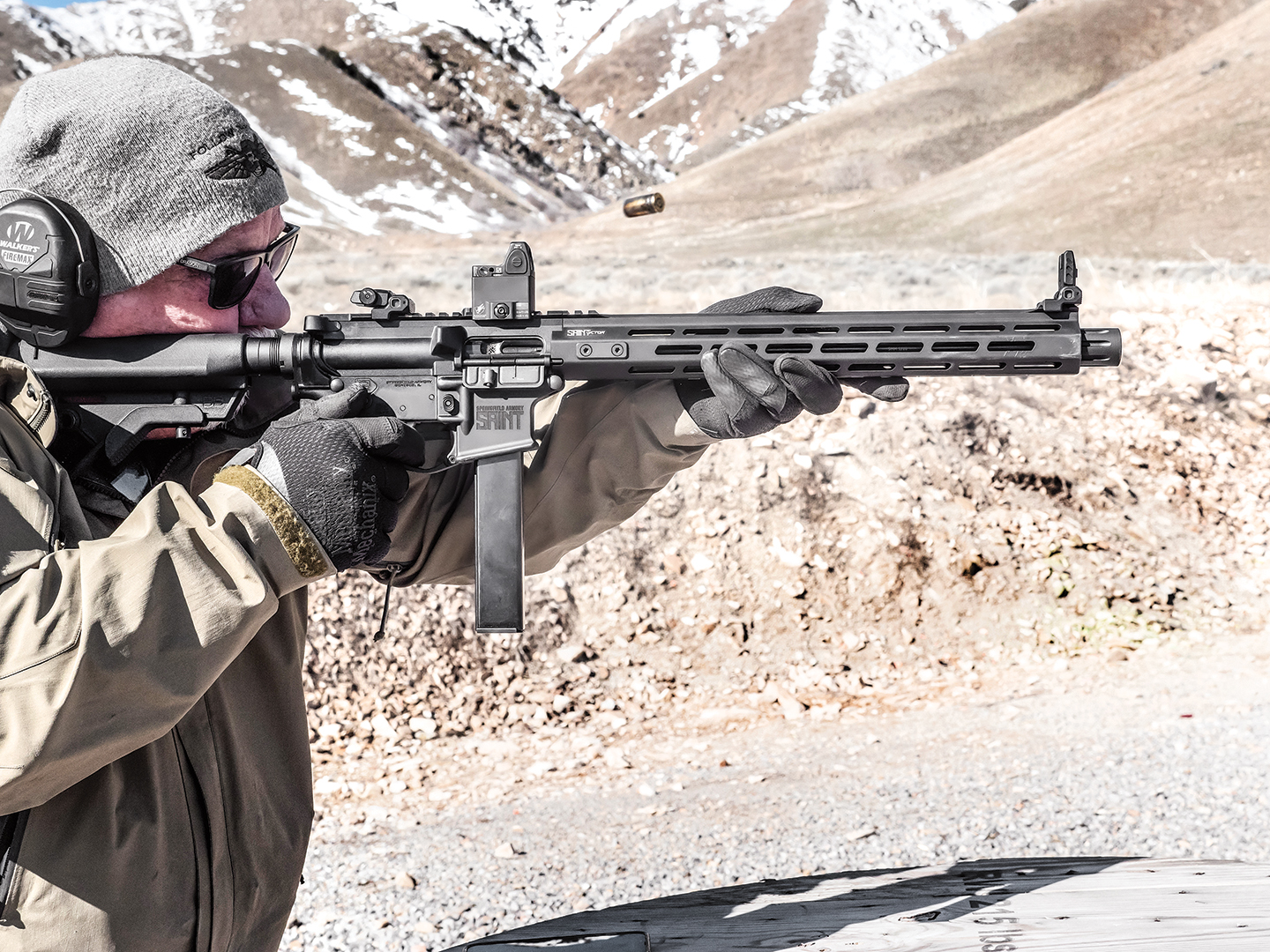 Bottom Line
I have been testing Springfield Armory ARs since the first Saint was introduced back in 2016. Quality has improved every year, but the bang-for-the-buck factor remains. If you want a bunch of rifle for the money, these are a great choice, and the Saint Victor line offers some of the most desirable features you can find on a PCC. Offered in the most-popular pistol caliber and for just over a grand, and that is pretty hard to beat. See the Saint Victor 9mm Carbine at your nearest dealer, or for more information, contact Springfield Armory; Tel.: (800) 680-6866; E-mail: [email protected]; Web: www.springfield-armory.com.
---
Specifications:  Springfield Armory Saint Victor 9mm Carbine
Caliber:                      9mm
Barrel:                        16 inches
OA Length:                35 inches
Weight:                      6 pounds, 15 ounces
Sights:                        Spring loaded BUIS / Picatinny rail
Stock                          B5 Systems stock and handgrip
Action:                        Direct blowback
Finish:                        Black anodized
Capacity:                   32-rounds/Colt pattern
Price:                          $1,299
---
Ammunition                                                               Velocity                      Group
Wilson Combat 115 Grain +P TACXP                  1450                           .65 inches
Federal HST 124 Grain                                           1250                           .70 inches
Doubletap 124 Grain Match                                   1260                           .60 inches
Groups fired from a bag rest using the hood of my truck as a rest—from a distance of 50 yards, three five-shot groups for comparison. Velocity in Feet Per Second (FPS) measured with a "Chrony" chronograph over three five-shot groups.