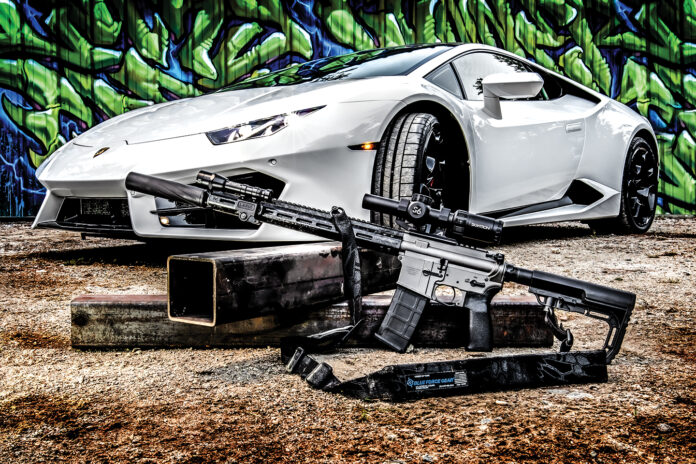 Christensen Arms CA5five6 FFT
By: Dave Bahde
Light, fast, and reliable with racecar genetics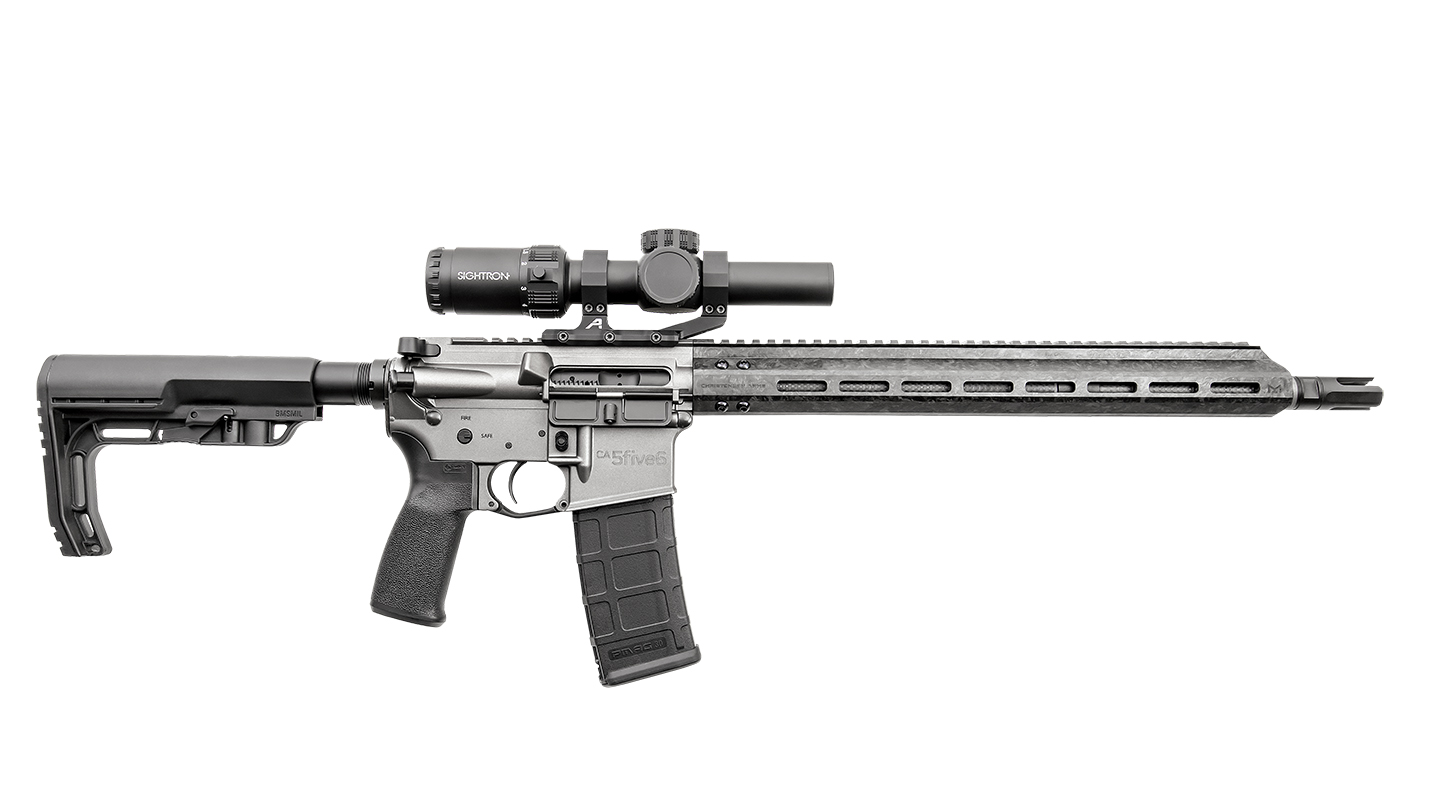 The longer I use an AR, the more the lighter-weight versions become increasingly appreciated. A lightweight AR can be especially handy when attending a high-round-count training class, but they can also be hugely beneficial for those who hunt with them. Schools with incessant drills can increase fatigue, and carrying a rifle for hours — maybe days — on a hunt can be extremely taxing. Losing the weight on an AR has been a goal for many manufacturers for as long as the AR has been around, but shedding weight without affecting reliability has been the genuine hurdle. Exotic materials are sometimes leaned on, and properly-placed "lightening" cuts help, but carbon fiber seems to be the new go-to for a weight-loss program. Carbon fiber quality and consistency have improved over the years, with barrels and handguards being the most popular applications. One of the first to use carbon fiber in the barrel-making process — and the longest in the game — is Christensen Arms.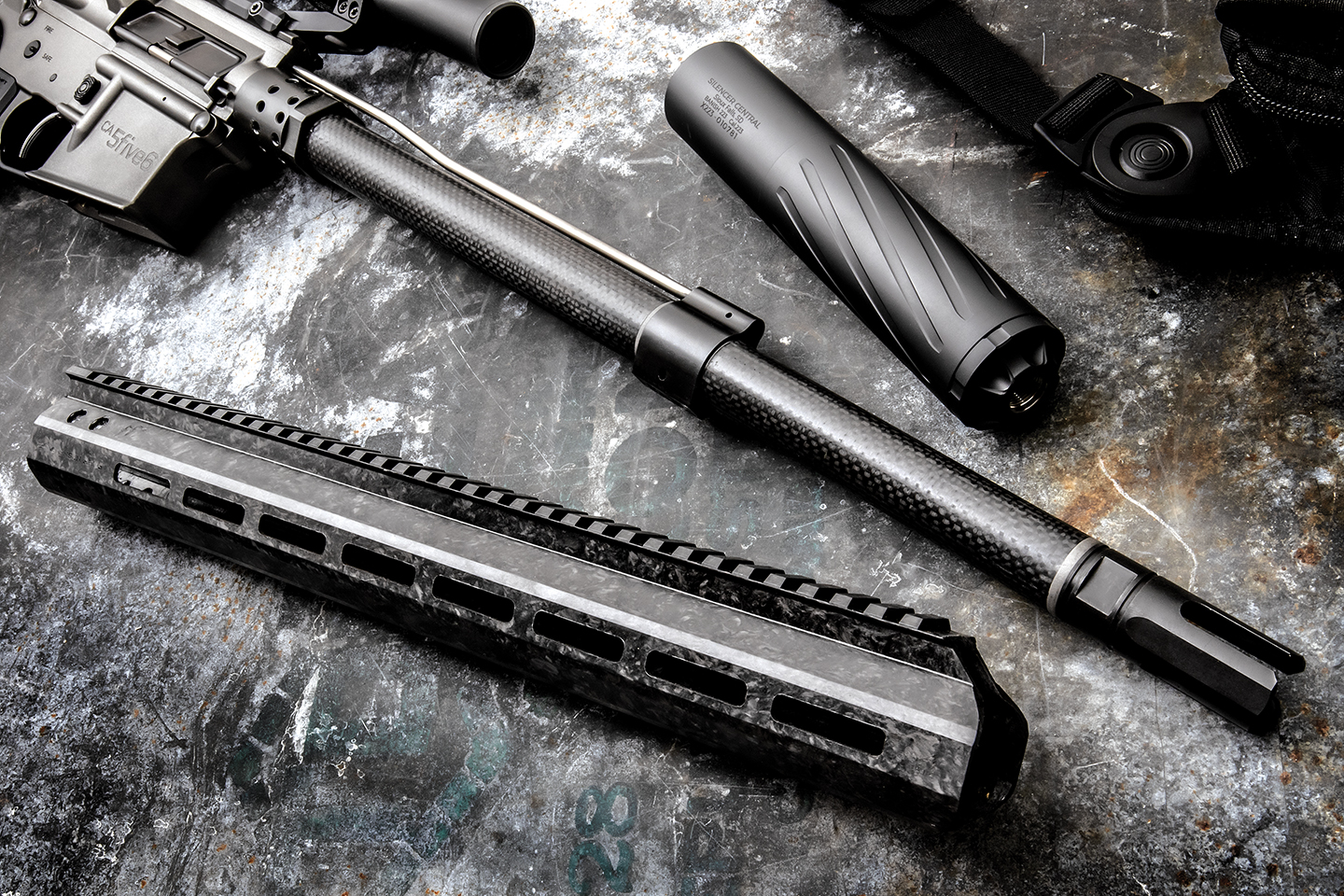 Christensen Arms
I first toured what is now Christensen Arms nearly ten years ago. They got their start in the aerospace industry in the late 1980's making composite components for aircraft and space structures. Sitting in the corner during my visit was a cockpit for a military rotary aircraft. Later, they moved to the medical appliance field and finally into making carbon fiber barrels in 1995. An avid hunter and shooter, Roland Christensen decided to make what is generally the heaviest part of a bolt-action rifle lighter — the barrel. Since then, they have branched out into AR (MSR) rifles, but they also still built bolt rifles for hunting, defense, LE, and competition.
Along with barrels, they make stocks and chassis systems, allowing them to build some of the lightest-weight rifles you can purchase. Having tested many, if not most, they are accurate, light, and built to the highest standards. One of their latest is the CA5five6 MSR, designed to be one of the lightest full-size AR-style rifles on the market.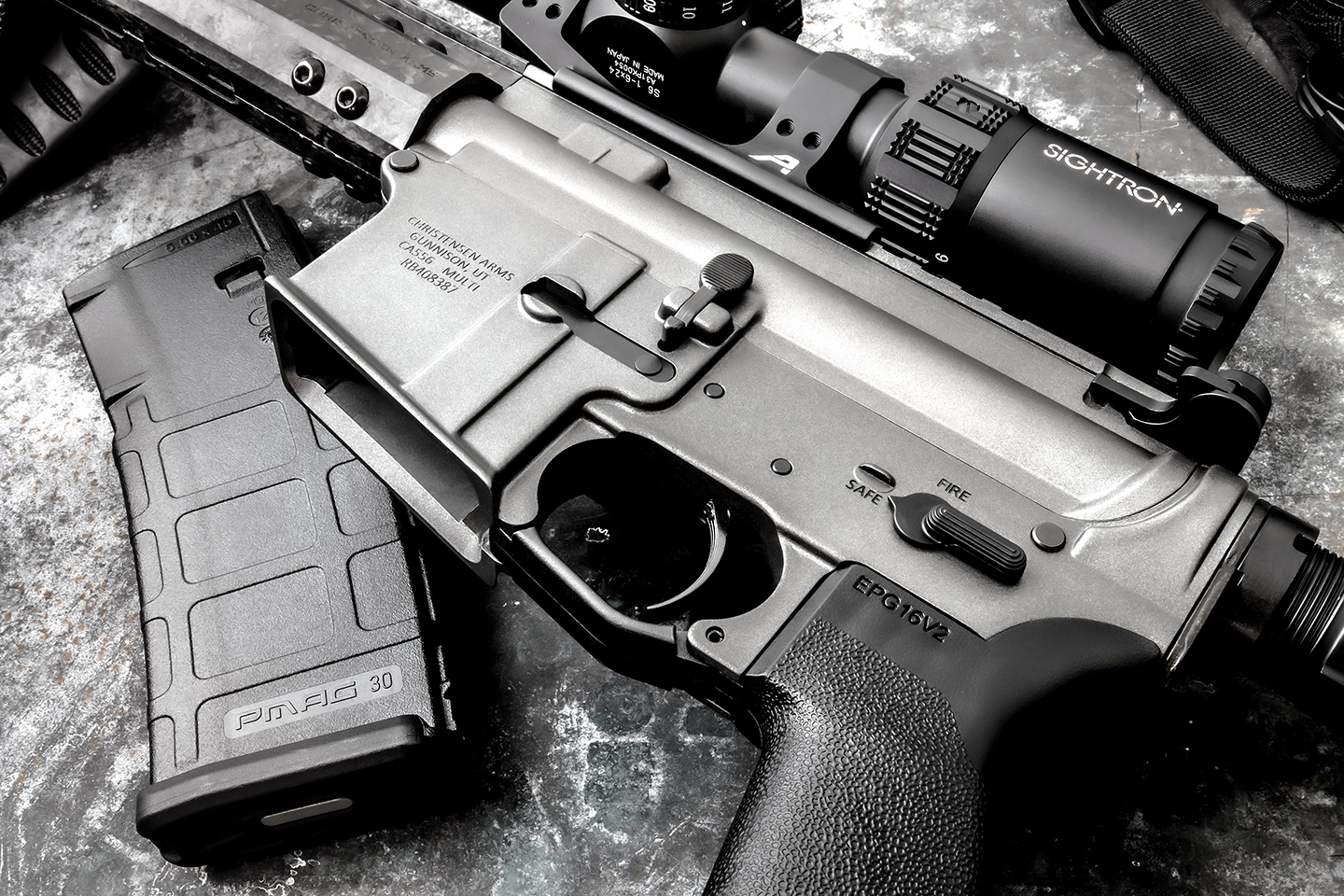 Christensen Arms CA5five6
The CA5five6 starts with the company's forged receiver set. Forged from 7075 aluminum, they are strong, light, machined to precision tolerances, and available in black anodized or Cerakote-finished options (our test rifle wears a gray Cerakote finish). The gas system is direct impingement, and the bolt carrier is coated in black nitride for smooth, reliable, and clean operation. The barrel of the CA5five6 is 16 inches long, with a core made of 416R stainless steel and then wrapped in aerograde carbon fiber; chambered in .223 Wylde means it can fire either .223 Rem. or 5.56mm NATO. The barrel's muzzle is threaded 1/2 x 28 and is capped with a three-prong flash hider. The 15-inch FFT (Flash Forged Technology) carbon fiber handguard is ridiculously light yet very strong and features a full-length Picatinny top strip, and M-LOK cuts at 3, 6, and 9 o'clock. Out back, you'll find a lightweight, six-position-adjustable Mission First Tactical Battlelink Minimalist buttstock and Engage handgrip.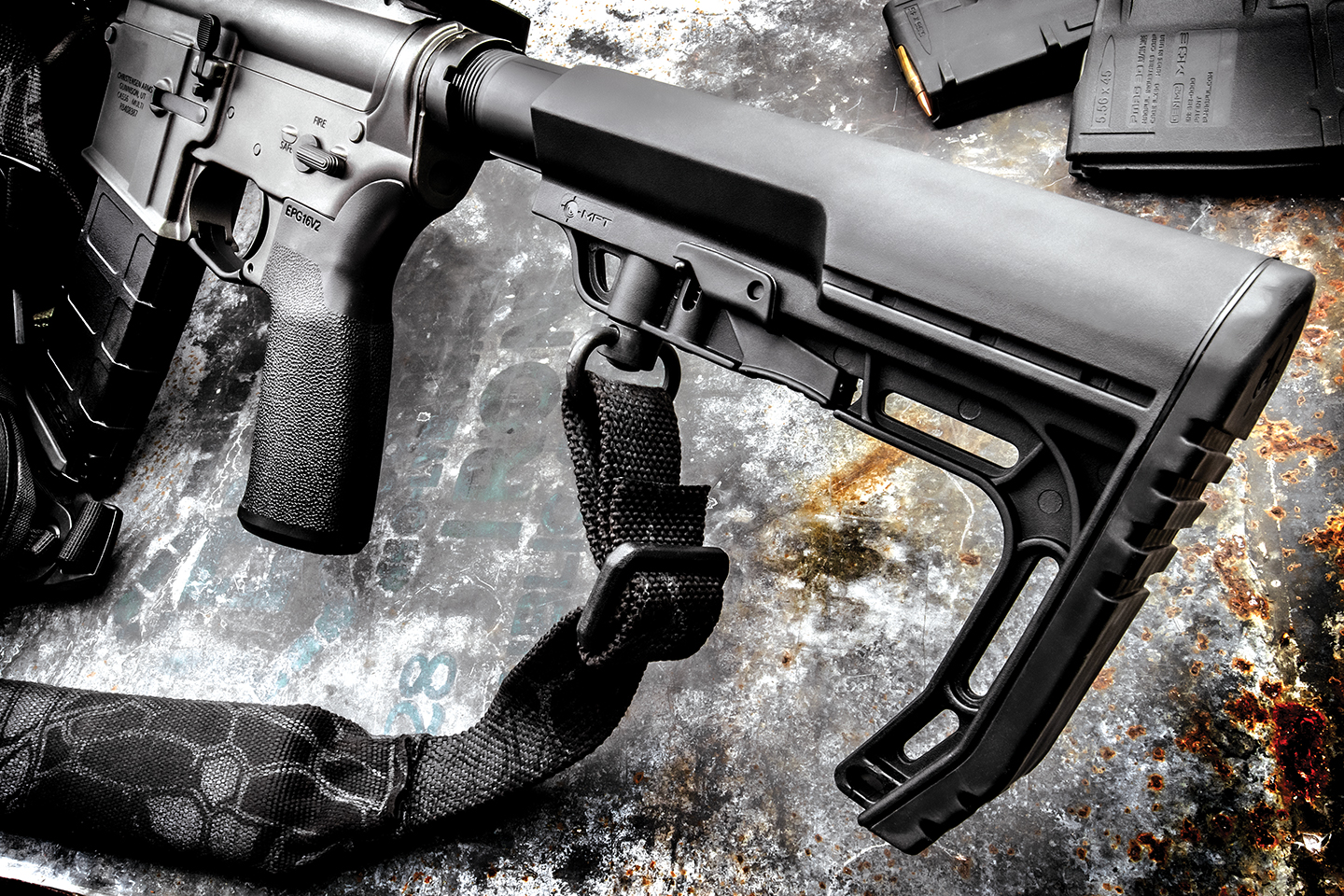 On the Range
Built with downrange precision as a high priority, the CA5five6 rifle did not disappoint in this department. Trigger Tech's single-stage trigger allowed for some pretty consistent groups at 100 yards. Hornady's 77-grain OTM yielded my best five-shot group at around an inch using a Sightron 1-6 power scope. Black Hills' 77-grain TMK load was not far behind, although this is pretty stout round and was noticeably snappier. The Speer 55-grain gold dot was about the widest at 1.75 inches or so, but I find this round to be very rifle-dependent regarding accuracy. It also seemed to like the Sierra 55 grain "Prairie Enemy" using their Blitz King bullet. I find this to be one of the most accurate factory varmint rounds, and it has the bonus of being soft-shooting and hard-hitting. All-in-all, excellent performance from the 100-yard line using just a 1-6x optic. Higher magnification levels would have undoubtedly yielded even better results.
Getting hits inside 4 inches on steel at 300 meters was pretty easy with everything — the Hornady load was the most accurate at this range, but the Black Hills 77 grain TMK ruled at 500 meters.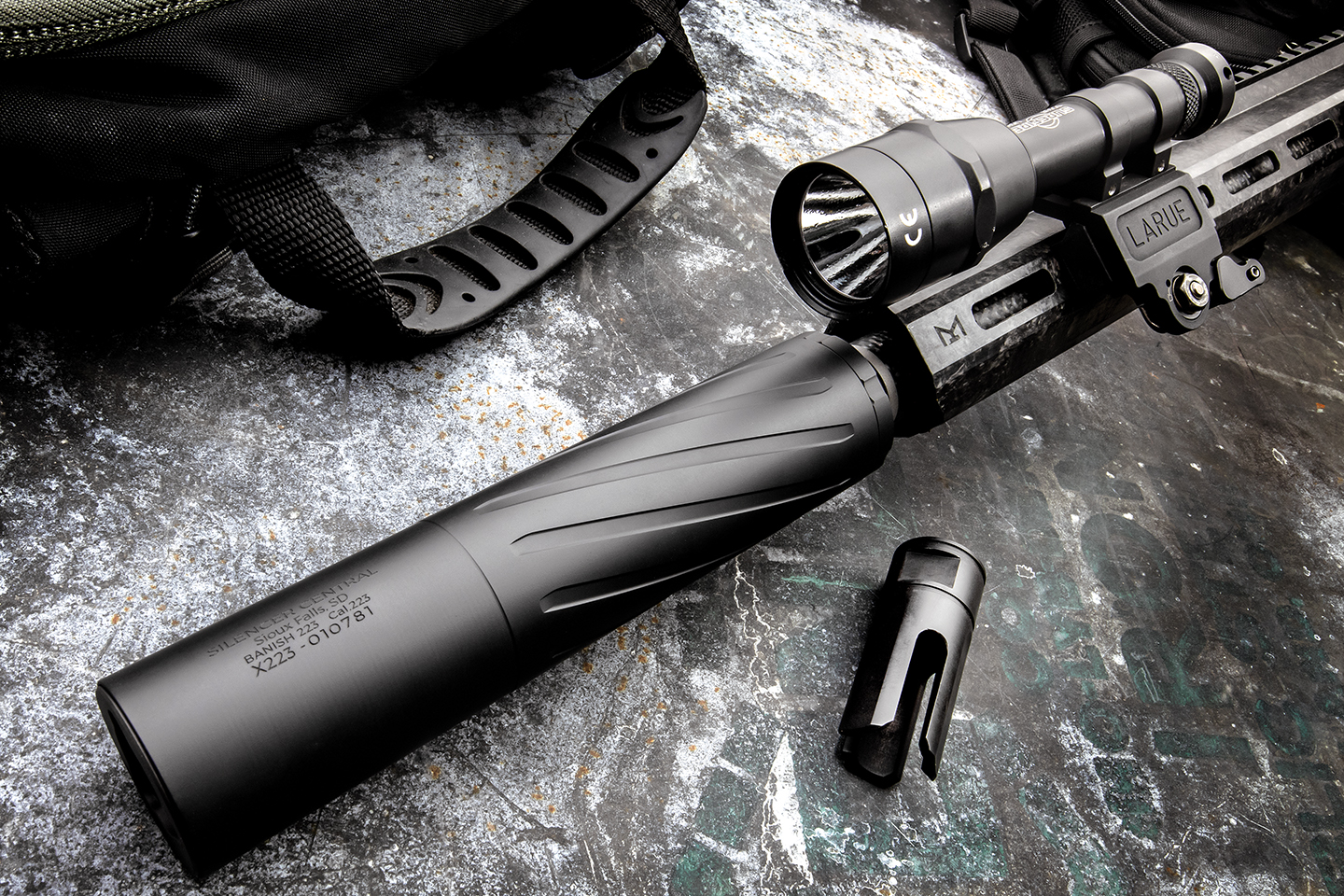 Other Considerations
Although light, this rifle remained well-balanced and felt solid in hand and when shooting. Often, these lighter-weight ARs tend to feel what I can best describe as "unsubstantial." The CA5five6 feels like a well-made machine from the second you grasp it. Their FFT handguard felt particularly strong — more like a lightweight aluminum version than its all-carbon fiber construction. Overall, this rifle is a very nice blend of materials, resulting in a good mix of weight and strength.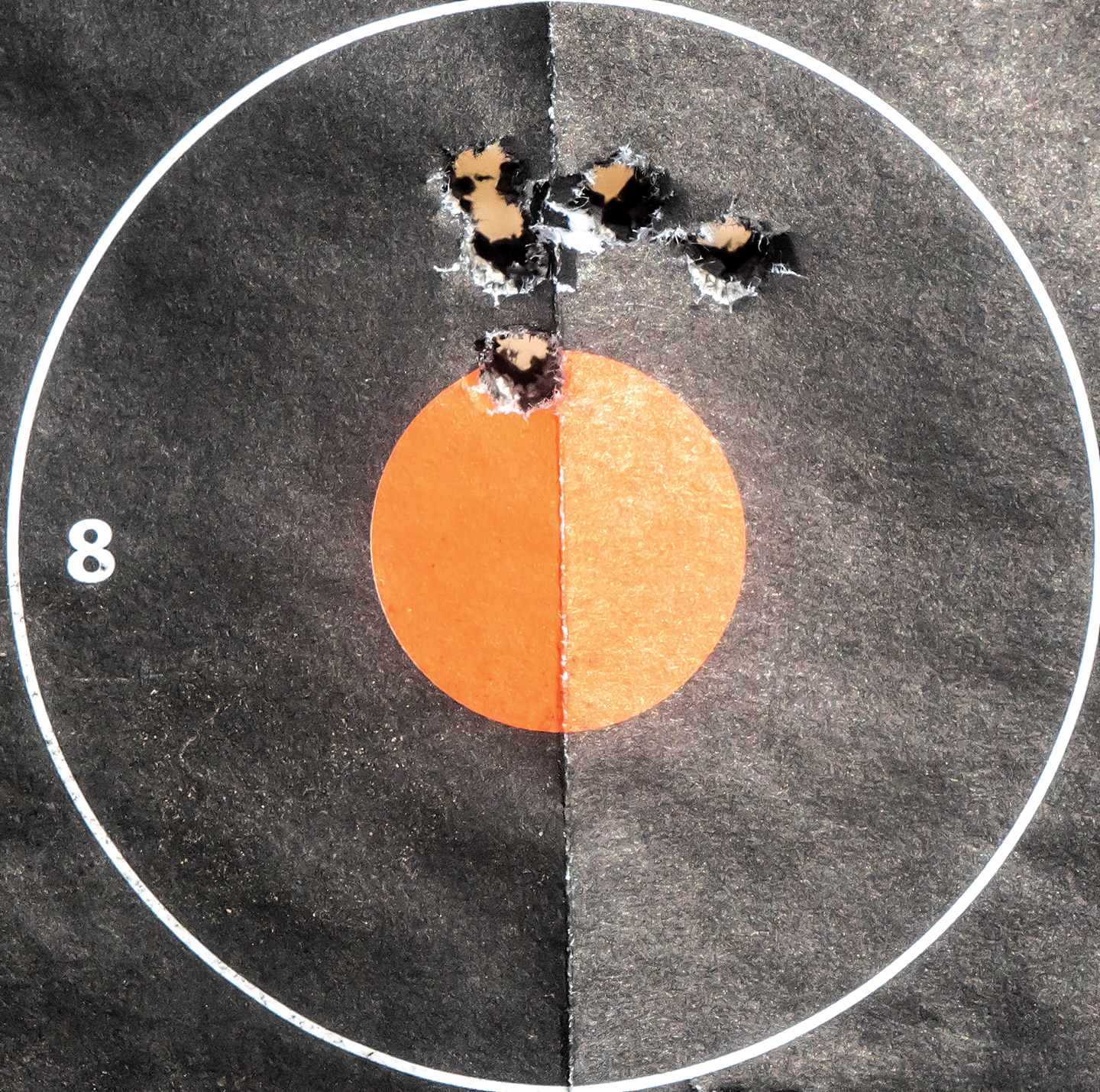 Trigger Tech is known for its precision rifle triggers, with several sitting in my bolt rifles. This was the first AR version tested, and it holds up to its reputation; very crisp and light, it helped facilitate getting the most precision out of this rifle as possible. At the same time, it seemed to hold up to rapid fire with no failures to reset — which is common with some of these types of triggers. I'm generally not a big fan of single-stage triggers, but this one was very nice.
It seems almost every manufacturer trying to save weight uses the MFT Minimalist stock. Many seem to love it, but for me, it just does not feel overly solid in my shoulder and would possibly get swapped out for something more substantial. On the other hand, if cutting weight and footprint size are the goals, this stock definitely gets it done. It's all about where you place your priorities.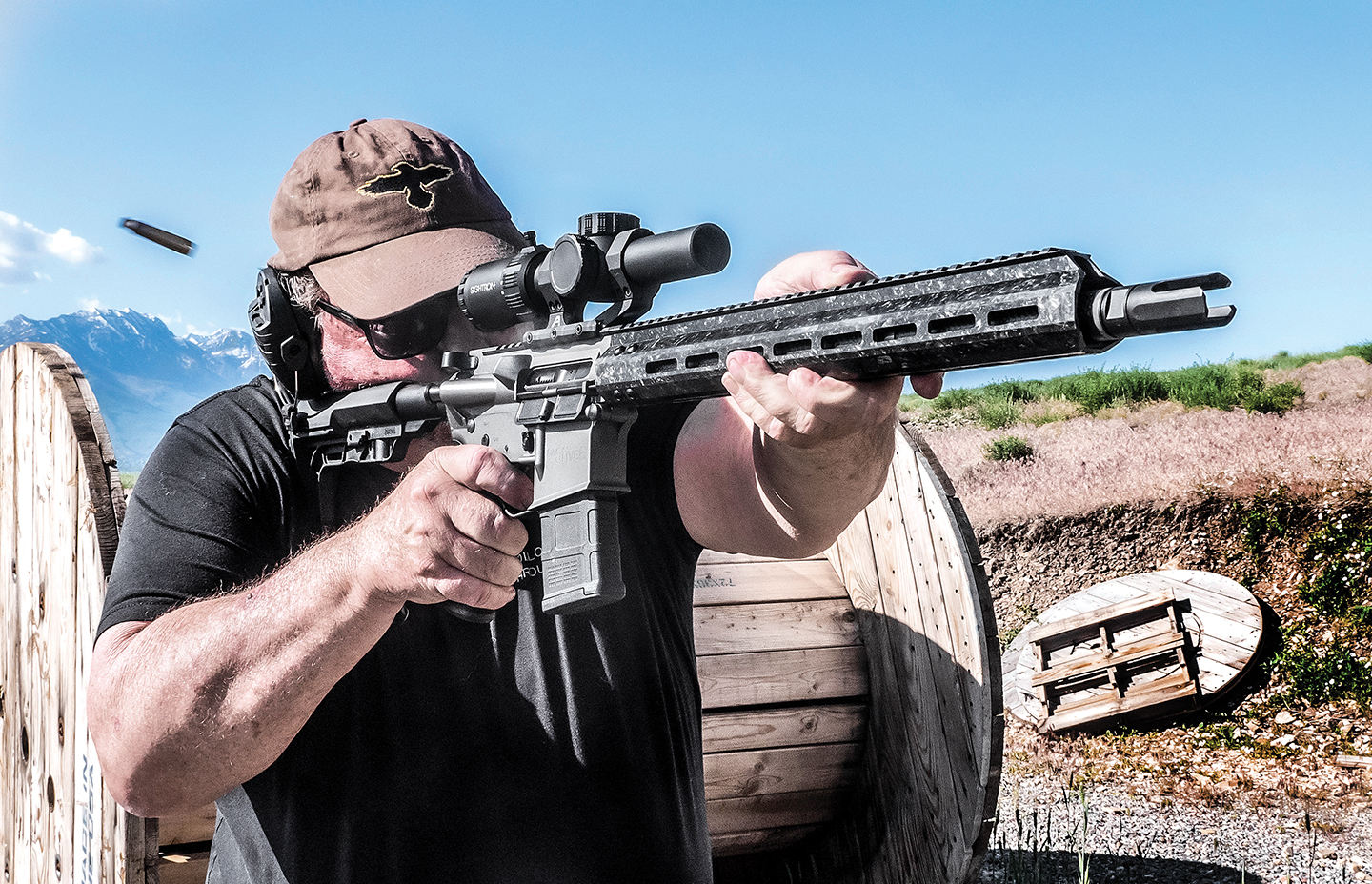 Final Thoughts
Lightweight rifles are becoming increasingly popular as advanced-material technology progresses, and Christensen Arms has been at the forefront of this technology for a long time now. This rifle is light but very accurate and reliable with several types of ammunition — attributes rarely compiled into one. If you are looking for a top-tier, well-crafted AR that checks all of these boxes, make sure this Christensen Arms CA5five6 is on the list. See the CA5five6 ($1,899.99 to $1,949.99) at your nearest dealer, or for more information, contact Christensen Arms; Tel.: (888) 517-8855; Web: www.christensenarms.com
---
Specifications:
Caliber:                      .223 Wylde
Action:                        Semi-Automatic/Direct Impingement
Barrel:                        16", 1:8 twist
OA Length:                 33.5 inches
Weight:                      6.3 pounds
Sights:                       Picatinny Rail
Stock/Grip:                MFT Minimalist/Engage
Finish:                       Black Anodize or Cerakote
Capacity:                   30; accepts AR15 based magazines
Price:                        $1,899.99 to $1,949.99
---
Ammunition Tested                                      Velocity                                  Group Size
Black Hills 77 grain TMK                           2650                                       1.40 Inches
Hornady 77 grain OTM                             2600                                       1.25 Inches
Speer Gold Dot 55 grain                          3100                                       1.75 Inches
Sierra 55 grain Prairie Enemy                  3100                                       1.30 Inches
Groups tested using a bag for a rest while standing behind a bench. The best group is shown over five (5) shot groups from 100 yards. Velocity was measured using a Magneto Speed V3.